When tennis is mentioned today Cuba is not usually thought of. Neither its great stars – like Roger Federer, Novak Djokovic, Rafael Nadal or the Williams sisters – nor its most renowned scenarios at present are related to the island.
However, 2016 left a story that joins Cuba to the elite of the so-called white sport. Its protagonist was Alain Alvarez Legrá, a Cuban living in the United States who has started making himself known as an umpire in the most recent US Open, one of the four most important tournaments of the international circuit.
Alain started umpiring in 2007, when he was an English teacher in the Friedrich Engels Vocational Senior High of Pinar del Río. He took his first steps in a junior tournament through his brother Ernesto Alvarez Legrá, in the clay courts of the Guamá sports complex in the city of Pinar del Río.
"Pinar del Río's courts will always be in mind," he commented after his experience in New York. "My beginnings weren't so difficult because I always had the backing of my family and I had Ernesto as my guide. He is the best Cuban umpire I have known and he has been vital for my career. But when he got to the United States everything changed drastically and I had to open a path on my own."
How was your inclusion in the US Open? What went through your mind when you got the news?
I knew they could choose me since I had applied with time for the tournament. The year before I was a bit late in applying since I had just started in the International Association (ATP/WTA) in 2015 in the Miami Open, after having worked since 2014 for the U.S. Tennis Association (USTA). Before New York I had already umpired in several tournaments, among them the Miami one with my brother.
When I got the news of my selection to work as an umpire in the Grand Slam it was an incredible feeling. I remembered the road I had traveled to get to this point, about all those who had helped me since I officially started in tennis, about the personal sacrifice it has implied for me.
I'm a computer specialist in a medical insurance company in Florida, a job that takes up a lot of my time; therefore to maintain myself in tennis I have to make a greater effort. Fortunately I had the antecedent of Cuba, where I was an English teacher, a computer specialist and tennis umpire. All that training has borne fruit for me.
How was your experience in the city that never sleeps?
Getting to New York, to work in one of the world's most prestigious contests is a dream come true. I met with colleagues and friends I hadn't seen for a long time, like Luis Alfonso, a compatriot who made his debut with me in the US Open. From what I know, only us two and a lady called Sara and whose surname I can't remember were the only Cubans who have umpired in an US Open.
Professionally it was spectacular. I could see and work with the world's best players and umpires, and at the beginning that was impressive, but I started getting better with the daily work and with the advice of the colleagues.
The tennis umpires in the United States have a high level and are very even. The most important challenge for everyone is the technology of the Hawk-Eye. It is something that pressures, but after each point one concentrates better until one starts getting used to it. What one can't forget is that one is there for the good of the game and for your constant improvement.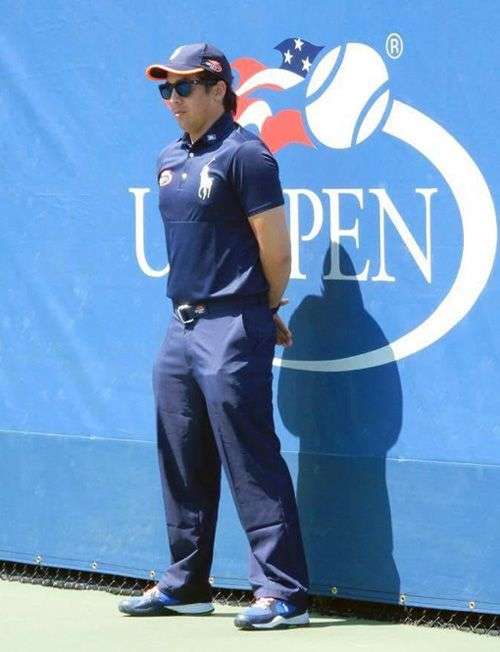 What is your opinion of Cuban umpires' level at present?
In the sport, the level of the umpires is almost always on a par with the level of the athletes. But in the case of Cuba, where there are no tennis players with a high level, there are umpires that surpass the quality of the Cuban players and have been recognized internationally in several tournaments to which they have had access. My brother is an example of this.
This is something that also happens with the trainers that are currently working in several Latin American countries through collaboration agreements or personal contracts, some of whom have achieved very good results because of their work.
What do you expect after your experience in New York? What do you believe it can represent for your career?
I consider my work in the US Open as one more step along the difficult road to success. It reaffirms the idea I set myself in the beginning of my career of not being satisfied with mediocrity and to be the best possible in this profession. The trips, the long work days and the challenge each tournament represents can only be withstood through the love one has for what one does. And I love my work as an umpire.
In addition, I believe it is a way of recognizing Cuba, Cuban tennis, and that also greatly satisfies me.
***
Days after this interview, Alain got the news that he had been chosen to participate in Florida's Delray Beach Open tournament. He has been working there from this Monday up to next February 27. Afterwards, between March 20 and April 2 he will repeat his participation in the Miami Open.
Authors