2007 … His spine was broken on level four of the lower back. He had to undergo risk surgery. In his retina there is not as so heartbreaking image as the one of that day when he was wearing a green pajamas, lying on a stretcher pushed by a couple of doctors to the operating room, with flaming lights, which ended dazzling his sight. Goodbye all, he had been told. No more volleyball. When he opened his eyes, did nothing but mourn. He would not jump again from defense area for a spike, would not put his fingertips on the net for a block, and would not be able to launch again one of his terrifying aces. Goodbye all, he had been told.
2009 … There is no omen to change my life, he said. And he scuppered everything predicted. A passage for framing, giant will. Michael Sanchez Bozhuleva returned to the court, he consecrated his will. After the boldness, "the Russian" had to turn back and leave. He could not stand to be crucified, could not stand his effort and morale to be reviled.
2013 … The Incheon Gyeyang Stadium was crowded. He never believed what he saw. The Mikasa flew from end to end, from the center at half height, from any place of the court to always find Sanchez's spike. He scored 31 points in one set, world record for the sport. South Korea surrendered at his feet. He has become a superhero among manga cartoons. But that is not enough for him; he cannot stop thinking that " the best nights of my life were at the Havana's Sports City Coliseum at 8.40 pm every Friday, every Saturday."
2015 … Cuba has lost your trace. Where is the "Russian" playing?
I'm playing in South Korea Professional League; I have been playing for two years with the club KAL Jumbos Korean Air Team. I signed with them for one season, but I agreed to play for them for another year. I have not decided yet if I'll change of air when the season ends, it depends on my achievements, although in the future, a change of scenery would do me good to strengthen my sporting maturity.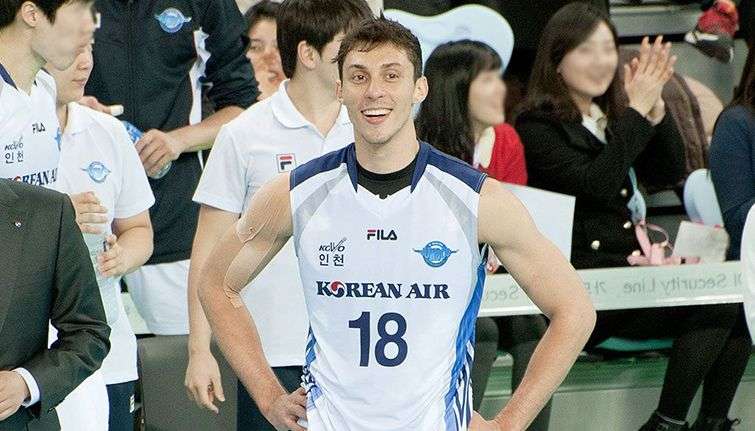 Another language, another culture, how has the adaptation been?
It's like everything else; I had to learn to adapt myself to such changes. At first adaptation cost me a little, but not too much. Only some typical foods that I had to share with the team in group dinner disturbed me a bit. For the rest, all good, I have a translator as all foreigners who play in the club; this greatly facilitates me communication and makes me easier to live. In particular, I like Korea and its culture, this is already my second season and I feel more comfortable.
Before arriving in Korea, you played for a couple of clubs in Russia and Qatar. Tell me a little of that first stage after leaving the island behind.
After cutting myself off from the national team and wait for the proper time, I signed with Lokomotiv Novosibirsk, one of the best clubs in Russia. I started a new stage; it was my first year as a professional, a different experience, and difficult decisions. I had been almost two years without touching a ball, but I could retake my shape quickly and adapt to the new system. As I am Russian by birth, language helped me a lot; it was only a matter of remembering. It was an important year, I was able to prove my abilities, and I had a good season.
But then for reasons beyond me and manipulation to which sometimes inexperienced athletes in professional volleyball are subjected to I had to change the club. Especially Cubans are the most who suffer this. So I went to play with the Fakel Novoy Urengoy, but things remained the same, I was frustrated and after many disagreements, I decided to quit. I played several tournaments in Qatar until I decided to try my luck in Korea. I've received several offers and that league had recently raised its level. So I decided to go there.
Why did you decide to leave the Cuban national team?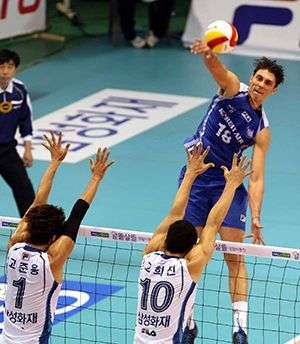 We all know the causes; we had results and just wanted a little attention. There were national team athletes with very delicate life situations and nobody cared, training conditions were decadent and that ends up by becoming you disenchanted. The family grows, ages; you become its support and sustenance and cannot answer. And that was while active, it would be worse once retired. Sometimes, half joking, half serious, in training we commented that in Cuba it is better being a reggaeton singer than volleyball player.
I also wanted to test my capacity as an athlete, to play against the best players and in the best leagues, in Cuba we participated only in tournaments of our geographical area and in the World League. We trained without a purpose, without having friendly matches. The successes we achieved were based on sacrifice, training six days a week, morning and evening.
But none of that was what propelled my departure; the root cause was that I asked for permission from the Cuban Federation and INDER to go to Russia to see my uncle who was ill. I was going with my mother, but they delayed the departure nearly two months. I was only a month there and when I returned the World League was underway, it was not my fault; the delay came because of them. Then I was punished and they sent me to train children in a sporting school. The following week, I presented my signature and the withdrawal of the national team.
Is there a before and after in the national team after the 2010 World Championships in Italy?
The Cuban team is doomed to that. That always happens when major players decide to leave the squad. Then there are four or five years in which the lack of competitive experience is noticeable and it is then when very young boys have to assume these roles, without being prepared for it. As for my generation, that you refer of 2010, was undoubtedly destined to do great things, we would have achieved many successes.
 How is your back?
After the operation I had a hard recovery, satisfactory thanks to the physiotherapists and doctors who were pending of my evolution. I am extremely grateful to Dr. Alvarez Cambras and his medical staff. After the injury I could play the 2009 World League that let me know how my health was. Today, I do not have pain, just some discomfort. Sometimes I suffer from much not muscle fatigue in the back that weakens me, that is a product of high intensity workouts. Here in Korea we train a lot, there are times that we even have three sessions per day and late in the season that makes me strengthen my back.
After the Pan American Games in Rio de Janeiro 2007, it came that stormy passage in which you were diagnosed you could no longer play volleyball. What feelings did you experience?
That has been one of the hardest blows I have suffered in my life. It is not easy to bear being told that your career is over, just like that, that you're life as an athlete has come to its end when you know you are about to give the best of you. I did not want to believe it. I spent almost two weeks wrapped in tears, sadness ate me. My family supported me, especially my parents. And you see, thanks to not let me being beaten and life that gave me another chance to return to the court, today I find myself playing with very good results.
After the storm you set a world record for the sport. In Cuba, many do not know that Michael Sanchez is the player who has scored more points in a set in a volleyball game. Tell me about that day.
I still cannot explain that, it was sheer madness. My team was winning the match two sets by none and the set was tied at 24, until then had only scored 10 points in the entire match. I do not know what happened through the setter's head, suddenly, and without having it premeditated, he began to pass me all the balls. The set lasted a lot; we were even tied at 54 points until two consecutive faults committed by our rivals allowed us to win the match. When we finished that exhausting game, I did not know I had set a record, I had scored 31 points in one set. Incredible.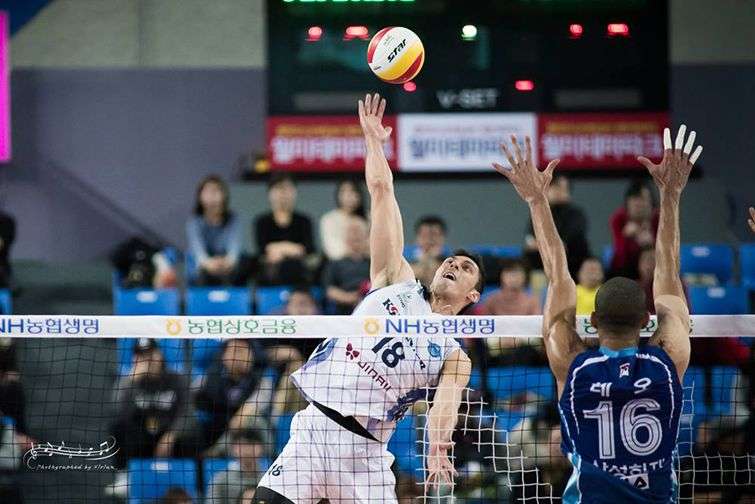 Are you aware of the results of Cuba in the international arena, how do you see the Cuban volleyball?
I always follow Cuba's trace, its results, those who have left are also part of it and we are in debt with it. Our leaders should implement new policies also to volleyball, not just to baseball, boxing or some other sports; otherwise we will lose a sport with a huge tradition of triumphs and joys. Glorious generations will be forgotten and people shall end up suffering that destruction. If I'm honest, I think it will be the same old thing, three and four years of development of figures and after battling and achieving results, obstacles and disappointments will again take their toll on athletes, until they leave . It's a vicious circle.
In terms of sports policy the country has taken some steps, but inefficiency is still perceived in the issues raised. Only a volleyball player has managed to sign for a foreign club and it remains unclear what will happen to the players who have been playing abroad for a while. What do you think?
Apparently the new sports policy being implemented is tied at particular sports, such as baseball and boxing, but there is nothing about volleyball. It's been two years they have been talking about it, but nothing is concreted, everything is identical. If our leaders accept it, many of us who are playing outside Cuba would return. I wish that someday that matter to get materialized before some of us to get retired. It would be a huge opportunity of gathering a historic generation of volleyball in Cuba. Of course, we should discuss before some issues, especially the situation of our career abroad.
What would be your ideal Cuban team?
In that squad should not miss Robertlandy Simon, Osmany Juantorena, Yoandy Leal, the Camejo brothers, Wilfredo Leon, Raydel Hierrezuelo, Fernando Hernandez, Keibel Gutiérrez, Rolando Cépeda and Macias. There are a lot of players more but it would be hard to think as a coach and put together a starting line-up. With these names surely we would be fighting for Olympic and world medals.
Do you keep in communication with some of them?
Coincidentally several of us are playing this year here in Korea , we are four Cubans in the league. They are Osmel Camejo, the youngest brother, Leonardo Leyva and Robertlandy Simon. I often speak with those of my generation; also we see each other in May in clubs cup tournaments that take place in Qatar.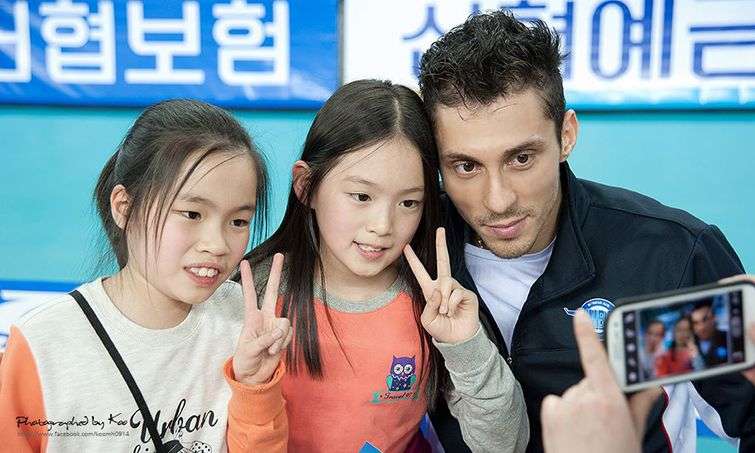 Authors