Senator Patrick Leahy (D.-Vermont), who visited Havana leading a bipartisan delegation, said that the re-establishment of diplomatic relations between the United States and Cuba was a long overdue issue and that the embargo had been a mistake.
"I have seen new and positive change in Cuba," said Leahy, who has travelled to the island several times, including two times following the announcement on December 17 by the U.S. and Cuba that the two countries would begin talks to negotiate a rapprochement.
The official delegation also included senators Dean Heller (R.-Nevada) and Ben Cardin (D.-Maryland).
"We are not doing this because we agree with all Cuba has done, but because it is the right thing to do," he added. "Normalization is eventually going to win."
With regards to the opening of embassies, Leahy said that, although some people in Congress oppose it, they are a minority.
In his opinion, a U.S. embassy in Havana will not only be an institution to take care of American interests in the country, but also the face of the United States before the people of Cuba, which should therefore count on all the necessary resources to be a reflection worthy of the country it is going to represent.
Although the senators did not provide any information about a possible horizon for the opening of embassies in both countries, Senator Leahy said that he knew that the heads of foreign affairs in each country were for it.
"We met for several hours yesterday with Bruno [Rodríguez, Cuba's Minister of Foreign Affairs]; I'm frequently in touch with Kerry, and I know this is something they both want," said Leahy.
The senators also said that they were confident that a few important goals can be accomplished before President Obama leaves office in 16 months, including, of course, the reopening of embassies.
"I would like to see all the travel restrictions lifted," said Leahy. "Soon there will be more air traffic between Cuba and the U.S., and businesspeople in Cuba will be able to buy goods in the U.S. without having to pay premiums."
"I think it's important that we make progress in these issues while president Obama is still in power," said Sen. Cardin, "but a big part also depends on changes that have to take place here."
During their visit, that began on Thursday, June 25, the senators also met with First Vice-President Miguel Diaz-Canel, members of the diplomatic corps, business owners and "common people".
"If we hadn't met with the Cuban people this trip would have been incomplete," said Heller, who also noted how most of the people they had talked to had pointed out the importance of the December 17 events for the life of the country.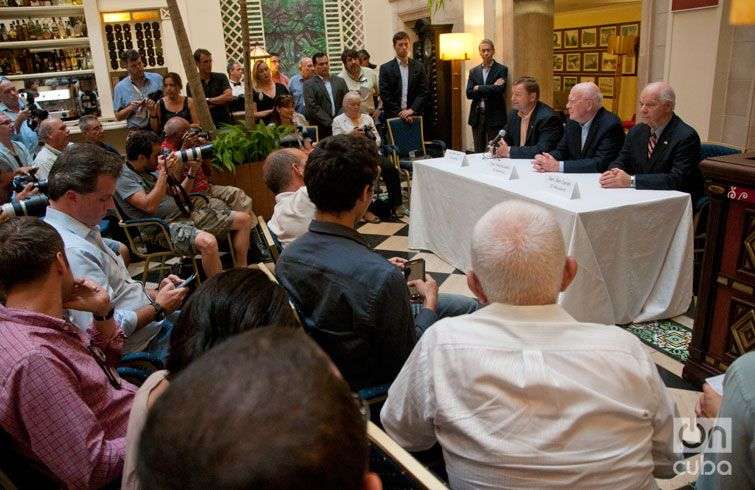 Authors