If opening and maintaining a private business was already difficult in Cuba, the COVID-19 epidemic now places new obstacles for Cuban entrepreneurs, forced to reinvent themselves to survive an unprecedented crisis from which, despite everything, they could emerge stronger.
Hardened after years of fighting against shortages and bureaucratic obstacles, the island's "self-employed" are using their inventiveness and adapting their ventures, many of them now focused on home delivery and on strengthening online interaction with customers. Everything to stay afloat until the pandemic passes.
Some have gone further and have adapted their offers to the new situation: lowering prices, adding incentives―such as free masks and free or half-cost shipping―and guaranteeing security in deliveries.
Crisis after crisis
A little less than two months ago, people toasted in bars and restaurants in Havana. The rental houses bustled and the classic cars colored the streets, today almost without traffic and with signs of "Closed for COVID-19."
Since the first cases of coronavirus were confirmed on the island on March 11, one after another the self-employed started closing their businesses even before the government decreed the closure of leisure centers and borders, leaving out tourism, the greatest source of income for the Cuban private sector.
At the end of March, Cuba became a "country without tourists"―those who remained were prohibited from leaving their accommodation―and the "self-employed" were up in the air and prepared for a tough time. "Even more than normal," says Jorge, owner of a small cafeteria in the Vedado neighborhood that closed due to not being able to sustain the offer.
On the island, where more than 600,000 freelancers worked, there are no wholesale markets and businesses depend largely on depressed state supply at high retail prices.
"The conditions were difficult to start with" and now the coronavirus complicates everything, says Enrique Suárez, owner and chef of the TocaMadera restaurant in the residential neighborhood of Miramar.
Adapt or adapt
"Operating a food business in a shrinking economy is complex. Since we started we decided to cook with what we found without being tied to a fixed menu.… Without knowing it we were preparing for what was going to happen," Suárez said to EFE.
The inconsistency of the state offer and the absence of a wholesale market for the private sector made TocaMadera look for alternatives that now―when Cubans stand in line for up to four hours in front of stores―are "saving the life" of the restaurant, which buys more than 80% of its raw material directly from producers.
They have also had to redesign the already flexible menu to make it more compatible with home delivery, which is currently free. "We don't want the food to be a mess when it gets delivered, even if it tastes good," Suárez insists.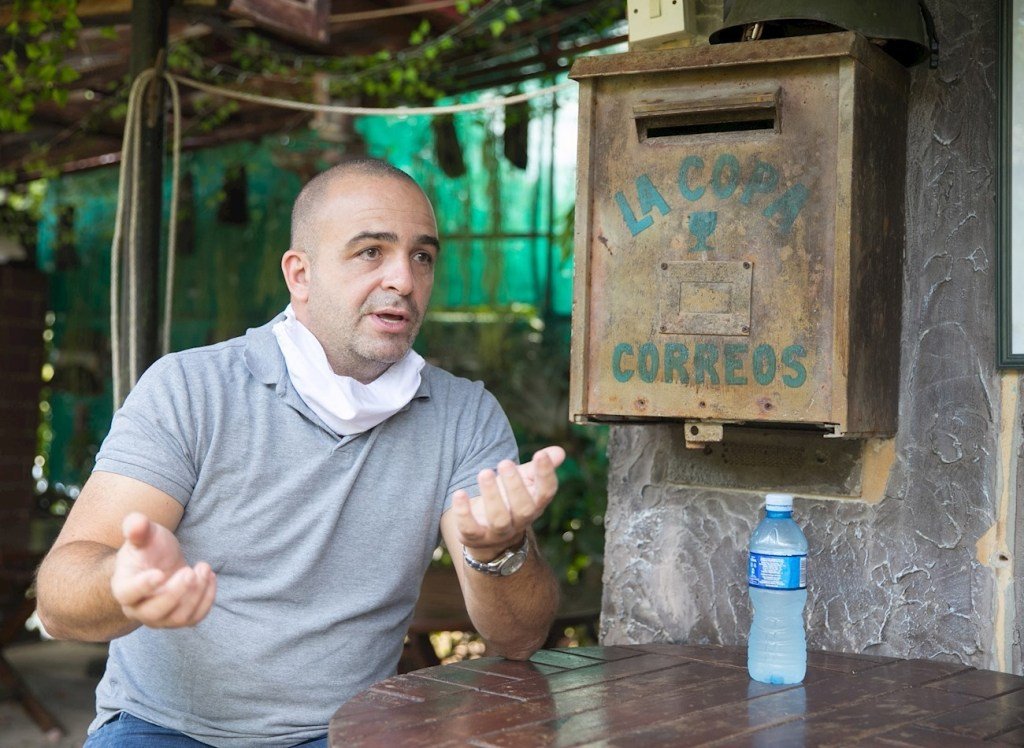 "The supply is no longer the same, many resources are beginning to be scarce, but we are still at a point where we can continue working," says the entrepreneur, who also seeks to provide a "price solution that is interesting."
Like TocaMadera, other businesses have reinvented their take-out menus, and many who didn't even offer home delivery had to incorporate it. The latter have hired Mandao Express, until now the only private courier company on the island.
With paralyzed public transportation and calls to confinement, the small firm saw requests for deliveries grow, while its staff decreased.
"Dealing with greater demand with less supply was a challenge," Marta Deus, a born entrepreneur, founder of Mandao Express and another consulting and accounting enterprise for the self-employed, told EFE.
Hiring new "messengers" in the midst of the pandemic when "people don't want to leave for fear of contagion" was not easy, says the young woman, who adds that it was complicated, but they managed to implement hygiene measures in each of the deliveries.
"We are grateful to have a job so we will do whatever it takes," she said.
Marta Deus: "These are times to work hard and reinvent oneself"
The Cuban goverment postponed the payment of taxes and allowed the temporary delivery of licenses, something that has alleviated thousands of taxi drivers and private carriers who cannot circulate due to the suspension of public transportation throughout the country.
These measures help, but don't solve the difficult situation of the Cuban self-employed, who see their income reduced without the guarantee of at least 60% of the monthly salary that state employees do have.
From stores to networks
Faced with the need to secure a livelihood, many Cuban entrepreneurs take advantage of the Internet to "open" online stores to replace physical ones. Others have completely changed their business model.
Among the latter is Cuber, a taxi company similar to Uber that now delivers fruits and vegetables to its customers, with orders through WhatsApp, one of the most used networks among Cubans after the activation of mobile data on the island more than a year ago.
The messaging app has also served Beyond Roots, a private initiative dedicated to promoting Afro-Cuban culture, to maintain contact with its community of customers, to whom it continues to offer―now to their homes―skin care and Afro hair products, as well as crafts and clothing.
"We decided to maintain the delivery service as a way to meet demand, while allowing us to sustain the set expenses of any business," explained Adriana Heredia, founder of the project, the only one that currently offers items specifically for the Afro-Cuban community.
For the young entrepreneur, "safety comes first" so she only leaves home two days a week to deliver items. Customers who live near the store, located in Old Havana, can search for their purchase, always with the mandatory mask and only after washing their hands with a chlorine solution at the entrance.
"The pandemic has hit us a lot but it is time to reinvent ourselves. We are always well supplied and that is why we managed to get through the first month without receiving supplies, but we are already at almost zero with hair products," Heredia said.
Another enterprise that moved to the Internet was Clandestina, an original design store that, after coming up against the U.S. embargo and forcibly changing from a U.S. hosting provider to a Spanish one, continues to offer it t-shirts and accessories from a website, with service currently only for Havana.
The new online store―the brand has a page for international customers―has had a success that Clandestina did not anticipate, encouraged above all by the current "boom in telecommunications" in the capital.
"There is Clandestina, but there are a lot of other entrepreneurs who have done the same. At the beginning it was more about sending the message to our community to 'come, come,' but every day we are doing better and we are selling more," said Leire Fernández, co-founder of the enterprise.
As the use of cards is still very incipient in Cuba, entrepreneurs carry out transactions in cash. "The website gives you the complete experience, you only leave the payment pending and you complete it when you get to the customer's house. So far zero problems," she said.
After the storm
"A crisis is always an opportunity. I know some friends who want to set up an online gym and that's how you adapt, you start to think differently, in our case the online store for Cuba will remain and it may expand outside of Havana," added Fernández.
For Cuban entrepreneurs, used to doing more with less, the COVID-19 epidemic may serve as an incentive to start other projects, such as the TocaMadera restaurant, which wants to take "the next step" to secure supplies and wait to be able to cultivate its own plot of land, Enrique Suárez advances.
For Marta Deus what must remain is "solidarity." "We are helping each other, there is feedback and you never go as far as when you join others," she said.
Authors