The king and queen of Spain arrived in Havana this Monday night to start a historic visit, the first of a state character by a Spanish king to the island.
The Spanish Air Force plane in which Felipe VI and Doña Letizia traveled from Madrid landed at Havana's José Martí airport shortly before 7:30 p.m. (12:30 p.m. GMT on November 12) with the flags of Spain and Cuba outside the cockpit.
Foreign Minister Bruno Rodríguez was waiting to receive them at the airport on behalf of the Cuban government, since the official welcome from the president of the country, Miguel Díaz-Canel, will take place this Tuesday morning.
Following protocol, due to the time of arrival (already dusk in Havana) there was no reception with honors or the playing of the national anthems, which will also be carried out this Tuesday when Díaz-Canel welcomes them at the headquarters of the Council of State.
The ambassador of Spain to Cuba, Juan Fernández Trigo, and his Cuban counterpart in Madrid, Gustavo Machín, boarded the aircraft to greet Felipe VI and Doña Letizia before they descended the plane's steps.
Waiting for them at the foot of steps was Bruno Rodriguez, who first greeted the king with a long handshake and then the queen.
He also subsequently shook the hand of Spanish Minister of Foreign Affairs Josep Borrell, who is accompanying the monarchs on this visit.
The director of Europe of the Cuban Ministry of Foreign Affairs, Alba Soto, and the official in charge of Spain in the same department, Miguel Moré, were also part of the delegation of Cuban authorities who received the king and queen.
Arriban a #LaHabana Sus Majestades, Felipe VI, Rey de España y la Reina Doña Letizia Ortiz Rocasolano. Un placer recibirlos a su llegada al aeropuerto internacional José Martí. #Cuba los recibe con cálida hospitalidad.

— Bruno Rodríguez P (@BrunoRguezP) November 12, 2019
Felipe and Letizia greeted each one of them before entering the airport's VIP room to hold a meeting with Bruno Rodríguez before going to the hotel in the Cuban capital where they will be staying during their stay there.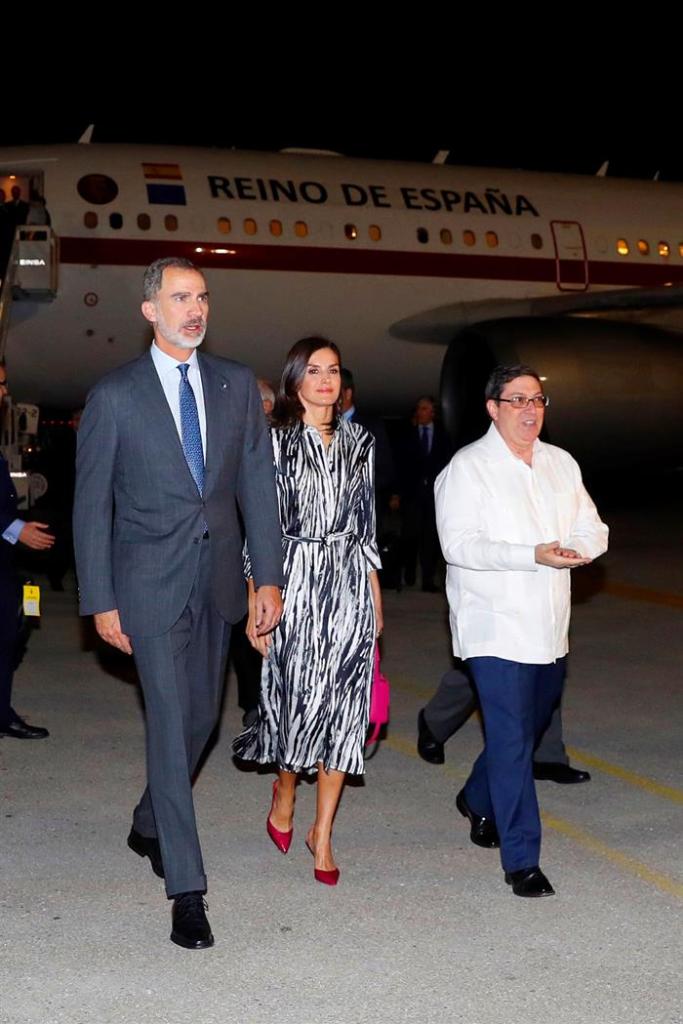 They will remain in Havana until noon on Thursday, November 14, when they will travel to Santiago de Cuba to conclude there this trip's agenda, which includes institutional, economic and cultural activities and will begin this Tuesday with the placing of a floral wreath at the foot of the monument to José Martí before being received by Díaz-Canel.
The Spanish government considers that with this visit an "anomaly" in bilateral relations is being amended and their normalization will be achieved.