As I promised at the end of my previous Postscript to "Letter to a young man who is leaving," in this second one I meet again with one of the young people who commented on the original Letter. Thanks to his noble disposition to talk with me, and to the magic of WhatsApp, I share the first part of this dialogue with Maykel Galindo, with the added value of ten years that have gone by, and of a conversation resumed now in the tranquility of an early morning.
Rafael Hernández (RH). When did you leave Cuba? How old were you? What were you doing here? Why did you leave?
Maikel Galindo (MG): I left Cuba in 2002, I was nineteen years old and in the first year of my career at the Varona [Pedagogical Institute], in English. Leaving was practically an accident. I never thought of leaving, nor did I even have a well-formed political opinion. In high school and school, I was always a good student, and I was even a member the Communist Youth. I was, I think because of my mother, and because of my family's revolutionary record. My grandfather on my mother's side participated in the guerrilla, he took things to the Sierra for Fidel. And on my father's side, my grandmother, who is from Santiago, also fought for the Revolution. I grew up with stories of the Revolution. Despite having lived through some years as complex as the Special Period, I don't think I've ever been formed with an opinion contrary to anything that had to do with the country.
The accident was that I met two people with whom I shared the same lifestyle, and they opened my eyes. I'm homosexual; and in Cuba in those years homosexuality was very complicated, there wasn't the openness that there is today, and much less the political or social will to advance towards more rights for LGTBI people.
I left because I was invited to get to know another culture; because it was important for my career to visit Europe, for fifteen days, for Christmas.
I hadn't planned to go live abroad, but to visit Brussels, to discover, let's say, personal things. It was like a journey into myself, towards discovering and accepting my homosexuality. That was a more advanced society with respect to LGTBI issues than Cuba, and since I had not planned to stay, it was not difficult.
What was difficult was to obtain the white card in Cuba, which at that time was necessary to leave; the huge queues at Immigration, the "bureaucracy" and the "release is not available yet." The exit process was very complicated and distressing. Every time I went to Immigration they treated me badly, to be honest, they were not friendly, as they are today. When I started coming later, as a Cuban resident abroad, after the 2011 reform carried out by Raúl Castro, I realized that there had been a change, because when entering the Immigration agents were much friendlier.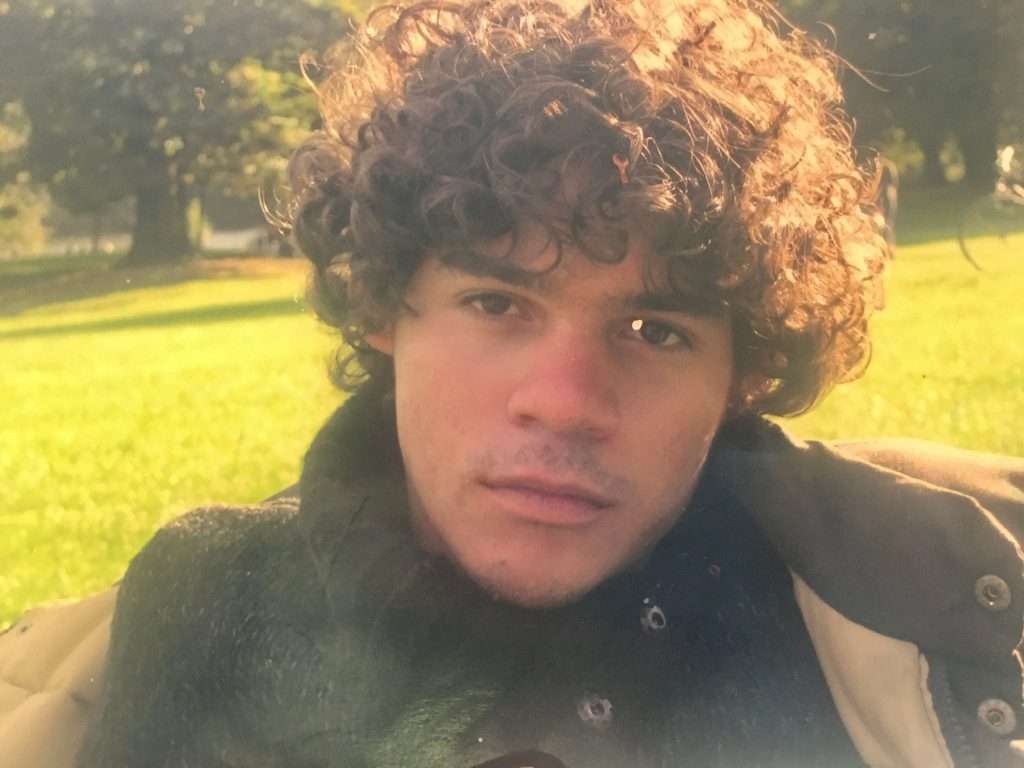 RH: Was it difficult for you to make the decision to leave? What was the most difficult part for you? How did you come to terms with the thought that you couldn't live here again?
MG: The desire to live abroad, or to value not returning to Cuba, began with that mistreatment, to achieve something as simple as traveling for fifteen days on vacation and returning. To see homosexuals who lived peacefully, and it was a matter of time before it happened in Cuba. Because I experienced my sexuality in Havana with great sadness and difficulty. These people I met wanted to show me that, at some point in their lives, it had been like this; and then, when they assumed it, everything changed. It was really a journey into myself.
When that process of leaving the country became so overwhelming for me, I began to think that perhaps I would not live in Cuba again. The Dean of my Faculty, to whom I went to ask for a fifteen-day leave to travel, told me no. I had to ask for "a leave to take care of my grandfather." And I realized that I was fighting against I don't know who or that they were seeing me as an enemy of something, which I wasn't.
RH: Have you ever felt the loss of your life here, your friends, your city, your customs? What did you miss the most? How did you manage to overcome that nostalgia?
MG: I began to feel the loss of my life in Cuba years later. When you're nineteen and you arrive in a place where everything is new, incredibly functional, and you leave a country that was so close to the memory of the Special Period, let's not be fooled: you hardly miss what you had, a noisy city, dysfunctional, chaotic, sexist.
Even less when you are offered a world full of new possibilities and experiences, which as a young person you want to the fullest, intensely. The nostalgia came later, when you already assume that you are in your new life, a new space, and you would like to do with the friends you left behind the things you are doing with your new friends; when you see your mother sitting down making you breakfast, taking you to school, those things that inevitably invade you; when you are visiting any European city and you realize that there's always a Bodeguita del Medio, that there is something that speaks of Cuba, an advertisement for Havana Club, these are things that little by little connect you with your city. That's what happens when you're studying, and all of a sudden in the Economic Doctrine class, History Will Absolve Me appears, with a cover and everything, because the professor, a Nicaraguan Sandinista, is doing something similar to an apologia of Cuba and the Revolution.
They are things, whatever it may be, that fill you with pride. I'm not saying this to praise Cuba today, nor to put it before everything, but they make you think and connect with your past life. Then, what seemed dark, becomes the object of investigation. And you start to become more interested about your culture, where you come from, you start to want to be less the person you wanted to be and more the person you are, and the nostalgia increases. What I missed the most were those moments with my friends; Incredibly, the meals in the school in the countryside, the parties with them, the Malecón, the guitar, those parties that we lived innocently, when we were young, and in my case, very young.
RH: Living in the country where you were, did you feel that you were less prepared than other foreigners to adapt? Culturally?
MG: When you're so young, adaptation comes naturally. My references in Cuba were few. At nineteen, what have you done? Junior and senior high school, military service: they are not life experiences that form you or contribute to your later life. Many of those memories become pretty over time. But everything I was experiencing then was so exciting, emotionally and for life, that I didn't feel any more or less prepared. What I was seeing was as new as it can be for a young Belgian of eighteen or nineteen when discovering Barcelona. Culturally speaking, many things were not familiar to me. For any poor young man like me, everything was culturally unknown.
It was the same for other foreigners in my situation, young, poor, coming from a poor country.
What I can say is that in college I did not feel any less prepared. Knowing that I had the support of a family and people in Belgium, many of the things I experienced happened naturally.
RH: Do you think that most of the Cubans you met there share your same experience?
MG: Definitely not. First, because I arrived very young; second, having had support to study there. These two elements completely changed the course of a normal immigrant who comes for economic reasons.
I know a couple of Cubans who share the same perspective as mine regarding Cuba, the return, etc. Although I don't know many in Belgium either, for the reasons I say: I'm an atypical immigrant, who didn't have to work to feed himself, or give up certain dreams, on the contrary. Despite never having finished anything, because I was constantly changing careers, I was always immersed in that world of a student, far from "a normal life." It's difficult to meet today with people who arrived with my age and had that path, rather, they arrived a little older, and in other conditions. Of course they don't share my experience, much less my vision.
RH: Do you think that your life abroad has contributed to changing your values? To deepen them?
MG: My life abroad has definitely contributed to changing and deepening them; in a certain way, to bring out the best version of myself, that wouldn't have come out if I had grown up in Cuba or if I had never returned. Or if I had been born in Belgium and had nothing Cuban about me. My experience, having studied, having met incredible people, having acquired the training and values ​​instilled by my parents, and also having studied in a society like the Cuban one.
I'll quickly tell you a story. In my first year as a regular student, in an English language class, I introduced myself saying that I was from Cuba, and at first hardly anyone wanted to talk to me. A few weeks later, Dafne, a girl who later became my friend, asks me: "Maikel, are you the son of someone from the government in Cuba?" I told her no. "From someone rich in Miami?" Neither, why? "It's not normal for a Cuban to be studying here, sitting with us, and you look overly educated and from a very good family." I found that dichotomy curious, like in Cuba, where you have to be one thing or the other, and I told her: "I'm a boy who grew up in a very bad neighborhood, very poor, and I am the result of what Cuba is, where studying and being educated is not given only to people of a certain social class, but to everyone." Over the years, I understood what it means in Cuba when they say "free school"; as I also understood that in the Belgian university, when you are a simple person, you can also study and go far, without having to be wealthy, but it is a matter of will. If it had not been for that complement of formation in Europe and that formation base in Cuba, with my modest origin, I would not have become the person I am today.
RH: I understand that you consider yourself left-wing, an alter-globalist, you oppose the excesses of inequality and injustice. Have you met many Cuban emigrants who share your ideas?
MG: Well, yes, I'm definitely left wing. There cannot be a person who studies humanities and who supports an exploitation system that is destroying the planet's natural resources. Training, studies, allow you to have clarity on certain issues. I also suffered from that consumption fever, which we all go through, since you are born in a country where material things are very limited, and you arrive in another where there are no limits, and you become that being that you never were. Using a little head, you then achieve a readjustment to the person you are and your values.
We are in societies that cannot continue with an unjust system of wealth distribution, of excessive consumption that leads nowhere, destroying the planet. The people with whom I have met have led me to affirm myself, to recognize myself and impose on myself and accentuate my values. I have met Cubans, not precisely in Belgium, but in other parts of the world, who share my ideas, although unfortunately they are not many. Most have an idea of ​​eternal prosperity, they do not question that our current consumer goods act to the detriment of the well-being of many people in other countries of the world, nor that the wealth of the rich countries has been and continues to be created largely with the exploitation of poor countries in the south. Unfortunately, it is a journey that takes place in the classroom, not listening to the radio, television or the media today, which obviously manipulate us all.
RH: What is the most valuable thing you have acquired in those years living abroad? In what sense has life in the country where you were left you with useful lessons?
MG: Although what I'm going to say is curious, the most valuable thing has been to affirm the person I am, to make me rediscover my country, to accept myself with my past. When I arrived, I wanted to be a person that I was not. You want to hide that you had a poor past, you want to show that you are different. The most valuable thing I have learned from those who have surrounded me is that everything I have lived since I have the use of conscience until today is so valuable, the good as well as the bad experiences.
Belgium is an economically and politically stable country. When I need to go to a place where I have to return to fill myself with energy and act with a cool head, it is Brussels, which has given me so much peace and so much emotional and material stability which I really need.
It was life in Belgium, a country that gives a certain neutrality, that made me heal the wounds and traumas that leaving Cuba left me. The trip would have been different if instead of coming to Brussels I had gone to Miami or Madrid. This is a city that does not judge, that has been able to show me, as an immigrant, that there are multiple visions and realities, instead of one at one extreme and another at the other. The last studies I took, translation and interpreting, are loaded with politics, economic foundations, a global vision of cultures, languages ​​and the functioning of institutions, of the languages ​​you study. This added a plus to my political formation and my Cuban identity, because Cuba came up in all the classes in which I participated.
Among those lessons, all very useful, that of balance to advance in life, emotional, psychological. For my life to flow, Cuba had to be part of my present.
RH: Do you find distinctive traits in Cubans that have taken root elsewhere compared to those who live in Cuba?
MG: In today's Cuba, it is much easier to find distinctive traits of Cubans who have taken root elsewhere with respect to what Cuba is, among other things, the desire to undertake, to advance, to see a prosperous Cuba in the future. This is true for those of us who were born in the 1980s, lived in the 1990s, and have lived for many years with slogans such as "This time we did it, we did get ahead." Although we saw absolutely nothing of what we heard and saw growing up. The distinctive features of Cubans who have taken root elsewhere and here are rather similar in that economic struggle.
If we talk about culture, Cuban identity is so strong that no one ever loses it. When I see a Cuban in something as simple as walking down the street, I know he is Cuban, or when I see him on a subway gesticulating, especially in these northern countries, where the traits are very marked. The desire to help the family, to get ahead, to undertake, to be happy; that way of taking everything lightly and making life a little easier, even if you have thousands of problems, are traits that we all share in all parts of the world.
I have made several trips to the United States, to Miami, because my brothers are there. You have to see how in Miami, beyond everything we can deny, the Cubanness, the conservation of Cuban culture, whether musical, gastronomic, is very great. On the other hand, there is the sentimental side. When you arrive, they make you look like everything that is happening in Cuba is bad. And if you come from a city like Brussels, where you learn to see everything from different perspectives, you also feel more Cuban, and incredibly well in a city that has managed to preserve Cuban culture, probably even better sometimes, sad to say, than in certain places in Cuba. Just as he feels hurt when they do not try to understand the process or what Cuba really is, from a spectrum stripped of any kind of political nuance. In Miami there is no middle ground, it is one thing or the other. You arrive and you feel at home; but at the same time, you feel like a bandit when you tell anyone that you are a Cuban who lived abroad and returned to Cuba, and that you are trying to achieve something in Cuba. It is there, however, where the influence of what you are seeing and the shield you have to use make you feel a thousand times more Cuban.
RH: Was it easy for you to re-adapt to living in Cuba? What do you miss most about your life in another country? Was repatriation easy for you? Did your friends think your decision was a good one?
[To be continued]
Author