A group of young users of the SNet, the largest private network in Cuba, met outside the Ministry of Communications (MINCOM) this Saturday after negotiations for a possible mutual collaboration were canceled.
Since the new resolution on telecommunications entered into force on the 29th, all the nodes and networks that SNet usually uses have been banned, although so far they haven't been dismantled or raids been carried out to seize the equipment, several users confirm.
Ya estoy en el parque. Esperamos que poco a poco se sume más gente a nuestra justa causa. #YoSoySnet@camilocondis @Luz_Cuba @yoanisanchez
De momento no somos muchos pero ya viene más gente según me han dicho muchos. Los cubanos siempre llegamos tarde y la reunión era a las 9 pic.twitter.com/fp8bOq0nza

— Ernesto De Armas (@RealErnesto95) August 10, 2019
On Friday, August 9, the SNet group on Facebook, with more than 20,000 members, published a note about the cancellation of the talks and the elimination of a project they had included as a proposal to collaborate with the Cuban authorities and institutions.
"On the morning of August 9, 2019, a meeting was held between representatives of the SNet administration (both parties) and MINCOM executives, among which were the Deputy Director of Communications of MINCOM (David Wong), the director of attention to the population (Noraimi) and three representatives of the Young Computer Clubs.

"As a summary of the meeting (for those who don't want to read the textual words and details about it): No changes of any kind will be made to the resolution and no network like SNet will be allowed, all nodes that do not comply with the new regulations (ALL SNET NODES) should NOT continue to operate or warning letters will be sent to the administrators responsible for them. SNET DISAPPEARS AND IS ELIMINATED PERMANENTLY AND WITHOUT EXCEPTIONS. The Young Computer Clubs WILL NOT MAKE any agreement, union, annexation or cooperation with SNet or any node."
The issue generated a wave of protests on the networks, which for months have been using the #YoSoySNet tag to express disagreement with the measures taken.
Ernesto de Armas, one of the participants and a user of SNet, said that "the call for the demonstration was made last night at 11 pm."
"Today there were no blows, violence, or too many problems. There were many people from State Security scattered throughout the park. There was a patrol car that was recording everything that was happening," said Ernesto, who clarifies that "this is not to talk about politics."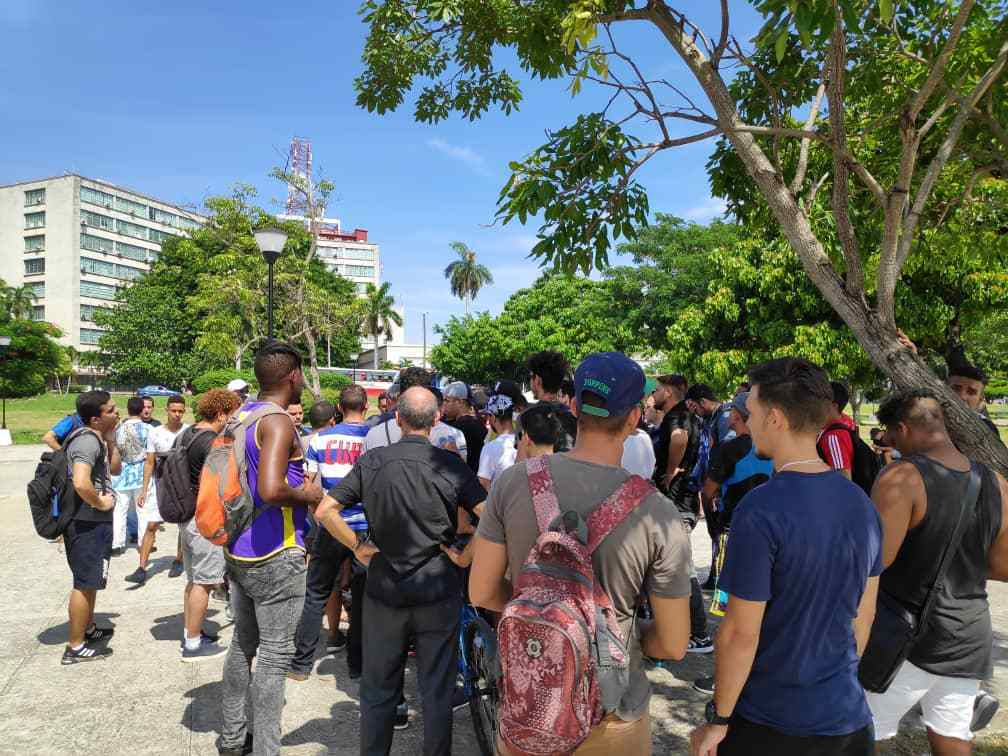 "It was agreed by a majority that the way to solve this has to be as peaceful as possible to be able to make them meet our demands," he told OnCuba.
Although some media outlets mention "hundreds" of people protesting, Ernesto only confirms that they were able to reach some 100 at the height of the mobilization.
Information that the main administrators of SNet will meet with MINCOM executives this Sunday was published in the SNet internal networks.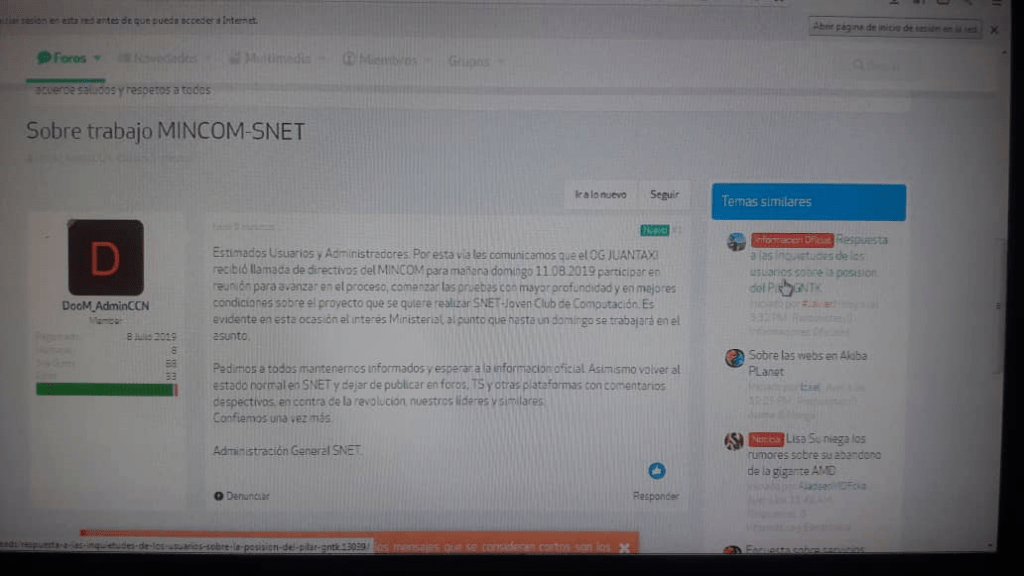 Yosué, another user of SNet and a Cuban YouTuber, also participated in the mobilization outside the MINCOM.
"We went today because of the talks that were going on," said Yosué, who preferred not to give his full name.
"It was really a great step for us to meet, although I thought that nobody was going to attend, because of fear, and because of the late summons," he explained.
According to Yosué, he and some of his friends made a video so everyone knows, including the authorities, why SNet is important.
https://youtu.be/m_bi1_BR36U
"I had to juggle so that it would not be politicized, we are not interested in politicizing the issue, but that the network be known and what it is for," said Yosué.
To this day, the main nodes of the various networks that make up SNet remain active and provide service to their users.
Yosué says that the consequences of a total elimination will be thousands of young people in the streets looking for "something" to do, "which can be rum or whatever, instead of having healthy fun with electronic games," he said.
Regarding a possible solution, Yosué considers that the option of "waiting until Monday was a fall to gain time" for the authorities and does not believe they "will give way so easily."
"Things are resolved by demanding, rights are not begged," Yosué insisted.
Could Street Net, the largest private data network in Cuba, disappear?
For his part, Ernesto believes that a possible elimination of SNet as they know it today would be "a hard emotional blow."
"It is difficult to know what SNet is if you are not part of it, because it is not just a network, it is a community of people who interact all the time, where friendships are made. There you play and there's the e-sports community that in Cuba has little recognition and that is one of the few places where you can practice with quality. There people have fun, share. Any type of leisure that can be applied to computer science is there. It's amazing. There are forums, chats, libraries, photos, videos, the weekly package, books…," says Ernesto.
"For me and many users, losing it would mean losing a big family, with its internal problems, but a big family. It is not fair for someone to now come along, someone who has never given us anything and has complicated our lives, to end everything we created as a family," he concluded.
Meanwhile, in the SNet chat groups, on WhatsApp, on Facebook and other social networks a song circulates as a tribute or farewell to the network.
"SNet is going and with it I lose a thousand friends," says the lyrics of the theme of an amateur artist with the username of "Amazing TMG."
"How many things are going with SNet," says the song.
Authors