"I have to get out of here, I have nothing left," says Danaisy Alfonso as she picks up the clothes scattered among the ruins of what was once her home. She does so restlessly, compulsively, keeping an eye on her three-year-old daughter Emilenys.
The girl barely leaves her side. At times she tries to play with a broken toy, but she immediately returns to her mother's side. Her eyes show her fear. Her face and back bear the marks of what she experienced last Sunday with the tornado.
Since that night her 10-month-old sister has been hospitalized in the Pediatric Hospital of Centro Habana. Her older sister, seven years old, was also hit by the wall that came down.
"I don't even want to remember…," says Danaisy.
The mother was putting her daughters to bed when the wind ripped out an avocado tree in front of her house, in Villa Primera, Guanabacoa, and threw it against the wall of her room. The frayed roof fell in the yard.
Some time ago, she affirms, she had asked the forestry services to cut down the tree, "but they told me I had to wait, even though I had three young girls. And because of the waiting, look, it fell on top of us."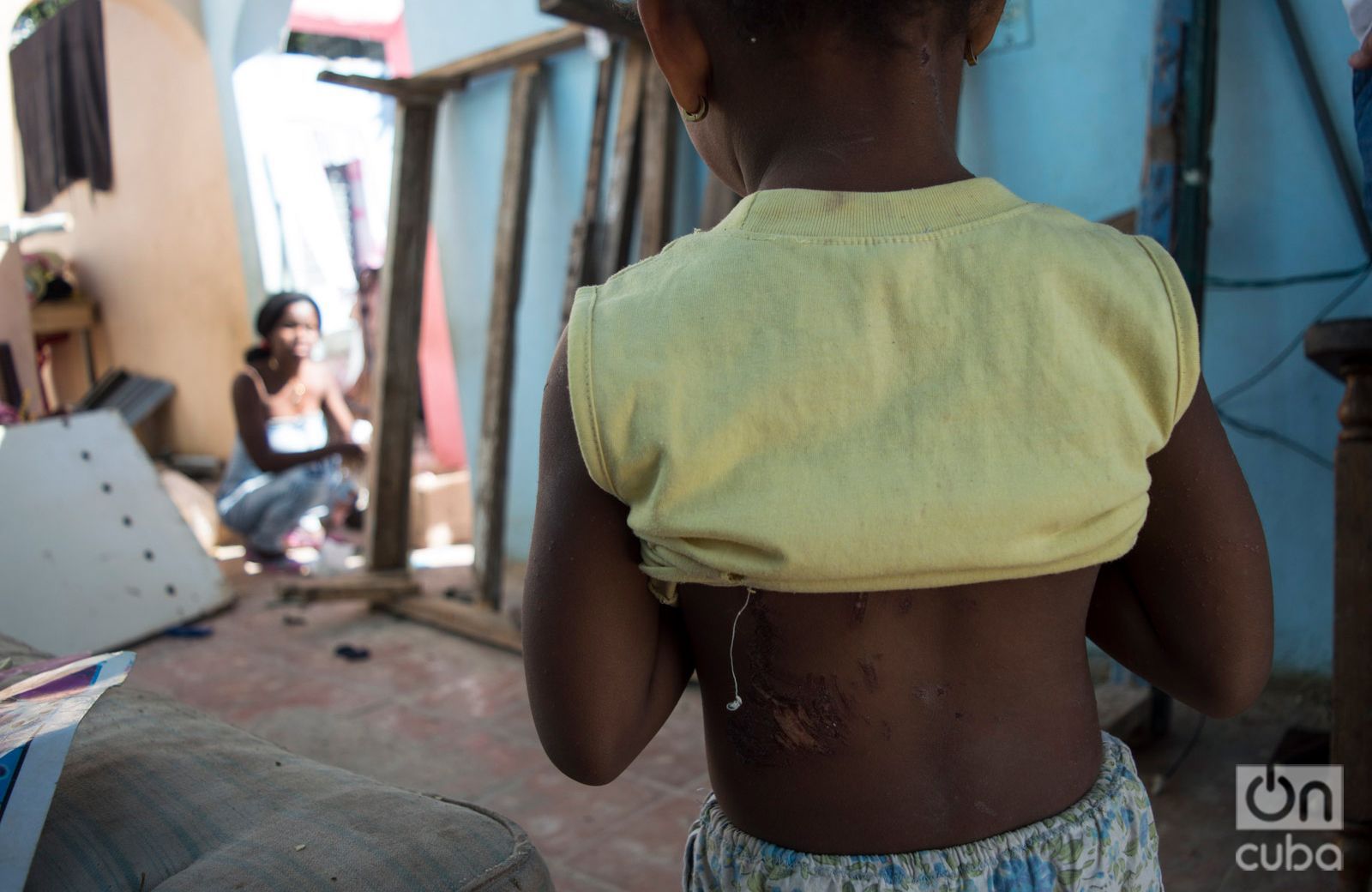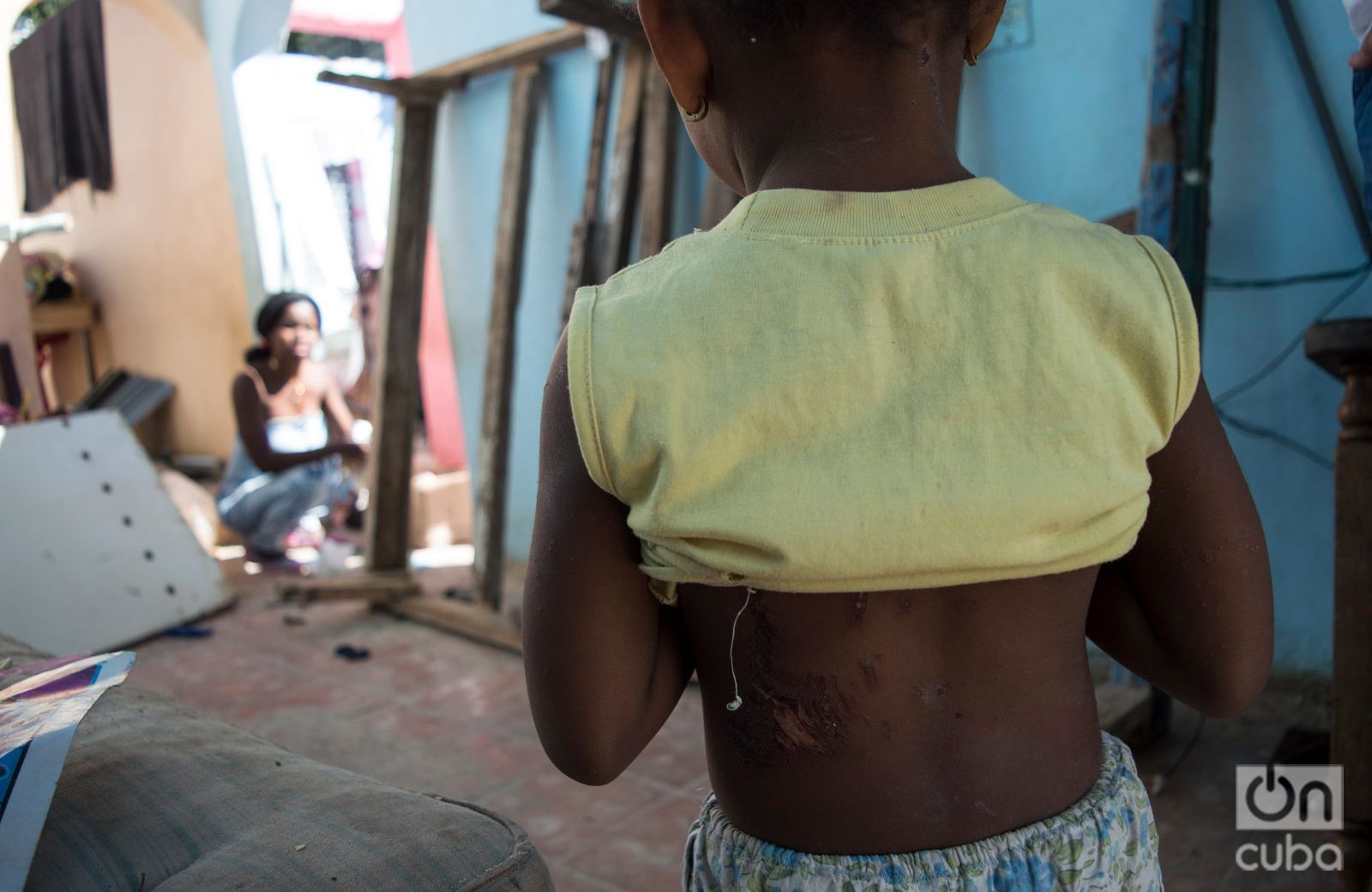 "I tried to protect the girls, but I didn't have time for anything," she says, as she shows her own scars. "I don't know from where I got the strength; I only thought about saving my daughters. I removed the rubble on top of us and I ran out with the three of them."
In the middle of the rain and darkness, she managed to get to a neighbor's house. The tornado had already passed, but her anxiety was increasingly greater.
"I didn't go out in an ambulance, they couldn't get through because of all the rubble. The president of the CDR [Committee for the Defense of the Revolution] took me in a car as far as he could. I had to continue on foot to the polyclinic and from there they sent me to the children's hospital."
Danaisy spent the early morning hours in the hospital. Distressed. Aching. Without sleeping. Fortunately, she was able to locate the father of her youngest daughter so that he could take over while she returned home, to discover the size of the disaster.
"The doctors have treated her well," she says of the girl, "they have her under observation and until now it has not been necessary to operate. I only ask God that she can recover. I didn't want to leave her, but I had to know how everything was over here, to see what I could do."
Danaisy is a single mother, unemployed. Because of her situation she receives social assistance. Her house, now destroyed, was built by the government.
She tells me specialists from Physical Planning passed by her house to see the damages. However, she can't wait. Because of her daughters.
"I'm going to the government to see where they're going to put us. I lost the TV set, the bed, sheets, furniture, the crib and some other of the girls' things, I don't know if the refrigerator will work," she says. "Luckily, my neighbor is going to store for me what little was left, and she has helped me wash some clothes. The main thing is that we are alive. I have to go on with that. "
***
A hundred meters from where Danaisy, in the Chibás district of Guanabacoa, the remains of a container are embedded in a wall. Around it, garbage, branches, cables and torn roof tiles pile up.
"All that fell with the tornado," David Fuentes, a 42-year-old mason, told OnCuba from the entrance of his home. His house, at the top of a hill, is now a group of roofless walls, with broken windows and a thousand things scattered on the floor and on top of the furniture that is still standing.
"That creature was very ugly; you had to be here to see it," he says about the whirlwind.
"It lifted the container down there," he says and points in the direction of the slope, towards the Vanguardia Socialista state enterprise, which in the distance looks like a jumble of bare beams, barely without roof tiles to hold up.
"The workers there say they used it to store tools and materials, and look where it went. If it had changed directions a few meters and collided with the house, we wouldn't be here to tell the story. "
David's experience is similar to many others told these days in Havana, and at the same time different, singularly terrifying. A mixture of amazement and fear that refuses to leave his face and emerges every time he tells the story.
"I was lying on the bed when I started to hear a sound like transformers about to burst. I stood at the entrance to the portal, which is no longer there because the tornado destroyed it, and I see some lights in the sky. At first I thought it was an electric explosion in [the neighboring municipality] Regla, but then I saw that the tornado was approaching and was heading toward us.
"I told my wife 'throw yourself on the floor,' and I also threw myself with her, under the window of the room. Immediately the wind ripped the window and threw it on top of the bed, and went into the house. It destroyed everything: it took the roof tiles, it knocked down the furniture, it ruined everything.
"If she had been alone here, maybe she would be dead, because she did not react, she was paralyzed. I had to pull her. If I hadn't done it, the window would have fallen on top of her or who knows. Luckily it was not so."
David can't specify exactly how long everything lasted: "It was very fast, but there is no way to calculate it. When you're scared you can't know, it feels like a lifetime."
Like thousands of Havana residents, that terrible night shocked him.
"We didn't know what to do. Many people were in the same situation, and there was no power. In the end, we put up some cardboards, we fixed a space however we could and we threw ourselves there to sleep until the next day, like this in the open. What were we going to do? It drizzled and we had to cover ourselves with the dry clothes that we had left."
Two days later, David is still there, in the narrow home where he has been living for about three years. He wears a dirty T-shirt and faded shorts "to work on the house": opening a space among so many broken things ̶ physical and spiritual ̶ to move on.
Physical Planning specialists and government officials have already visited him to know his situation, and now he expects materials will be assigned to him to begin rebuilding his home. Living in a shelter is not an option for him.
"We are not leaving, at this point where are we going if this is where we live? This is what is ours and if we leave, when we get back we could find less than what was left. On the contrary, what we have to do is to build here. And that is what I intend to do."
Authors