Mick Jagger was settling a generational debt with thousands of Cubans when a group of rockers threw him a flag referring to the Rolling Stones as the concert was in full swing. The leader of the mythical band grabbed it with some part of his body, said thank you for the gesture with a millenary smile and put it back at the foot of the stage. That flag today serves as the inspiration for the first rock studio in Cuba, established on the first floor of a building close to the Fábrica de Arte in Havana.
"The group's flag full of signatures and dedications. I took a picture at the moment in which Jagger threw it back to his staff. That was a defining moment for us and, it might sound corny, but we felt that he was returning a baton, a responsibility: if you want it fight for that.
"The photo hangs in the studio and represents that BandEra [flag], and in addition we later combined it through design so that it would work in English (for us it seemed coherent since an immense part of our referents and our production comes from English)," says to OnCuba the creative director of this project, photographer Alejandro Menéndez, a follower of rock and roll who comes from the world of cinema and video clips.
BandEra Studio has independently brought out five records and has among its signups the bands Sweet Lizzy Project, Miel con Limón and Tracks, three of the young groups that, if they are able to face the wave of solitude and little backing for the genre on the island, could get to rank in an outstanding place among the new generation of national rock.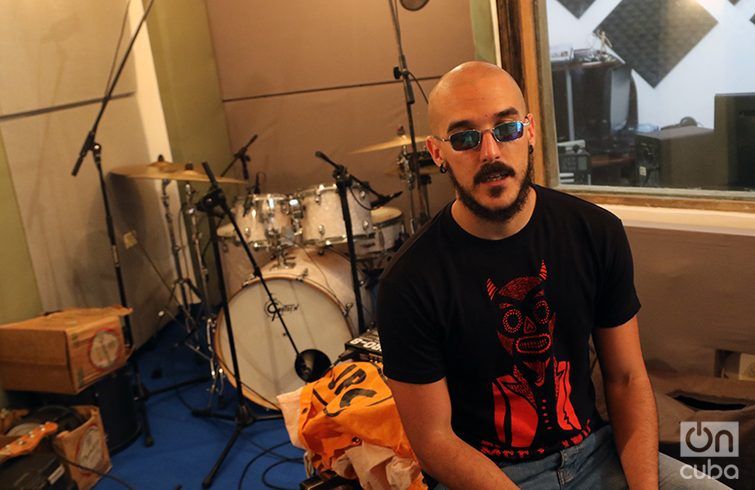 Why create a rock studio in Cuba?
BandEra Studio aims to be a musical label, a collective management label. It was necessary to create it this way and not another because we believe that the only way to achieve an original and interesting production in the future will be based on independent initiatives, based on self-management, plurality, feedback and the identification on a personal level with a musical product.
At this moment, that is not possible or desirable only based on institutions. We know of the vilifications the genre has suffered throughout the country's cultural history. Nowadays what we are left with is the apathy and disinterest of the entities that should provide backing to rock-related musical genres. Many groups don't have the infrastructure for the production, promotion, distribution, sale and presentation of their musical works.
Rock is a name that in Cuba is usually restrictively denominated only for subgenre groups like metal (trash, death, power, black, heavy); hardcore. Genres that, surprisingly, have achieved a certain level of production in underground circuits, especially outside the capital, although not constant, fragmented and dislocated from other elements and other musical referents.
However, we are identified as a rock label because undoubtedly rock is the "hat," the sound that as a last resort defines us the most and interests us the most. But we are a living and evolutionary process, it is necessary to look at all the genres and be up to date with respect to the production in the area and the world, and the spectrum is very big.
Pop-rock, indie, grunge, new age, new wave, blues, folk, American, electronic are the genres we most "play," always proposing experimentation and the incorporation of other elements and styles. We are ready to receive anything that is willing to move a bit along those lines, even if it comes from a funk, jazz, reggae, rap, trova base. As a last resort the ideal would be to have our own sound in the Cuba of 2017 and that it "smells" of rock, but that it take from many other things.
It's clear to us that it's not a studio to make popular music, and it's not because of any type of dislike of the popular genres. These genres simply have an existing infrastructure to sustain themselves, although it is insufficient (like any other artistic production on the island) they at least have a way to record, to be presented and be visible. This neither eliminates the possibility of working with someone coming from popular genres but who wants to experiment with others.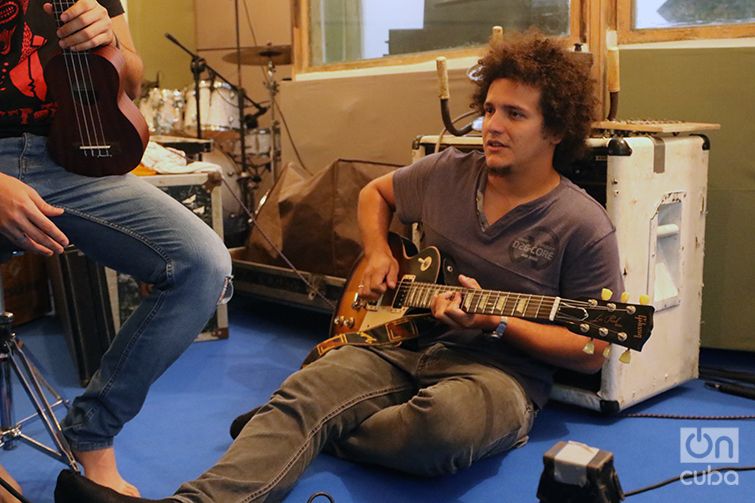 Isn't creating a rock studio in Cuba a risky idea and not very profitable given the genre's bad health and the lack of originality of bands that only do covers?
I don't agree 100 percent with your affirmation. For the time being we accept that about lack of originality, which I believe is an attitude learned and imposed because of other conditions. If you do something original in the genre you don't have where to play, or where to record, or where to sell and therefore there is no "public" that is going to see or listen to you. With covers you can have some of the 2 or 3 spaces to play the music you like. Even if you have original material, the infrastructure doesn't allow you to go very far, therefore you start defending it increasingly less, you even convince yourself that what you do is not good and that it's better to continue playing Deep Purple for the rest of your life.
In the first place, I don't believe that the relationship with the public is established only in one direction; there doesn't have to be an established public for a musical product to be well received. Undoubtedly, a cultural environment used to a type of product responds faster, but the relationship is also established in the opposite direction. With quality material, with a good communication structure and publicity, the potential public approaches and a niche is created.
The cultural press affirmed that more than a million persons went to the Rolling Stones concert. How many went to see Sepultura a few years ago? To see Manu Chao? To see Audioslave, Fito Paéz, Jovanotti, The Dead Daisies, Jorge Drexler…? Or to see X Alfonso, Carlos Varela? That public is there. Those who know the groups are there as well as many others who simply go out of curiosity. They are waiting for original proposals with fresh proposals, with content and musical quality, but they are usually convinced, and they have reason to be, that the genre is in a bad state and there are no proposals.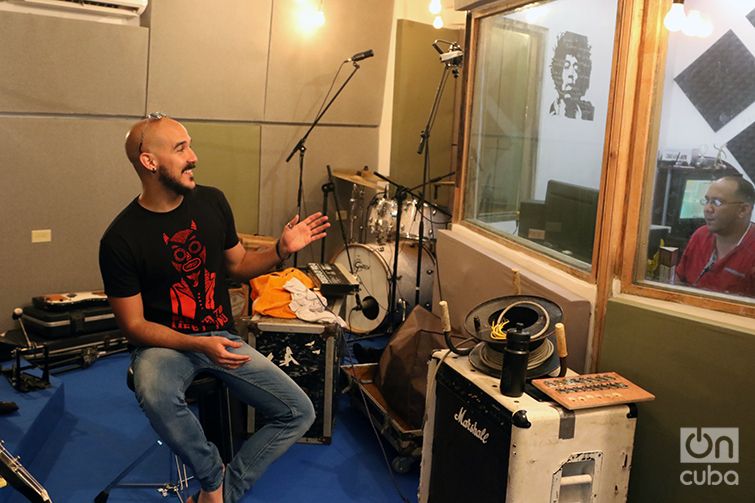 On the one hand we have few or no institutional production and support, and on the other little tradition. But each has an opposite and I'm convinced that because of being "hidden in the closet" for so long our rock will produce a late discovery effect. Fifty years of music will arrive for the younger generations. We have to revise and condense many musical movements to understand the evolution until now. Just Latin American rock is overwhelming and a pending subject for our cultural knowledge.
And that maelstrom produced all of a sudden with the access to the Internet, being able to have access for the first time to the billboard's hot 100, to the best of Pitchfork and to all the list of records of Soda Stereo, that with one click one can download from the Torrents…it's in that context that I have pinned great hope, as well as in the talent that until now we've had more than enough in other genres.
There are many young people who go to play around with their electric guitars and to loopearse seeking "new" sounds, about which they almost had no reference before. If we add to this an interest in saying that from today's Cuba, it is possible that in the maelstrom an autonomous and deep movement is formed, a movement that talks about Cuba with the sound of the world.
Which are the requirements to record in BandEra Studio?
Wanting to do it, that from the studio we understand there is a potentially attractive product, and being willing to work tirelessly and to embrace our sound. In the last year – which is when we can properly speak of a BandEra Studio production – we have produced 4 complete records, 2 EPs and 4 or 5 singles. Right now we are working in a parallel way on the materials of at least 4 more groups.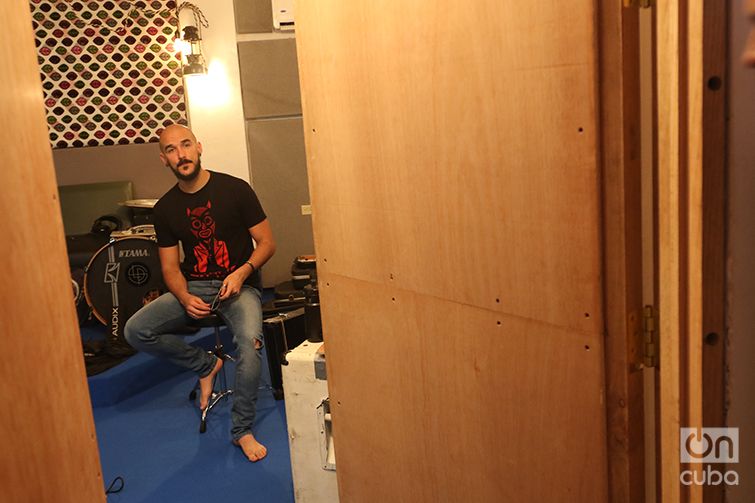 After recording do you provide promotion strategy for the materials?
This is a very delicate point because this is where the ground is swampier since everything must be built almost from zero. Let's say we have a fresh band, with talent and we both want to work together. The band becomes a part of the label's "catalogue" and starting then we both try to get results. The first thing is to understand that the 12-track record – understood as a product that is not closed until it is complete, hermetic, etc. – is dead. Or at least it has been left as never before as the last stage of distribution and promotion of a musical material.
Before this singles and ERs must be produced with those with whom audiovisuals can be filmed, be they clips, live session, video art, etc. The singles and the 4- or 5-theme EPs consume less resources, economic as well as human, and work to "sound out the market" and start getting feedback. To produce a whole record it is good to already have guaranteed interests: producers, events or public that rapidly move the work. BandEra is building a website that will make it possible to have access to all the material it produces in the studio, to the artists' and the bands' profiles, to the materials of their channels in the social media (YouTube, Instagram, Facebook…). Moreover, it will allow for hearing the music in streaming or downloading the album and managing events and presentations. The studio itself is a place for the filming of live sessions that allow for creating a flow of regular presentations.
We are preparing a magazine, whose first pilot issue has already been released, to promote the catalogue's artists, recover the history of rock in Cuba and announce events and related spaces. We're still not taking any step in that sense, but organizing a first event, a festival with "our" artists and other guests is something that is a must once we have an extensive and varied group of artists.
Have you made some type of alliance with the most established recording labels?
We have presented the project to all of them and we have gotten positive answers. They think it's a good initiative. But there has been no concrete link with any of them. They were shown the material produced last year waiting for some global interest, but there was none. They only commented to license some isolated album that we finally decided to license through another means and with companies outside the island.
Since the practice of establishing alliances with Indie labels doesn't exist, the executives require a great deal of willpower. We shall see if in the future, to the extent that BandEra's work expands, other interests come up. In the meantime we will continue working and presenting them what we do.
We would love to achieve a mechanism to launch our records (physically speaking) and the record labels already have this facility, thus an alliance in that sense would be very useful for us. Even investigating with them if there are still ways of launching vinyl records, a format that is being revived in the world.
Another possible point of collaboration would be scouting for talent. The official record labels are so established and are so few that they do not need – or at least they believe that – to scout for new talent. The practice of going out to listen to new groups or artists has been lost, they don't have scouting teams in remote places, houses of culture, gatherings, etc. They simply wait to be presented with projects and each year they choose those they are going to back. That practice, added to some genres' resistance to change, makes it impossible for experimental and risky proposals to get to the record companies; at times not even the artists themselves believe they are going to be chosen.
BandEra is open the year round to new and risky materials, in addition we will go scouting outside the capital, personally going to the possible spaces where we can find these artists and groups until it becomes a regular practice. We could function as a possible "first filter" for these record labels and run the risk that they no longer are willing to take.
Is it legal to open a recording studio in Cuba?
It's in a "dark zone" of legality, because it is simply not regulated. There is nothing that forbids it, but nothing that regulates it. You have a group of licenses that theoretically as a whole include the work of a studio, of a label. You can get the one for audio operator, for photographer and for record vendor. With those three working together you can, in theory, produce and record someone, design the image and market the records. Everything is very ambiguous.
For the time being BandEra doesn't have this type of problems since the initial capital comes completely from what we have started up and will not be recovered in a short time, since we still aren't selling anything and we aren't particularly interested, at least now, in charging for the services of using the studio (studio rental).
In my case, for example, my formation is from the world of cinema and the audiovisual. I have a BA from the Faculty of Art of the Means of Communication of the Higher Institute of Art in the specialty of Direction of Photography, and with my work in that field I maintain my part.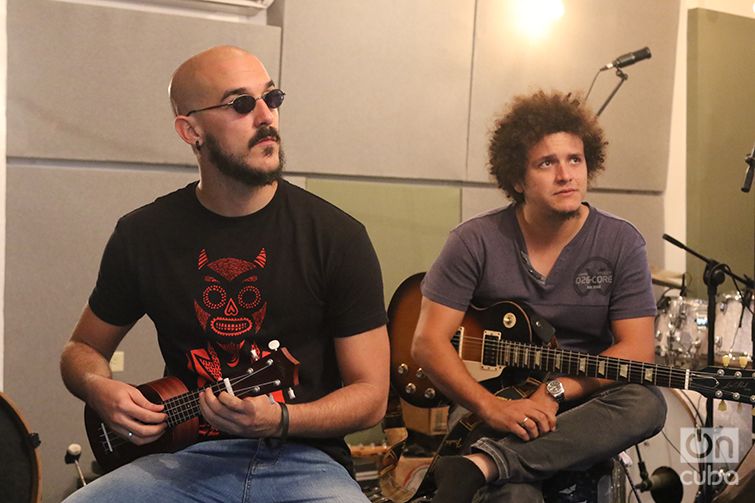 When did the idea of creating BandEra come up?
As a studio, three years ago Miguel Comas (guitarist and director of Sweet Lizzy Project) and Wilfredo Gatell (guitarist and musical director of Miel con Limón) were already producing with very poor conditions from a minibrigade apartment in Nuevo Vedado. Two albums that won Best Rock and Pop Album of 2015 came out of there and that is the antecedent of the project.
I'm the outsider because I don't come from the sphere of music, but we are childhood friends and music lovers. It was born as a need and not as a business, although in the long term it needs to function as a business to be self-sustainable.
Using the joint talents of its numerous members and collaborators (journalists, designers, filmmakers, photographers, musicians, producers), it aims to cover from the musical production (composition, arrangement, production, recording, mixing and mastering), the image design (audiovisual, clips, live, fixed photo, record and poster design), web management, communication, even the live presentations. The magazine has been very complicated since it is a drained capital with no profit at all, we had a first pilot issue and although as a pilot it was good, it lacked dimension, national content and exploration.
Sweet Lizzy Project's version of "Súbeme la radio" has had great backing among the public. It is BandEra's first video?
Actually, we made BandEra's first video last year. The song is "Who Am I" and the group was The Outsiders. It was a very simple clip made with friends and won the best edition and best pop-rock video award in Lucas. This new clip, "Turn Up the Radio," was an interesting experiment. We had great fun making it and the song is super catchy, which is why it is functioning with the public. Sweet Lizzy Project is one of the studio's "leading" groups and I believe that with their talent and constant work, they can be indispensable in the current Cuban musical panorama and very representative of this new movement.
How do you see the future of BandEra?
In the long term we want the label to have its own sound and that it represents a generation. That the era of the bands be correct and that we be the epicenter of a movement of musicians and public. Being the studio of reference in Cuba in a group of genres. Organizing a big event that allows our groups to interact with artists worldwide and a public that enjoys and defends it. Make a lot of good rock and roll!