Morgan Creek is a name most Cubans won't recognize just from hearing it, but seeing the logo can bring to mind movies that were very popular locally, such as The Last of the Mohicans, Ace Ventura: Pet Detective, or Major League.
Morgan Creek's president, David Robinson, and a friend from the movie industry, Kim Hammond, have been walking around the streets of Havana over the last few days, excited about the changes underway and the potential they see on the island.
"This is the third time I visit Cuba," said Robinson at the beginning of an exclusive interview he granted OnCuba. "We both liked the Cuban zombie movie, Juan of the dead (Juan de los muertos), and I have taught production courses at the San Antonio de los Baños International Television and Film School."
Robinson and Hammond, who travelled to Cuba on the first flight of a new connection between Baltimore and Havana, are not looking to sign any immediate agreements, but rather exploring, getting to know the country, and interacting with local professionals.
"We are here because this is a fresh start for relations between the United States and Cuba," said Robinson. "Cubans are very intelligent people; this is a country of smart people. We're here to cooperate: we have as many things to learn from you as you have to learn from us."
After giving their financial support to Cuban Chrome, a series recently launched by Discovery Channel, the two friends said that they are looking forward to other productions that could be shot on location in Cuba.
"Locations here have caught our eye," said Robinson. "The more we visit, the better we'll get to know the country, and then it will be easier to find stories we would like to tell about Cuba. We haven't had the opportunity to meet more people. Sometimes what we consider a story in the U.S. is not the same here, because our publics are different."
"Also, we are not screenwriters," added Hammond. "Scripts are pitched to us, and then we decide if we are going to produce them or not.
"What we like the most about Cuba is its proximity to the United States," continued Robinson, "and that things are changing now. The Cuban youth will be seeing many new things in the future."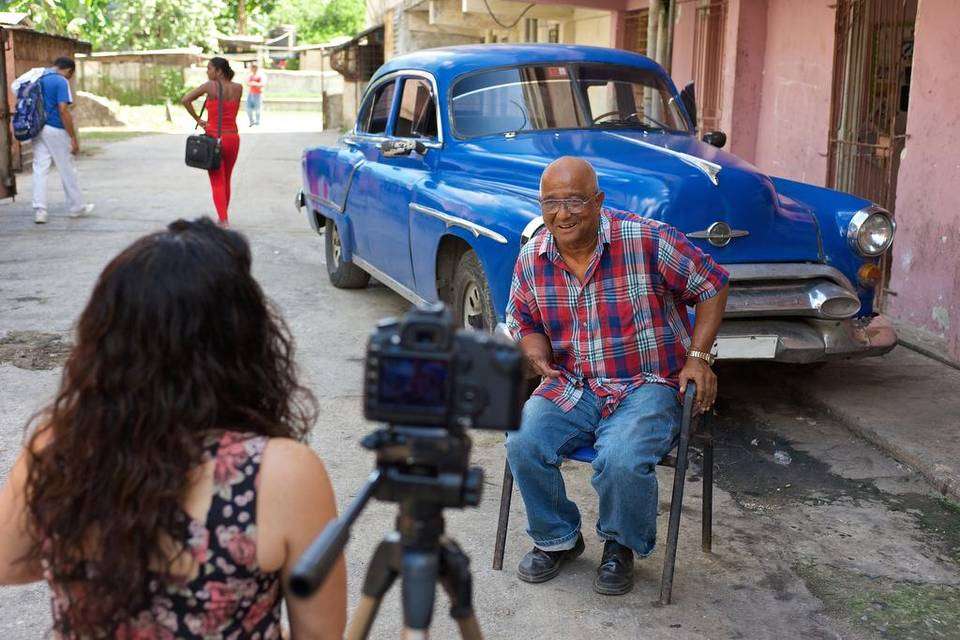 They haven't been in touch with experts and artists of the Cuban movie industry, but both Robinson and Hammond said they already have an idea of the opportunities and challenges for an eventual cooperation with them.
"David is an extraordinary, successful human being, and I am an experienced businessman," said Hammond. "What we want to do is to meet young people here, people who can help us to be better, while we help them to be better as well.
"We also want something from you. We don't go out there to make money. We do know that if we do things right, in the end we will also be making money, but that is not the priority. Our main interest is the quality of what we may produce.
"There are still things to improve before anything can be done. In the movie industry an important principle is that you have to be transparent with the use you make of funds. If we put together a local team, it cannot happen that the government takes most of the money for itself, while the team only earns a small fraction of the amount.
"Another example: if we had to buy a car here, we could not pay 200,000 dollars for a small car. That is the kind of things that need to be fixed," said Hammond.
"It's not that we don't want the government to make any money at all. It's just that the way funds are handled now would have to change. The cost of production would be the same, only the distribution of funds needs to change."
"In the U.S. there are certain laws that we didn't draw up, but we have to comply with them. We won't know how far we can get until our government makes that clear to us, or until current regulations change," said Hammond.
Thanks to the U.S. embargo of Cuba, American movies are broadcasted on national television as well as American television series, and Cuba does not pay royalties or distribution rights.
Asked if he saw any change with regards to this in the future, Hammond answered:
"A balance will be reached. Cubans won't want to stop having access to these films and shows, and we Americans don't want to charge too much for them. That said, you cannot make movies without money, so an agreement should be reached that suits both parties.
"Everything is changing," he concluded, "we are in 2015, it's a new day. We have to look ahead and move forward. We have to let older people solve older problems. But the youth should be making progress. We certainly can do that together and share the experience."
Authors