Pablo Milanés arrived on dot at noon at the PM Records studio with his wife, Nancy, to continue the pre-rehearsals of two concerts this Friday and Saturday with Carlos Varela at the Flamingo Theater Bar, Miami. Carlos was waiting for him in his usual black clothes and with a guitar from which he plucks some chords.
The meeting seems like a party. Carlitos, as Pablo calls him, makes a few jokes to his friend, who starts to laugh like a child. They hug each other, talk a little about the topics they will review and lock themselves in the studio for almost an hour.
The singer-songwriters are separated from the sound table by a glass pane. From the room you can hear Pablo's and Varela's songs played indistinctly by both musicians. Those of us who listen to "Como los Peces" in Pablo's voice and "El breve espacio en que no estás" by Carlos Varela, know that what is happening there is something memorable.
They are two musicians who have defined the spirit of several generations, each of their songs carries a strong symbolic charge that represents us and continue to stand as testimony of their lives, ours and that of the country they inhabit. "I can't be away from Cuba for a long time because nostalgia invades me," Pablo had affirmed to me shortly before entering the studio.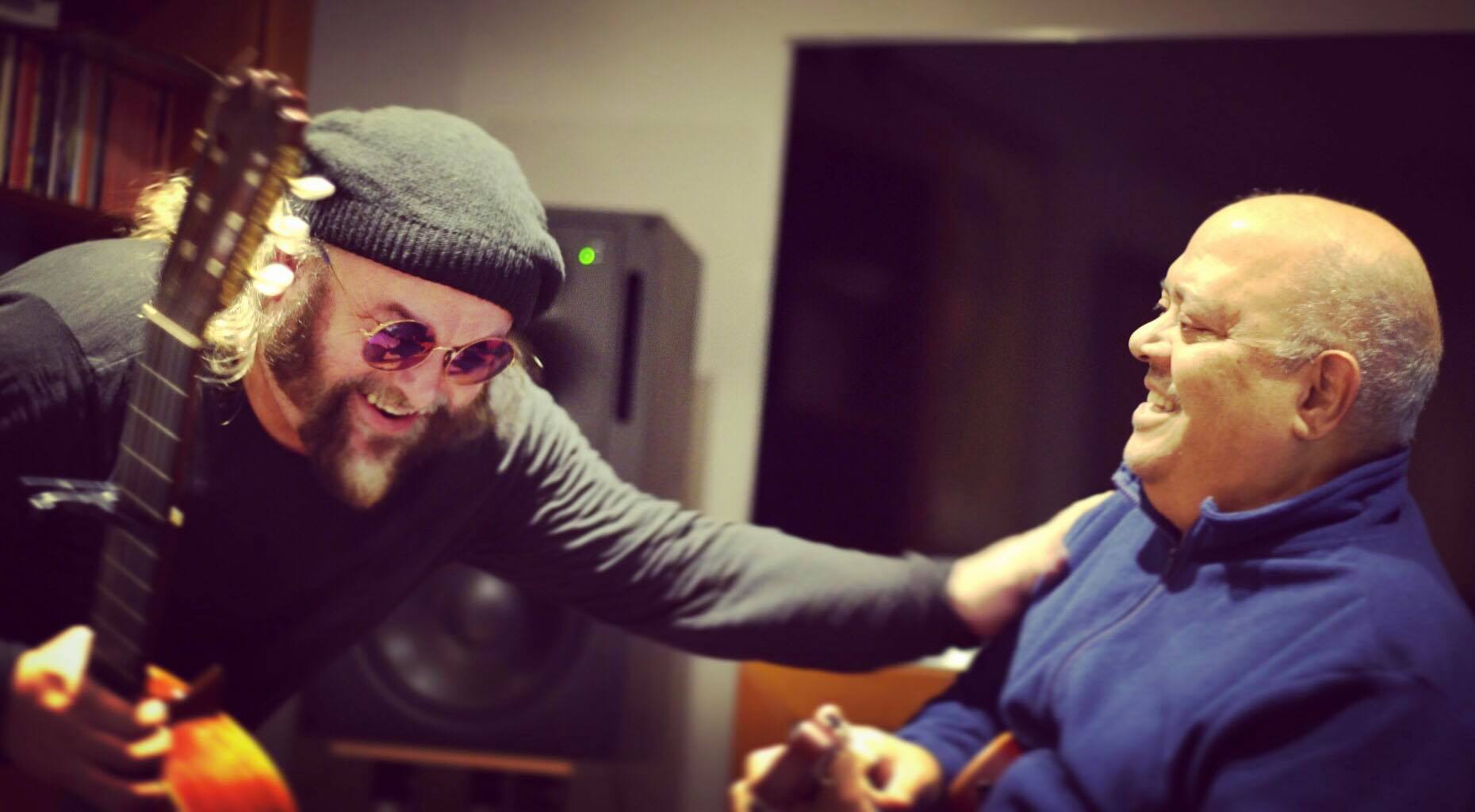 Pablo has just returned from Mexico, where he gave a concert for thousands of his followers at the Ciudad Esperanza Iris Theater. Now, almost without resting, he is traveling to Miami for a presentation that many of the Cubans who live in that city are really excited about. The tickets were sold at breakneck speed. "Sold out," this event's Facebook page has been announcing for months. This is the first time that both singer-songwriters will give a concert together in Miami.
Pablo and Varela finish the rehearsal. The review of the songs was pure procedure. They know each other perfectly well and that is perceived from the beginning. This was the last rehearsal before the concerts that will take Pablo back to the United States. The presentations will be only with guitar and both will sing several of their classics.
Pablo is very satisfied these days with the release of the album Amor Deluxe by his daughter Haydée. In the album she sings several of her father's songs along with icons of Iberian-American music. "It is very good that she recorded with Ibeyi," Pablo tells me while Haydée, accompanied by her husband and representative, photographer Alejandro Gutiérrez, gives her father a kiss.
There, sitting close to a table, is also Antonio Milanés, one of the youngest children of the singer, who is trying his luck in the world of rap. Pablo jokes with Antonio and the young man hides behind the sunglasses when his father mentions the name of a girl. "We're going to marry you to her," he says and his son laughs and blushes.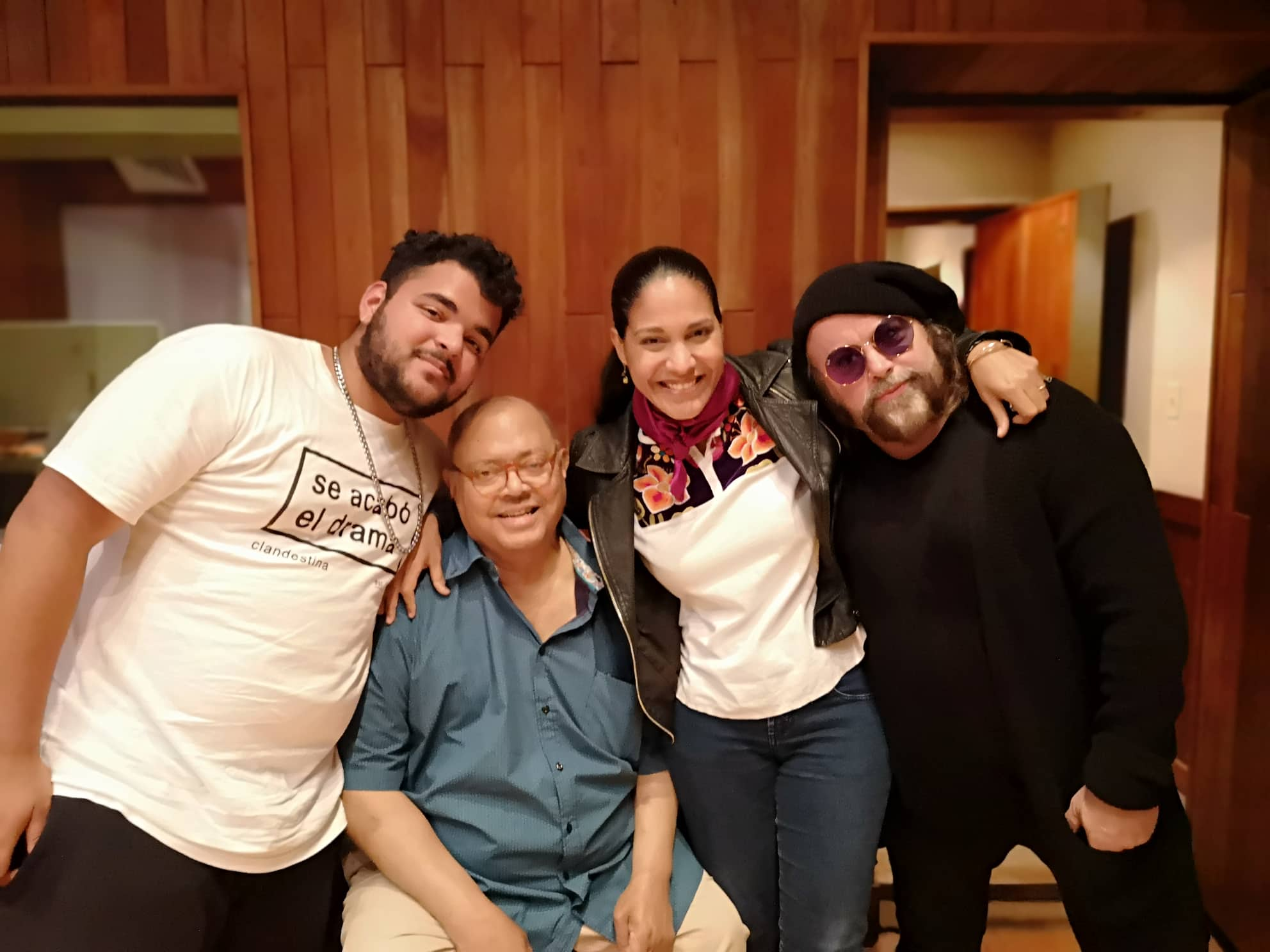 The atmosphere breathed in PM is very familiar. I talk to Pablo about the concerts in Miami and the nostalgia that these presentations can arouse. He gets up and we go back to the room where shortly before I had witnessed a communion to remember.
"I imagine there is nostalgia. I have that nostalgia when I'm away from Cuba for a month, imagine then when you leave to live outside our country. Anyway, we are all Cubans, we all belong to Cuba and we have the right to live on our island, where we were born, and when this doesn't happen it leads to nostalgia," he says.
As we recall his song "Mis 22 años," a cardinal song in the birth of what was later known as the New Song Movement, I ask him: "Do you consider yourself a nostalgic musician?"
"As time goes by, I always remember the past and that makes me feel nostalgic. Yes, undoubtedly I am a nostalgic man," he tells OnCuba as Carlos enters the studio
Pablo has many expectations with these concerts in Miami, where, he says, he will feel at home. "We are very excited about meeting the Cuban public, not only in Miami but wherever it is. It's an audience that has followed us for years, who knows our songs, who enjoys them and sings them. Then we will feel at home, much more when we have a 20-year experience doing this type of jam sessions in private and now it will be the first time we will have one in public."
Hace 25 años nació esta canción, COMO LOS PECES. Es una bendición poderla compartir hoy junto a una de las voces con más sentimiento y más emoción en la historia de Cuba. @pablo_milanes_oficial #ensayos #comolospeces #conciertos 29 y 30 #marzo2019 #miami #soldout #carlosvarela #pablomilanes #dosvoces

Posted by Carlos Varela on Tuesday, March 5, 2019
The author of classics such as "Yolanda" explains that the chosen repertoire is the same as the one that has accompanied many meetings with friends. "These songs are part of the repertoire of our jam sessions at home, with groups of friends, singer-songwriters, actors, painters, artists in general. That's why the concerts will be something very familiar."
Carlos puts away his guitar and talks with photographer Olivia Prendes about the little time he has to finalize details before traveling to Miami this Thursday for the sound tests.
"People will come to listen to us to meet up with a bit of their past, their youth, their neighborhood and their adolescence through the songs. I have always defended the theory that with songs you can tell the history of a country, and that idea is fundamental in these concerts," says Varela.
Carlos mentions nostalgia and distance as differences that may exist between Cubans who emigrated to Miami and those who live in Cuba. "In the end you feel a sense of silence when you sing, which translates into respect, both here and there."
Emigration and nostalgia are two obsessions that go through his work, sometimes as a painful reminder. "I have been able to understand the phenomenon of emigration through the processes of history. I know many cases of parents who shouted at their son 'traitor,' and of children who shouted 'traitor' to their father, but people emigrate for diverse reasons and it's not only in Cuba. There are many dead in the waters between the two shores, but emigration is an inevitable phenomenon, more so since this is an island. Since my first songs, such as "Jalisco Park," I have always been talking about those processes. We all live with the emigration of the Cuban family. Whenever there is an empty chair at the table on Sunday, whoever would occupy it is usually 90 miles away," he says, remembering the album Como los peces, which was released 25 years ago.
"I wrote that album right in the middle of the Special Period," recalls Carlos. "I literally wrote it under the light of a candle. I especially remember the day I wrote the song 'Como los peces.' I had the first verses and when I started saying that 'on the face of Jesus there is a falling tear…black tears' I had not thought about the Matamoros song. That was when I lived in El Vedado and in the middle of a blackout I got the lyrics of the song and then I wanted to make a nod to Matamoros. That complemented the song and helped me write the rest of the songs on that album."
Como los peces was the soundtrack of a generation, a kind of knock on the collective conscience of thousands of young people who had already assumed as a ritual the singer's previous albums: Monedas al aire and Jalisco Park.
Varela assures me that no one would have liked to be in his shoes during that period. "It was very difficult to present that record at that time. Sooner or later I want to write a book saying what it took to write 'Guillermo Tell' and all the songs that came later, including 'Como los peces.' It was a pitched battle, I don't regret it because it made me stronger and I managed to surf over all the many people's obstacles for many years, those who wanted me to leave my country and in the end they were the ones who left."
During his endurance race, Carlos says he never wanted to leave Cuba. "It could be the call of the dead," he reflects. "I have many friends who left, some are doing very well, others not so much. I have no family left in Cuba. My brother Víctor is in New York and I haven't seen him for more than 10 years, and the rest of my family rests in Colón Cemetery. There's something that ties me to Cuba and I always return home, although I love to see the world and travel. I like to write here and share with the friends I have."
The singer-songwriter claims to be in love with his new album. It's called Grito mudo and has certain similarities with the songs of Como los peces. "What I like most about this album is its honesty. A lot of people remember my songs from years ago because of the force with which I defend what I say. I really like the stories I tell. It's a record I'm deeply in love with and I hope that love lasts. I'm also writing new songs, but first I want to release Grito mudo. There are songs like 'California' that move the soul and the bones and make me feel that composing makes sense. I also recorded songs like 'Bostezo de la espera,' 'Serguei, el cosmonauta' and 'Emigrantes' that reflect different stages of Cuba seen from today. That's something I really like about the album."
Así como me ha dolido perder a amigos en el mar o me duele ver a familias cubanas pederlo todo bajo la furia del viento y del agua, me duele también ver que muchos amigos de California lo han perdido todo bajo la furia del fuego.Aquí les dejo un fragmento de mi canción CALIFORNIACalifornia, está dentro de mí en mi historia y en mi voz, por la gloria del señoryo te mando un cielo griscargado de aguacerosque apague el fuegoque arde en California.Los que dibujaron las fronterasen los mapas de la historia,solo nos dejaron en las venassangre de odio y xenofobia….Californiais inside of mein my story and in my voice.By the glory of GodI send you a grey skyloaded with downpoursto put out the firethat burns in California. Those who drew the frontiersin the history mapsonly left in our veinsblood of hatred and xenophobia….#california #elgritomudo #comingsoon

Posted by Carlos Varela on Monday, November 12, 2018
Carlos answers almost all the questions from experience. He is not afraid to confess that he is a musician marked by losses and that he somehow sings and writes to survive his past, and time. In recent years he has seen how several members of his generation have suddenly died. I mention Santiago Feliú and Alberto Tosca, but he, in principle, prefers not to evoke names.
"All that is beginning to have an influence on the verses of my new songs. The passage of years brings losses. Of families, of very dear friends and I reflect that in my songs. No need to say names, but I have a lifetime of many losses; that hasn't made me a depressed man, but I have moments when I feel down every time song brothers and colleagues leave. For example, Tosca left in the middle of the recording of an album in his tribute and that was a very strong blow."
"El Gnomo," as many call him, quickly reaffirms his admiration for Pablo and speaks with respect about the Cubans who await him in Miami. "It's going to be very beautiful. I have sung a lot in Miami, but this will be a different concert. They are two voices, two generations and two thoughts about the history of the same country. Listening to Pablo singing 'Como los peces,' 'Habaname' or 'Una palabra' is very exciting. I know this will be the beginning of a very beautiful stage because we also have fun on stage. I mean, it's a very serious concert because it's with a guitar, but as Pablo told you, it's something we do a lot at his place and at friends' homes. For me it is a privilege to sing along with one of the great voices the history of Cuba has given birth to."
"I was surprised," Carlos continues, "with what happened with the tickets to the concerts. On other occasions tickets have always been sold for our shows, but almost always people buy them at the last minute. This time people bought them very quickly and it is symptomatic to discover that this happens at a time when there are so many frauds in music using technology to hide, to disguise themselves. We had the courage to say 'let's play just with a guitar,' and that will be pure poetic adrenaline. Many people grasped that spirit very quickly."
After his return, Carlos has several immediate plans. "I want to repeat with Pablo that project in Cuba and reunite the whole band that participated in the recording of Como los peces. That complete group stayed in Spain. They all have children and talk like Spaniards, but now I want to bring them together this year to revisit that record and add three or four new songs to the concert."
Varela hangs the guitar on his shoulder, takes a heavy beige case and has a hard time leaving the studio to a car waiting for him. At the entrance of this Vedado mansion he again meets Pablo, says another phrase of affection, admiration, pats him twice on the back and the two begin to talk about these presentations with the joy and concern of musicians anxiously getting ready for the first concert of their life.
Authors