After the announcement of three nominations in the Cubadisco 2013 with the DVD "Another way", the return of a presentation in Canary Islands and hours before a trip to Panama, this interview with René Baños, director of the group Vocal Sampling, took place. But no one should think that this conjunction of significant events make of him a presumptuous or arrogant guy. Not at all. Besides of welcoming us into his house, Baños insists that we start by having a coffee: "You will like it, boys, please accept it". And so, a cup of coffee: the perfect stimulant for talking an hour non-stop.
Twenty-three years after the creation of Vocal Sampling, at what point of its career it is?
The DVD "Another way" is a journey through the 23-year career, but also included new songs. From now on, we are interested in starting to make thematic work, likeboleros, classical chamber music, international songs or written by us. We are thinking of, for example, make an album with some songs of popular dance music made before 1959 and one with hits from the years following the triumph of the Revolution. We want to show through the work with the voices, how all the changes that occurred in the culture and society influenced Cuban music. All these projects are the result of the ability and freedom Sampling has given us to experiment and venture into different audio media.
The work they do with the voices has been a challenge in every way … We had to work hard, adapt and seek physical and abstract resources of expression. It's very exciting because sometimes we even have to think as if we were instrument designers and imagine how they would sound. We have gained experience in the use of our voices but at first if we wanted to do as a trumpet, we had to start learning how it would sound. That can only be achieved with dedication. We get to test and look foolish experiencing sounds. It's a constant search process but it is fun and interesting.
How Vocal Sampling has contributed to the image of the Cubans in the world?
It has always struck me how, when we act abroad, people lets us know somehow they feel Cuba in our way of creation. Often they come after the presentation and asked how things are here. That shows that we are seen as a reliable source of information about our country. In the scenario we want to be as Cuban as we are forever and that the public perceives, feels that we are of this earth. The way to be relaxed, optimistic and cheerful is part of our character and that we express at all times.
What countries have you been better received in and where do you feel most comfortable?
When we act in Spanish speaking places we establish a direct communication with the audience, such as in Latin American countries. In America we have also felt very well even though most of the time we have acted in Anglophone cities. There, the public has always been very sociable, outgoing, they applaud and shout Ahhhhh! Certainly, we really enjoyed. We've been to Miami twice and it has been like acting in Cuba, but we had to keep the duality in the language because the English-speaking community also goes to our shows.
But I can say that in Germany we are very well received, what happens is that the European public is different. They, for example, applaud only at the end of the show. We, sometimes, we do so at some time in the middle, but it is very nice. Every place has something special to exchange.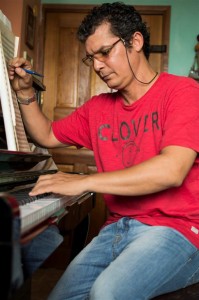 How is the relationship with the Cuban public?
Cubans know us, they know the repertoire and the fact that we had little presence in Cuba, causing much rejoice with every performance. Singing here is to sing at home, they have known you since you were born. We are always received with great familiarity and that makes us feel more confident.
How did you feel doing film music?
You have to get out of the usual and join in the story you someone else is telling. Sometimes the writer can like or not your music for a given situation and the musician has to be able to understand it and create. Turns out I'm in love with that. The Cuban film Habanastation was the first experience and then I have written the music for other documentaries. I discovered a new, fascinating,  world. It's something that I will continue experimenting on.
What has Vocal Sampling meant in your life?
It was a different way to pour everything I studied. I started with the violin at age eight and then I switched to piano, I graduated from this instrument at standard level and then I studied composition. And something like that happened to all group members. When one is formed as a musical instrumentalist it has a different way to create from a composer or singer, and the group has enabled us to mix universes, enter within them and accept them. In addition, Sampling has been basically the only job I've had for 23 years and it has lent me a unique opportunity to enjoy new experiences.
In the DVD "Another way" are the opinions of Alina Orraca, Hernán López Nussa, Juan Formell, Silvio Rodriguez and Leo Brower about Vocal Sampling What did you think of their ratings?
These views made us eager to continue creating. Listening to Silvio Rodríguez say he likes very much these songs composed by us or Formell saying that when playing Sampling he thinks it is the sounds of an orchestra because it makes you like dancing, is a wonderful thing.
What does Cuba mean to you?
Being born in Cuba and being a Cuban is a privilege with the entire good, fair or poor you may have our country. Being Cuban gives you the opportunity to take on challenges and fight for something important you have to give your time and effort. If everything was at hand and was so easy to reach, then it would not be as noticeable.
It is also a privilege to be Cuban by the joy of the people, the way we learned to live no matter how trivial.
Author