Alejandro Milian goes from acting to poetry, drama, and directs all while smoking uneasy from the lunettes. At first, Alejandro sated his thirst for theater directing by working with children. Cats, Grease and Requiem for Mercedes, dedicated to his grandmother, were some of the works that he premiered with an amateur group of boys but full of passion for what they did.
Without leaving his Mephisto Theatre troupe, Alejandro began working on a project approved on July 27 by the National Performing Arts as Las Mercedes Theatre Project. Apropos of this, and the invitation to participate in the IV Festival of Small Format of Miami OnCuba chatted with the young dramatist.
"It's a theater project about women made ​​almost entirely by women, to address sensitive issues in this genre ever. First we premiered Mujeres de cristal , a monologue included in my book and starring Alianne Portuondo and soon we're going to release La canción de Cecilia, which will be played by Araina Begue, I authored both plays.
"Women were always beaten in the theater, but we owe it to women. All playwrights should enhance its role in the Cuban scene. "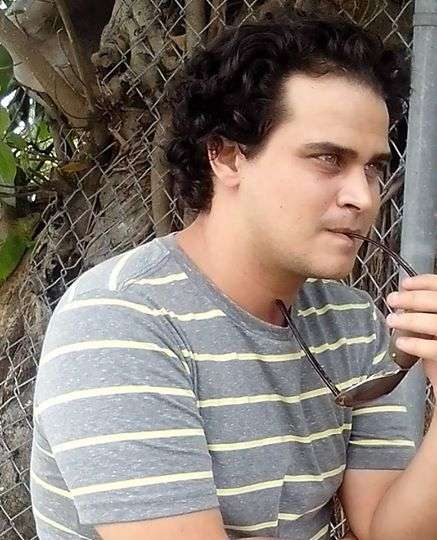 What poetic would define the Las Mercedes Theatre Project in the Cuban scene?
I'm looking for human sensibility, not a new theatrical language, but certain lyricism in the drama. I think the Cuban theater lacks the poetry and for the man to look more reflected. Carlos Pérez Peña once told me that the most important part in a play is the text, and I look for that, go further in the text.
"But above all to show the most common conflicts of women of all ages, and work not only for a female audience, but, and this is very important, for men. For men to understand these issues. "
How did you get to the IV Festival of Small Format in Miami and what proposal will you present there?
In one of the presentations of the second edition of my book Poems and Una mujer de cristal they invited me to the festival, but at that time only had the play Mujeres de cristal, and we could not submit it because it had already been released. I had to come to Havana and write La canción de Cecilia, which we will take to the event.
"The work is based on the life of Cecilia, my mother, and when she read it she broke all the ashtrays in my house. They are 24 hours of her everyday life. No fiction, everything that happens in the play is real: the struggle continues against loneliness, not to lose his son, her dead. It is the story of a doctor who raised hens in the last room in her house to feed her child. "
"The day will be presenting it is on November 9 at the Art Spoken in Miami. There you will see the story of a Cuban woman who is writing in the monotony of everyday life. Then return to continue working on the project. I would love to stage El Malentendido, for example, and La carta de mi tiempo, a play about the wait I'm writing now. "
Authors