In El Cerro, one of the most popular municipalities of the capital, at No. 358 La Rosa Street, graphic designer, painter and sculptor Arian García (Havana, 1971) has his studio. In that emporium – which was the family's home since the already distant 1903 – emerged the work of the creator who has been able (and has known how) to combine landscape, abstraction and design: three great and intense aspects, apparently distant but in his case with a common denominator: Cubanness and the recurrence of its symbols.
When he was a child, Arian felt a deep and inexplicable need to represent the world that surrounded him; because of this he was always drawing and his school notebooks were the ideal support for that task: "I drew all the time and while my friends from the barrio played ball, I enjoyed painting them and imagining worlds in other dimensions."
However, he says in a conversation with OnCuba, I always dreamed of becoming an outstanding nuclear physicist, a career that at that time was studied in the former Soviet Union: "my colleagues, who knew about these abilities as a draftsman, encouraged me to do the entrance exams in the San Alejandro Art Academy: I went and passed. Some days later, also because of the encouragement and not very aware of what I was getting into, I did the entrance exams in the Higher Institute of Industrial Design (ISDI), and I passed them once again. All of a sudden I saw myself at an early crossroads and, since I was an adolescent, my mother had to intervene. She decided that I do both, in parallel. That was the end of my interest in nuclear physics and start of a long stage of learning related to the world of visual arts that, fortunately, has still not concluded."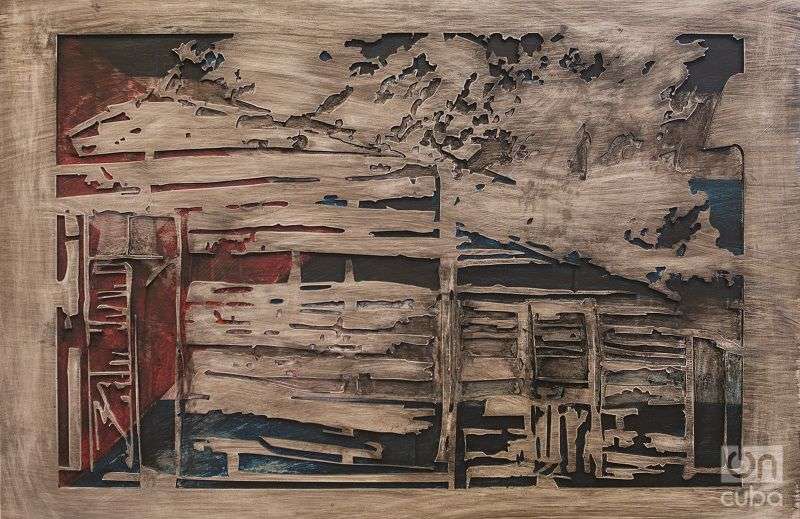 Arian graduated from San Alejandro in 1993 and three years later he concluded the ISDI (in the specialty of Informational Design): "already equipped with the theoretical and practical tools, I began a work as a painter and as a designer. I have always thought that both specialties complement each other, but at the same time are like being inside two totally different skins because I am one when I paint and another when I design."
This artist assumes the landscape – urban – in a very peculiar way and based on a very nostalgic view because, even with all the problems entailed in the deterioration the city is facing, he is a lover of Havana: "for me the city is in grey shades. In the majority of times, I take photos of the houses, I start from there, but I'm interested in those that are inhabited because in them, even when in a bad state of construction, there's always hope, a light. I believe that the houses series will be infinite because I will never tire of painting facades, balconies and doors which, in turn, are full of symbolisms."
And the symbolisms in the work of Arian are very subtle – it can be a suggested shade or an added sign -, but always justified by its concept, a solid idea that obliges him to self-define himself as a lover of conceptual art: "the artist has to be clear about what he is doing, what he wants to say and under which patterns and aesthetics he is going to seek shelter. Physically, conceptual art has to have a marked charge and a justified discourse, because it relies on the academy and on the trade, while making a wide use of diverse materials and technologies, which favors the transmission in a clean and refined way of a group of ideas."
There is another series – "it will also be infinite and it is the one in which I spend a great deal of my creative time" – that is backed on our national emblem: "the Cuban flag is very beautiful and dealing with it and capturing it in my work is a way of respecting it, of expressing a patriotic feeling. That it is present – in painting, sculpture or design – is to revere everything it stands for. It's not because of its colors, which are very beautiful, but rather for the concept it implies. It is a series in which I mix the flag with other elements to give out messages that have to do with the history of the Cuban nation and with the ideal of homeland that we have and, above all, with the one we dream of."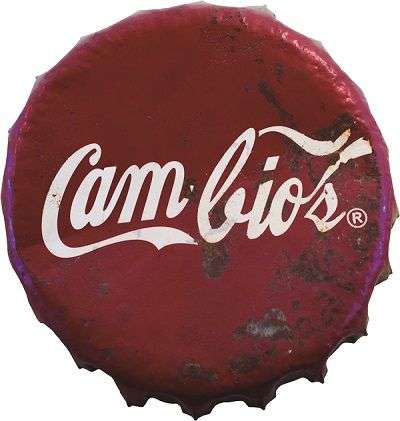 Although figuration is present in the work of Arian, there is another aspect that slips by or is oriented toward abstractionism which "for some, erroneously, can be considered easy in its craftsmanship, but actually it is very complicated. To make a good abstract work one has to know how to isolate the concept and, with the minimum of resources, achieve a level of synthesis, because it's a question of concentrating ideas. Nothing can distract you. It is extremely complex."
Throughout his career, this artist has been systematically linked to projects that, from diverse perspectives, have paid tribute to Cuba's National Hero, José Martí. He considers himself a deeply rooted follower of Martí: "I am a lover of what the Maestro symbolizes, and I believe that every good Cuban is permanently and eternally in debt to him; that's why every time I am summoned I will be there."
In his home, on La Rosa Street, Arian works "every day" trying to achieve the dreamed-of work, but like all true artists, he is full of certainties and also of uncertainties. Perhaps that is why he thinks that "the dreamed-of work does not exist." However, "I try to find it," he says, while he frowns, as the nuclear physicist he never got to be would do when facing a logarithm, an equation or the still unknown characteristics of the atom. And the thing is that what gives a boost to science is doubt, as it is also the case with art.
LOCATION
Studio Workshop: No. 358 La Rosa Street, between Vista Hermosa and Marianao, El Cerro, Havana, Cuba.
Tel.: 7 648 52 94 / 5 2648791
E-mail: [email protected] / [email protected]
Authors