The work of Flora Fong transpires the warmth and good energy of the place where it was conceived. She is one of the essential names of Cuban art in recent decades and one of our painters with the greatest international projection.
Flora says she can't conceive creation far from her studio, gallery and home. She affirms that the vegetation of her home inspires her and her garden motivates her to create while she is driven once and again by the thread of her work: nature.
The piece she is exhibiting as part of the HB Exhibit in the Grand Theater of Havana in this Biennial also demonstrates her passion for nature, for her garden and the elements that comprise it.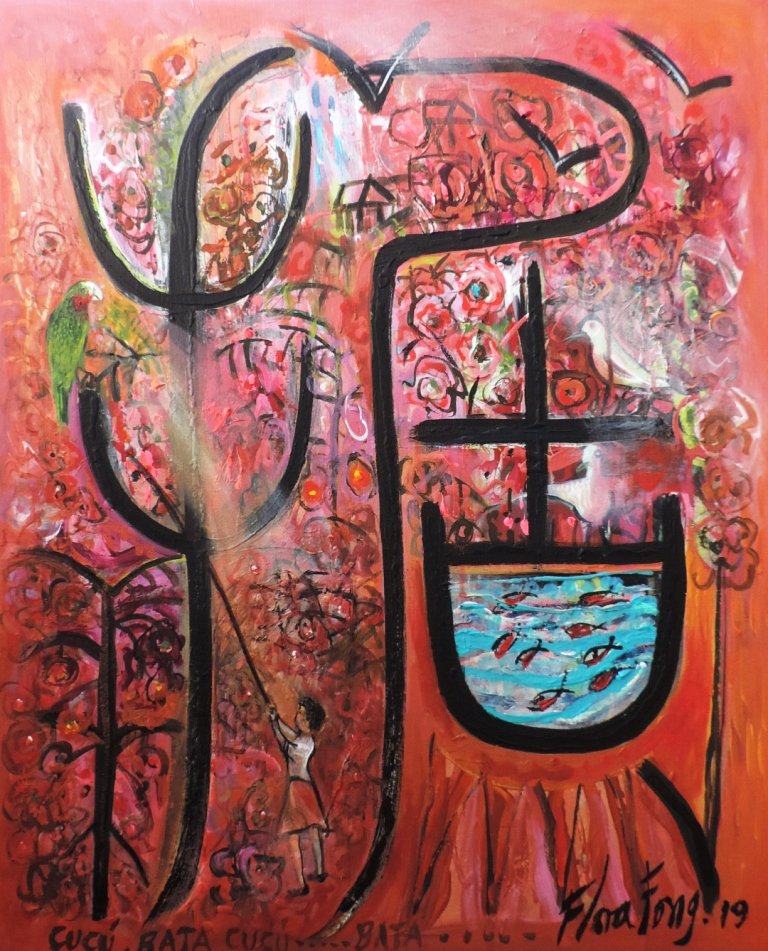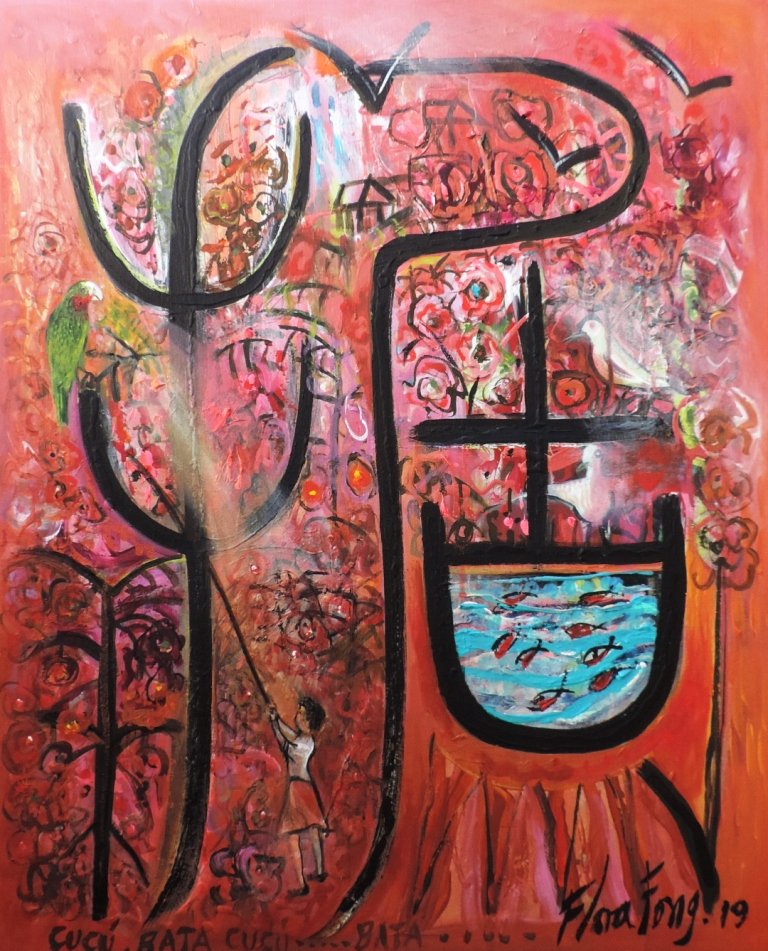 It's about Cucú, baja, Cucú, an immense and colorful canvas. This work made under the concepts of ancient Chinese calligraphy, is part of a new series Flora has been developing with the title "Imagen, caligrafía y verso" (Image, calligraphy and verse), since 2018. To lean on something is the meaning of the character that can be seen and she conceived the piece based on a spiritual point of view and deeply attached to the love of nature.
Cucú, baja, Cucú is a tribute to her 25-year-old parrot. It lives loose in her garden, free, and only goes to her open cage to eat or sleep, whenever she wants. It leans on the branches of the trees where there are fruits and flowers, on the highest branches closest to the sky, it feels happy. It is said that Flora always tries to make it come down.
The observation of nature was the fundamental basis of those characters in ancient China; a discourse from the Caribbean for visual enjoyment, of color, line, free and expressive textures.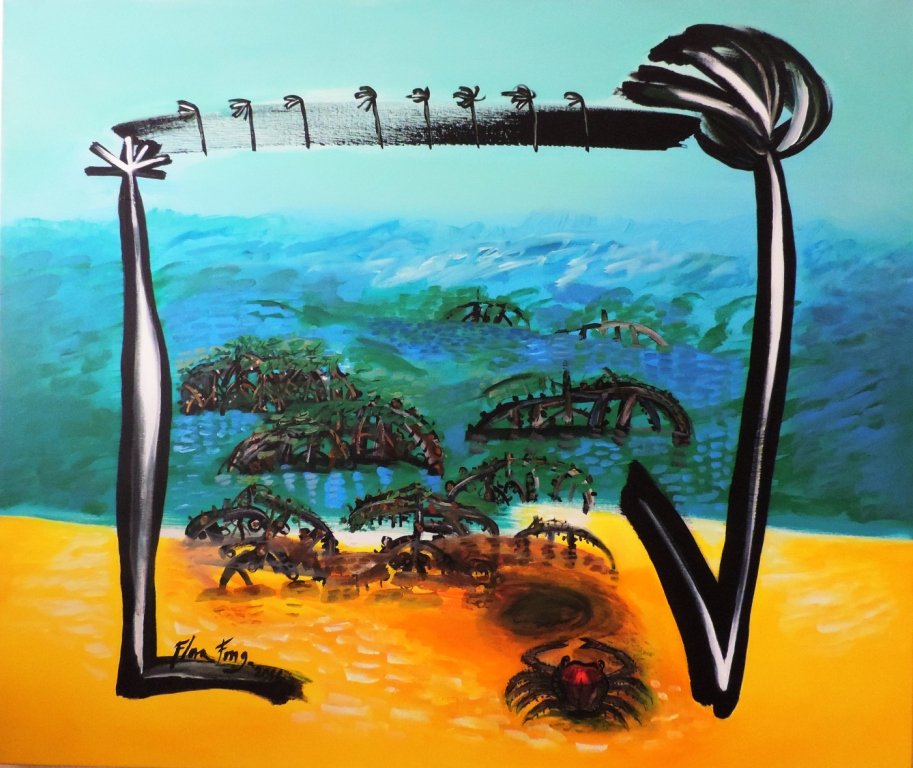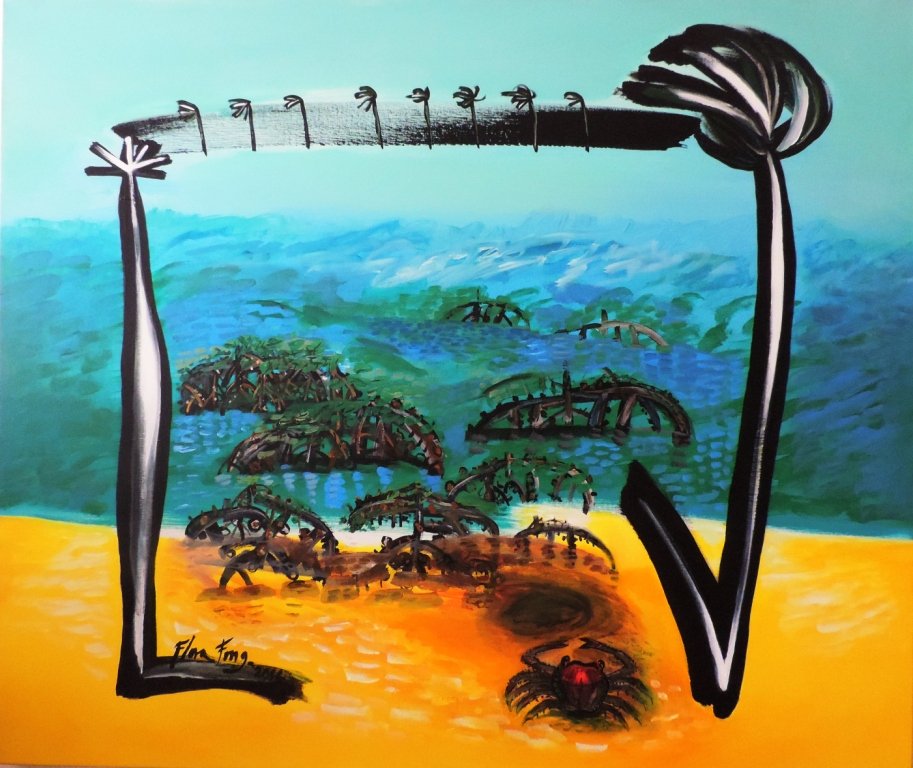 "It would be good for those who follow me to review the proposal of that collective exhibition and look at my proposal, made with that character of structural, conceptual and even philosophical basis; it has many readings open to the imagination that of course is well developed in the history of Chinese calligraphy until our days. Refreshing such old concepts from the Caribbean gives me the opportunity to penetrate into my own roots; that is, into my ancestors, it is an invitation to reaffirm myself as an artist who is always restless, Cuban and universal," expressed the artist.
A few years ago City of Havana Historian Eusebio Leal, when he gave several spaces in Old Havana to some artists, also wanted her to have hers in that part of the city. "When he came here he was convinced that this was my place, that I needed nothing more to conceive my creation and that each painting was nourished by these corners and their positive vibrations. He told me that the solution was to take this site and move it to the historic center, in order to capture its inspiring essence. I gave him the same answer I gave you, that I am very home-loving and that I like to stay at home and care for all its details. That way I expanded and I built several premises right here."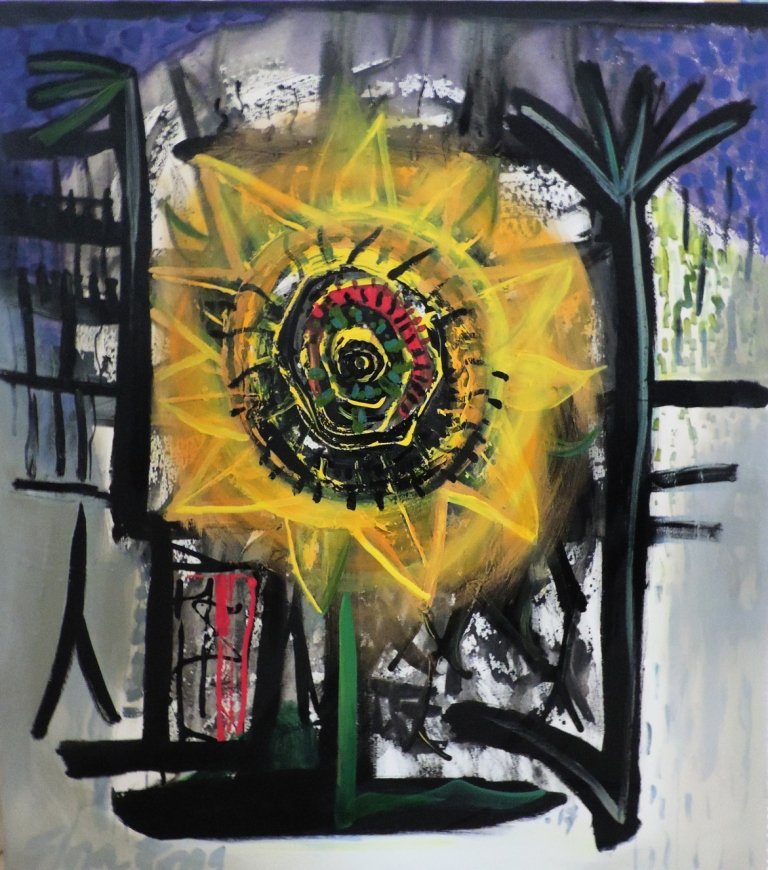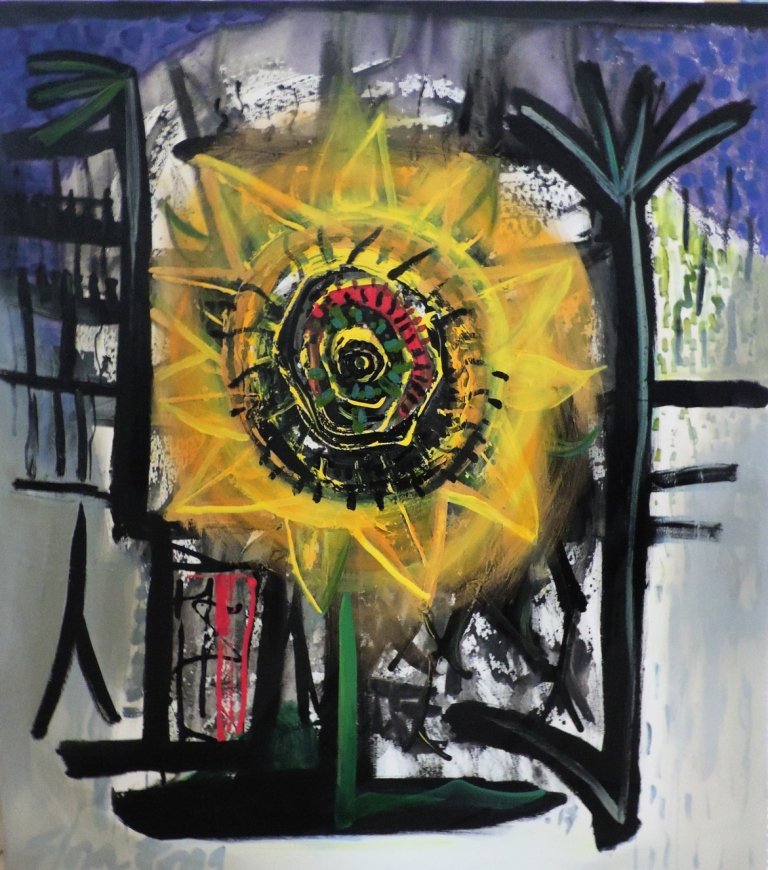 The creator is fascinated by large formats. From her beginnings she learned to move with great skill on immense canvases, although it is also possible to enjoy her imprint in medium and small paintings and sculptures. Those who also may come around here will be able to find this tireless woman immersed in her pictorial exercise, because discipline and perseverance characterize her. The atmosphere of this place is intoxicating, with exuberant vegetation, exotic aromas and unforgettable sounds of birds, which she has managed to translate into her creations.
In each stroke of the artist, she tries to decipher the secret of nature. Flora ―putting on show her name― unfolds and multiplies in flowers, leaves and trees, while moving in time with the wind, because the air, turned into hurricane, emerges among the multiple spots of lively color and defined lines. They are imbricated in her landscapes, in brilliant tones thanks to the light she employs, the magic of oriental characters with unmistakable Caribbean symbols, thus revering her ancestors and her natural habitat: the Caribbean where she breathes, gets nourishment and inspiration for her art. The insularity and its symbols mark her, because their gamut of colors are very Cuban, as well as their motives.
In her work, spontaneity is perceived together with security. Those who look at her paintings and sculptures can feel the aura of calmness, humidity, warmth and strength; the air, the rain and even the song of the birds is palpable in the work where thanks to diverse iconographies and vigorous brush strokes time seems to pass in this haven of peace where Flora gives of herself in each chromatic explosion.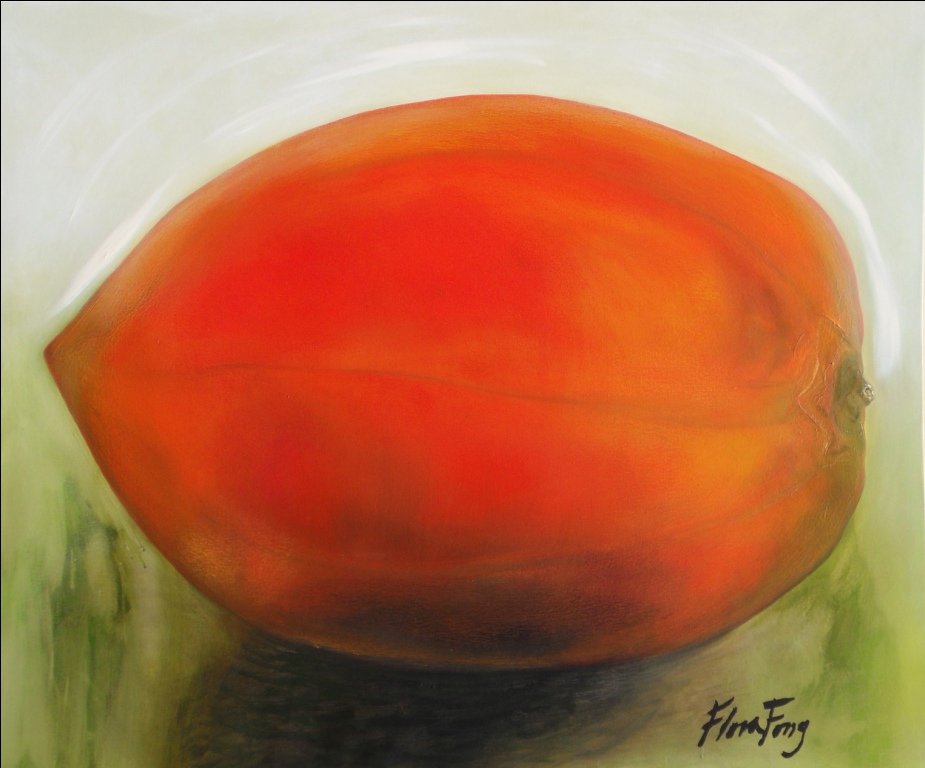 Almost as we parted, I stumble on one of her unforgettable sunflowers: "I'm not interested in painting any flower. Studying the spirituality of Chinese painting, I saw that the sunflower, so strong and with that interesting movement, could represent what I wanted, from the western and eastern point of view," concluded she who shows as few women do that the hands and creativity leave an imprint difficult to erase.
Authors