All roads lead to Rome. So, one day she took one of them and woke opposite the Coliseum. The ancient stones trembled with her heartbeat, her deep elf; but that's her most recent story. A little behind…
Late 1950s. We will have to enter the look of a girl who watches the flowers of sugarcane in the modest neighborhood near America sugar mill, in the Cuban East. And her ears to listen, quietly, the unmistakable tone of Violeta Casals from the Mountain Range: "Here Radio Rebelde … from the Free Territory of Cuba".
The magic eye radio will be yours, her father says.
This is the story of a woman who conquered an entire city. Santiago de Cuba misses her. Her name is Consuelo Almaguer.
Fears and audacities
"My mother always was accompanied by that radio, my mother whom I lost so early. In that enormous apparatus I listened to songs of the time, and I sang when daddy took me up the table of the house. I also really liked the lady who said, "Rina lasts longer." I did not know that she was an eternal masterpiece of spoken information: Consuelito Vidal.
"Since I learned to read I liked to receive the task of reading the newspapers or books at my grandparents´ house. I was only eighteen when a contest was made to form announcers, and I applied for it in Radio Revolucion. I took the test with about two hundred applicants … and I passed. The teacher Andrés Houdayer and Rafael Fabregas gave me strength to continue. I was pregnant and was very afraid.
Let's review the studios, microphones, characters of almost three decades… your story on Radio Mambi, the most popular station in Santiago de Cuba…
"In the seventies, I was first aired on Radio Mambi, in the program Que tal gente joven, when Rolando Zacarias or José Antonio Llano, beloved professionals on the station, couldn't do the program. I was also called to make the musical production of Radio Siboney, although I officially signed the contract in 1972. I physically was in Radio Mambi for 28 years but I have never ceased to feel myself of the house.
"I created my first program that I called Esta tarde en Mambí (This afternoon in Mambi), a space for workers. It was the embryo of what would be since 1982, Santiago en 26, my beloved program in the heat of the activities of the territory by the significant date (July 26th). It was a party, a party every evening. I am transported to that time wherever I am in this world and hear very popular songs.
"There I formed my view of life on solidarity; I got there a family that applauded me, scolded me, even punished me; and yet I feel that some love me. I made a direct transmission with Radio Progreso and Eduardo Rosillo, to make known to the whole country the most popular songs in Santiago. Right there I aired tracks by the groups me myself had taken to the radio as Gloria Latina, Sur Caribe, Los Guanches, the Santiaguero Septet, and many more. Promoting the music of Santiago was always an important goal for me, not only because it was my land, but for all the values that we had and still have. "
But there were also television, theater, shows… 
"I suffered much as I enjoyed. I never had proper clothing, it was lent. And then came the fear of flights; fear of the microphone and to the lights and cameras; fear especially to that first moment-to-air or scene. It was amazing when someone like Germán Pinelli told me he was also nervous before each presentation. I can not fail to mention Amado Cabezas, when Tele Rebelde channel broadcasted the space Desde mi cuadra I worked as leading presenter, and shared with Mileydis Ochoa and Laritza Ulloa.
"I was fortunate to be next to great announcers, my daughter Amor Almaguer, and in different scenarios share with Marialina Grau, Hector Fraga, Lilia Rosa López, Pastor Felipe, Antonio Pera, Joaquín Mulen, Germán Pinelli and Enrique Santiesteban. Also with Navarro Cuello, Guzman Cabrales, Rolando González, José Raúl Castillo, Ramòn Capote, Angel Miguel Alea, Lorenzo Ruiz, Gerardo Houdayer, Yamile Gonzalez, Irma Shelton, Jossy Jimenez, Ana Margarita Gil, Ibrahim Apud, Alarcon Santana, with many, many …
"I was host of famous Cuban and international personalities in music, cinema or theater. Figures come to my mind right now like Santiago Álvarez, Alicia Alonso, Juan Formel and Los Van Van, Adalberto Álvarez and Son 14, Aragón Orchestra, Elena Burque, Fernando Alvarez, Esperancita Ibis, Eva Grin, an entire constellation of stars. I think, actually, I've been very lucky. "
Why then the radio, why so insistently, why such loyalty?
"Because it allowed me to feel love for the unity of Santiago and Cuban family, beyond doors and windows. It made me believe that I was their best company. And so I made my best".
What holds did you have, what springs did you move to attain that excellent communication with your listeners?
"The spoken information is for me a goal I still pursue. You and I know there must be very sincerity to make people believe what you transmit. I have just counted on that. "
The writer Lezama Lima spoke of "concurrent chance", of those surprising twists of life. What sensations flooded your mind when you were at Radio Rebelde, the station you listened to as a child?
"I not only listened to it in midst of that clandestine atmosphere, with my father and his companions from July 26th Movement; but when I was seven or eight, I wanted to imitate Violeta Casals. I did it lower, under the bed of my mommy and daddy.
"On January 21, 1998, I travelled to Havana, and four days later, I went on air with the news to Cuba and beyond, through Radio Rebelde. Shortly thereafter, I worked throughout the programming of this station, as fixed voice of the Cuban National Radio News and with Franco Carbón on the popular program Asi, on cultural leads and in broadcast journalism, under the direction of Guillermo Piñeiro. I also did voiceover in other programs, and in Radio Taino. This peasant is careful not to be presumptuous, but in those years I left there a lot of brothers ".
In the Eternal City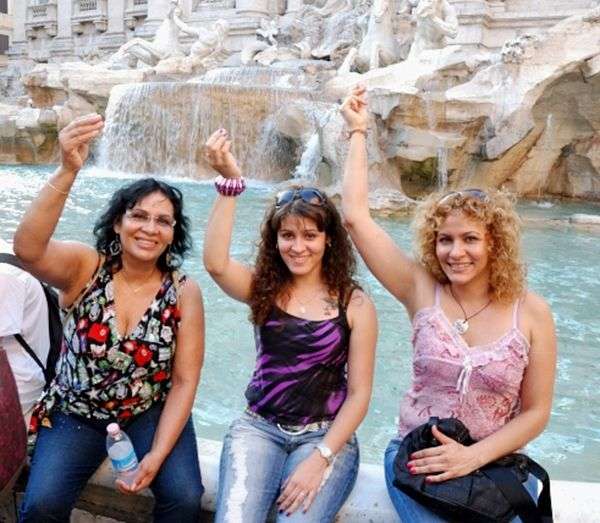 To this point, who is Consuelo Almaguer Leon?
"I am a daughter, a sister, a mother, grandmother and great-grandmother who would have liked to have more time to devote to education and orientation of my home. I had my first child early, Amor, from whom I received a beautiful granddaughter, Angelita, who in turn already gave me my first grandson, the Neapolitan Cristian Salvatore. My second daughter, Arianne, gave me two granddaughters, Dalila and Carolin, who were born in the city of Novara, northern Italy. They are true loves".
What is your favorite place in the Eternal City?
"It's really hard to pick a reference site, no matter if you already walked on those cobblestones more than twenty times. Of course, I threw coins in the Trevi Fountain, back to it as tradition dictates, me and my family. I cried in front of the magnificence of the Capitol, or against this universal symbol the Coliseum is, that shakes you to the core, when so much history references come to you.
"I love the Piazza Navona, with its elliptical form, which is on the ruins of the Domitian Circus. There is, among so much cultural diversity, the Cervantes Institute; our emotions are multiplied there, when suddenly, the Cuban Embassy in Rome celebrates the presentation of a book by a Cuban writer or poet, or when an exhibition opens. Such is the emotion that suddenly you think you are, there, in a bit of Cuba. "
How is Cuba seen from Rome?
"Cuba is seen, felt, needed as air. Under its sun there is no room for nostalgia: it is always the large smile, which never seems strange to you, because it is your people. I'm in Italy since 2009, and when an Italian or Italians know I'm Cuban, almost always ask me lots of questions; but mostly I see they watch me with interest. And those who have never been to Cuba, just want to know it.
"Here, at home or in the computer, I am always with Radio Mambo, which broadcasts Latin American music, especially Cuban salsa –as it is called here. Restaurants and Cuban associations, where you eat and dance, are widely publicized in Italy. You would not believe how many people want that little giant that my island is. "
"When my husband is in Cuba, he says he feels like if he was in Rome. The Roman has an open personality, quite similar to the Cuban. If you go to the bar for a coffee and do not greet, they do it and even discuss the day's news or anything else with you. They are extroverts. Even the sun is like that of Cuba. There are places when suddenly I react as if in Havana or in any Cuban city. And when I go through some narrow streets, with ups and downs, resemblance with Santiago appears before my loving eyes ".
If you could make a wish right now … what would it be?
"I would like being with my listeners, at least in a transmission for the 500th anniversary of our town of Santiago de Cuba. I am a daughter of that city, because although I was not born into it properly; I never abandon the breast that took me as a daughter. Knowing that, somehow, my modest work has remained in the memory of my listeners, is one of my greatest joys.
What do you miss the most about Cuba?
"CUBA".
Authors