Waiting patiently for the 20, 30 or 45 seconds of red- light, depending on the traffic light, and lean out in a hurry on the window of the first car stopped in front of you, maybe summarizes the act of " hitchhiking"; but those who have some years of practical experience in the subject know that many other factors determine the success of that routine.
Travelling in Cuba is a very serious thing; having to do it every day from Bejucal to Havana and vice versa is it even more. Six years following a daily journey where the only possible routes on public transport are P16 or P12 (buses) -from the first to the last stop- would sometimes forces you to stand in certain corners, try your luck with your finger and reach your destination stretch to stretch.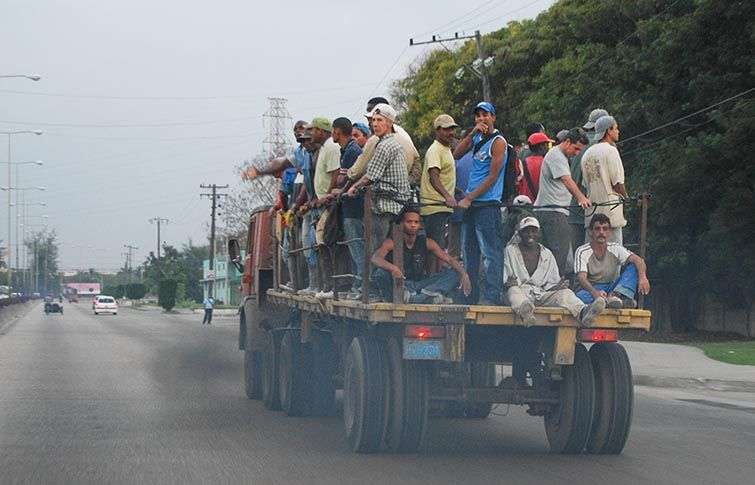 "Good morning, do you continue for Boyeros Street? –Yes, it fits me until Tulipan Street." And I quickly, almost without giving chance to think, cross the street, open the door and sit beside him. This could be the start of a lucky day, where I was lucky with the driver at the first attempt. From there the same questions begin: Where are you going? And are you traveling over here every day? Do you study or work? Journalist? And in what paper do you work? Practicing this profession is very complicated in Cuba: you can not say … and the conversation -almost monologue because I simply smile and nod with very short sentences – almost always extends to what last night ¨Cuba Dice¨ section said.
Others, less interested in politics and events in the country, go straight to courtship and once again fall into the same questions: Are you single or married? If I were your boyfriend I'd take and pick you up at work … and then I have to remember that this is the price to pay because "he is taking me to work", the other part of an implicit agreement remains in effect until I get off the car.
But though these two experiences are multiplied with slight variations, any of those scenes do not occur often and, on the contrary, the driver is so distracted in his inner world that he hardly notices my presence when I interrupt his silence to announce that I will get off th ere.
And fortunately, not infrequently I appreciate the company of the driver who chooses me, someone who is not interested in getting anything out from you, on commenting on the weather, about the heat, about how bad the transportation is… about anything that does not bother the journey … but someone who, above all, is satisfied to give you a "lift".
In any case our goal – beyond to socialize, meeting people or exchange telephones-is always circumvent the bus and arrive soon at our destination, hence the main keys to "catch " a "lift" can be summarized in being kind, brave and having patience; However I have some friends expert on the subject, with theories developed over time speaking who have their own hitchhiking notebook.
Then any treaty on "hitchhiking", even the most comprehensive one, leaves out many truths and personal experiences as well as drivers and women hitchhiker living every day in the streets, so that here it only fits some other certainties that I have gradually checked over time but that can also be considered as the starting point for any field research.
First: H itchhiking is always much easier for any woman than for men, although some times some of them have took advantage from my ¨performance¨, but it is true that as long as women- driver to be minority, we have advantage in this matter.
Second: Avoid at all costs to stand in the path of the ¨boteros¨ (private taxis), and even when it is difficult to do it, do not give in to their impertinence, do not pay attention to flashing lights and continue looking for another car, motorcycle or truck preferably with state plate.
And third: If a man travels with a woman sit in the front seat and you infer that she can be his girlfriend or companion, you better don't ask because he will pay attention, he won't listen to you, so he won't take you; just turn your head, approach another driver or just calmly wait for the traffic light to announce the next 20, 30 or 45 seconds of red light to try your luck again with the first car that stops in front of you.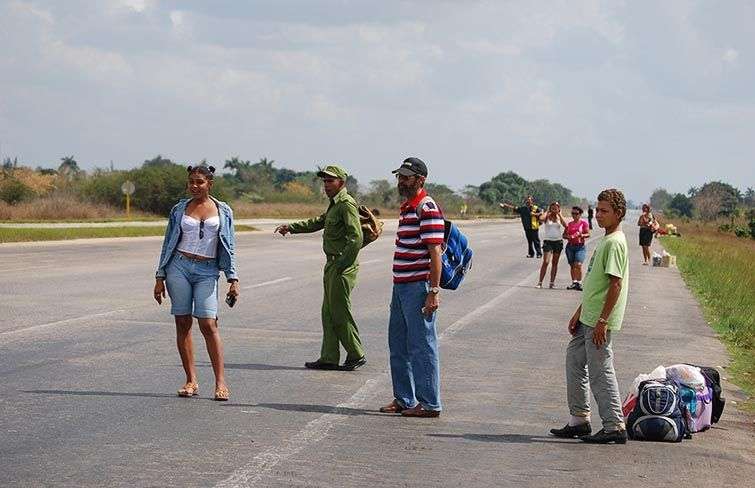 Authors