Legal fuel business in Cuba is controlled by the state, whose institutions trade internationally, fixes retail prices within the country, distributes in points of sale and supply. But then, that's the legal business because the real deal, perhaps the most efficient, is led by managers, truck drivers, gas station staff and state drivers.
To understand this business, illegal as it is, we know that fuel prices in Cuba are not negotiable, do not fluctuate and it increases are never previously reported to consumers. Therefore, the profits of those living out of trafficking hydrocarbons will never come out of the pockets of regular buyer.
Alberto was a pistero (gas station staff) for over ten years, during which he did what all his coworkers: buy fuel on the side and sell it in the Cupet (gas station chain owned by Cuban Petroleum company), only that the money did not go to the collection box, but to the pockets of an Alberto who lived then times of economic slack and disregard for the fuel his motorcycle consumed.
"The stealing was really complex, but after a while it became routine. Indeed, it included many people because a full oil tank is not sold in half an hour. You had to include in the deal dispatchers, the accountant, the three shifts of Cupet guards "explains Alberto, who notes that the only thing nobody ever tried to earn a penny was altering prices:" They sold it us at much less than the cost price at the pump, we covered that and we sold at State prices, there was no need to make it more expensive. "
Currently the price of regular gasoline in Cuba is 1.20 CUC, 30.00 CUP, at official change rate, although for some institutions is lower. Therefore many Cubans found variants to supply the tanks of their vehicles.
"Before you could get gas a little cheaper, from some drivers who sold it personally, but now almost always go to the gas station because those same drivers will sell fuel card to pisteros, and since they take everything … "said Alejandro, owner of a Lada 2107.
According to Alberto, while gasoline prices rose in the official market, also their suppliers increased, "what happens is that always was a good business, even on days when sales were not too many".
Trying to manage a gas station requires knowledge of chemistry, years of experience and a feline agility for mathematical calculations and conversions; also needs to know in detail the characteristics of buried tanks that have and keep a detailed personal record of how much gas is sold, and that can be stored in each tank. "Due to-the type of fuel, gas has lots of gases-, measurements are always approximate, with a difference of plus or minus 100 liters, there's a space," says Alberto.
One variant was to declare one of the pumps broken and fill its tank with fuel of higher quality. "Piperos do not care where they put it, once they get the tanker and break the seal that gasoline is theirs, and they have to know how and where to put it".
However, with sales automation (pay machines are directly connected to the pumps), now the big business is in the cards, but the old ways are not forgotten. "We bought direct fuel, gasoline now comes in chips (cards) and you 'mess' your hands less. But still involves many people, for vouchers and cash receipt must reconcile at the end of the day. Today they earn less, but nobody loses, "said Alberto.
Of course, the pisteros and the relationship they have with their suppliers is not the only variant. The fuel in Cuba may take other channels, including brokers and clandestine sales at a lower price than that set by the state.
However, many state drivers and tanker drivers prefer to keep the negotiations piperos. As Alberto reason is simple: "We were faster, bought in large quantities and we paid the cash".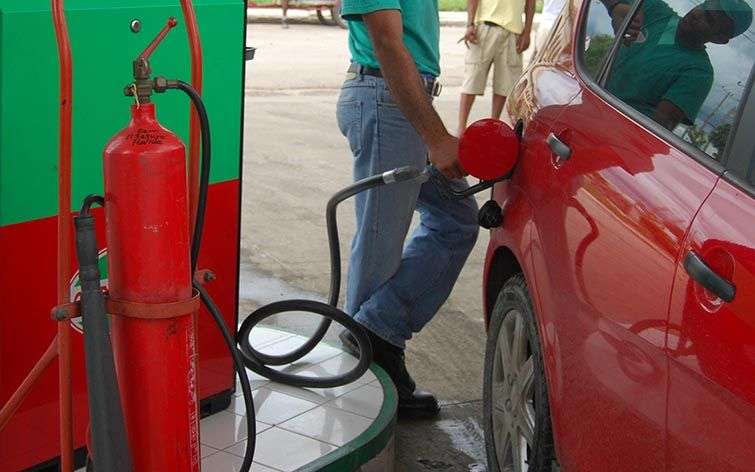 Authors