"I have two knee operations because of kite surfing. They inserted two screws and a staple for the rest of my life; I've dislocated my shoulders several times and I also have many sprained ankles. I've broken my ribs four or five times. Bruises? Once in a while I look at myself in the mirror and I find some bruises and I say: oh, that was yesterday."
This is Antonio Lusson (grandson), one of the best Cuban kite surfers, but at 32 he no longer can compete. His compatriots don't let him.
He's very sure of that: "Varadero's Cuban Kite Surfing organized a competition last March 18. They invited me as a member of the jury. When I got there everyone started to say: I'm not going to compete against you. No one wants to compete against me because I've been sailing for 15 years and since I've practiced so many sports – swimming, skating, water polo, sailing, tennis, squash – I've acquired many skills which I apply to kite surfing," says Lusson.
But, from where does Lusson get that interest for the so-called extreme sports? Contrary to what one might think, he was not decanted by politics nor did he follow in the footsteps of his grandfather, General Antonio Enrique Lusson, who got to be vice president of the Council of Ministers of Cuba.
Ever since he was a child his life has gone by among the waves: "I was born near the sea and since then I've been involved in the world of water sports. My father was a swimmer and I studied in sports schools, where I formed part of the Junior National Swimming Team. I started as a swimmer until I went to water polo and afterwards I got to be a member of the National Skate Racing team, which had nothing to do with water, but it is one of the so-called extreme sports, to which I have always been attracted. In fact, I have practiced many sports of that type, although I prefer to call them alternatives: skating with acrobatics, skateboard, mountain bike on ramp."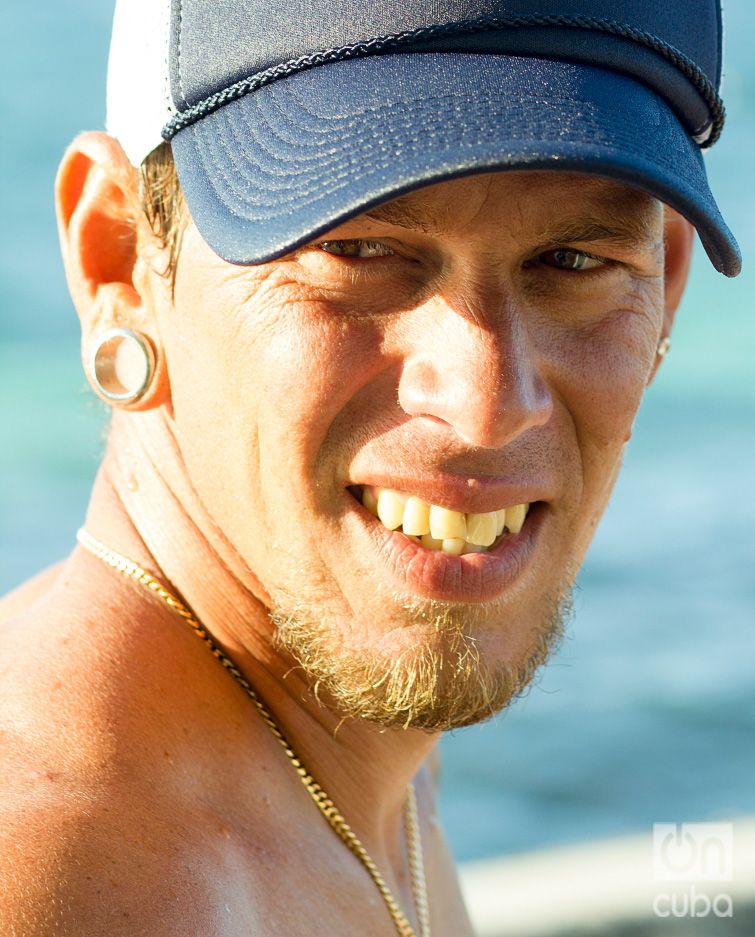 And out of the water sports, which do you prefer? What other modalities have you practiced?
I have also practiced many, for example jet ski, where I once came out as the national champion. Before me, my father was the national champion of Cuba.
Do you know what the board with sails is? Well, afterwards I went on to sailing when I formed part of the Skate Racing Team. The thing is that the trainer was my friend and I used to tell him to call me just for the competitions: I train at home, I told him. That's why, since I did sailing however I wanted – without taking into account the circuit but rather with acrobatics – when they called me for a competition I always won because I had many skills. The circuit was very easy for me since I just had to go around and get there first.
How did you get to kite surfing?
When I was already in that world, I once saw a sailing video in which a kite appeared and I starting looking for information. I then contacted a friend who was in Hawaii and he brought two: one for me and another for a colleague. Then we both started training, but around 15 days later I was left practicing on my own because he left the country. That's why I say I was Cuba's first kite surfer; I don't know anyone who has done it before here. Of course, I wrecked that kite because I didn't know how to handle it well.
In a jet ski competition in Cienfuegos I met some representatives of the RedBull brand and we spoke about alternative sports. They didn't know if in Cuba they were practiced, but I explained to them that they were well-liked. I told them I had practiced kite surfing for a while, but the equipment was destroyed. One of them was a kite instructor and he told me: I have a kite there, I'm going to take it out; if you can get on the board, we're going to organize a kite surfing event on the beach and we will donate the equipment. He wanted to see if it was true that I knew and I showed him.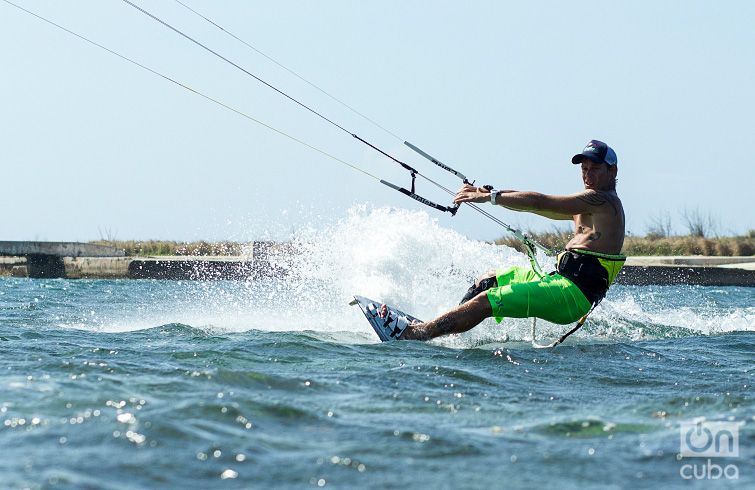 ***
The first kite surfing event sponsored by RedBull in Cuba and organized by Lusson was held in El Megano beach on August 29, 2003. "It was like a promotion party and so that people could get to know the sports the brand gave everything that was necessary. We made an effort for all the modalities to participate. Ramps were taken for the BMX people's skateboarding, and those of us who kite surfed and surfed on boards also participated.
"Marcus Bohm, the German representative of RedBull, brought a BMX professional, another of skateboard and one of the 10 best in the world in kite surfing, a Dominican. Two months later another event was held only for kite surfing. The same Dominican came as well as another one who practiced the sport, both were among the 10 first in the world, and a woman who had one of the three best world records. They brought eight kites and they donated them with the commitment that that sport start being expanded in Cuba," Antonio recalls.
With that material, Lusson started giving lessons. Marcus Bohm gave him the key to do it: "At that time no one imagined that in Cuba one could do kite surfing. However, today the country has some of the best places where that sport is practiced: Cayo Coco and Cayo Guillermo. Every year there are 300 or 400 persons practicing it during the November-December and March-April seasons and it is impressive to see all those people practicing kite surfing in such a small beach."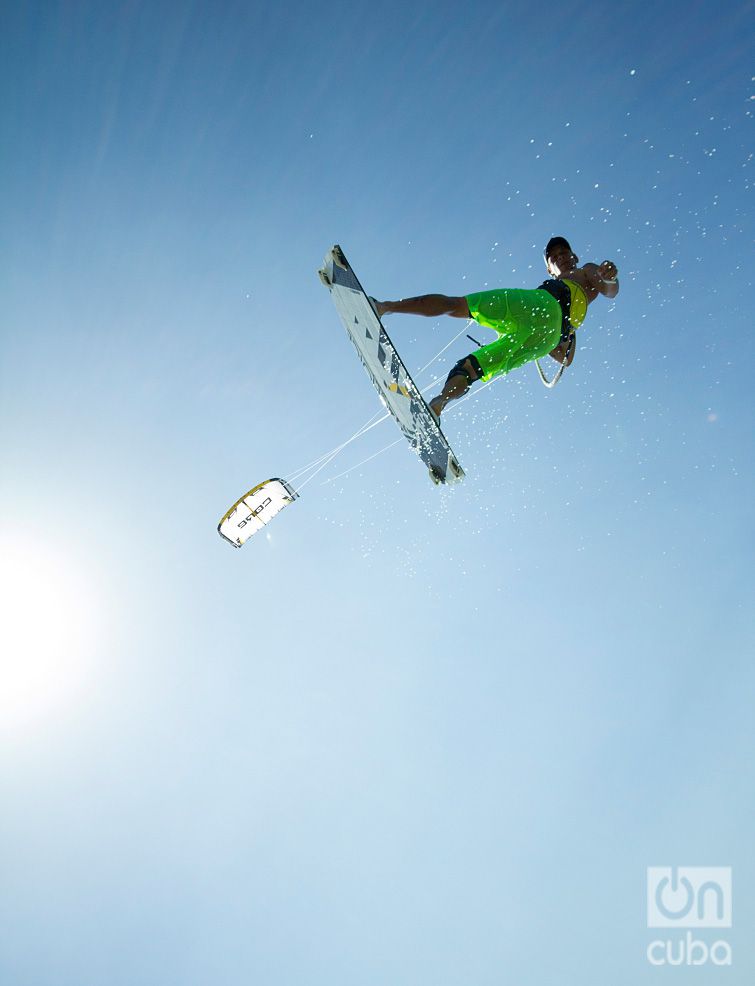 But that practice is touristic, how much has this sport developed among Cubans?
When I started I gave lessons to a group of 10 young men and some continued practicing. There was one who stopped doing it and now he has restarted. In Havana, for example, it could be that there are 50 persons who practice it, but in Varadero there is the Cuban Kite Surfing which is a much more numerous group.
A complete kite surfing equipment can cost between 2,000 and 2,500 dollars, isn't that sport too expensive for Cubans?
Very expensive, but it's expensive everywhere in the world if you look at the original prices. Although in Cuba the equipment are cheaper because the tourists bring them and give them away or sell them cheap as a favor to the people. Here no one pays more than 1,000 dollars for a kite surfing equipment, which includes the kite, the line with the bar, the harness and the board.
What we need is that the sport increases in Cuba because once it is recognized by the National Institute of Sports and Recreation, donations can be accepted or orders be made for them from abroad. At present there are no shops and the equipment is brought from other countries by foreigners. Perhaps because it is an expensive sport they don't want to recognize it. They think they will have to pay for the equipment, but there are other means, perhaps self-financing of the athletes with institutional backing.
If it were recognized as a sport it would be much easier to carry out events and competitions, and it wouldn't be so complicated to get permits to play music on the beach, request ambulances and police officers, which are things that must be done in events since it's a high-risk sport.
Cuba is an island and more emphasis should be placed on water sports because the natural conditions are in its favor. I have gone around the island with the RedBull team looking for beaches and nice places. We have seen that the entire northern coast is favorable for sailing, including kite surfing, surfing, catamaran. Cuba has a great many perspectives because of the beaches, which is one of the things that is most sought to carry out events: the beauty of the beaches.
In which international events have you participated recently?
Last year I was in the Tenerife World Championship, but there I participated in kite surfing as part of the exhibition, out of the competition. I went as part of the Core brand team. I'm the only Cuban sponsored by that brand. A brand representative asked me to try out their equipment and I liked them. I currently am on an official page as part of the team of kite surfers from all over the world and they also sponsor me. They give me all the materials free of charge. They change them for new ones every year.
Have you thought about continuing to train Cubans interested in kite surfing?
I believe that in the Central American Games only women's kite surfing will be included and here the idea of taking a team is being presented. My wife would be one of the women who would go; she has spent many years practicing. If other women would start being prepared I would be in charge of that. Everyone who comes here to say they want to learn, I teach them, they only have to buy their equipment and bring them, to have the guarantee that it won't be a training in vain.
People like this sport a lot and many of those who previously practiced sailing have gone on to kite surfing because it is even cheaper and easier to transport.
What is needed to be a good kite surfer?
A great deal of skill, because they are trying to turn it into an Olympic sport. What's attractive about this sport is the skill in acrobatics. I also believe that to be a good kite surfer you have to be daring, brave. You can reach a height of 25 meters, a speed of more than 100 km per hour and you can get into up to 20-meter waves.
Have you been able to measure your maximum jump?
I've only got a 10-meter jump measured, but I have possibly reached 20 meters. The problem is that the meter – a sort of GPS that is stuck on the board and gives you the exact measurement – was brought over only a short time ago. But I have jumped more than 10 meters.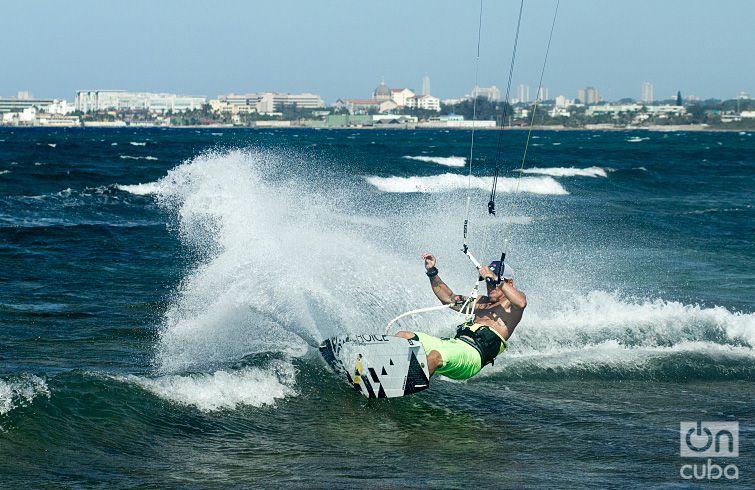 ***
Lusson has not only jumped so high in the sport. For some years he has been the owner of one of the most visited cafés in Havana. The Fortuna on 1ra and 24, decorated in a vintage style that attracts a great deal of public. However, El Palio Restaurant has been standing since 1996 below the Café Fortuna.
"I have this restaurant, El Palio, which is my family's and was created in 1996, when the licenses were opened for the first time and I was around 12 years old. It's one of the 11 oldest restaurants in Havana. Then I opened Café Fortuna, following the same idea of the original state-run place, with the same name, located before on 3ra and 28."
Authors