Joshua, Samuel, Yo, Layo, Evan and Charles, are six young Americans who until recently barley knew that Cuba was an island close to the coast of their country. They only knew what their coach, Alberto, had told them: it was a quiet place where there were no shootings or gangs. With him they had learned to fight 'Cuban style', but had done so in the very heart of the city of Houston.
"Some of them did not have training shoes, but instead they have a lot of heart. They are very brave," Joshua Nidever recalls of his previous visit to the island, when he came up against boys of his own age on the wrestling mats of Pinar del Río and Havana.
Only he – with an Argentine mother – and Samuel McDaniel – son of a Cuban woman – have been before this visit and speak Spanish fluently
But the rest of them, all between 15 and 20 years old, venture to say something in this language that is foreign to the majority of them.
They have been getting to know the city of Pinar del Río for almost 20 days, training beneath the Cuban sun, on the tracks of the Guamá sporting complex close to where they are staying.
In Texas, they regularly bump into each other in Albearto's Wresting, a club that teaches children the fundemantals of wresting under the tutealage of Alberto Rodríguez, a Pinar del Río native who has been based in the USA for over two decades.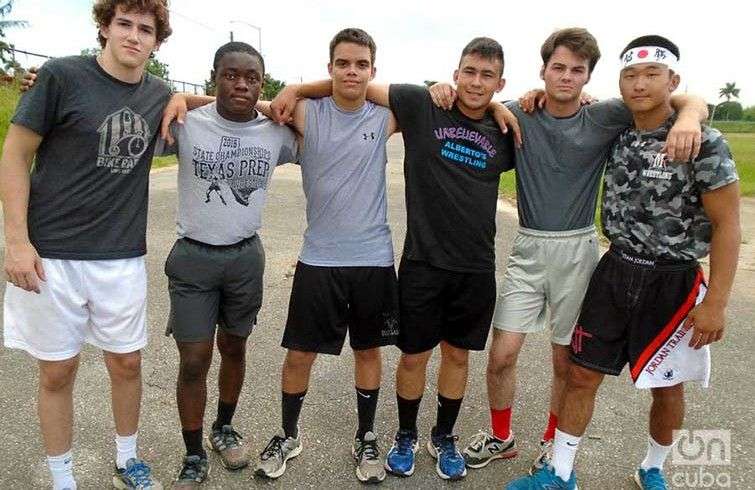 Professor at the University of Findlay, Alberto created the gym four years ago, and today is condidered the best trainer in Texas.
The children know all about him: 12 times National Champion of Cuba, monarc of the World Cup in 1988; double title at the Panamerican games and world bronze medalist four time, among other awards. But above all Alberto's sucess is in the way of faithfully teaching them the antillian style, this mix of the Soviet and Bulgarian legacy with local adapations.
"We are a land of great fighters, world champions and olympians. Everything that I teach I learned there, from when I began to train at the age of 12. Nothing has changed. The training is the same as the training I recieved from my professors" Alberto insists.
"In Cuba they can walk around freely without any problems", he assured the parents of the boys when he proposed taking them there. His idea was that they would exchange ideas with the children on the island and that they would get to know the land of great champtions like Mijaín López, Héctor Milián and Alejando Puerto.
For a number of days the small team has lived the coach's dream. With María Isabel, who cooks for them, or Camila, a new friend from the bloc, they've learned more about the Cuban customs and reality.
Joshua loves the old cars and Charles Hammaker has fallen in love with the national dishes. In their free moments they have also played football with the neighbourhood's teenagers.
"Life is very tranquil and people are very sociable" explains Yo Akiyama, talking of the city that for Layo Lanigan is "pretty and more rural" than those that he knows.
Their planned course will take them to the valley of Viñales and the beaches of Havana, and they even hope to visit to places where Ernest Hemingway was.
"I think I am the first person to travel to Cuba from the people that I know. The best thing has been the experience, walking around the city and getting to know the character of the people, because they are so friendly. Moreover, the Cubans have one of the best wrestling teams in the world" Joshua, who at times plays the improvised translator, recounts.
On the Guamá team tracks and in a nearby gym, people have been watching them train for days. Their routine basically consists of practicing movements, running, and doing weights.
All of them are united in their passion for sports and in what, Alberto included, they have overcome.
Charles was fat, slow and "no one thought he would ever be a wrestler". For a year and a half he did not win a single fight, but with time he has made great progress.
One of Charles' victories against Samuel, during one sport's class in the school where they studied motivated the latter to join the club. "He won against me so easily that I wanted to know how he had done it. One Sunday I went to training to see what it was like and loved it."
"We chose wrestling because it is the most noble sport in the world. We have already been training with Alberto for some years", says Joshua, who is in his second year of Business Studied at University. He was admitted on a scholarhip, precisely a scholarship for the sport that he has dedicated his life to, which pays around half of his costs.
Thanks to their Cuban coach's methods, the members of the group have achieved important results in state competitions. In the latest of these, Yo took second place.
Soon some of them plan to go to university like Joshua, in reciept of scholarships for their sporting prowess. For example, Yo has made up his mind he will be a doctor, and Charles will study biology.
For the boys, learning to flight spurred them on to excel themselves in all walks of life. It is not simply a question of throwing yourself at your opponent, but rather an eagerness to improve inclucated by the sport.
In the aspirations of all of these individuals is the deam of being a champion. Aiming high, this includes the olympic games. A place where their Cuban coach once was.