Cartoonist Arístides "Ares" Hernandez won the Ranan Lurie Political Cartoon Competition, an annual competition held by the United Nations since 2005.
The award is conferred in recognition of the artistic quality of the pieces, the political analysis of events, the capacity to predict the consequences of the events, and the sense of humour, as much as the piece's ability to reflect the spirit and the principles of the UN.
"I drew this piece when a friend told me about the attack against Charlie Hebdo, in which various cartoonist friends died, like Charb and Wolinski," said the artist in reference to the piece that won him the prize in an interview with OnCuba.
"In that moment the piece was born out of a need to talk about what was happening, although I believe that it is not solely down to this event, rather it can have many different interpretations".
Regarding the international competition, the cartoonist acknowledged that the Ranan Lurie is one of the two most important events of its kind in the world – along with the World Press Cartoon – because the jury for the UN's competition is made up of several Nobel laureates, journalists, and ambassadors from numerous nations that recognise the value of the competing drawings.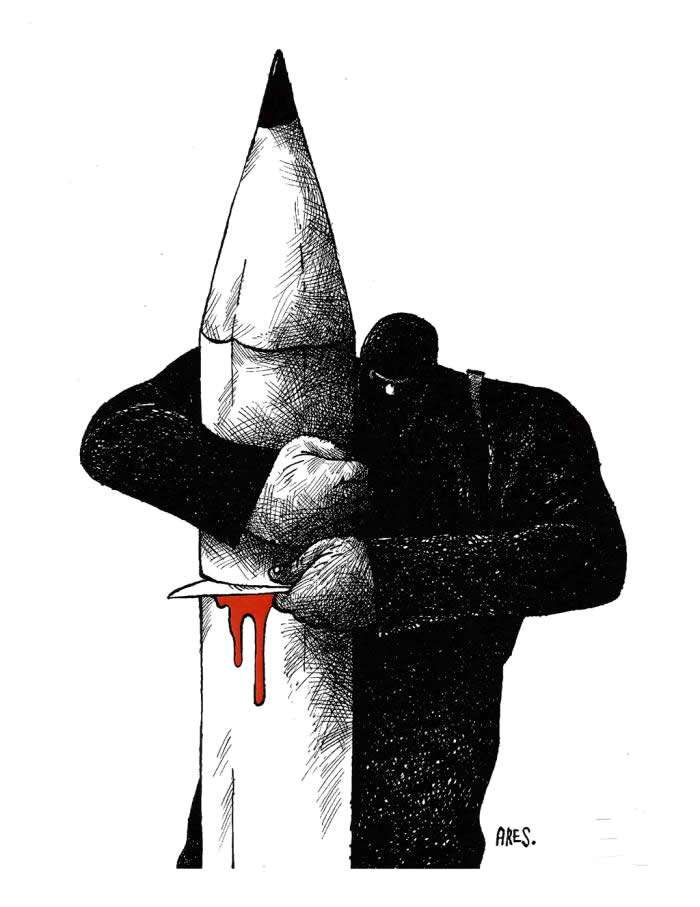 "I belong to the association Cartooning for Peace," said Ares, "an association created by Plantu, the French caricaturist for Le Monde, and the ex-secretary general for the UN, Kofi Annan, with the aim of demonstrating through humour that people can have things in common despite having different beliefs."
Climate change, the search for peace, violence and terrorism's effect, like in the case of the award-winning work in the Ranan Lurie, represent some of the recurring political themes in Ares' work, who also frequently turns the incisive wit of his pen to the mass media.
"I deal with a broad range of themes, but the media is one of those topics which are recurrent in my work because it seems to me that they form part of daily life for the whole world", he said
He added that the media "define how we think or how we talk, and what kind of information we get – or don't get – about the world around us. Because of that, I consider them an indispensable element for anyone who intends to talk about contemporary society."
Regarding political cartoons in Cuba, he believes that two well defined lines of creation exist: one that is more facile, that often dresses itself up as an analysis of local customs and traditions, and another more serious variant that has learned from the best cartoonists in the country's history.
Ares has an extensive list of prizes as a visual artist, including prizes at events in Iran and Bulgaria.