The marketing and collaboration mission led by Governor of Virginia Terry McAuliffe to Cuba signed a Memorandum of Understanding (MOU) with the Cuban National Port Authority to "evaluate commercial opportunities between the Port of Virginia and Cuba's newly opened Port of Mariel Special Development Project," the governor's press office announced.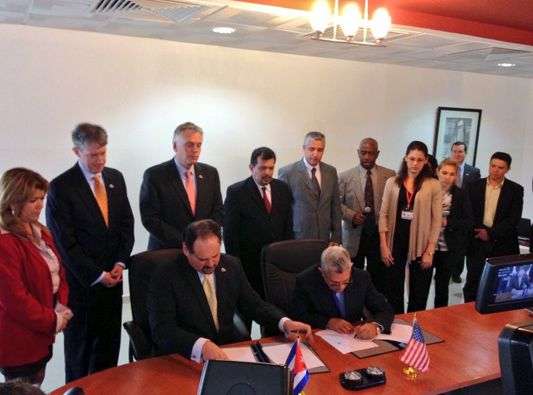 Cuba's Mariel Port is a $1 billion project with a capacity to handle approximately 1.3 million shipping containers a year, in its new role as a trans-shipment hub for the region.
This new platform for cooperation will be devoted to:
– develop links between Cuba and Virginia to support waterborne trade and investment,
– improve customer service,
– enhance collaboration to achieve improved business practices,
– increase the level of vessel services available between the two entities,
– undertake initiatives including data interchange, market studies, training and technological interchange.
Gov & @VAAgForestry visit the Port of Mariel to see to get a first hand look of import/export procedure in #Cuba. pic.twitter.com/7bT9xPUaP5

— Ralph Northam (@GovernorVA) January 5, 2016
Tom Capozzi, Chief Sales Officer of Virginia International Terminals, who served as a representative for the Virginia Port Authority during the visit commented on the importance and prospects of the agreement:
"Despite Virginia's export success to Cuba, there is currently no direct container service between Virginia and Cuba.

"Our agribusiness companies that ship products in containers could benefit from enhanced cooperation between our port terminals and the Port of Mariel, especially as Mariel becomes an important trans-ship service provider for the region."
Secretary of Transportation Aubrey Layne also commented on the issue:
"The Port of Virginia is the Commonwealth's gateway to the world. This new agreement benefits the agriculture industry and opens Virginia's and the nation's doors to new markets as relations with Cuba continue to strengthen.

"These opportunities demonstrate the wisdom of investing in our port in order to build a new Virginia economy and strengthen our competitive edge in the global economy."
Two days before the announcement was made, McAuliffe was shocked to learn that Smithfield Foods, a Virginia based company that exports pork to Cuba, ships their products from Jacksonville, Florida, instead of Hampton Roads.
According to a report in the Washington Post, McAuliffe told the Smithfield vice president that that was the "dumbest thing he had ever heard."
Educational Exchange Agreement
On January 5th, the Virginia delegation signed a MOU with the University of Havana, to develop cooperative programs in a variety of academic disciplines studied at both institutions.
Speaking of the importance of the agreement, Governor McAuliffe said:
"The University of Havana and VCU both have rich histories and bright futures. This MOU will ensure that the future includes significant engagement and collaboration between these great academic and research institutions, as well as between the Commonwealth of Virginia and the nation of Cuba."
Gov & @FirstLadyVA witness signing of MOU b/t @VCU & University of Havana – creating an educational exchange. #Cuba pic.twitter.com/MFSuBDJIIA

— Ralph Northam (@GovernorVA) January 5, 2016
Virginia Secretary of Education Anne Holton also welcomed the possibility to work together in this area with Cuba:

"Today's agreement is a firm acknowledgement that our societies and our institutions must to work together and openly engage with one another in order to improve higher education in both Cuba and the Commonwealth of Virginia.

"I am pleased that VCU and the University of Havana have established collaborative relations to promote friendship and to cooperate in a mutually beneficial manner."
Also in the delegation's agenda
The program of activities of the 30-people delegation also included visits to historic places, meetings with representatives' of Cuba's emerging private sector, and meetings with Cuban officials from other sectors.
They went on a tour of Old Havana, where McAuliffe presented a bottle of Virginia wine to a Foreign Ministry official.
Governor, @FirstLadyVA & delegation took a walking tour of Old Havana & presented Cuban officials w/gift of #VaWine. pic.twitter.com/MoqYgyTsGp

— Ralph Northam (@GovernorVA) January 4, 2016
On Monday morning, the delegation held a  meeting with Cuban Minister of Foreign Trade and Investment Rodrigo Malmierca.
The governor and the First Lady also met with the owner of one of the restaurants that have been proliferatingn in the island nation over the last few years, following the economic reform process started by the Cuban government.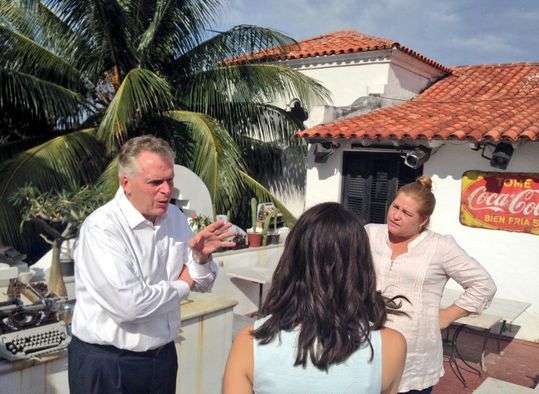 The Governor also hosted a business reception at the residence of United States Ambassador Jeffery DeLaurentis.
Gov speaking at biz reception at residence of US Ambassador Jeffrey DeLaurentis. Thanks for opening your home! #Cuba pic.twitter.com/sRPbgJflvW

— Ralph Northam (@GovernorVA) January 5, 2016