"Magnificent original, latex mask for Halloween, brought from USA. It is an ogre. Price: 40 CUC. (…) I assure you will not find another like it in any costume party, and if you add good clothes you will surely be the winners of the feast that you attend, "an ad in Revolico published from Cuba on October 31st, day when some Anglo-Saxon countries celebrate a festivity of Celtic origin known as Halloween or witches night, says.
"I still have fancy dress for fat and strong women," another message proclaims, while a third, followed by exclamation marks, seems to cry "Halloween Costumes, the best and most spectacular ones" and lists the purchase options: celebrities, sexy, religious, Christmas clothes, plus uniforms and the main customers: kids, adults and those looking for XL size. There are even discounts for groups and "repeaters".
North winds seem to be stronger than usual this last day of October, especially among the youth who since Thursday evening wears witches, mummies, zombies attires… or use anything they could find to look like coming out from some fiction.
Alek, a young philologist, tells from Guantánamo that he went to some Halloween parties during his college years. "It was very exciting to wait for that day to dress up and join the party usually organized by the foreign languages faculty ​​ at Oriente University because at that time I was just interested in having fun. Nowadays I started thinking and since I now work in promoting Cuban culture, I realize these are practices that have nothing to do with us and that make our practices to look foreign, "he says.
In Havana, Arley, another boy, noted that he will have his initiation on Friday. "I may go to my debut because this is an American tradition that has taken root in Cuba in the adolescent and young sector for over the past eight years; although everything is somewhat limited to the festive fact and the costumes rather than the family and consumption ritual that the entire festivity involves. "
The testimony by Yunior, from Santiago de Cuba, is the argument of who has not only attended but "chases" these celebrations and enjoy them.
" I do have attended several Halloween parties and I have the pictures of all the costumes I've used. Getting a costume can be a problem because there are no specialty stores and such parties are not a habit in Cuba. In the end you always manage to invent and some put on makeup that mimics a film character, others create a mummy with toilet paper or a ghost with sheets… But it bothers me that people confuse Halloween with costume parties, so you can see men dressed as women, princesses and stuffs like that, when in fact the costumes should rather be of fear and terror, "he stated convinced.
Bewitched Cuba
In 2009, a reporter from Absolut Cuba magazine described a night of witches in the island's capital. "If you walk the streets of Havana, for example, you'll find children asking for candy and sweets at will, at every door in their path and to unsuspecting tourists who are surrounded by the "little vampires ". Such a tradition has never existed in Cuba. However, adolescents also celebrate this day dressing up to go to the discos and nightclubs where they can dance, eat and drink. Indeed, Halloween is a time to enjoy typical Cuban food, especially pork to firewood served with cassava and congrí rice, "the short note says.
Even on Trip Advisor, some tourists have left their opinions. A Canadian woman posted the following statement on how she spent October 31, 2012 in Cayo Santa Maria: "Halloween is not celebrated in Cuba outside of the resorts. Many do not even know about it, and those who know about Halloween is because they saw it in movies, television series or a it was told by a tourist "
The debate on Halloween night brought about another discussion on that website: the way in which is perceived that foreigners to give away candy to children in Cuba: "As to giving candy to children on the streets or from door to door, I will not open that debate again, but just think how you would feel if a stranger approaches your people giving away candy randomly to children, "the Canadian notes.
On blogs, mirrors Cuban reality today, this sui generis celebration in Cuba has also been reflected. In 2012, La Joven Cuba (Young Cuba) published an article by Luis Díaz López, young graduate from Matanzas University, who tells about his participation in a Halloween party at the Continental Cabaret of Varadero International Hotel.
"I can tell you that the line at the entrance was endless, that night the cabaret closed for capacity and many could not even get in, there were thousands of different costumes, including nurses and sick patients, devils and demons, warriors, dolls and even a pair of Siamese who earned the best costume award ", he posted.
Then he adds: "A few days later I spoke with an American friend of mine who visited Cuba in those days and told me about Halloween in the United States, which is different. The essence, which is in this case to dress up, is what has reached to us, at least until now, because no one goes for the houses saying the famous phrase "trick or treat", neither the house is decorated with related objects, but it is only a meeting to dance and share in a different way. I would wish to celebrate thousand of Halloween parties more, which would serve as a way to further unite the peoples of the United States and Cuba, which is another way to defuse tensions of decades. "
These parties are spreading like wildfire among Cuban youth. They are not yet, it is worth to clarify, as in Anglo-Saxon countries, but when reading ads presented in this article, I can only recall of the warning already made by ​​García Márquez on Christmas, a holiday that has taken roots in Cuba and it seems already native of not a few Latin American regions: the worst of all is the cultural disaster they are causing.
This year the blog ¨Santiago en Mi¨ publishes the article "Dulce o truco" (Trick-or-treating) where the author says: "A sign announces the celebration of Halloween by reservations and with costumes, call now!. Some young people pass nest to me with graphite scars on their faces, dark rings under the eyes; extravagant clothing. A girl wears two horns in her headband. (…) I wonder to what extent this celebration will be taken. Will I have to buy candy if tonight a ghost, a zombie; or a pumpkin knocks at my door? Will I hear, with unfortunate accent, the trick-or-treat phrase? ".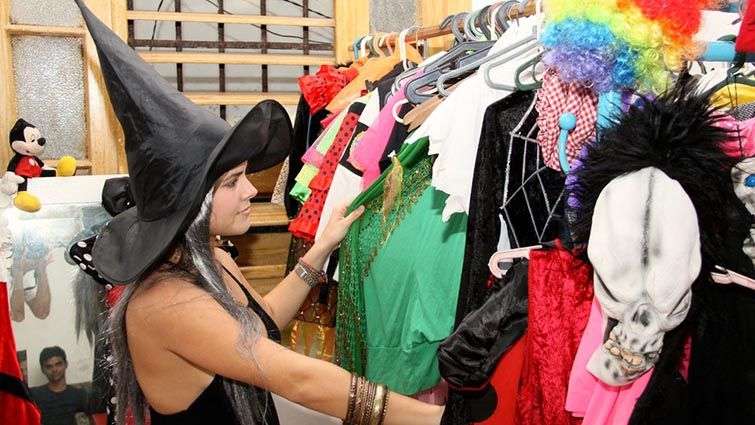 Authors