"The United States is the largest nation in history where the government does not interfere with your personal decisions, and that is what he promotes," as New Yorker Steven Daniels explained his support for Donald Trump in the President's rally last February 19 in Phoenix, the capital of Arizona.
Carrying Trump-Pence posters while chanting "Four more years!" "USA" and "We want Trump," tens of thousands of supporters filled the Veterans Coliseum to hear new promises, such as that the American flag will be planted on Mars.
He also sang the praise of the offers of his previous campaign ("the wall is being built") and tried to ease the anguishes of his supporters: that "the United States will never be a socialist country" and that they will not have free and universal medical insurance as announced by "crazy Bernie" if he is elected President.
"Universal and free" are words that provoke an automatic and passionate reaction of rejection in this audience. They say it's communism and they don't want it in a country where tens of thousands die annually because they don't have health insurance.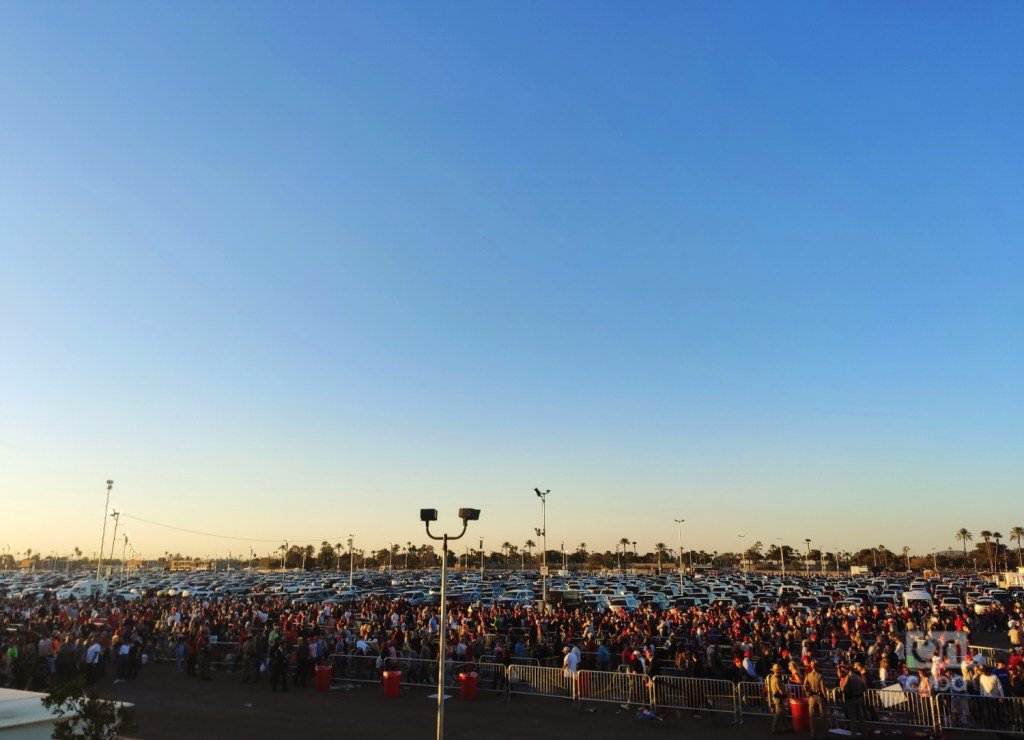 Trump followers come to listen to him to support what his speech promotes (anti-abortion, free possession of guns, populist nationalism, etc.), as well as to assuage the fear that what they call the "extreme left" wins the elections in the United States next November 3.
On the other hand, the acquittal of the President in the Senate's political trial has injected new energy into his supporters. The campaign merchandising, available in the rally's surrounding areas, showed messages like "My ass got acquitted."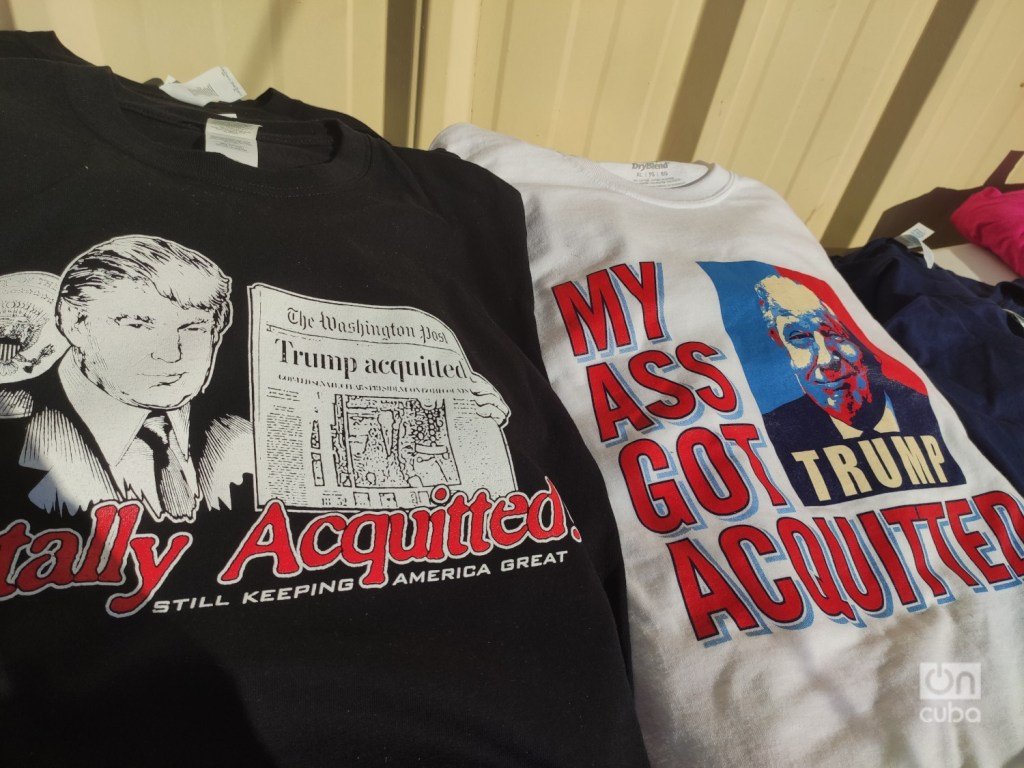 Some participants wore T-shirts with the image of Trump on the body of Sylvester Stallone in Rocky III, or as Terminator. In another illustration, President Trump raised a severed head.
All this coincides with the stereotyped narrative about who the Trump supporters are; although shortly before the rally they could be seen having tacos for lunch at a Mexican restaurant in the area.
In Phoenix alone there's a population of about 600,000 Hispanics. You couldn't find many in the rally; although there was a group of "Latinos for Trump," as well as "Women for Trump" and "Gays for Trump," minorities that don't abound among his followers considering his projection in terms of gender and immigration.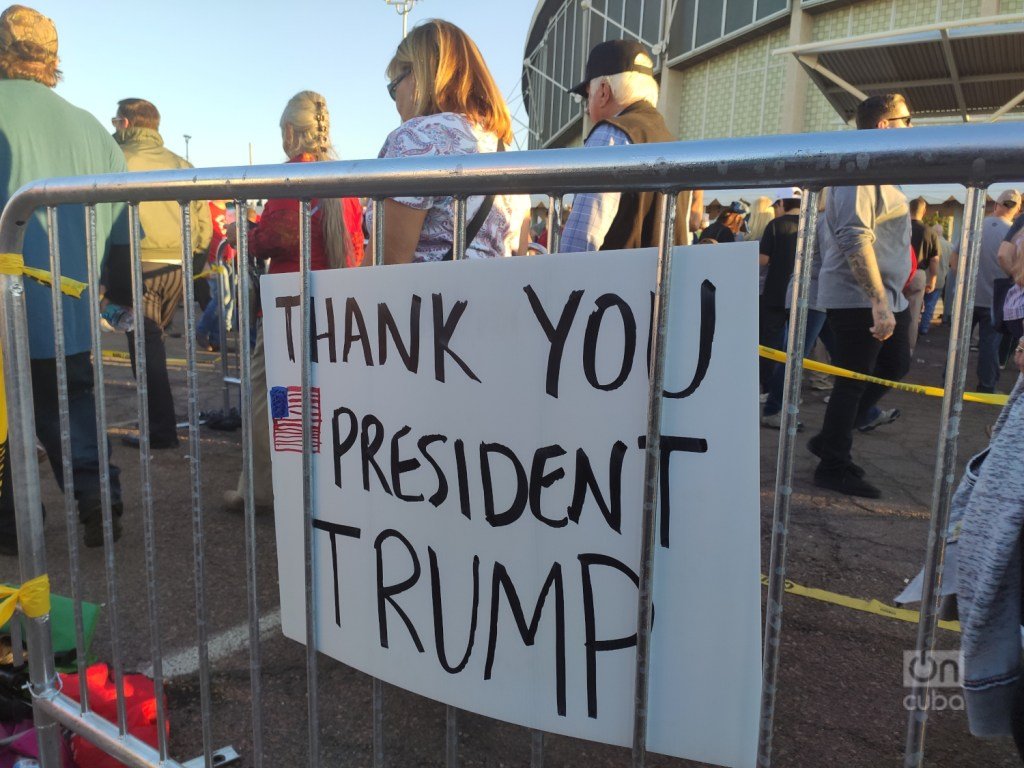 President Trump said his administration has devoted itself to "killing terrorists, creating jobs, securing borders…." He said that the Islamic State has been "100 percent" destroyed; and celebrated his decision to have killed Iranian General Qassem Suleimani, an action questioned by the Pentagon itself and that put the world on the brink of another war.
Regarding his Democratic contender, yet to be determined, Trump said he doesn't care "who the hell he's going to be." In any case, "we will beat him."
He spent almost as much time demonstrating why his administration has been the most successful "in the history of the United States," as to attacking the Democrats, promoting the agenda that they want to destroy medical and social insurance in the country, and give free health and education to illegal immigrants.
He said in absolute terms that he has built "the world's most prosperous economy and the most inclusive society," "the most powerful military in the world," and that the United States is now "stronger than ever before."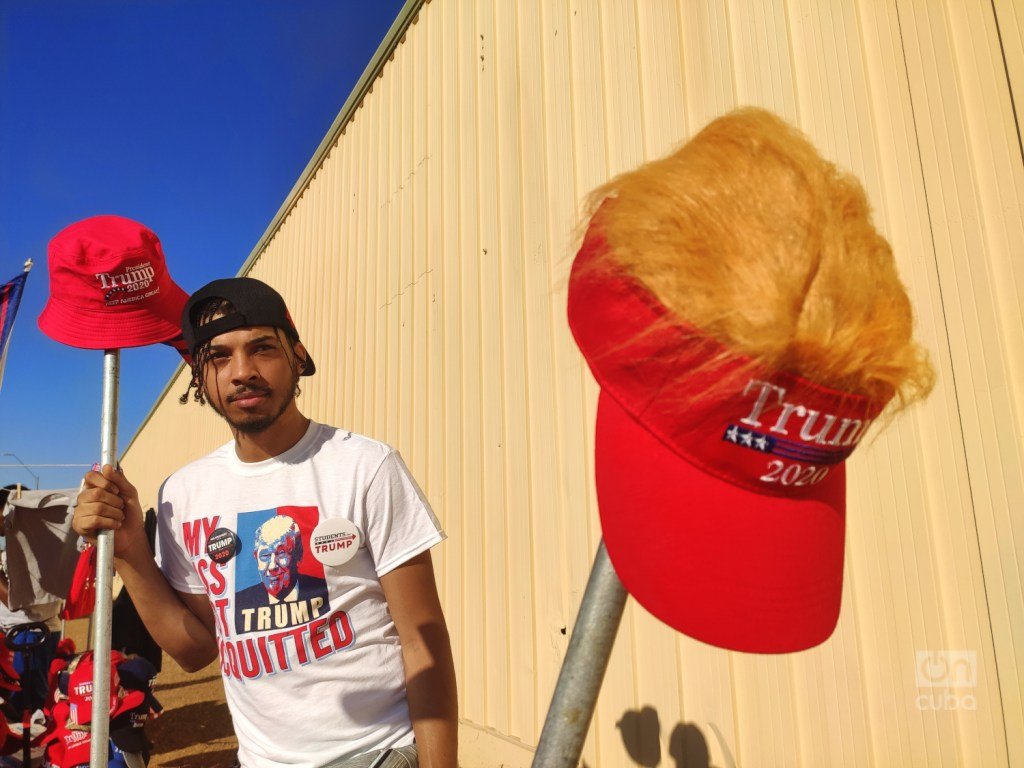 "Again we are being respected (in the world); including our allies," about which, he repeated that they can be worse than the rivals.
"They take advantage of us much more than our enemies," he had already said in Pennsylvania last August.
"We have done in three years more than any other administration in history," he insisted, before adding a few lines about his being a victim of the liberals. "(We did it) under terrible circumstances": "a witch hunt" by the Washington Democrats.
Each blunt statement was followed by an ovation and some chorus of "four more years."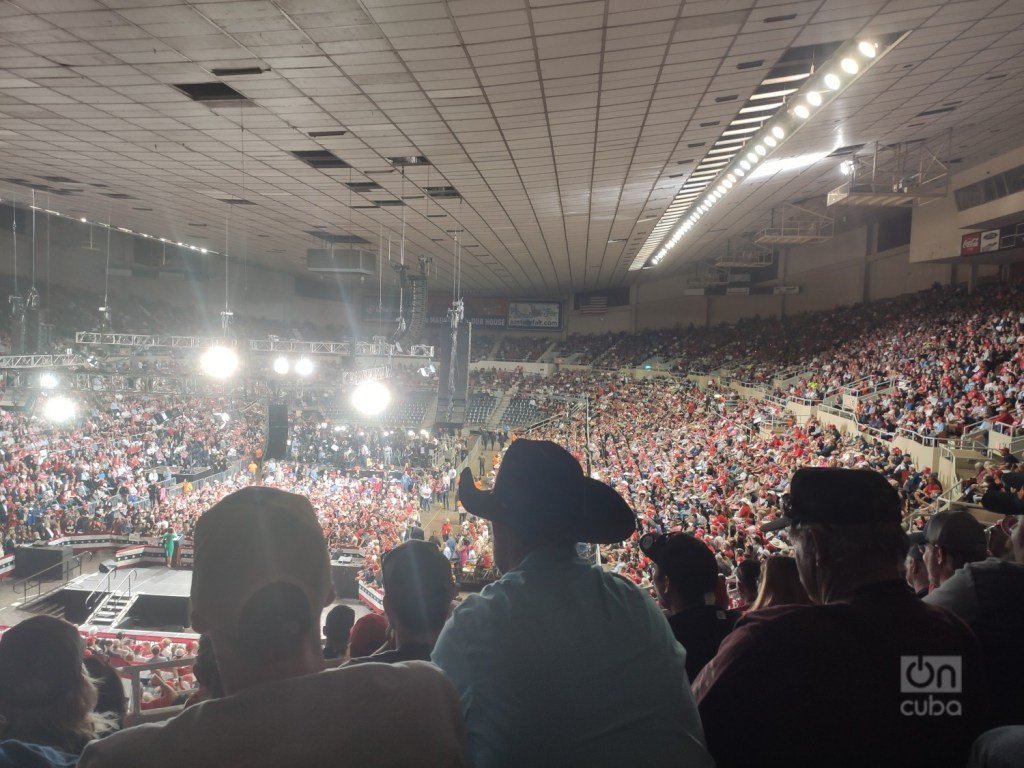 Bully President 
He repeatedly called the Democratic candidates "radical left" or "extreme left." He referred to the "vicious, horrible, ugly, and evil" Washington Democrats.
He also used customized epithets: Sleepy Joe (Joe Biden), Crazy Bernie (Sanders), Mini Mike (Michael Bloomberg), Pocahontas (Elizabeth Warren)…. He called Tom Steyer "a jerk."
There was also a barrage against the press, as is his custom. "Fake CNN," "Crazy New York Times"…. This time he also spoke of "fake polls," if they present the Democratic candidates with options to defeat him at the polls.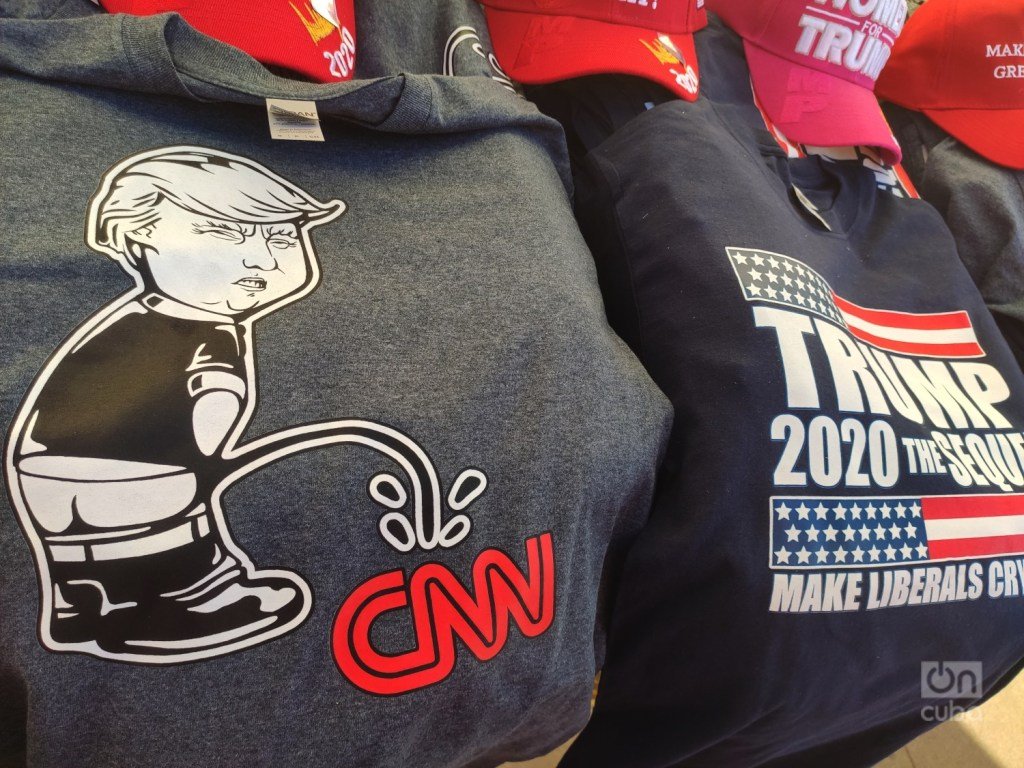 Love and money
To demonstrate the success of his economic measures, Trump said that a supporter confessed that he had had problems with his wife because she thought he was a failure and never earned enough money, but that thanks to his administration at the White House, everything had improved, he had recovered and the wife loved him again.
"Shows what money can do," the President told an audience that celebrated his joke.
Gun control
In Arizona, where it is legal to carry guns and 4 out of 15 counties and a city have adopted Second Amendment sanctuary resolutions, the president's guarantees of defending the right to bear guns were welcomed among a Republican audience, asserting the legacy of "the founders, as they call them," he said ironically, imitating the kind of comment they directed at him during the impeachment process.
He promised that religious freedom and "the right to keep and bear arms" will be preserved in Arizona, a state founded, according to Trump, by "cowboys and miners," ignoring the history of the 21 native communities that inhabited the territory.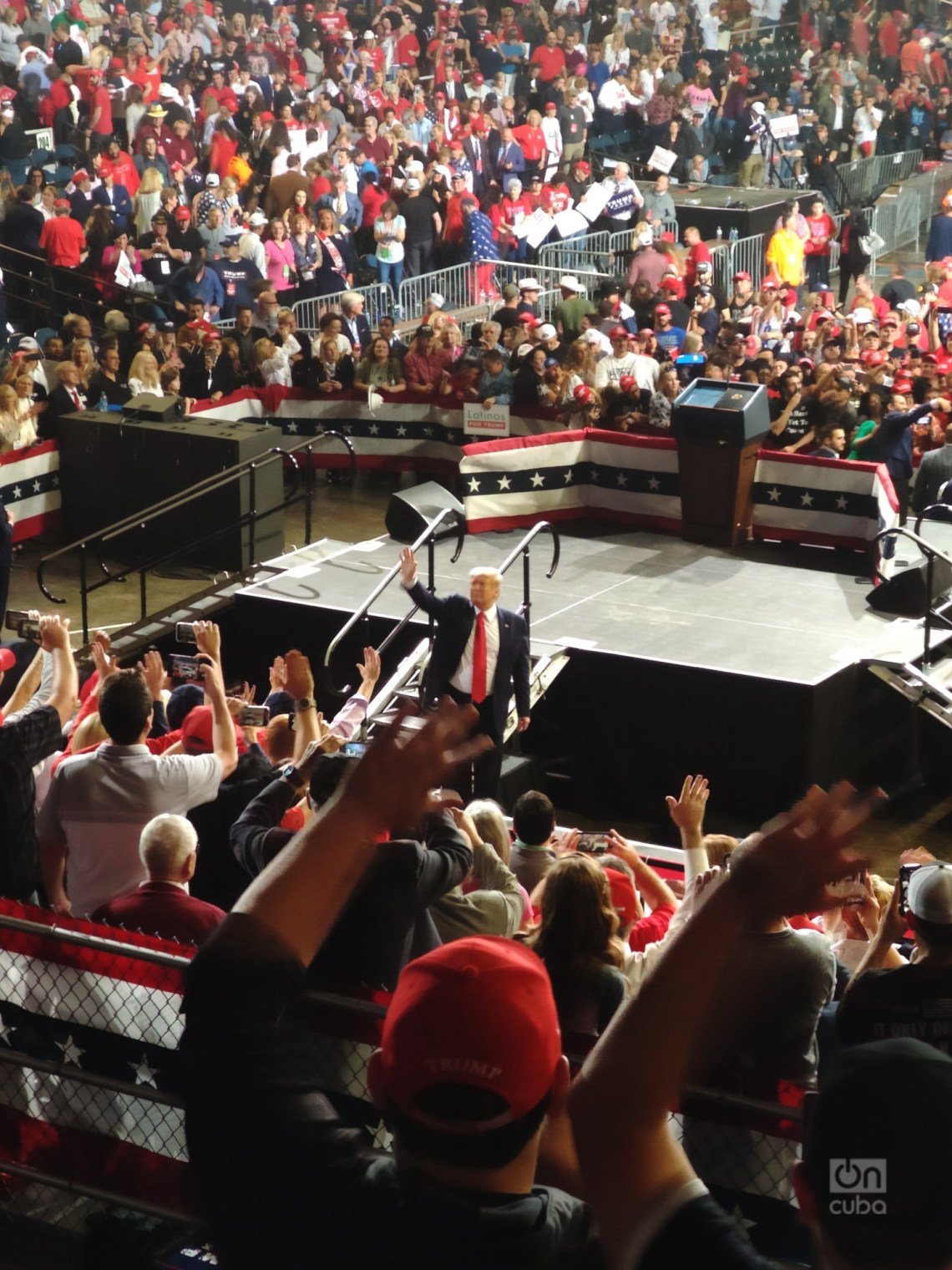 The wall
After some time not focusing on the matter, in the case of a border state, Trump resumed the immigration issue. He accused Democrats of wanting "open borders" that allow drugs to flow freely into the country, "poisoning our children."
"They want to let anyone from around the world simply walk across the border. They were treated far better than our veterans were treated." 
Shortly before he had referred to two supporters who carried a World War II veteran in their arms to his seat, because he was unable to walk. Trump greeted his presence, and indicated to his team: "Get a couple of (campaign) hats and give them to him."
Photo: Monica Rivero.
He spoke of "criminal aliens," and mentioned a murder case where the perpetrator repeatedly shot his victim in his face. He accused the sanctuary cities of protecting a "savage animal" like this. He called them "lethal."
The anti-abortion enthusiasts had their moment when the President rejected a policy that allows "ripping babies straight from the mother's womb," because "every child is a sacred gift from God."
His son Donald Trump Jr, who had preceded him on the stage, promised that four more years of his father would be "very, very, very entertaining."
That's how his rallies are, already in campaign. Like his State of the Union speech, which he gave the day before the vote that acquitted him from impeachment thanks to the Senate Republican majority: a television show.
Authors