I live in Chicago. I'm the Director of Americas Media Initiative, a non-profit that works with Cuban filmmakers. In early March Cuban animator Ivette Ávila came to Chicago to present the animation program she helped curate for the Cuban Visions film series I organized last year.
Ivette was supposed to visit Chicago last October but her visa didn't arrive till January 2020.
I've known Ivette for about 10 years and have always been amazed by her creativity, energy and ability to inspire creativity in others. I was determined to bring her to Chicago. I arranged at the last minute two presentations for Ivette, one at Northwestern University and the other at an art gallery, Uri-Eichen in Chicago's Pilsen neighborhood. Ivette also had an interview on Lumpen Radio, a collective radio station in the Little Village neighborhood.
On our time off, we went to Chinatown where I introduced Ivette to my Traditional Chinese Medicine doctor, Dr. Guo who has been my doctor for 36 years. After lunch in Chinatown we went to the Bernie rally in Chicago's Grant Park where I introduced Ivette to a couple of friends. When the rally was over we walked to a cafe nearby to meet with my friend, Pedro, a PhD student at the University of Chicago who is doing his thesis on Cuban film.
The following day we visited the Lincoln Park Zoo. It was a nice day so the zoo was filled with families from all over Chicago. We saw gibbons, chimpanzees, Harbor seals and male ducks fighting with each other. We left the zoo and I took Ivette to meet my dear friend Riva, an artist, writer and disability activist. I knew Ivette and Riva would get along and be interested in each others' work. We all talked about doing some kind of an animation collaboration in the future…between the U.S. and Cuba.
Ivette was my last hug on March 9, 2020, we hugged on my doorstep before she got in a car to go to the airport. Very soon after Ivette left, the Governor of Illinois made a stay at home order for all citizens in Illinois because of the COVID-19 pandemic. We entered into unknown territory and the world outside my windows slowed down.
On March 18th I had a dream. I was traveling in unknown places and lost my suitcase. But the end of the dream was beautiful. I hugged a smiling, four eyed dog who made me feel happy and unafraid. When I woke up the image of the dog was very clear in my mind's eye. I made a simple drawing of the dog's head and sent it to Ivette with the idea that maybe we could do a collaboration with the image.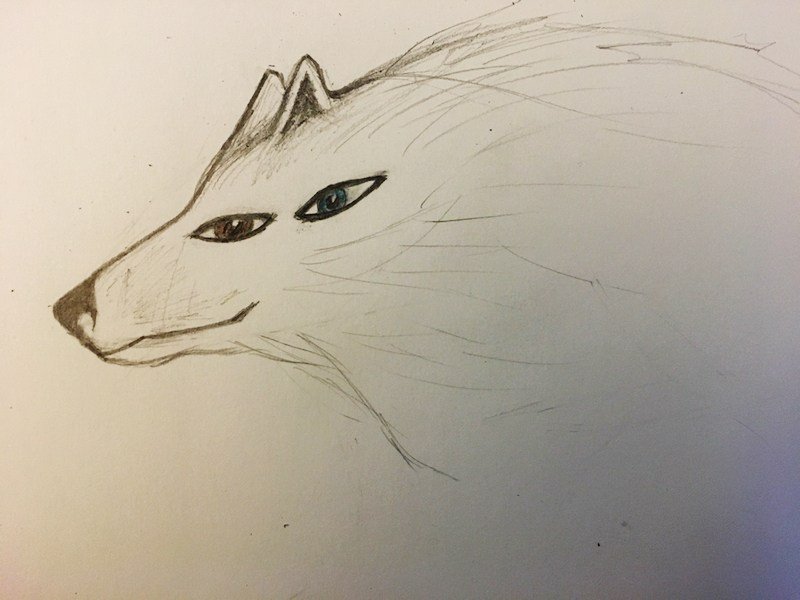 She responded a few days later saying she wanted to do an animation based on my dream for the Cuban series, Collective Creation in Quarantine. The resulting animation is Ojos/Eyes. I'm honored that all these extremely talented Cuban artists had interest in collaborating on the animation of my dream. Art brings us together, despite politics and politicians.
At the time of this writing I should have been in Havana with my friends and colleagues. I miss them all very much and hope we get to see each other soon.
CCC Obra 2: Ojos/CCC Work 2: Eyes from Americas Media Initiative on Vimeo.
Authors