Alejandro Mayorkas spent 24 hours in Miami, but it was not clear what he came to do. The U.S. Secretary of Homeland Security, in charge of everything that has to do with borders and entry into the country, warned those who wanted to listen that Cubans who arrive by sea or land are not welcome, but neither did he definitively clarify what the Biden administration intends to do in relation to Cuba, beyond issuing a series of "sanctions" against officials who, to tell the truth, don't punish anyone since they don't have properties or bank accounts in the United States and I don't think they are planning to travel to the "neighbor to the North."
In fact, since the George W. Bush administration, at least theoretically, no one who works for official Cuban entities can do so. It's reserved for the Cuban private sector.
But Mayorkas met with members of the Cuban-American community, whose opinions he listened to. An attendee at Thursday's meeting, who prefers not to be named, tells me that several proposals were considered. There was, of course, the proverbial request for an intervention of Cuba, the restoration of the dry-foot/wet-foot policy, the call to maintain the Cuban Adjustment Act and the new idea that Washington be in charge of making the Internet signal reach Cuba. 
However, a detail that caught the attention of at least two of those present with whom I spoke came to light. The group attending the meeting was made up not of Democratic or Republican activists, but of personalities who have aligned themselves with one side or the other. "The interesting thing is that almost no one fought among themselves. It seems that Biden's policy, which aims to be as remote from Barack Obama as it is from Donald Trump, ended up confirming that it is a mix between the two," said one of the attendees.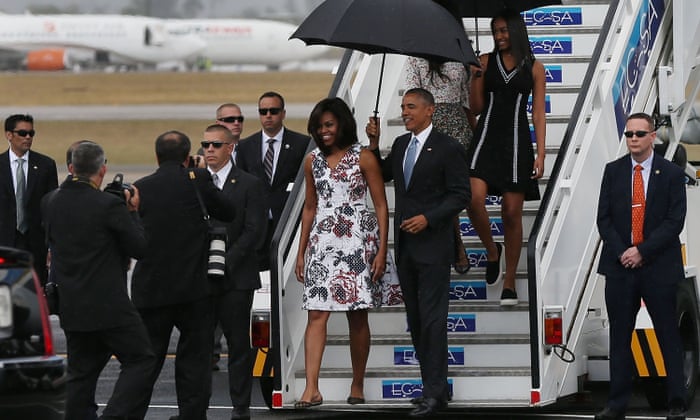 Mayorkas is the first Biden cabinet official to visit Miami since protests broke out on the island last month. The visit came after the announcement this Thursday of a fourth round of sanctions against Cuban military officials.
In his meeting with the press after a two-hour meeting, Mayorkas underscored the current U.S. administration's commitment to supporting the Cuban people, but only nodded when critics present argued that Biden was moving too slowly and doesn't speak enough about the situation.
Mayorkas, who is also a Cuban American, replied they shouldn't interpret a moment of silence as a moment to give in to their conviction and their commitment to the Cuban people.
So far, with his silence — the administration limits itself to saying that it is reviewing the policy toward Cuba — Biden's strategy toward the island has leaned more toward the hardline approach of former President Donald Trump. He has maintained the sanctions against Cuba and added new ones directed at government officials and entities. This despite the fact that, during his presidential campaign, the current president promised to eliminate the nearly 430 measures implemented by Trump to reinforce the embargo.
Biden meets with Cuban Americans and reiterates his promises regarding remittances and internet access
At the meeting, Mayorkas also did not clarify anything to the press when asked why Biden's policies, so far, have looked less like those of President Obama and more like Trump's policies.
The only thing he said was that the Biden-Harris administration will develop its policy towards Cuba in support of the Cuban people, with the Cuban-American community. He also didn't want to comment on whether he supports efforts to prevent remittances sent to the island from passing, hypothetically, through the hands of the island's army.
"It gave me the idea that after the two meetings in Washington, Mayorkas came to Miami to make people feel important. But the truth is that he didn't strictly guarantee anything. Nothing new came out of this meeting, nor do I think that was the idea," said another of those present.
It is true that this meeting with the Cuban-American community is unlikely to be the last. But until there is a policy drawn up by this administration, there is no likely glimpse of what can be contributed that's new.
If the blurring U.S. policy towards the island has represented anything, it is that, in South Florida, neither Democrats nor Republicans can claim a victory in its design.
The only solid thing so far is the lack of a policy; so much so that some Democrats, Cuban-American activists, and Cuban observers have been frustrated with Biden's approach, which has greatly differed from Obama's policy, which sought a rapprochement with the island's government after decades of embargoes and Cold War.
John Kavulich, president of the nonpartisan United States-Cuba Economic and Trade Council, said that it has been shown that Biden is more concerned with what his opponents think about Cuba than with what his own followers think about Cuba
When flying to Miami, Mayorkas was not clear. He listened to what the administration had already heard. And those who went to see him and to be photographed next to him did not take home anything new.
Author