The Norwegian Cruise line will expand its weekly cruise offers from Miami to Cuba until 2018. According to a press release by the company, they will be 32 previewed trips with four days of sailing and an overnight stay in Havana.
The trips, which started in late March, are added to the 30 the cruise line will make until December 2017. The luxurious Norwegian Sky, with a capacity for more than 2,000 passengers, will repeat a programmed route starting May this year with an all-inclusive service.
"Cuba is a spectacular destination and we are having an incredible demand from our clients to enjoy the beauty and cultural wealth of Havana and its people," commented Andy Stuart, president and CEO of Norwegian Cruise Line. "We are very happy to provide our guests with new opportunities to experience this incredible destination in 2018."
During their stay on the island, the cruise guests will have the possibility of visiting historic places like Old Havana, a World Heritage Site; see the incredible art and listen to the vibrant scenes of Cuban music; and talk with Cuba's warm and friendly inhabitants through people-to-people exchanges, according to the company's press release.
In addition, they will be able to go on land excursions, explore a site of Soroa's natural beauty, enjoy typical Cuban food and travel through the streets of Havana on one of the vintage cars known as "almendrones."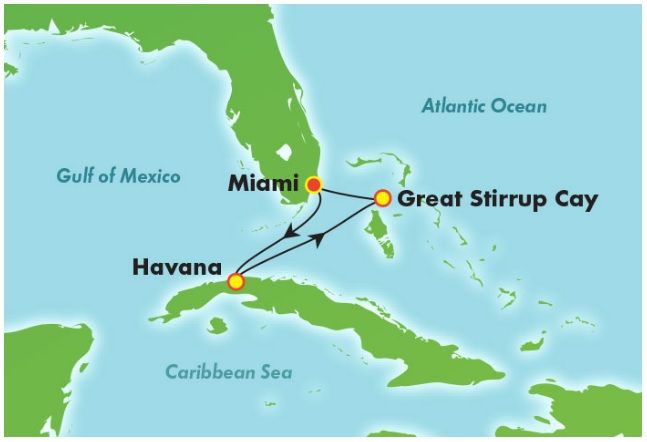 The Norwegian Sky's trips in 2018 will be on sale next April 20 and its route includes a stopover in Great Stirrup Cay, a private island in the Bahamas property of the cruise line.
The Norwegian Sky's itinerary. Source: Norwegian Cruise Line.
The proposals at the disposal of Norwegian's guests follow the regulations established by the Department of the Treasury's Office of Foreign Assets Control (OFAC). According to them, the cruise line can offer authorized travelers, directly or indirectly, transportation services between the United States and Cuba on board a ship.
The OFAC regulations for people-to-people exchanges allow persons from the U.S. to travel to the island, as long as they maintain a complete timetable of activities of educational exchange with the goal of having deeper contact with the Cuban people and a significant interaction between the traveler and the people in Cuba.
Norwegian Cruise Line Holdings began its trips to Havana last March 9 with the arrival of Oceania Cruises' Marina. The Oceania line recently announced new routes to Cuba for November this year and for 2018.
Authors