The University of Stanford has been taken over. Over 1000 people, invitees and hosts among them, roam around the all inclusive campus that impresses with its beauty and sophistication in this charming city of Mountain View. A city which is the general HQ of Google and NASA and one of the emblematic territories of Silicon Valley.
You can see US government officials passing by everywhere. Various cabinet members, the Secretary of State, John Kerry included have been here for the last two days. Even President Obama will address the participants this Friday. He is the main inspiration and host of this 7th Global Entrepreneurship Summit that brings together over 700 entrepreneurs from across the world and over 300 investors, the majority of whom are American. Putting them in contact with one another is one of the aims.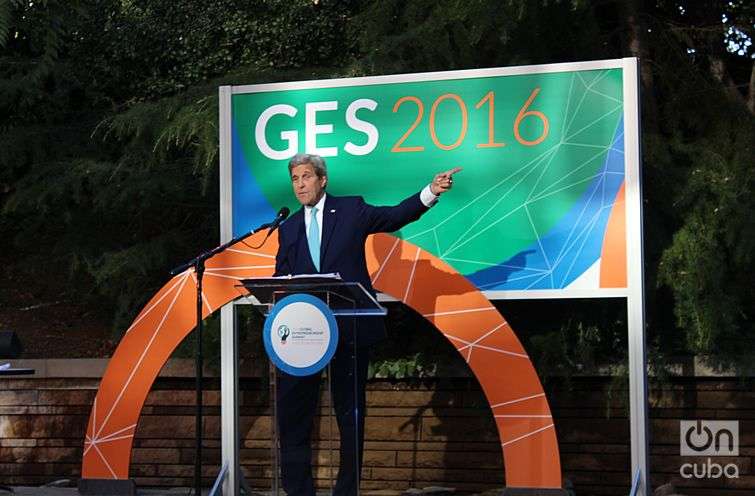 An event of such magnitude is demonstrative of the level of this administration's commitment to the promotion of entrepreneurial spirit. Kerry has explained it. For the administration there is a "direct relation between the creation of economic opportunity and the potential for political stability and peace". That is, in part the ABC of "American Values" that the chancellery, as much as the economic authorities of this country, are interested in promoting.
The Global Entrepreneurship Summit is also a display of the celebrities of the world of start-ups. They do not come dressed to the nines to shown off on a red carpet nor to be dazzled by the flashes. The majority of them come to work: they participate in debates or give microconferences that have elements of their own legends – their entrepreneurial success precedes them – and which are steeped in advice, warnings, and calls to action.
Here you can see the metal of the current hitparade: Travis Kalanic, CEO of Uber; Reid Hoffman, executive president and co-founder of Linkedin; Brian Chesky, CEO of AirBnB; Mark Zukerberg, founder and CEO of Facebook…among another dozen entrepreneurial conquistadores. They are the two-legged proof that in the business world, a good idea can go from a dream to a reality. Although they all emphasise that it is hard to make it.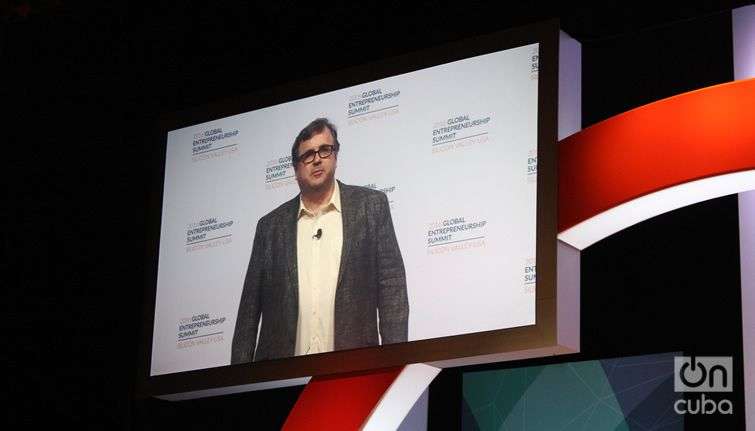 John Doerr, a veteran venture capitalist and considered by Forbes to be the owner of the 35 largest fortune in the world (4,100 million dollars), was also in GES 2016 explaining what it is all about. What is known as "entrepreneurial spirit" cannot be reduced down to the desire to "make money".
Floating the idea that the criteria for success is also in the ability to influence the environment, to build renewable resources and social initiatives through small and medium enterprises. Those gathered together here see themselves as agents of change.
"Everyone is here", is what you get the urge to say when you take a look around. Men and women – so many women – youngsters from all over the world, talk among themselves in a common language: English, loaded with all kinds of accents.
Here the protocol is talk to talk to strangers. People meet up in the gardens, they bump into each other in the pitching room, they approach the exhibitors, they ask questions. "Where are you from?, is the first thing they say'.
The youngest of them is an 11 year old boy. He is called Hamish Finlasoy and has come from Australia to Silicone Valley because he develops educational APPS that are focused on saving turtles, stopping the contamination of the ocean with plastic and improving the lives of people who suffer from autism.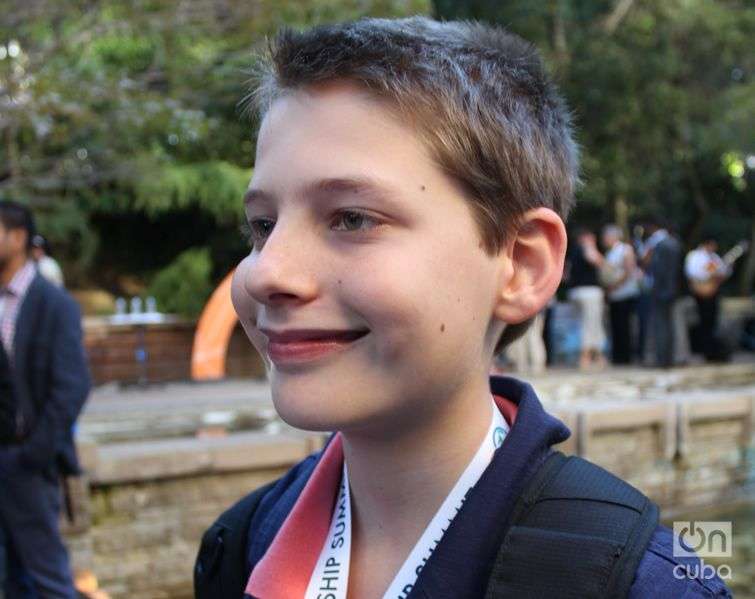 One cold dawn in the city the new entrepreneurs pour off of buses and walk quickly to fill the empty spaces. 10 Cubans who walk among the groups are also visible, in meetings with interested parties. Are there entrepreneurial enterprises in Cuba? Since when? They are here to demonstrate it. Among other things, they've met with, because blood is thicker than water, Cubans who work in Google.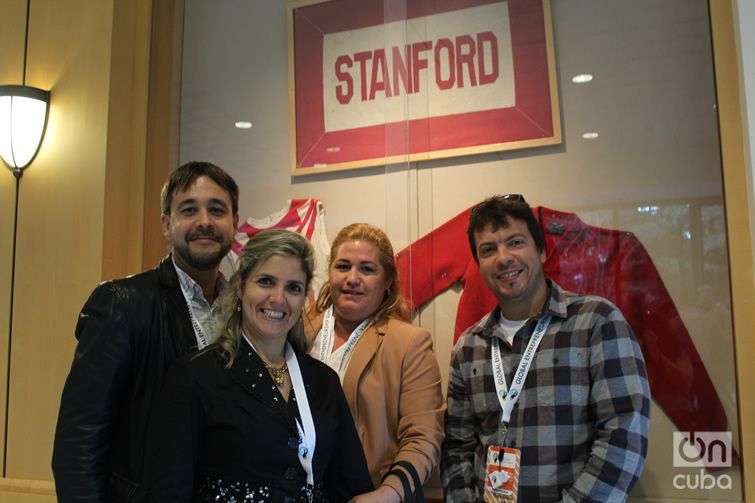 "What do you hope to achieve from this Summit and could it directly benefit your venture?" I ask Yondainer Gutiérrez, founder of AlaMesa, a directory of restaurants and "paladares" in Cuba.
"This is a really good opportunity to learn, to make contacts. My intention is to absorb all the knowledge that I can and try to participate as much as possible in the collateral events, directly or indirectly related to AlaMesa. GES is an ideal space to meet people like us from all over the world who are trying to add value to the places where they live and the people that surround them. It is very important and beneficial to meet, exchange ideas with, and learn from them. It is really important to me to get to know and understand the ways in which an entrepreneurial venture can forge paths in cultures, economies and different societies."
I aksed Oniel Díaz Castellanos, founder of AUGE, a Business Development team which in a year has successfully managed to advise five business projects in Cuba, what he, risen to such a high level, could find in a Summit like this.
"In addition to what you normally get from this kind of event (networking, contacts and a mountain of business cards) my desire it to keep on learning how the world of start-ups moves and develops outside of Cuba. I want to observe, investigate and understand the logic of this spirit which we doubtlessly have but which unfolds in a completely different way. It's not that I have a sheet of tracing paper and a pen in my hand. It's that this unique moment in which Cuba is living gives us the opportunity to build, innovate and put into practice in a creative way ideas that are circulating around the world. The extent to which we are able to interpret, dismantle and then rebuild in Cuba, is how we will grow as entrepreneurs and our businesses will grow.
What can the Summit gain from entrepreneurs like these?
"I'm giving my vision of Cuba, of its past, of its present fraught with challenges and contradictions but above all I'm giving a vision of its future. Of what I want, and don't want for it. I also share what I know about hundreds of young professionals who instead of choosing to emigrate have chosen to build their future from Cuba with ventures that are small in business size but big in terms of their significance. They demonstrate that the opening up to self-employed work has a greater impact than on the national economy than was assumed. For some youngster it has been the reason for them believing that they can create a more prosperous future without having to leave the country. And the most beautiful of all is not the prosperity (which is small and unsecure when compared to the rest of the world) but rather the effort and passion with which they start their businesses and defend a space in society.
These new businesspeople share the idea that access to an atmosphere full of innovation and creative liberty, a supportive legal framework and technological, human and financial resources are key to the development of business ventures in any kind of economic environment. But, one of these is the critical element, the knot that, once untied will allow these entrepreneurial formulas to evolve in Cuba in a more effective way
The slowness in the application of these changes that the country has proposed is – in Oniel Díaz's opinion – the thing most affecting the development of business ventures and particularly those run by young entrepreneurs.
"We, the youth, have decided to break with the fact the authorised businesses are basically in business sectors that have very little to do our professional studies. And we've begun to start businesses in our specialisms with the aims of applying here what we learned in our own countries for our benefit and for the benefit of our society. The majority of these businesses in which youngsters develop professional activities have a very weak legal base. And we are all motivated by the idea of being legal rather than renegade. For that reason so many of us have so ineffectively tried to form cooperatives and we will keep fighting for this. We hope that we will be allowed to participate in the new small and medium sized private enterprises. That instead of having a small list of permitted activities, there might be one of activities that are not permitted, based solely on what really would be detrimental to the country and not based on prejudice of any kind. There are no limits to our creativity and desire for action.'
Authors