"Cuba is opening up and we're interested in our companies being well-positioned to be able to have access to the most important contracts," sources from the socialist government of Pedro Sánchez, who this Thursday began a two-day official visit to Cuba, explained to Spain's daily Expansión.
The newspaper specializing in economic topics recalled that with this visit representatives of big Spanish companies like Telefónica, Bankia, Talgo, Gamesa, Sacyr y Aena, Amadeus, Sabadell, Barceló, NH, Meliá, Iberostar, Tubos Reunidos and Agbar would be landing on the island.
A total of 300 CEOs of Spanish companies met in Havana in a Spanish-Cuban business forum, probably the largest carried out between the two countries. Many of these companies hope to be part of the declared commercial and investment opening the Cuban government has presented through the Opportunities Portfolio with 455 investment projects valued at more than 9.3 billion euros.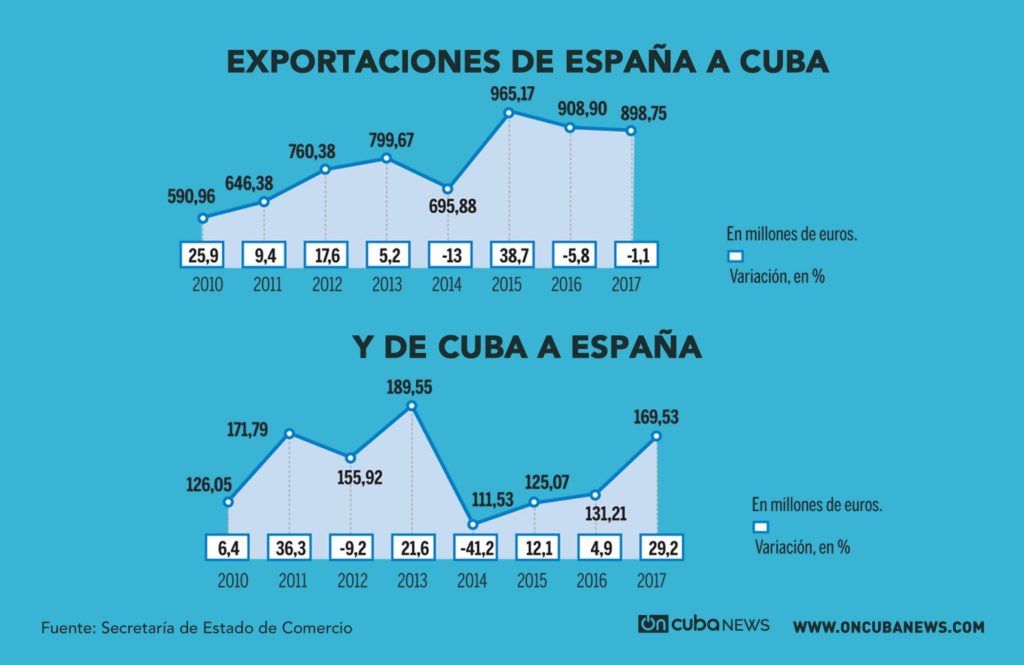 *EXPORTS FROM SPAIN TO CUBA
En millones de euros = In millions of euros
Variación = Variation. In %
AND FROM CUBA TO SPAIN
Fuente = Source: State Secretariat of Commerce
According to the Spanish daily, after Sánchez' meeting with Díaz-Canel on the morning of November 23 the Spanish president would have a working breakfast with more than 200 Spanish businesspeople to "find out about their concerns, their problems and how the president can help them."
Sánchez was accompanied by Minister of Industry, Commerce and Tourism Reyes Moroto, Foreign Minister Josep Borrel, the president of the Spanish Chamber, José Luis Bonet, the general director of the Chamber, Inmaculada Riera, and the new president of the Spanish Federation of Business Organizations (CEOE), Antonio Garamendi.
"We are going after emblematic projects, we prefer to not say too much," the same government sources explained to Expansión; "we are going to advance in the big sectors. In energy, transportation, infrastructure, telecommunications, urban works, in the Mariel zone…."
Authors