Almost no one knows José Enrique González Calvo by his name. His relatives, friends, neighbors, call him Pepe, and thus he also introduces himself to his clients as a free tour guide, a service he has been offering since May 2018.
This 24-year-old young man, who defines himself as a "self-taught guide" and studies distance tourism at the University of Havana, has one of the most popular tours of the Cuban capital of all those promoted on GuruWalk, the largest free payment tour platform, present in a hundred countries throughout the world.
When he found out about this modality through an Argentine friend visiting Cuba, Pepe was out of work. He had left his career in economics behind and had tried, without luck, other jobs, from making hamburgers to working in a photo book workshop for young women celebrating their 15th birthday. Discovering the free tour—a service in which travelers do not pay in advance or pay a fixed price for the tour they book, but pay the guide at the end with the amount they consider fair—changed his life.
Roxana Capote Delgado's story has been different. A young woman from Cienfuegos, who came to the free tour as part of a search and professional evolution, in which, even though she has not closed the door to other profiles, she found in this work an undeniable source of realization.
An intermediate computer technician, a graduate from sociocultural studies at the University of Cienfuegos, with experience working in private galleries and, recently, in digital marketing, this 27-year-old woman has, moreover, a guide degree from this city's school of tourism. But, given the few possibilities of inserting herself in a state agency, she chose to work independently and, as in Pepe's case, GuruWalk was her path. She arrived at this platform two years ago and hopes to remain linked to it when the pandemic allows the reactivation of tourism.
In the world and also in Cuba
Until COVID-19 put the planet on hold, the free tour was a rapidly expanding modality. In recent years, platforms and companies that promote this service have proliferated—GuruWalk, for example, was just founded in Spain in 2017—while the guides that offer it and the travelers who choose it instead of traditional tours have multiplied. This, as expected, has generated controversies about its validity and legality, as well as controversies with tourist guide agencies and associations, which accuse their practitioners of professional intrusion and cheapening their work.
But the free tour seems to have come to stay. It is supported by facts such as that the price is not previously established, but depends on the assessment of clients—who may even not pay or leave the tour before it ends if it doesn't satisfy them—, that the prior reservation and the possible cancellation can be free, that the guide is someone from the locality, who usually offers a closer, relaxed and personal experience in contrast to the more rigid guidelines and the common places that often characterize traditional services. All of this are trump cards for those who prefer a more flexible and spontaneous tourism, which allows a deeper dive into the visited site, instead of the cosmetic vision of tourist packages.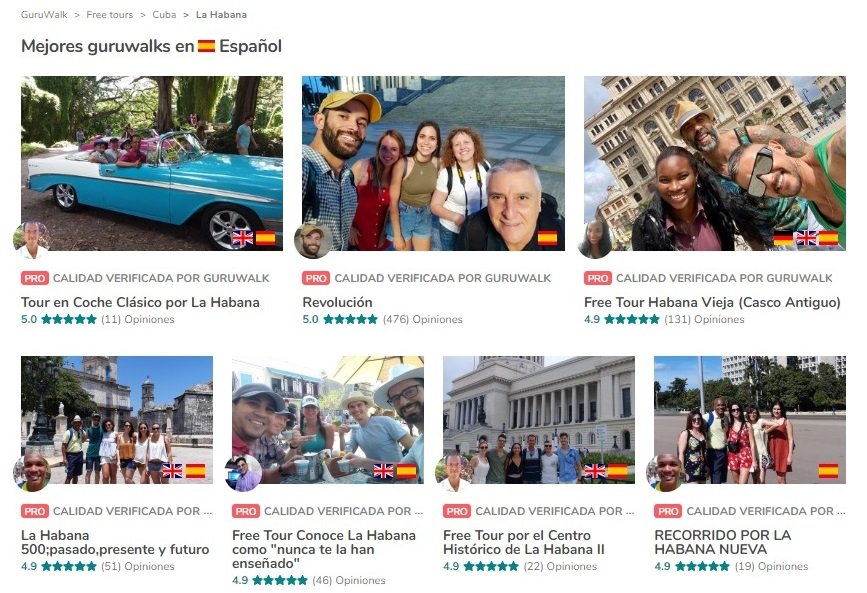 For guides, meanwhile, it also has many advantages. They can design their tours and organize their schedules at their own convenience, as a result of which they are their own bosses, and they don't need to invest to get started. It is enough that they register and publish their tour on a platform of this modality so that they can receive reservations. They don't even necessarily have to pay these sites to show their tours, although the platforms favor marketing and positioning those who pay a commission per client. But, in any case, their dedication can be well rewarded, since internationally the average paid by each client is between 10 and 15 euros—although some offer less and others much more—and the tours, although they may have only a few travelers, which seems to be the most common in Cuba, can also have twenty or even thirty. So work is the key to success.
"The free tour guide, as he charges according to the client's criteria, is someone who normally tries very hard to do it well," Pepe comments—knowingly—to OnCuba. "In addition, he is someone open and accessible, who speaks from his experience and not from a script or the guidelines established by a company, who explains and advises clients from his experiences and local knowledge, and that is why this is a modality that is very well received by travelers and more and more sites are betting on it."
It is not surprising then that, motivated by this expansion and by the tourist boom that the island experienced after the thaw with the United States in Barack Obama's second term and until the first years of the Trump administration, the free tour guides also began to become popular in Cuba. The high demand for this and other services typical of the so-called smokeless industry, at a time when the country received an increasing number of flights and cruises, and aspired to reach 5 million international visitors, made many become interested in the subject and create their own tours on platforms such as GuruWalk, Civitatis, and Strawberry Tours.
"I began to document myself, to look for options on the internet and that is how I found GuruWalk, which only asked for the guide's data—they call the guides gurus—, the description of the tour that one was thinking of presenting, and you only had to publish it on the platform, without the need for a Visa card or MasterCard, something that other places required and that for one here in Cuba is complicated," says Pepe.
To present "something different" to the free tours that already existed in Havana, the young man chose the Cuban Revolution as his theme. His idea, he says, is to focus "objectively on history," on a journey that goes from the struggles for independence in the 19th century to the present day, through the republican period and its revolutionary movement, what happened after 1959, the influence of the Soviet Union and its fall, and the changes experienced in the island in the last decades. In his explanation, he always seeks to go to the facts and avoid political debates, "although sometimes it is inevitable," he acknowledges.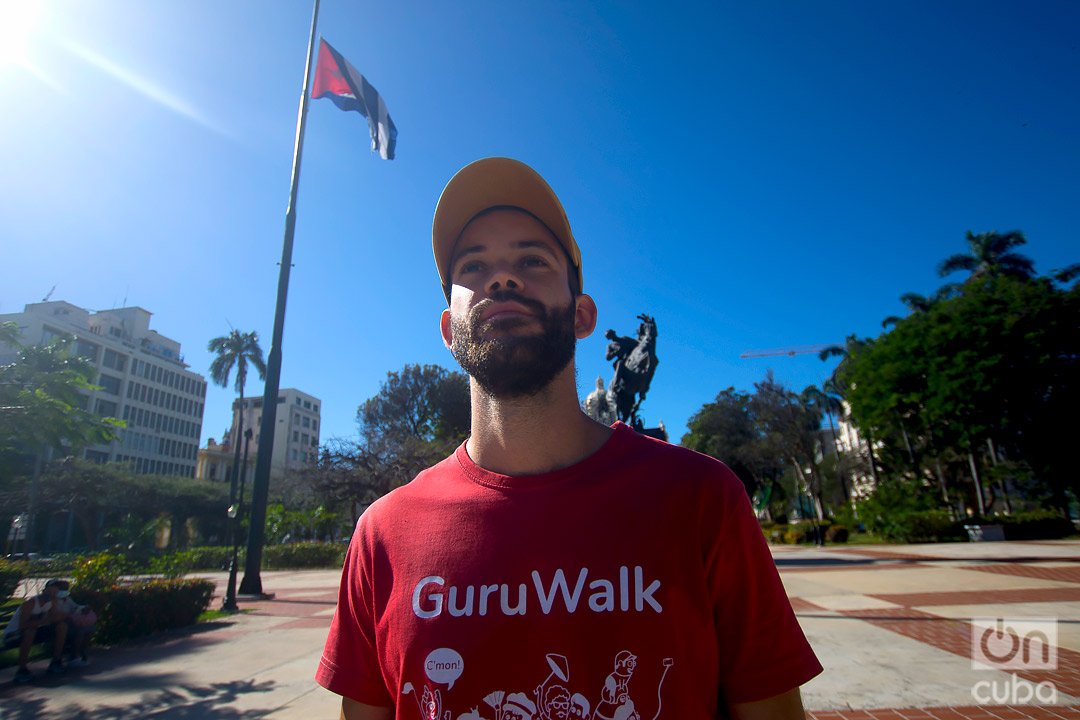 During his tour, which lasts about two and a half hours, instead of visiting the picturesque squares and monumental colonial buildings of Old Havana, he takes his clients—walkers, as GuruWalk calls them—to other Havana environments: Parque 13 de Marzo, the Granma Memorial, the Museum of the Revolution, the Paseo del Prado, the Capitol. And, "I even show them a ration book, an electricity bill, or water, we go through a pharmacy, that is, I show them what Cuba is like," says Pepe, who offers his tour only in Spanish, because, although he knows English he prefers "not to talk about complex issues in a language that is not mine because I will have things left to say or there may be misinterpretations."
"At the beginning," he remembers, "I had few reservations because I almost had no visibility, but as you go on your tours and gain positive comments, more people see your tour and you get more reservations. When I started I had two tours a week, then three, and that's how I progressed."
"Until February and March 2020, which was the last time I worked systematically before the pandemic, I was practically full from Monday to Monday at my two tours: at 10:30 am and at 5:30 pm. I even had to stop because there was a time when I lost my voice. I had good demand because I was gaining visibility and credibility within the platform, in a rating it has, and that allowed me to have more reservations," adds the young man, whose tour has the highest rating and more than 400 opinions on the website.
Roxana, for her part, approached the free tour to be able to develop as a guide and has always had GuruWalk as her base platform, she tells OnCuba. Her proposal is a city tour of approximately 2 and a half hours, in Spanish and English, which she called "Cienfuegos: culture and soul." In it, she explains, she takes advantage of the knowledge about the history and culture of Cienfuegos learned in her university studies, to "show how the last city founded by settlers in Cuba has remained and has evolved over 200 years, how its architecture has been preserved and its artistic and cultural manifestations have developed, and how the people of Cienfuegos have managed to preserve their traditions."
He begins her tour next to the now famous bronze sculpture by Benny Moré, located in the Prado in Cienfuegos, and follows her route in a sui generis way, in retrospect: she travels with her clients from the present to the foundation of the township, at the end of the second decade of the 19th century, following the city's structure, showing its main buildings and places until reaching the exact point where the city was founded.
"Of course, other issues, doubts, questions about the current situation or the history of Cuba may arise on the tour, as part of the exchange with clients that this work fosters," she says, "and one has to be prepared to also talk about those issues. A good guide has to be ready for any question and to always give the best explanation."
And then came the coronavirus 
The COVID-19 pandemic has also been a plague for tourism worldwide and, specifically, for Cuban free tour guides. Roxana, for example, made her last tour a year ago, in March 2020, shortly before the island's authorities closed the borders and paralyzed tourism, even knowing the high cost of that decision for the country's economy and for the pockets of those, like the young woman from Cienfuegos, worked in that sector. Then, her tour "Cienfuegos: culture and soul" showed a score of positive comments and evaluations on GuruWalk, the same ones that she exhibits today, 12 months later.
"I have been a whole year without being able to work, so the pandemic has affected me a lot," she says. "When the situation improved and we went to the new normal, in Cienfuegos we didn't have many tourists. There were some on the street, but generally alone and with many safety measures to avoid getting infected, so neither I nor other city guides had free tours and we continued without work, hoping that things could be restored, and rather they got worse with the outbreak."
Pepe, for his part, also recognizes that during the pandemic the situation has been "fatal" for him. "The last tour I had before tourism closed was on March 20, 2020. Since then, I have practically lived off my savings," he says, although he does admit that, unlike Roxana, he did have a few tours between the end of last year and the beginning of the current one, when the opening of the borders made some visitors land, much less than the usual amounts, in the Cuban capital. "It wasn't much, but at least it was something," he says. "I did the same tour that I always do, with the same content, but with safety measures, with a mask, with physical distancing, taking care of my health and that of the travelers."
In the midst of the mandatory stoppage due to the coronavirus, both young people did not sit back and tried to exploit alternatives in the digital environment. But technological and connectivity limitations, both due to the external and internal conditions of the country, didn't give them many possibilities as guides in this direction.
"We created a community for online tours with other guides from Cuba and outside Cuba, in which we shared information, we did participatory tours, and we provided information to many users through the internet, from where they could interact with us, ask us questions and the guides answered," says Roxana. "But it was something we did on our own, without financial remuneration, that we did to stay linked to our work. Then the situation of the pandemic dragged on, and I could no longer continue with the same frequency, because, as I was not generating income, I was spending my savings on the internet and my time, and I preferred to explore new options."
The young woman then headed towards digital marketing, a professional profile that she considers has "many perspectives, because people are betting much more on it now that there are better connectivity possibilities in Cuba." However, she has not hung up her gloves as a free tour guide and hopes to rejoin this work when COVID-19 can be defeated and "everything is much better, there is safety for traveling, and the tourism that at some point we had returned."
Pepe, meanwhile, also preferred to wait it out.
"Professionally speaking, I think the pandemic has limited me from an economic point of view, but it has allowed me to study, learn a little more, investigate a little more. I have been able to connect with other guides, I have made other alliances, I have found more experiences, so let's say that not everything has been bad. I have tried to take advantage of this stop to learn a little more and prepare myself better for when this situation passes and I can go back to work," he affirms.
But the coronavirus and the brake that it has meant for tourist activity is not the only difficulty that Cuban free tour guides have had to face. The country's current socio-economic scenario, marked by the United States embargo and the recent reforms implemented by the island's government, also entails other challenges for their work. We propose to approach them in the second part of this work. Our protagonists will tell us about them, endorsed by experience.
Author