Havana woke up this Tuesday gray, wintry. In its oldest part, including the San Isidro neighborhood―center of gazes and comments on the events of the last days―and also beyond. The cloudy sky and the north winds left no room for doubt. The first cold front of the season entered the city just as December began and the thermometers and the people of Havana were thankful.
"And it was needed," says a man who prefers not to reveal his name, "to see if it refreshes the atmosphere a bit, because things have been quite hot in recent days. You know."
I know, you know, he knows, we all know. In the Cuban capital―and also throughout the island and even outside of it―no one is exempt today from this conjugation of the verb to know in the present tense of the indicative mood.
We all know, in one way or another, of what happened in San Isidro and the Ministry of Culture, of their sagas in Havana itself and in other cities of the country, of the "tángana" in favor of the government in Trillo Park, of the Cuban Foreign Ministry complaint that the United States intervened in the matter, of the crossed denunciations, entrenchments, arrests and disqualification of some parties towards the other parties, of the tug-of-war that pulls towards extremes and maintains the possibility of dialogue encouraged on November 27 on a knife's edge.
We all know, because social networks, Cuban and foreign media, official and alternative, activists, artists and intellectuals directly involved in the events and others who were not, the official bloggers, commentators and influencers and also the opponents and the supposedly impartial, the academics and journalists and leaders and more, have been in charge of telling their version, offering their criteria and assessments, setting their principles, completing the picture of what happened by filling in the omissions of their counterparts, contributing to the necessary debate, but sadly not a few have also taken the opportunity to add fuel to the fire, to gauge ideologically opportunistically and stubbornly, to denigrate and distort in their favor, to slam the doors that could open.
And all this, in one way or another, has reached the streets, the ordinary people, who also (de) construct what happened and have their own opinion, although later many prefer to keep it to themselves, to their closed circle, or they say it halfway, or off the record, when they have a tape recorder in front of them. Just in case.
"You better ask me about baseball," Orestes tells me―he tells me his name is Orestes―, a man in his fifties walking slowly who I bumped into on busy Monte Street, when I ask him about the events of the last few days. And then he clarifies that he is tired "of fighting with Industriales fans and those who aren't."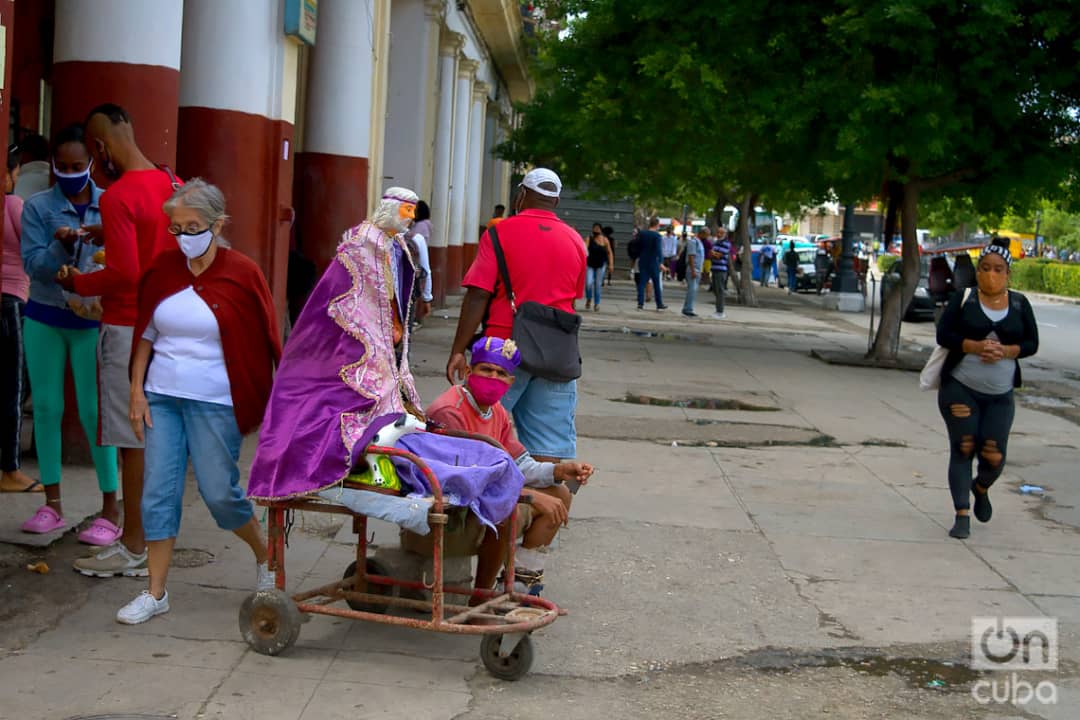 "At this point in the game, I don't really care much how things are anymore. What matters to me is that they don't bat me out," the man says with a peculiar but understandable baseball metaphor.
"Here people are minding their own thing, journalist, in their struggle," seconded Rolando, who accompanies Orestes to "a procedure," they tell me. "Things were already quite complicated with the pandemic and the lack of food, and now all this makes it even worse. Have you seen how the streets are full of police officers? "
"Right now, one has to stay safe, yes," Orestes returns, "because if they catch you off base, you're in for trouble and I've already heard every story that I don't even know…. But what I say goes both ways: everyone knows what they're doing and where it hurts, and everyone learns from their own mistakes. And if all this has happened now, the strike and the protests, it has a reason, right? The only thing I hope is that the situation calms down and it's not for the worse."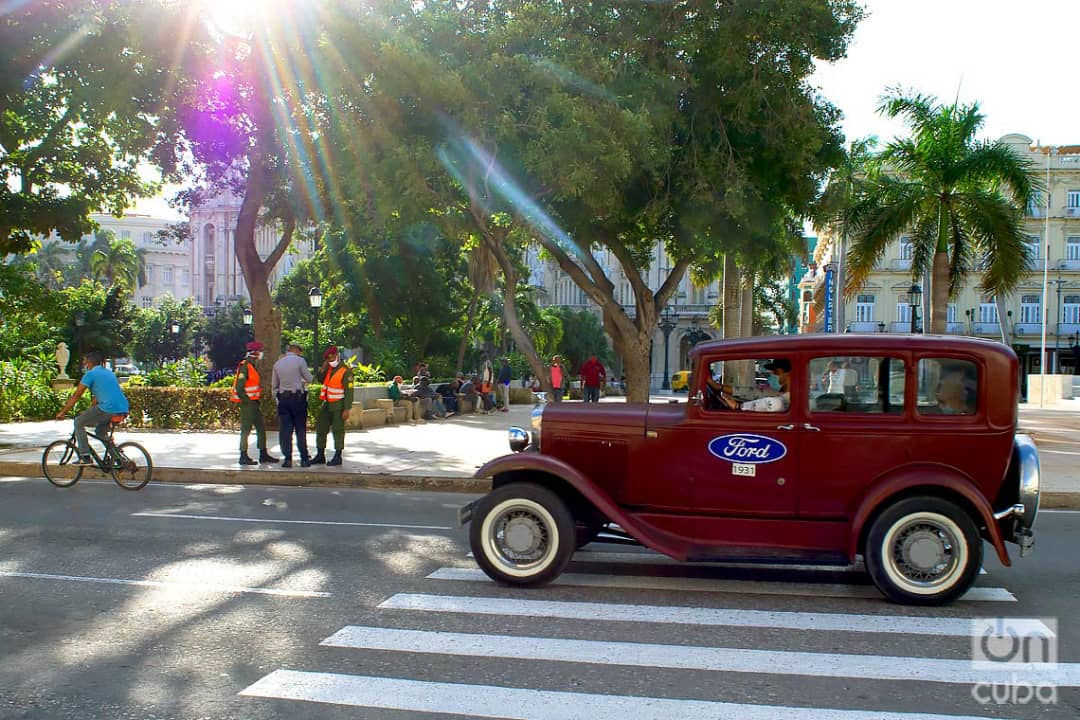 ***
Orestes and Rolando were one of the few who paid attention to me, out of all those who I tried to talk to. Some, with all their right, flatly said "no" to me; others quickened their pace or kindly apologized for not being "very aware" of what I was asking. Which was what I know, you know, and they surely knew too, but they preferred not to comment.
It wasn't the case of Mario, retired from the electricity enterprise and an "internationalist," as he emphasizes, for whom "you don't negotiate with the enemy." Not with "mercenaries" either.
"I knew that the Americans were behind the San Isidro thing, before they said it on the news. It was obvious," he affirms. "Those people (U.S.) have always wanted to overthrow this (the Revolution) and they no longer know what to invent. They have done everything, even planting bombs. And there are always people here who lend themselves to their game, mercenaries who are trying to stage their show and fill their pockets. But it seems the door slammed on their faces again."
"You can always dialogue," says Daniel, a university student, whom, like Mario, I met while passing through Calzada del Cerro, "but within socialism, as President Díaz-Canel said at Trillo Park. I was there, like many young people who went to reaffirm our support for the Revolution and to show our rejection of those who disrespect the national symbols, who call themselves representatives of the Cuban people and receive money from the United States. Those people from the so-called San Isidro Movement have no morals to claim anything."
"And what about those who went to the Ministry of Culture?" I ask him and he takes a minute to think. "I think they still have to define themselves," he finally answers, "because they cannot be confused or dragged along by those who want to provoke a social outbreak in Cuba. I already told you that you can debate, dialogue with respect, because we don't live in a perfect country, but always to improve our socialism."
Gabriela, for her part, regrets not having been at the Ministry of Culture on November 27, as were several of her classmates and friends. Her parents, she says, would not let her go "for fear that something would happen, like the pepper spray they used on a group." "That was strong," she says.
Even so, this young university student thinks that this was "a historic day" in which a part of the Cuban youth and intelligentsia made it clear that "there is much to discuss and change to have a better, more inclusive and respectful Cuba in which we all really have a space, not only those who think like the government."
Less enthusiastic is Maikel, also young, with whom I talk briefly while waiting at a bus stop near Parque de la Fraternidad.
"What happened at the Ministry of Culture was good, but these people (the Cuban government) don't like to lose. They've already turned the tables and have thrown everyone in the same bag," he answers. "They summoned the meeting at Trillo Park and they have had it out for those of San Isidro, who, the truth, gave themselves away with the United States ambassador and those videos of the rapper who is imprisoned, Denis Solís. Although I'm still waiting for someone to explain to me if it is legal for a police officer to film him inside his house, and also why the connection and the networks got so bad during those days."
***
But beyond San Isidro, physically and spiritually, the people of Havana don't hide other concerns these days. Some, for a great many of them, are more important and urgent than the island's political climate.
"Oh, dearie, I don't know much about that," says Marina, who is walking through Old Havana in search of food, when I ask her about recent events. "I don't have the Facebook that my grandson is always looking at all day, and now no one sees the news, because here when they start on something there's no end…. It's so much so that they no longer talk so much about COVID, which seems to be getting worse again here in Havana since the airport opened. And that worries me because I'm no longer twenty years old. But what am I going to do, I have to go out to buy food anywhere because you can't live without eating."
Marina is alarmed by the prices of many products "when they appear" and fears that the cap imposed by the Havana authorities will cause them to "disappear" and "things will get even worse." "Right now, some markets are closed and even the carts are half full," she says, "but the government had to do something, because the truth is that with those prices it's not possible…."
Another controversial issue is the stores that sell in dollars, opened by the Cuban government to collect foreign exchange and mitigate the impact of the pandemic and the increase in U.S. sanctions.
"There are more and less and less things that can be bought elsewhere. The shopping malls in CUC (Cuban convertible pesos) make you want to cry," says Laura, who is leaving one of those shops located on crowded Obispo Street. "At first, they said that the MLC (freely convertible currency) stores would be for high-quality items and that in the others they would leave the cheapest products, but practically everything is in dollars, except for some food and hygiene items, for which there are tremendous lines. I understand the effects of the blockade, but it seems to me that it is getting out of hand."
"And in the end, it's not like the stores in MLC are great either," she adds. "The prices are extremely high and the assortment is not that different from what was previously in CUC. Maybe at first yes, but not anymore. Right now, I was looking for a cream and a cologne, and here in Obispo's Agua y Jabón store there wasn't any. And so on with other things all the time, and not just with cosmetics. And then?"
"The stores in dollars? That's for whoever can," reflects Orestes, whom I also asked about them. "I took out my card so as not to be left out, but so far I haven't been able put money in it because I don't have someone to send me money from abroad. So I have to continue solving with what I have, as I have done so far, until I see if things improve." 
"That dollar thing is hard," Rolando adds, "my daughter sends me money, but I know that for many people it is difficult. Even the apples they sell for Christmas are being sold in those stores. And on the street a dollar is sold for two CUC. That's why I tell you that most people mind their own business, struggling to get ahead, and they don't have much time for things like San Isidro and everything else that happened."
"Do you want to see a demonstration in Havana?" He asks me as a farewell. "Go to one of those lines to buy chicken and that's it. There you'll see people, no matter how cold it is. Go to one of them and you'll see how right I am."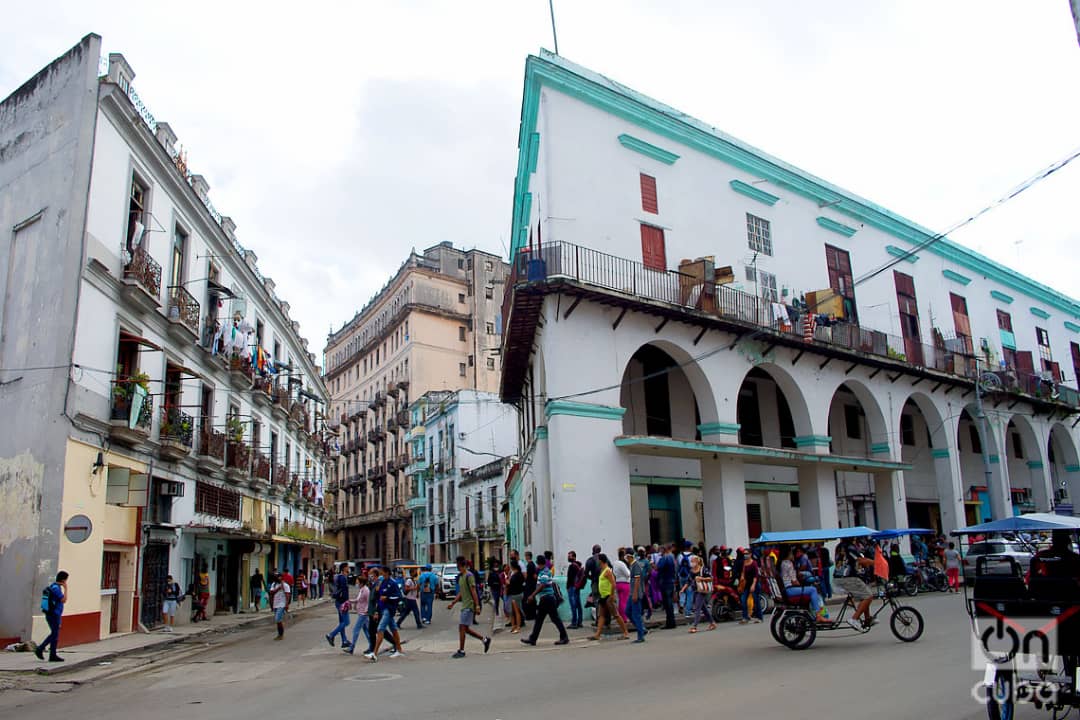 *Editor´s Note: This text was originally published by OnCuba on December 4.
Authors