The president of the General Assembly of the United Nations, Ecuadorian Maria Fernanda Espinosa, met this Friday in Havana with Cuban President Miguel Díaz-Canel, with whom she addressed issues of international interest, according to Cuban state media.
Espinosa, on an official visit to Cuba until this Saturday, coincided with Díaz-Canel on "the will to continue defending the role of the United Nations in the preservation of international peace and security, as well as in the search for collective solutions to global problems," said the state agency ACN.
Both leaders also discussed "other issues on the international agenda," the Cuban media added, without giving further details about the content of the bilateral meeting, which it described as "cordial."
The president of the UN General Assembly was accompanied by her deputy chief of staff, Yanerit Morgan, while Díaz-Canel attended the meeting with Foreign Minister Bruno Rodríguez, who on Thursday held a first meeting with Espinosa.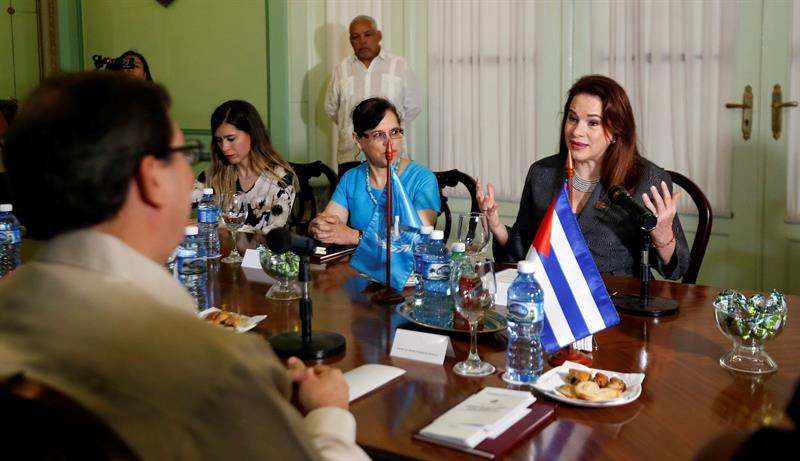 The former foreign minister of Ecuador (2017-2018) arrived in the Cuban capital on Wednesday afternoon.
Espinosa's agenda in Havana included a master lecture at the Higher Institute of International Relations and meetings with members of Cuban civil society, the Federation of Cuban Women and representatives of the United Nations system in the country.
Her plans also included a tour of the historic center of the capital before leaving on Saturday afternoon.
The visit of the leader of the UN Parliament is taking place amid renewed tension in the delicate relations between Cuba and the United States.
The government of Donald Trump seeks to strengthen the sanctions imposed on Cuba and has increased pressure on the Caribbean country, among other reasons for its support for Venezuelan President Nicolás Maduro, whom Washington does not recognize as the legitimate leader of the South American country.
Authors