Wearing a black T-shirt, two rings on his left hand and sunglasses, Cimafunk opens the door of the studio of the National Laboratory of Electroacoustic Music, in Vedado. The singer had just arrived an hour ago to finish recording the chorus voices for his new song "Potaje," in which he had the services of an all-star formed by Omara Portuondo, Chucho Valdés, the Aragón Orchestra and Pancho Amat.
"Emphasize the voice more, give it more space, more breadth," the singer asks a girl who squanders her singing power in the solitude of the studio. She is behind the microphone and Cimafunk accompanies her with catchy choruses from the recording board. "What's up, how's everything, there's water, soda, take whatever you want," he tells me as the musicians from his band start arriving.
Most of them are less than 30 years old. One of them got to the installation on a skateboard. "A car almost killed me, it gave me a terrible fright because all of a sudden it seems the skateboard wasn't working," one of the instrumentalists says with fear still showing on his face. The others don't pay too much attention to the matter when they see that everything has already happened. "You guys are crazy," Cimafunk tells them when they greet each other and the musicians give details―some of them turbulent―from last night.
Another of the girls who supported the voices has rehearsals at the Higher Institute of Art for a concert that same day in the evening with her group. She hands out some flyers before leaving. It says "Funky Groove" in red letters. "From here we'll go there," says Cimafunk and the band agrees. In less than five minutes the studio has been transformed into a volcano of energy, which is then perceived in the performances and themes of the already popular singer.
Cimafunk recorded "Potaje" last Sunday at the PM Records studio in Havana. The theme had been rolling in his head for several weeks and the final result to outline it shot up his tension thermometer. "I was very stressed for two weeks because I had never done a song with the Aragón. Suddenly knowing of their confirmation put me under a lot of pressure," recalls the singer and explains how the song was born.
"I was interested in recording something related to the concept of Cuban culture, with Cubanness, but without touching the common places. I thought it with a national but also universal sound. So I wanted to incorporate artists who have set guidelines in Cuban music and are still active. I was lucky that Aragón, Chucho Valdés, Omara and Pancho Amat joined me. Chucho performed a very passionate interpretation and Pancho the same."
The song will be released on October 20, the same date of his international debut in France. It is also the day that Cuban Culture is celebrated. "Potaje" will be one of the central themes of his second Cimafunk album, which he plans to publish mid next year.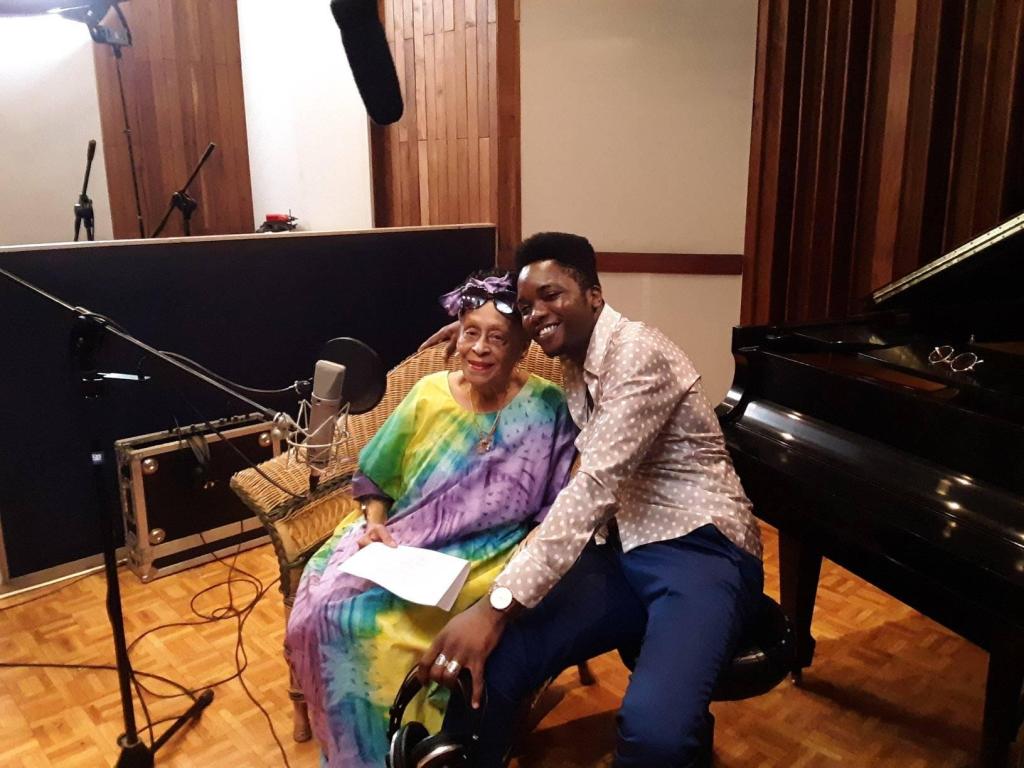 "This is the first song I will release from my next album. The idea is for our music to be especially known in Cuba. Here there are 15-year-old boys who don't know who Aragón is, or Pancho Amat, or Omara. However, one goes to any country and people know Cuban music, a small island but with great musicians."
His cell phone rings all the time, it is living proof of the place's racket. "What's up, stop by," he replies to a friend who has accompanied him throughout his journey. The phone immediately vibrates again. It's one of the musicians who asks him to open the door. "This is crazy," he tells me, and the din of laughter makes the room shake. The sound engineer, with the calmness of this job, tries to put order to finish recording. The musicians apologize and silence, for brief moments, appears in the small room.
Cimafunk is not stricken by the existing ignorance, he says, of Cuban music among young people. "It's normal," he says. "That happens in many countries," he explains and sets as an example the United States, a nation he's already traveled in all directions.
"The kids in the United States don't know the music of Paul McCartney or of Herbie Hancock, or of James Brown. Perhaps very few of them have heard anything by them. They hear what the media puts on. It is a universal phenomenon although in each country it has its peculiarities."
The musician recognizes that the personal absorption of funk and Afro-Cuban music that runs through his work is plagued by gods that took to the top a huge variety of styles.
"Everything we're doing is inspired by the legacy of great music monsters. The ideal, according to my experience, has been to go to the roots. That search completely changed my view of things. Now we use more technology and digital resources but we can't do something as passionate as what they did. I like to show kids this music and tell them: 'Listen to this and then we'll talk.' I was fanatical with Aragón, with Pancho Amat, with Omara."
"I do funk with Afro-Cuban music," he explains. "That is not forced to please anyone. It is what I have inside, what I have heard most all of my life. It is part of my genetics. I can't deny that. In the 20th century there was a lot of Cuban music around the world and jazz."
The singer finishes with the chorus voices. Cimafunk is satisfied with the final product. "It's been beautiful," he tells the girl, who is still as radiant as before undergoing the test of fire and has been included in the cell phone contacts of an American producer who works as an alternative when a professional cameraman doesn't arrive. And all that gives an idea of how Cuban music is made today, what it preserves and changes.
***
The 30-year-old musician continues the conversation after a short break. He moves his hands like blades and the lines of his face become deeper and more expressive when he states that "Cuba is a musical madness."
"Whoever knows at least a quarter of Cuban music would already have a lot of knowledge. What needs to be done is to give people more information so they can choose what they want. What can't be done is impose anything by force. There are kids who were born with another type of music in their head. It could be worse, or not last long, but it's the one they were born with. The issue is to provide other proposals as well. The great Cuban musicians have influenced everyone," he says and quickly prepares in his mind his ideal playlist for a Havana nightclub.
"Can you imagine in the Shangri La people dancing to a piece by the Aragón Orchestra or Pancho Amat in the middle of a list with Los Van Van, reggae, reggaeton or trap? The changüí is wonderful, you just have to know it," he says after outlining this ideal scenario.
***
Cimafunk shot out of anonymity after his first album, Terapia, came out. In a very short time he has managed to internationalize his music and know what it's like to triumph on stages of indisputable renown. The musician, however, avoids any summit where they want to place him.
"My thing is producing music. In the end it's not about me but about giving value to Cuban music. The repercussion doesn't make much sense to me. Our music is four chords, a basic rhythm and Cuban texts. The result is the product that we are Cubans. Americans like it, Europeans too, but that's because we have Cuban music in our blood. Our platform has been the island's public. What we defend are the concepts of our contemporary music. That came out naturally, but now I am more aware of my work. I get carried away so that the songs flow, to relax…."
Cimafunk is very afraid that the stings of loneliness will gradually pierce his skin. He believes that this may be the coup de grace of any artist who believes in the fireworks of fame. "My thing is to work and be with my people. There is no other objective." 
"If you think about the impact of your music or fame, you go crazy and finally end up alone. People are the ones who create the distance with the artist. They think that when one is supposedly becoming famous, one is more inaccessible. I have friends who don't call me now and did before. So I have to call them and tell them: Hey, what's up, how're you doing? If before we had a super good history and we could only buy a three-peso tamale on G Street and talked and talked, how is it that now that we can go out and have some beers, we're not in touch. If one believes that foolishness of fame, you're left totally alone. As has happened to a lot of artists on that bandwagon."
Coincidentally, this Monday the U.S. daily The New York Times published an extensive cartography on Cuban music and its forms of consumption. The text commented that Cimafunk was a kind of Cuban Bruno Mars.
The singer is surprised when I mention the article although it is not the first time his name has appeared in the pages of influential publications: "I have nothing to do with Bruno Mars or what he does," he says quickly to drop the label.
"He is doing something else on a musical or aesthetic level. I'm doing something I still don't know what it is. What these artists do is a very square product, thought out backed by a machinery. My thing is still an experiment. If tomorrow we can play for 40,000 people better, but if we do it in a small crowded club with everyone sweating, perfect. Bruno Mars is full of James Brown, Earth, Wind and Fire. Everything has already been invented. We are recycling and giving it a new flavor."
Susan Sarandon is one of the most unconditional followers of his music. She has gone to several of the Cuban's concerts in the United States. She was also at the most recent show he gave in London. Cimafunk smiles when he remembers how his ties were born with the U.S. movie actress and feminist activist.
"Susan really likes us a lot. I was playing in Cuba in a place where she was and then I met her in Los Angeles. She came with Collin (the Cuban's American manager) and we started talking as if we had known each other an entire lifetime. Then she took her children to my concert at the Standard Hotel pool where we filmed a video clip. She also went to the Blue Note. 'We're coinciding too much,' I joked and she started laughing. She always goes to my concerts and she likes my music and gives me advice. It's super cool."
Susan Sarandon sobre Cimafunk: «Es muy energético, tiene mucho estilo y mucha alegría»
Cimafunk was not always Cimafunk. In the beginning Erick Iglesias, the artist's real name, was forced to knock on thousands of doors to promote his music. Some were opened and others were slammed shut.
"When I finished with the group Los Boys I was left with no work. The money I had saved after working on a cruise I used to start making my record. I did it with a machine and a 200 CUC sound card and a laptop that was crying out for help. I had burned the speakers. After I recorded it, I called everyone. I started finding out how music was taken to radio, to television. I put together a group and had the help of many people. Cepeda, Hernán's father, who was a bass player in Los Boys, offered me his studio free of charge and that's how it happened with many other friends." 
The video "Me voy pa' mi casa" was filmed almost clandestinely. "The success of 'Me voy…' came from hard work, as well as the video clip. We sneaked into the pool of the Sierra Maestra building until a lady leaned out the window to complain and we had to run. That video was made with 700 CUC and I was left broke. Luckily it had tremendous results and was the most popular of the year. I edited the video myself without knowing how to edit. It was crazy, brother."
Cimafunk was born in Pinar del Río 30 years ago. The musician, as is known, was going to be a doctor but then dropped out in his second year and decided to make a living in Havana. His family, he says, is very close and has assimilated his success in a "relaxed" way.
"It hurts a little to see the family less. My mom came to Havana. We went around a lot and had a great time. For me it is very important to share time with my family. I'm not made out to be far from them. I always make time to go see my people. My family is very relaxed with my success. They call me and tell me that I was on TV with a weird look and that's it. My dad doesn't know any of my songs, but my mom does. I included 'Parar el tiempo' in the record for her. She told me she liked it very much. My family is super united."
***
The musicians get ready to give the final touch to the last details of the song and start another rehearsal. Erick, on the other hand, confesses that he doesn't want to have any pressure in his life. He says this when he remembers that he has tried to escape from situations that have wanted to reduce his way of perceiving the world.
"My thing is relaxing because I've worked hard. And on occasions it's been forced labor. I am enjoying my story and tomorrow if I want to stop I'll do it. I try to make a living from my music and do what I want. It's my own life time. Every time I feel pressure I walk away. I would like to have more control over my time to be able to produce. I want to be my own owner and go around with my people. That is my main aspiration."
During his return to the United States, Cimafunk shared the stage with Alejandro Sanz at Madison Square Garden, in New York, and at the American Airlines Arena, in Miami.
"I'm going to talk to Sanz to see if we record something together when I'm more organized. Alejandro is an idol. In Cuba many have grown up with his songs. The guy is a fan of Cuban culture. He is super connected with that and is very cool. It was a very healthy exchange."
Marc Anthony's company, Magnus Media, incorporated Cimafunk to its catalog which also includes artists such as the Gente de Zona duet. "With Magnus everything has been very respectful; they have considered what I want," he says.
"We are planning concerts with Magnus for all of next year. We have a very close communication. Energy flows and there are no mysteries. It's good for everyone. They like my music and that's what's most important. I met Marc Anthony at an event but we didn't talk much. There are also Alexander (Gente de Zona), Xion and Lennox (Puerto Rican duo of reggaeton) and there is great chemistry. I wanted a company with few artists because the big labels don't pay due attention to everyone." Cimafunk is preparing to leave soon for Spain where he will share the billboard with several heavyweights of the international scene. Then he will return to Miami where his debut a year ago caused an explosion of energy among Cubans who hoped to see live the author of "Me voy…"
"The first concert we did in Miami was crazy. People of all types, kids, middle-aged people, everyone was waiting for the album to be released. Everyone was super cool. Now at the Miami Beach Pop Festival I will heat it up to the fullest. Everything is important for my career, but this festival can give me greater visibility because don't think many people know me. A few in the United States and Europe, but that's it."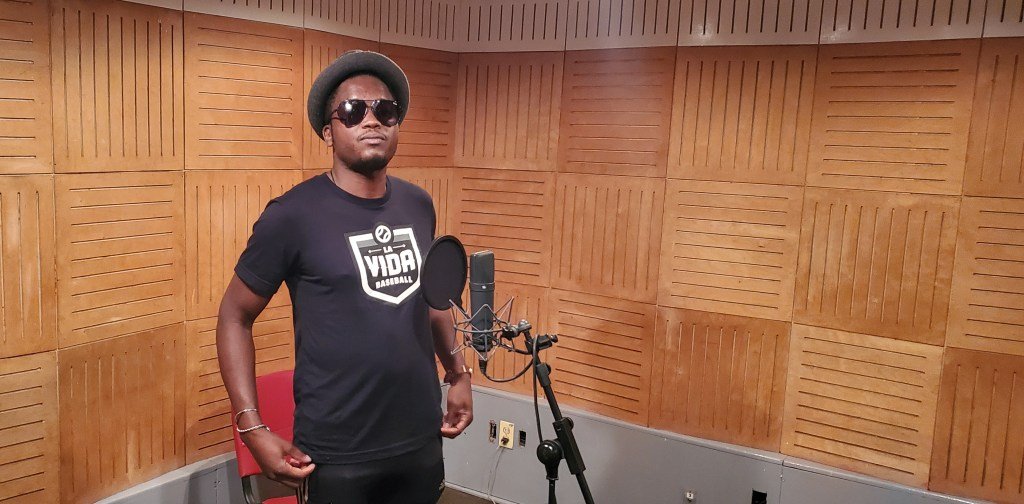 ***
Erick takes up the still recent times in which he began to try his luck in the local scene. With his experience on his back, he believes that younger musicians should go out to defend their work, beyond any cyclical context or crisis.
"The music comes out anyway. Since I settled down it's been harder for me to write my songs. If you believe in what you do, find yourself a viola and sing in a corner. The art is there. You can't be regretting that if I don't have support, if you don't help me. When I started, I told people to invite me to play. I called Ray Fernández and others. I told them: 'Invite me, man.' I was not embarrassed to ask them. One cannot wait for mercy. You are born alone and you have to fight for what's yours. Let them go see Ray Fernández and he'll invite them to his gathering. Ray promotes everything that has voltage. The same thing that I'm doing, a thousand artists do here. In the end it's all about organization."
Pianist Robertico Carcassés was one of those who opened wide the doors of his studio and his Interactivo band. "I know people from over 10 years ago with quality music, with a wonderful concept, but they have been detained thinking about the obstacles. If you know you have quality, you have to make a living. I called Robertico Carcassés one day and he told me to go to his house. We didn't know each other but he helped me. To be a musician, all you need is a can, a stick and a guitar. And a lot of willpower, brother."
Authors