In 1997, at the Capri Hotel, in the middle of the Cuban salsa boom, a performance by Los Zafiros was being shot for the movie Locura azul. During a break I had the opportunity to talk with the last survivor of Los Zafiros, Miguel Cancio. I met him at the height of the quartet's career, at the Musical Company in the Focsa, and I saw him working in Varadero.
I asked him to start the story from the beginning:
"I was born on 1019 Havana Street, on the corner of San Isidro, in the neighborhood of Belén (San Isidro), on January 11, 1939, the same year Tropicana cabaret opened."
How did you get to music?
As a child practicing singing, making vocal harmonies came naturally to me, it was not difficult for me. Although some people used to tell me that I was born to be a lawyer or doctor. I came into contact by chance with pianist Facundo Rivero (brother of singer Elsa Rivero), on Márquez González Street, between Neptuno and Concordia.
Facundo asked me if I had come to introduce myself, if I had come to the rehearsal; he asked me if I knew how to sing and if I knew how to dance. He staged the song "Majarete." I got hooked by chance, what's belongs to you. no one can take away. A week later we performed at the Sans Souci cabaret on December 17, 1956, where the D'Aida group and Portillo de la Luz were also performing. We also inaugurated the Copa Boom cabaret show at the Riviera Hotel; that show was broadcast on the Steve Balen Show. We got to perform in Venezuela for six months, in 1959, with Balmaseda. Then the quartet disintegrated and I started working as a choreographer. I also wrote and got to do things with the couple Olga and Tony that was presented with Rolando Laserie.
How did you join the world of Los Zafiros?
I met Leoncio Moría "Kike" from the Cayo Hueso neighborhood, we became friends, later he became my brother-in-law. Kike knew Mili, he lived nearby. Kike put me on the phone with Ignacio Elejalde, I heard him singing the Italian song "Come prima," I thought it was a woman's voice. He was had a phenomenal feminine voice. From there we met in Néstor Milí's house and I was amazed by his vocal conditions.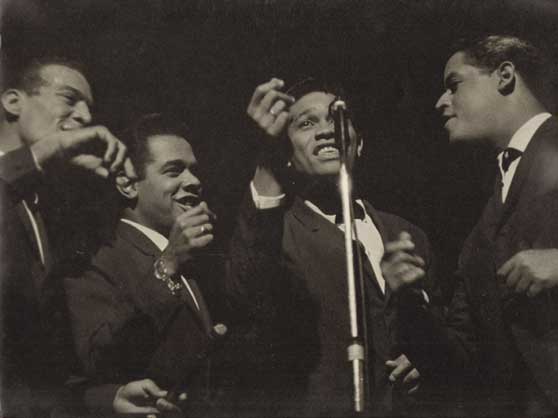 So how did the Chino Eduardo Elio Hernández join?
Ignacio knew the Chino, the next day he brought him and he introduced himself with a kimono and his head shaved.
And the guitarist, how did you choose him?
First came Robles Díaz, then Robles did not continue and Oscar Aguirre came with an electric guitar. Oscar was a singer too, he wanted to participate in the vocal group and it wasn't possible, we were four voices and one guitar. Oscar left for Miami and there he changed his name to Oscar Fontana. Three months later we found Manuel Galbán, very experienced, who was the one who really fit into the group. He played the piano and the guitar, he used to play repertoires by profession.
Where did the group rehearse?
At Néstor Milí's house, then we went to the house of Kike's sister, her name was Gisela, she lived on San Rafael, a few blocks away from Milí. There we set up "Mi oración," "Cuando yo la conocí," "Y sabes bien" by Robles Díaz and "La Caminadora," a guaracha that Kike had the idea of turning into a conga and it's by Néstor Milí.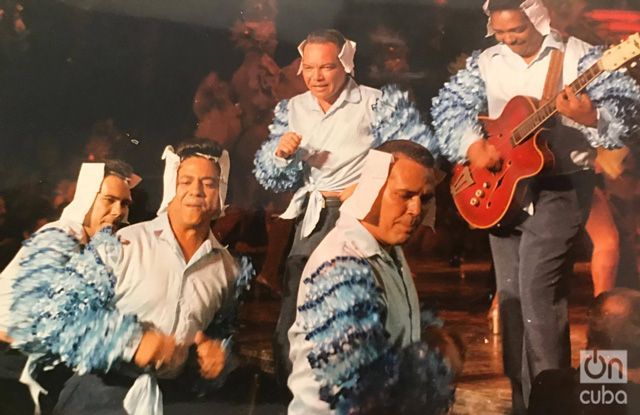 How did you choose the name for the quartet?
In an Artemio bar, on San Rafael and San Francisco, they wanted to name the group Los Fakires, until thanks to one of the member's ring that had a sapphire stone it was named Los Zafiros.
What was said about Los Zafiros?
The songs were put on a tape recorder at Artemio's bar, people thought they were from a group from Jamaica, from abroad.
Where did you go with your songs?
We went to an audition at El Escondite de Hernando Club on Humboldt and O Street. There, Lino Borges sang accompanied by a conga drum. Well, they told us it wasn't for that type of music we were doing and they threw us out.
And what did you do?
It was arranged that we go to the Música y Estrellas TV program of director Manolo Rifat; we rented suits for it. We also appeared in the Rosita Fornés program, which used to be the Casino de la Alegría. After that, we were able to sing at the cabaret of the Oasis Hotel and the quartet was a hit.
Were you in other cabarets in Havana?
In the Nacional Cabaret of San Rafael and Prado, under the theater called Teatro Nacional, we went to the Caribe Cabaret of the Habana Libre Hotel, one of Roberto Cantoral's girlfriends came to see us sing one and she was surprised by the way Ignacio sang "La novia," which ended in a grand finale kneeling and saying: Hail Mary! That was madness.
You also cut cane?
Of course, in the 1970 harvest, the Ten Million harvest.
Did you have problems with Los Meme quartet?
Meme is a beautiful person, we alternated in the Amadeo Theater, in the carnivals, on the floats.
How did you do at the Olympia Theater in Paris?
It was a Music Hall of the best of Cuba and Los Zafiros was the biggest hit, it was very attractive, at the time when The Platters were retiring. We were something different, Cuban and Caribbean.
Looking at the past, what is your balance of the quartet's experience?
We really wanted to sing, to act, we realized the dream of becoming big hit. Some of the members were undisciplined, they drank a lot, but when they were working they were very different, we were very disciplined. Now we are the quartet of nostalgia, like Los Meme, we both are part of the history and memory of Havana nightlife of the 1960s, gone with the wind.
https://youtu.be/LlTV_hnSQJE
Authors