Norwegian Cruise Line announced today that it will extend its offering of weekly roundtrip cruises from Miami to Cuba aboard Norwegian Sky, through December 2017.
Together with the five previously announced cruises in May 2017, these 25 additional cruises, which start in June 2017, all feature an overnight stay in Cuba's historical and culturally-rich capital of Havana.
"We have seen great demand from our guests for sailings to Cuba and we look forward to providing more opportunities for them to experience this incredibly culture-rich destination on a weekly basis", said Andy Stuart, president and chief executive officer for Norwegian Cruise Line.
Norwegian Sky will sail four-day roundtrip cruises from Miami each Monday, featuring an overnight in the capital of Havana as well as a call on Great Stirrup Cay, Norwegian's private island in the Bahamas. The ship will dock right in the heart of Havana, offering guests the opportunity to visit historical sites such as Old Havana, a UNESCO World Heritage Site; view incredible art and listen to the vibrant local music scene; and visit with Cuba's warm and friendly residents through people-to-people exchanges, state the press release.
Norwegian will offer a selection of 15 half and full-day OFAC-compliant shore excursions, "where guests aboard Norwegian Sky will have the opportunity to have a farm to table dining experience, explore the flora and fauna of Soroa, see modern Havana in an American classic car and much more".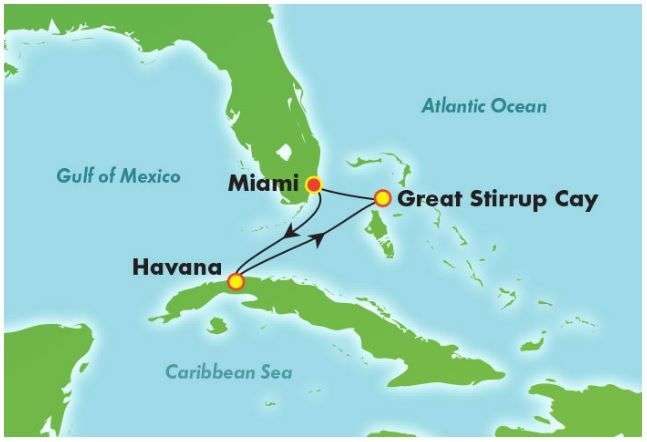 Norwegian Sky's sailings to Cuba will also feature a call to Great Stirrup Cay, Norwegian's private island destination in the Bahamas that was recently enhanced to offer guests exciting new ways to enjoy the island, with additional features to be added through summer 2017. Great Stirrup Cay is a private island paradise, with white sand beaches, crystal clear waters, watersports galore and lushly landscaped beachside cabanas available for daily rental for those who wish to have a more exclusive island experience.
Along with the freedom and flexibility that only Norwegian Cruise Line can provide, guests sailing on Norwegian Sky will also enjoy unlimited complimentary beverages as a part of the ship's all-inclusive program.
Norwegian Sky's four-day cruises to Cuba will open for sale on February 21 and it is already possible to book a cruise to Cuba on Norwegian.
Norwegian Cruise Line is the innovator in cruise travel with a 50-year history. Recently, the line was named "Europe's Leading Cruise Line" for the ninth consecutive year, as well as "Caribbean's Leading Cruise Line" for the third time and "World's Leading Large Ship Cruise Line" for the fifth straight year by the World Travel Awards.
Authors