The good sense of man had not been tested, at least globally, since World War II. The coronavirus came to stir up everything in an irreversible way.
Risk perception changed. We are not infallible and it is up to all of us, no matter who you are, where you live or what you have.
The way of socializing also changed. Confinement causes in us different behaviors and unusual ways of relating to the outside world.
It changed the way of consuming news. We are now understanding that the media reports and misinforms equally and that social networks are a chaos to which we also owe a vaccine.
The concept of heroes changed. Fortunately, our children applaud the doctors more than their rich soccer stars.
The formula for social analysis changed. We confirm that human stupidity is incalculable and that we must distance ourselves from globally sick persons like Donald Trump.
The perspective on ancestral beliefs changed. Religion definitely does not cure diseases, the economy is sustained by workers and not by the companies that exploit them, and united societies are stronger than armies.
Quarantine must be used to think about all these changes that occur in our minds, even though they were already millennial realities that were making the planet sick.
Take a ginger tea, suggest the Asians, and think about everything that led us to this state of alarm and global hysteria.
Sometimes it's impossible to do that when the newscast tells you, with the exact drama of a soap opera, that Madrid's Palacio de Hielo, where three weeks ago tourists happily skated, is now a warehouse of nameless corpses waiting to be incinerated. Or when Italian television tells us the innovative idea of ​​bringing a tablet to the elderly who are going to die so that they can say goodbye to their loved ones, because they are forced to be alone on their deathbed.
And from that news, with an underlying musical curtain of triumph, we pass on to other worse ones that praise the charity of the billionaires who donate gloves and masks to us, or that of certain artists who offer their concerts for free so that we forget that they hide their fortunes in tax havens and evade taxes that today would serve to buy more ventilators in the collapsed therapies of the hospitals.
The coronavirus, gentlemen, is a pandemic, just as corruption, hypocrisy, inequality, wars, hunger and idiocy have long been.
All these diseases have been vomited, no longer coughed, onto the world and millions of people have died from them.
But the power of capital, the stock markets and their media tentacles have unanimously decided that the COVID-19 is to blame for the end of the world and responsible for all the excesses that they themselves have created for their profit and benefit.
At this hour, fortunately for the human species, there are scientists who don't sleep in the search for a vaccine. There are infected doctors who have given everything to save lives and others who don't sleep because they know that those who night after night applaud out there, in Spain, believe in them more than in gods, kings, governments and prophets of the apocalypse.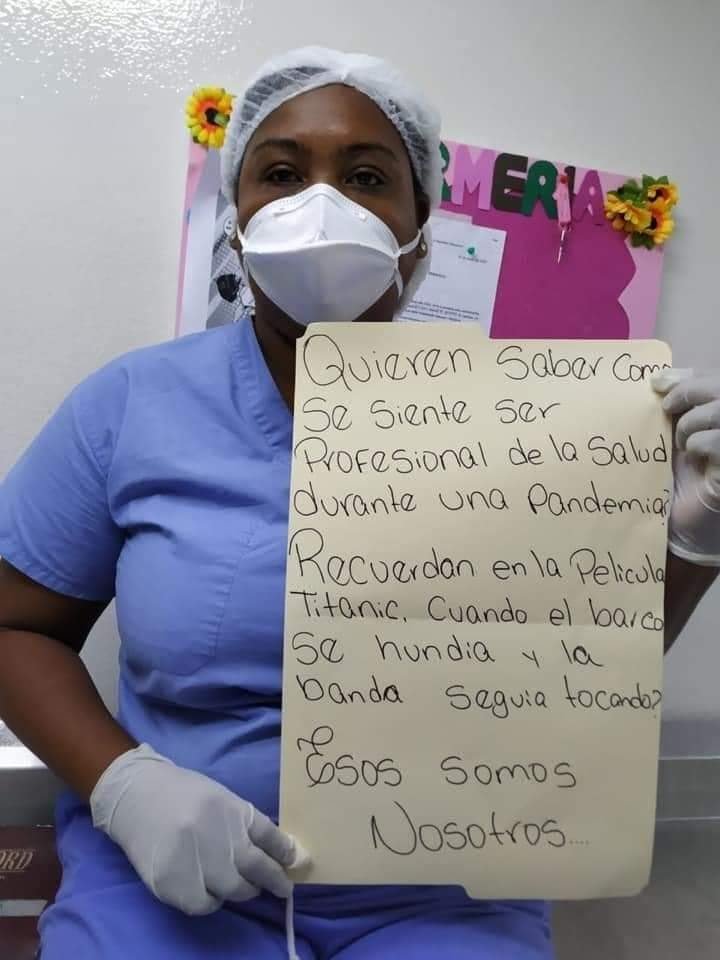 There are also doctors from a small poor island called Cuba who are applauded there where the great powers act with indifference.
There are photos that travel the networks at the same speed as the virus, of heroic people who confront it, humble and sensitive people, people who make humanity more human.
There are thousands, but I am left with the image of a Cuban nurse holding a poster with a message to her peers: "Do you want to know how a health professional feels during the pandemic? Remember the movie Titanic when the ship sank and the band kept playing? That's us."
Don't panic, proportionally we will be luckier than the Titanic. But we will forever feel those who lost this fight.
We are going to applaud all over the planet those who are putting real music to life.
We will have time to boo those who have done wrong and ask for a rendering of accounts. Meanwhile, remember that today's vaccine is yourself, by staying at home, loving your dear ones. But before closing the door, leave the shoes, fear and bad vibes outside.
In Cuba, my country, the president ordered numerous measures, but he made a single promise to the people and it must be kept: "We will again embrace each other."
* This text was originally posted on the author's Facebook account. It is reproduced with his consent.
Authors