Now it is not before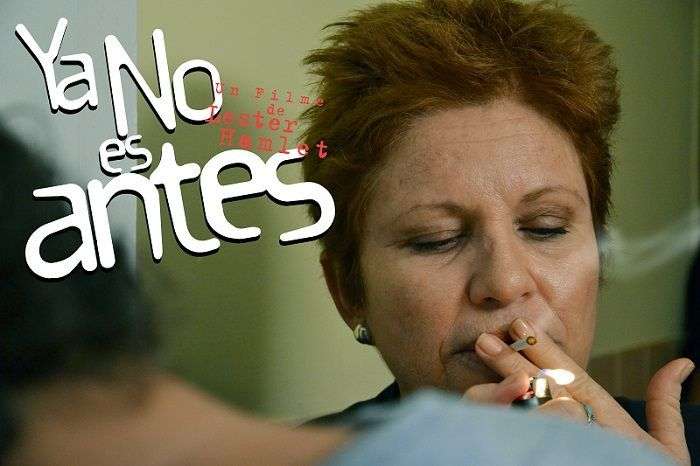 Since March 2, the Cuban film Ya no es antes, by Lester Hamlet, it is being shown for the first time in cinemas. As an adaptation of Alberto Pedro's play Weekend in Bahia, the film, written by Hamlet and Mijail Rodríguez, tells the story of Esteban, performed by Luis Alberto García, and Mayra, performed by Isabel Santos.
A reunion between Esteban and Mayra, who fell in love in the past, marks the thread of the film in which the actors are torn among memories and anxieties to know about the present of the other and their differences. With photography by the master Raúl Pérez Ureta, Ya no es antes also has the music of the outstanding pianist Harold López-Nussa and other pieces such as Rafael Villalón's La ausencia, sung by Esther Borja, Pobrecitos mis recuerdos, by Bola de Nieve, El tiempo, el implacable, by Pablo Milanés and Con diez años menos, by Silvio Rodríguez.
In declarations to OnCuba, and referring to the characters in his film as well as what they represent in the present-day Cuba, Lester Hamlet pointed out:
"I would like the people to recognize in the film how equal we are and that it is time to eliminate all borders and barriers. It is to forgive, to welcome; it is to embrace due to denial and distance. We are a separate country, but we can be people with vocation to unite. As Mayra did when she returned home and Esteban when he received her at home. So, instead of thinking about the things that make us different we have to look at the new options we have to talk to our brothers, our loves, the people who are part of our emotional memory. "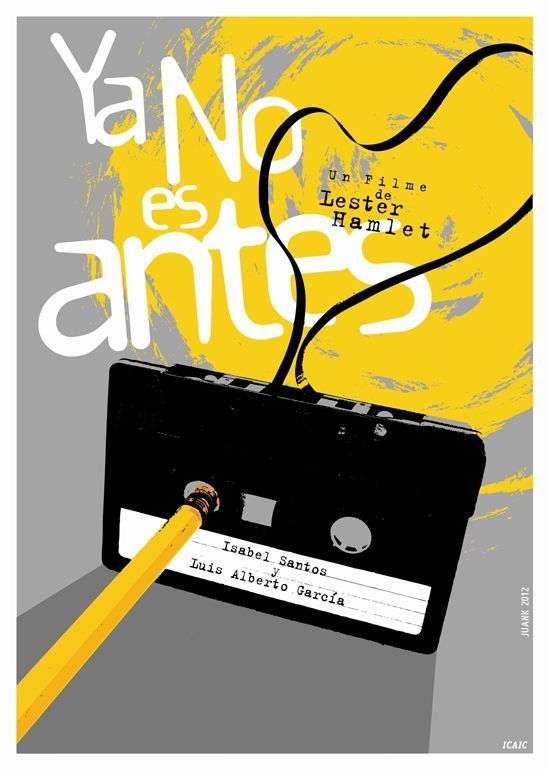 The best of the BBC
The best films of the 21st century, according to a survey conducted by the British Broadcasting Corporation (BBC) in 2016, continue in projection in 23 y 12 Cinema, home of the Cuban Cinematheque (Cinemateca de Cuba).
The 18th, 19th and 20th places occupied by Michael Haneke's The White Ribbon, George Miller's Mad Max: Fury on Road and Charlie Kaufman's Synecdoche, New York will be shown this weekend, always at 6:00 pm.
Friday 3: 6:00 p.m.: The White Ribbon (Das weisse Band – Eine deutsche Kindergeschichte, 2009) / Michael Haneke
Saturday 4: 6:00 p.m.: Mad Max: Fury on the Road (2015) / George Miller
Sunday 5: 6 p.m.: Synecdoche, New York (2008) / Charlie Kaufman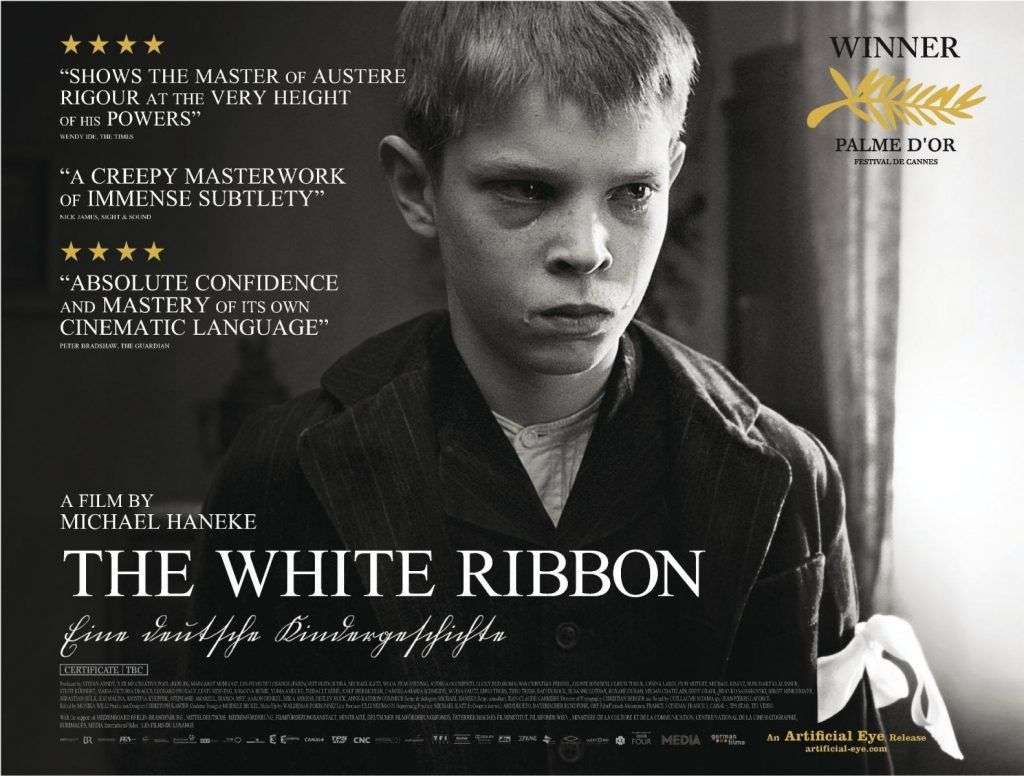 THE WHITE RIBBON / Das weisse Band – Eine deutsche Kindergeschichte / Michael Haneke (145 ') Austria-Germany-France-Italy, 2009 / Subt. Spanish / Christian Friedel, Ulrich Tukur, Ursina Lardi, Leonie Benesch, Fion Mutert, Michael Kranz. In black-and-white. Unexplainable events disturb the quiet life of a German people in 1913, just before World War I. A barn inexplicably burns, two children are kidnapped … The school teacher watches, investigates and slowly discovers the truth. Cannes Film Festival Palme d'Or (Best Film), FIPRESCI Award; prizes of the European cinema to best film, director and script; Golden Globe from the foreign press accredited in Hollywood to best foreign film; FIPRESCI Award-Film of the Year, to best film in the world, granted by this entity; nominated to the Oscars for best photography and best foreign film; nominated to the French Cesar Award to best foreign film. 18th Place.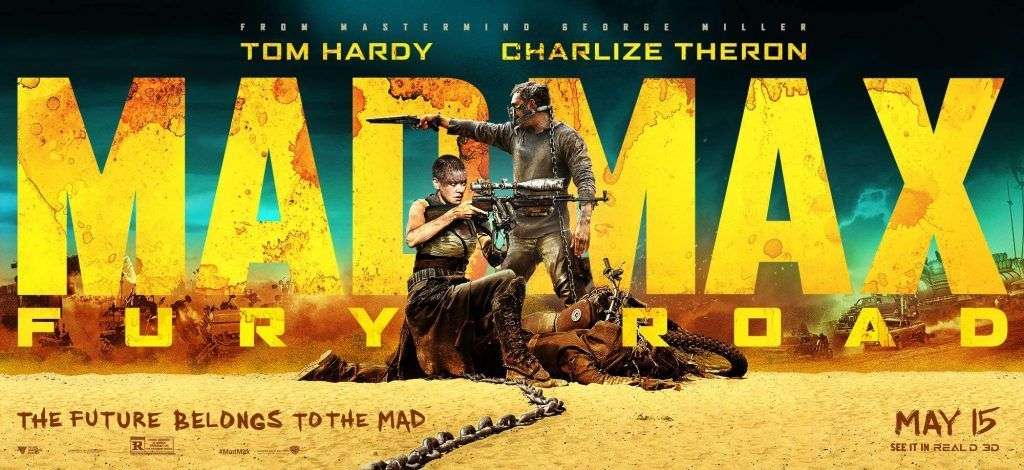 MAD MAX: FURY ON THE ROAD / Mad Max: Fury Road / George Miller (120 ') Australia, 2015 / Subt. Spanish / Tom Hardy, Charlize Theron, Nicholas Hoult, Hugh Keays-Byrne, Angus Sampson, Zoë Kravitz, Rosie Huntington-Whiteley. In colors. Pursued by her turbulent past, Mad Max believes that the best way to survive is to travel the world alone. However, he is drawn into a group that flees through the desert led by the warrior Furious. They escape from a citadel tyrannized by Immortan Joe, whom they have snatched something irreplaceable. Enraged, the Warlord mobilizes all his bands and relentlessly pursues the rebels in a war of the road of the high revolutions… This is the fourth part of the post-apocalyptic saga that resurrects the trilogy starred by Mel Gibson in the early eighties. Premiere in Cinematheque. 19th Place.
SYNECDOCHE, NEW YORK / Charlie Kaufman (124 ') USA, 2008 / Subt. Spanish / Philip Seymour Hoffman, Catherine Keener, Michelle Williams, Dianne Wiest, Emily Watson, Samantha Morton, Hope Davis, Jennifer Jason Leigh. In colors. Caden Cotard is a successful theatrical director with some existential problems that, by winning a cash prize that recognizes his career, plans to create an art work using a life-size replica of New York in a warehouse. This is the debut as film director of the famed screenwriter Charlie Kaufman. This film competed at the Cannes Film Festival and won two Independent Spirit Awards: Best Opera Prima and the Robert Altman Award. Premiere in Cuba. 20th place.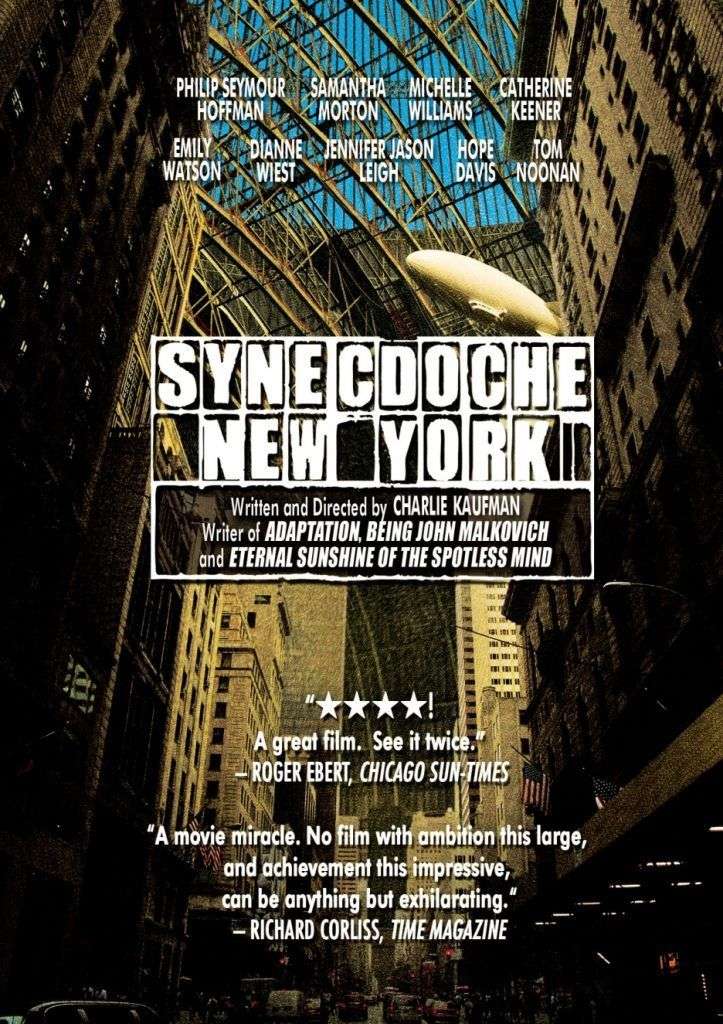 Musical factory
The Factory of Cuban Art (FAC) will be filled with music this Friday from 9:00 pm, with the presence of Ivan Lejardi in the Santiago Feliú Hall. An hour later, the Israeli musician, composer, and educator Yuval Ron will be putting the notes. He is also a peace activist and leader of the fusion band Residents Of The Future, and he will offer a concert in the Nave 3 next to Obiní Batá, group of Cuban women who play Batá drums.
At 11:00 p.m., the time will be for Ruy López-Nussa and La Academia, who will perform on Nave 4, and at 12:00 a.m. Delvis Ponce and Experimental Jazz will close this Friday's musical evening.
On Saturday, March 4, goldsmith Roxana Vargas will exhibit her most recent collection of contemporary jewelry at the FAC Theater at 9:00 pm, while at 10:00 p.m., an anthology from the International Film and Television School of San Antonio de los Baños in the context of its 30th anniversary.
Dark caged rhinos (Very fashionable), Dir. Juan Carlos Cremata
The languid and rusty sky, Dir. Patricio Riquelme
Talc for the black, Dir. Arturo Sotto
I had a pig named Rubiel, Dir. Jaime Rosales
People who cries Inc., Dir. Hatem Khraiche
The damn circumstance, Dir. Eduardo Eimil
On Sunday, FAC will reserve a special moment for the playing of El otro cuarto (The other room), by El Público theater group directed byCarlos Díaz. The play, with performances at 9:00 p.m., recreates a young couple living in the room of a house inhabited by a lady. Both try to assassinate her to be alone and solve the eternal problem of housing and independence.
The lovers of the plastic arts will also be able of enjoying Telón (Courtain), a personal exhibition by the artist Maydeli Pérez Reguera and the collective exhibition Tecnologías que danzan (Technologies that dance) until the 1st of April will be exhibited in the space Dark Black of FAC.


In Third Season, Acosta Danza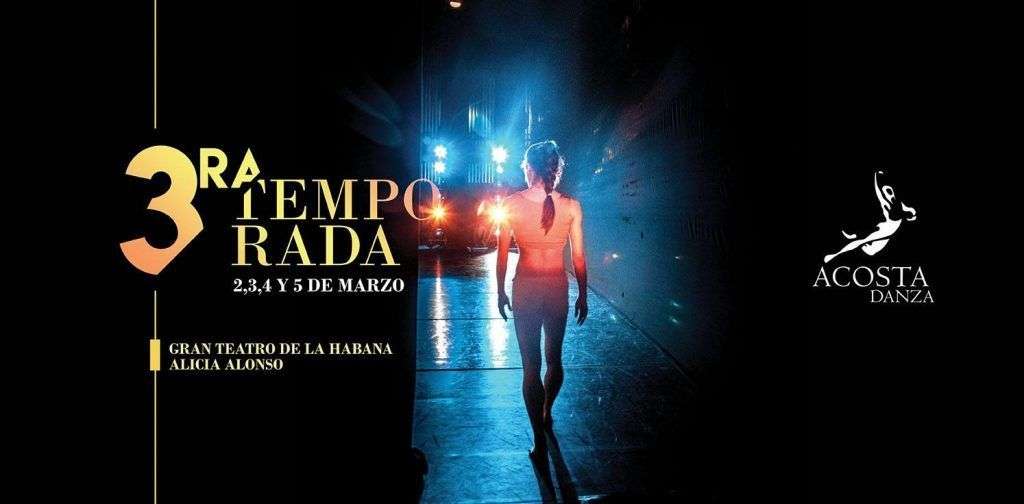 Under the title Tercera Temporada (Third Season), Acosta Danza Company, directed by Carlos Acosta, will present a new choreographic program on March 3, 4 and 5, in the García Lorca Hall of Havana Great Theater Alicia Alonso.
Ely Regina Hernández will present Avium, choreography with music by Camille Saint-Saëns and José Víctor Gavilondo, in which the myth of male and female birds is used to talk about the cycle of life and solidarity. The duet Nosotros (We) from the young dancers Beatriz García and Raúl Reinoso, with music by José Víctor Gavilondo, addresses the intimate world of the couple with their zones of light and shadows. The piece Twelve, by the Spanish choreographer Jorge Crecis, will be a dance exercise that, with the music of Vicenzo Lamagna, demands a maximum physical and mental arrangement of the dancers, with sports and mathematical elements.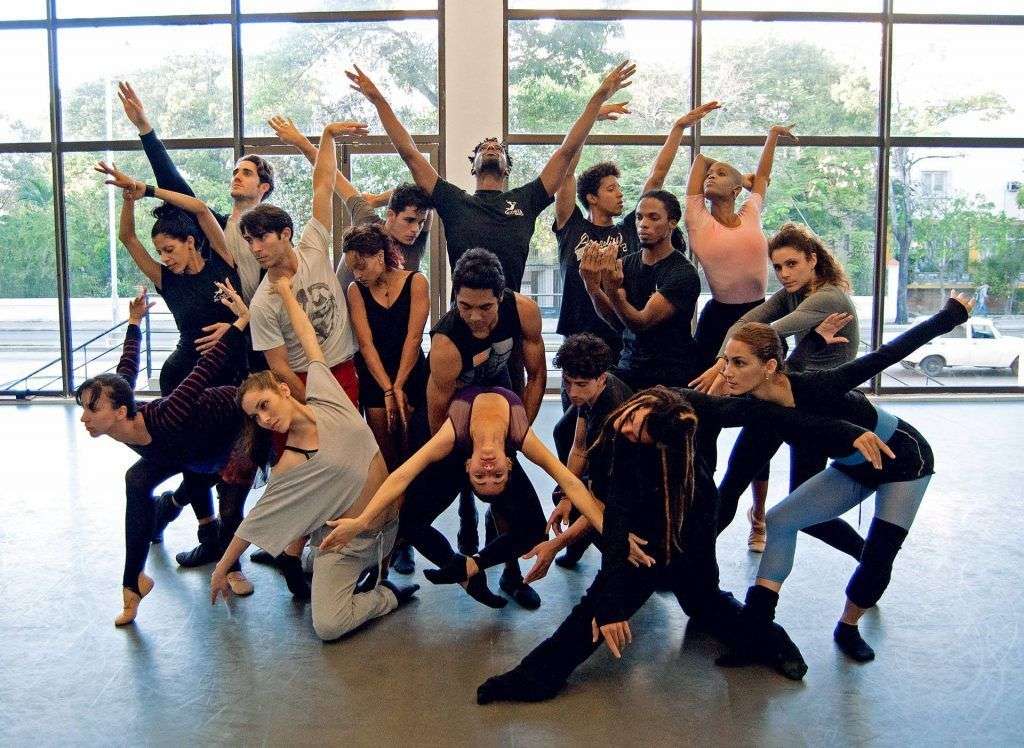 In addition to the premieres, Acosta Danza will present three replenishments: Alrededor no hay nada (There is nothing around), by Goyo Montero on poems by Joaquín Sabina and Vinicius de Moraes; End of Time, Ben Stevenson's neoclassical choreography with music by Serguei Rachmaninoff, and Babbel 2.0, choreography by María Rovira and original score by Salvador Niebla.
Program: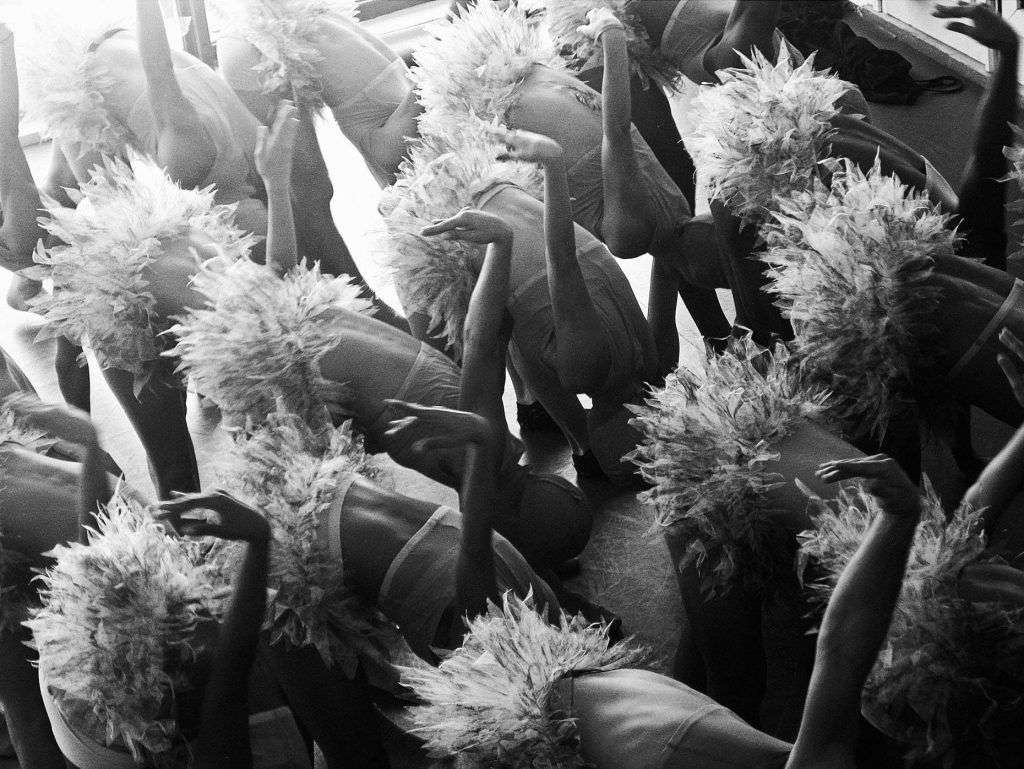 Avium
Choreography: Ely Regina Hdez.
Music: Camille Saint-Saënsy José V. Gavilondo
Performers: Duet: Laura Treto and Víctor Verdecia (2 and 5) / Déborah Sánchez and Keyvin Martínez (3) / Laura Rodríguez and Alejandro Silva (4)
Solo: Mario S. Elías (2 and 5) / Raúl Reinoso (3) / Carlos L. Blanco (4)
Quintet: Marta Ortega, Mario S. Elias, Raúl Reinoso, Carlos Luis Blanco and Yasser Domínguez.
We
Choreography: Beatriz García and Raúl Reinoso
Music: José V. Gavilondo
Performers: Marta Ortega and Raúl Reinoso (2 and 4) / Liliana Menéndez and Mario Sergio Elías (3 and 5)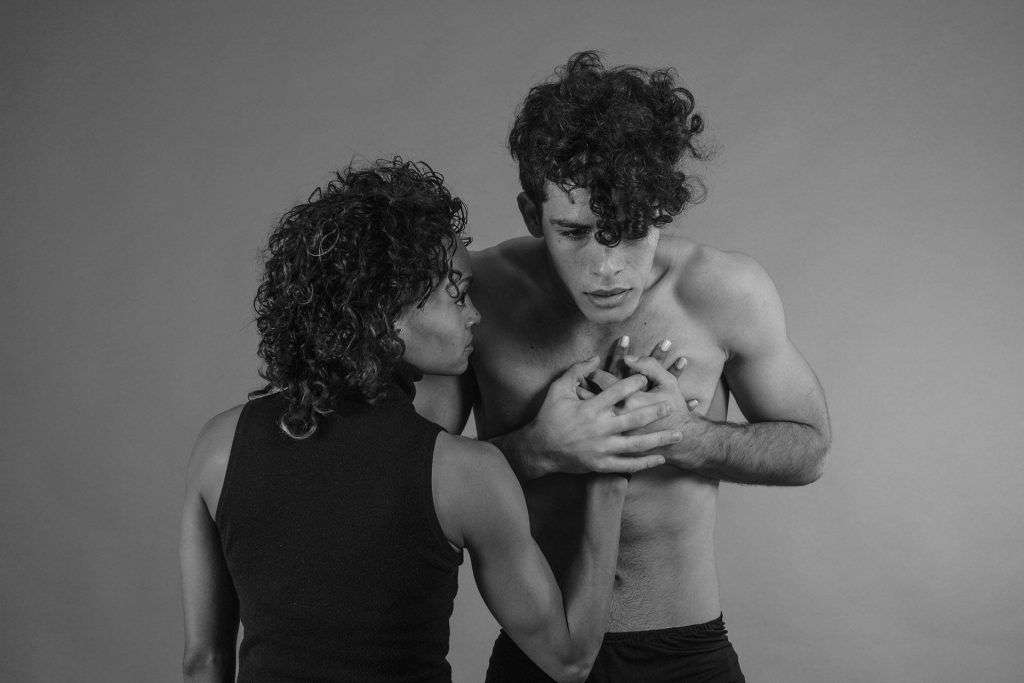 There is nothing around
Choreography: Goyo Montero
On poems by Joaquín Sabina and Vinicius de Moraes
Performers: Laura Rodríguez, Ely Regina Hernández, Verónica Corveas, Laura Treto, Leticia Silva, Mario S. Elías, Alejandro Silva, Keyvin Martínez and Luis Valle (2 and 4), Carlos Luis Blanco (2), Javier Rojas Marta Ortega, Ely Regina Hernandez, Deborah Sánchez, Zeleidy Crespo, Raúl Reinoso, Alejandro Silva, Esnel Ramos, Victor Verdecia and Enrique Corrales (3 and 5).
Intermediate
Twelve
Concept and direction: Jorge Crecis
Music: Vicenzo Lamagna
Performers: Laura Treto, Marta Ortega, Ely Regina Hernández, Zeleidy Crespo, Leticia Silva, Laura Rodríguez (2 and 4), Deborah Sánchez (3 and 5), Mario Sergio Elías, Raúl Reinoso, Carlos Luis Blanco, Alejandro Silva, Víctor Verdecia (2 and 4), Enrique Corrales (3 and 5) and Yasser Domínguez.
End of timeChoreography: Ben Stevenson
Music: Serguei Rachmaninoff
Performers: Deborah Sánchez and Enrique Corrales (2 y 4) / Laura Rodríguez and Javier Rojas (3 and 5)
Babbel 2.0
Choreography: María Rovira
Music: Salvador Niebla
Performers: Acosta Danza Dancers

More pieces at the Martí Theater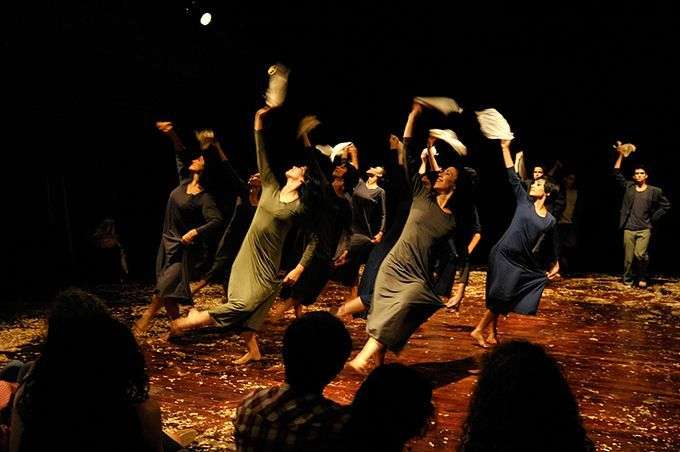 Dance-Theater Retazos Company, under the direction of master Isabel Bustos, continues its presentations in the Martí Theater of Old Havana. On the occasion of the 30th anniversary of its foundation and the third anniversary of the theater, the group will offer a program that includes the following pieces:
Friday 3, 8:30 p.m.
Posible Imposible (Possible Impossible)
Solamente una vez (Only once)
Saturday 4, 8:30 p.m.
Retazos en el tiempo (Pieces in Time)
Tiempos de Arena (Times of Sand)
Sunday 5, 5:00 p.m.
Posible Imposible (Possible Impossible)
Solamente una vez (Only once)


Silvio in The motorboat's dock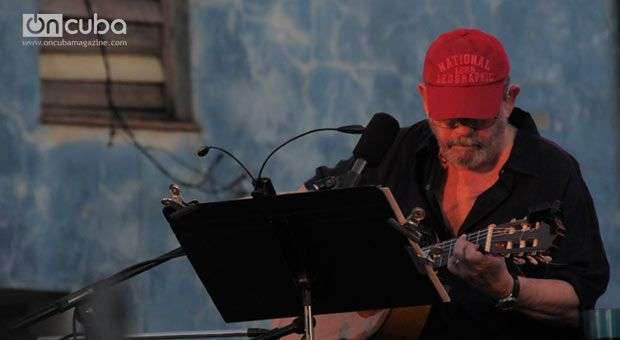 As part of his tour through the neighborhoods, Silvio Rodríguez will be performing Friday at 6:00 p.m., in El Emboque de la Lanchita, located in the municipality of Regla.
With this concert the Cuban singer-songwriter will celebrate the 330th anniversary of the founding of Regla alongside the Trovarroco Trio, Niurka González and Oliver Valdés. Silvio will have Carlos Varela as a special guest, who will appear accompanied by his group.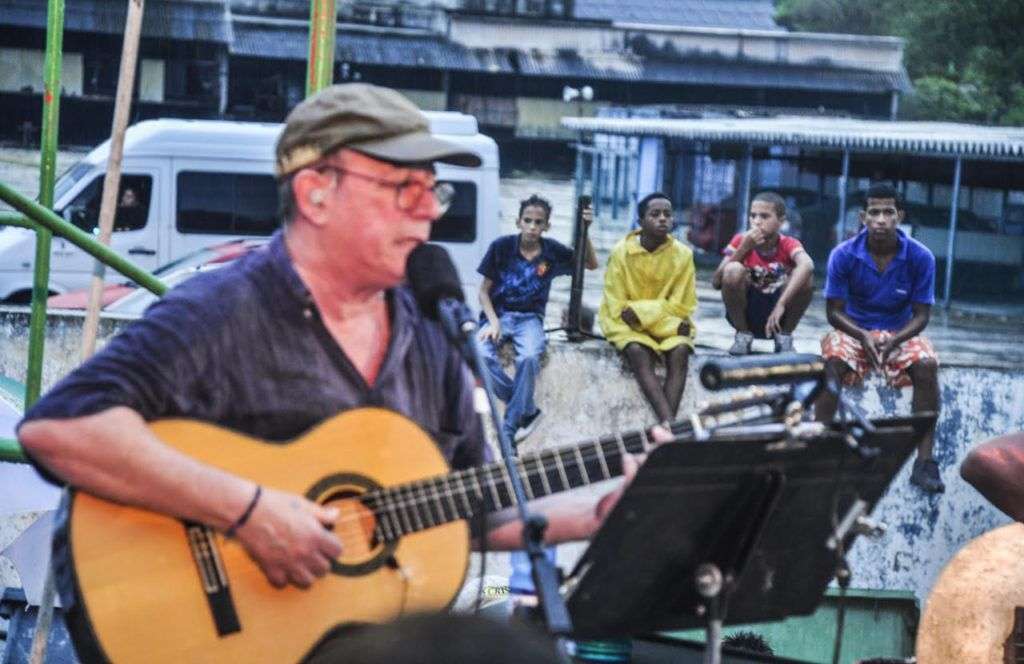 Foto: Kaloian.

Music with Temperamento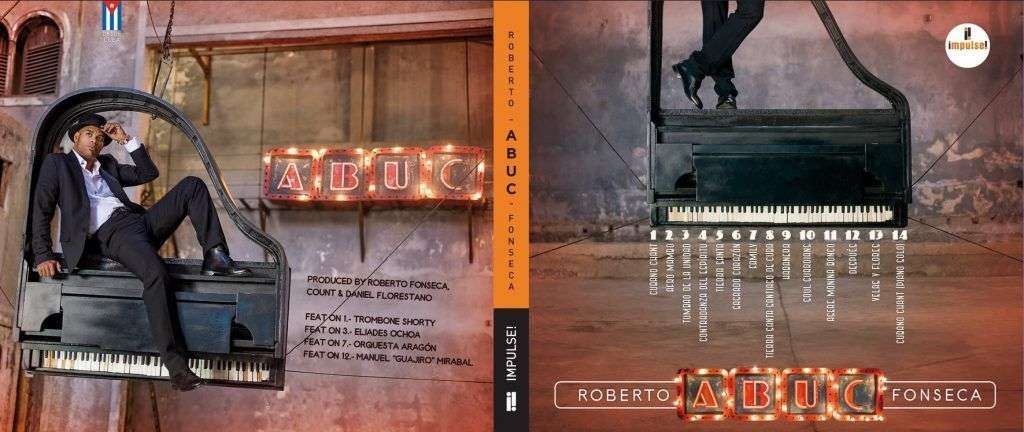 Roberto Fonseca and his group Temperamento will present in concert in the Theater Room of the Cuban Art Building from the National Museum of Fine Arts, this Saturday at 7:30 pm.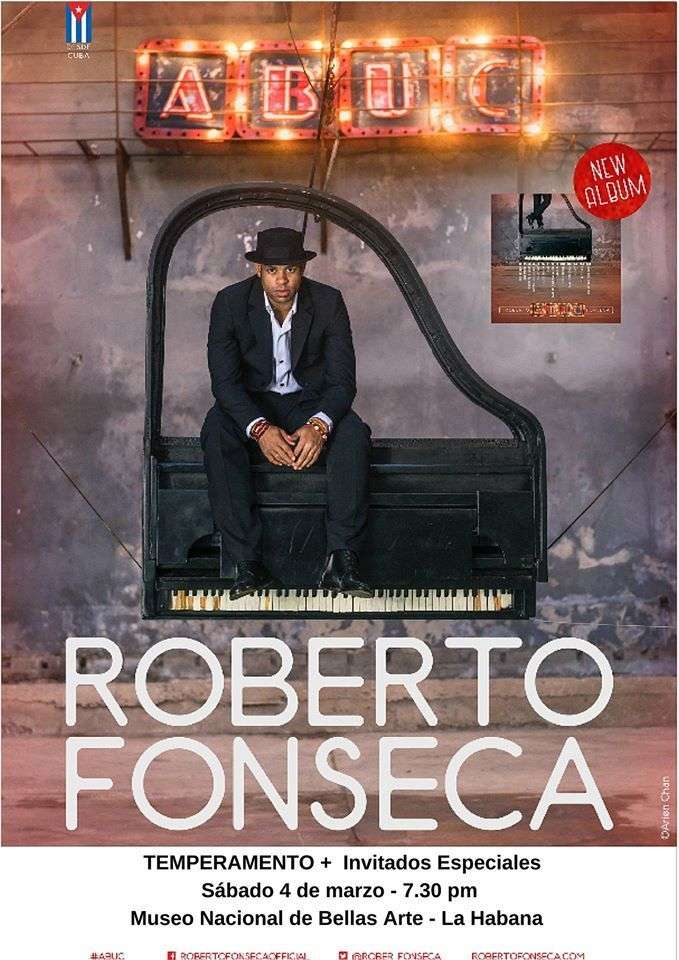 Tremendous trova in the Green Light Bulb
The house of the Green Light Bulb will have as guests this week the talented young man from Cienfuegos, Rolo Rivera (Friday) and Silvio's songs performed by Aurora Feliú and Roberto Navarrete, on Saturday at 8:00 p.m.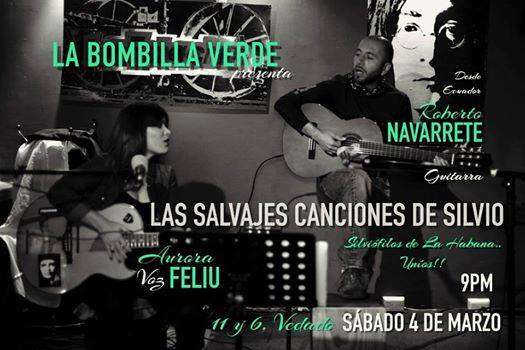 On Thursday, March 9, Angel Lorenzo will perform in concert with the release of the music video Regreso Incierto (Uncertain return).

Hans Federico Neuman: music in pictures
On Thursday, March 9, at 3:30 pm in the cinema hall from the Santo Domingo Building (San Ignacio St. between Obispo St. and O`Reilly St.), the Esteban Salas musical heritage cabinet will inaugurate a new space dedicated to the projection of documentaries about music.
Hans Federico Neuman del Castillo. Emblematic character of the classical music of the Colombian Caribbean, artistic creation of the researcher and teacher Yamira Rodríguez Nuñez, is the piece selected for the premiere.
The video documentary contributes to the preservation of the classical music of the Barranquilla master Hans Federico Neuman del Castillo and honors the memory of the great pedagogue, composer and performer, who, along with Pedro Biava Ramponi, conceived the musical development of the Atlantic University, Barranquilla, Colombia.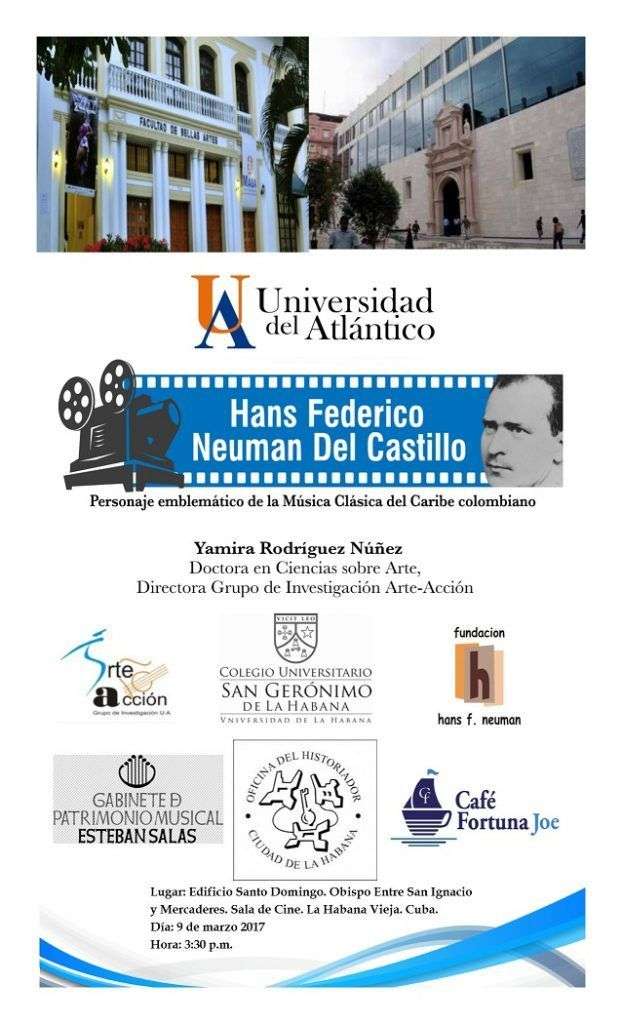 March 3, 4 and 5 for Buena Fe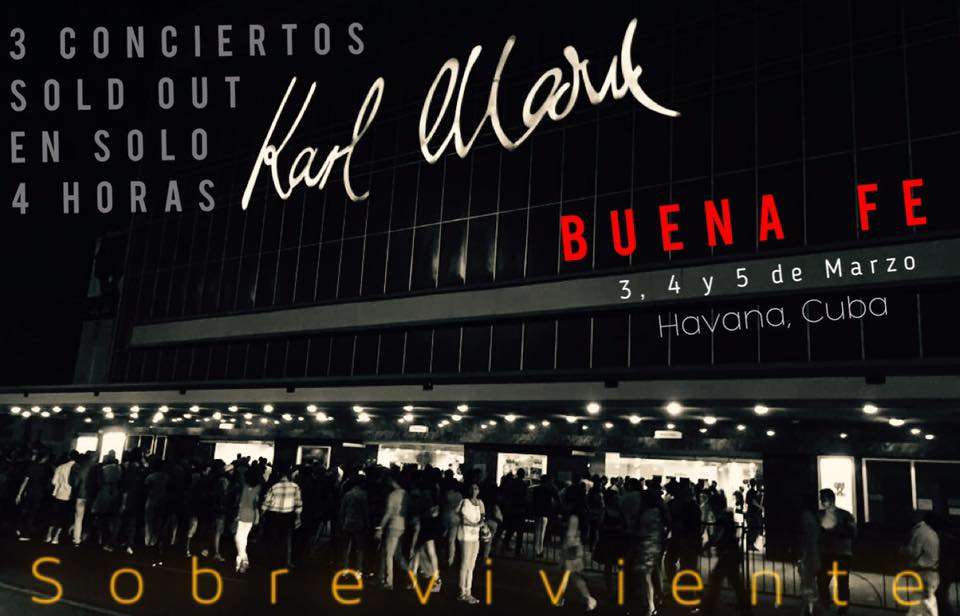 The popular group Buena Fe will be performing at the Karl Marx Theater on March 3, 4 and 5. Composed of Israel Rojas and Yoel Martínez, the duo will present the phonogram Sobreviviente (Survivor) with 13 songs, 12 of them were created by Israel in co-authored with Frank Delgado and Vicente Alejandro Trigo and in which also collaborated Luna Manzanares and Silvio Rodríguez, the latter with the title La Tempestad (The storm).
Sobreviviente can be acquired during this weekend in the presentations along with a mobile application containing the texts of the songs and art works of Roberto Fabelo, plastic artist that printed his work to the new album.
After the presentations in the capital, that will have a special moment next March 17 at the University of Havana, the group will begin a national tour that includes the following provinces:
March:
24,25 y 26: Isla de la Juventud
29: Pinar del Río
31: Artemis
April:
2: Havana
5: Mayabeque
7: Matanzas
9: Cienfuegos
11: Villa Clara
13: Camagüey
15: Las Tunas
17: Guantánamo
19: Santiago de Cuba
21: Granma
23: Holguín
25: Ciego de Ávila
27: Santi Spíritus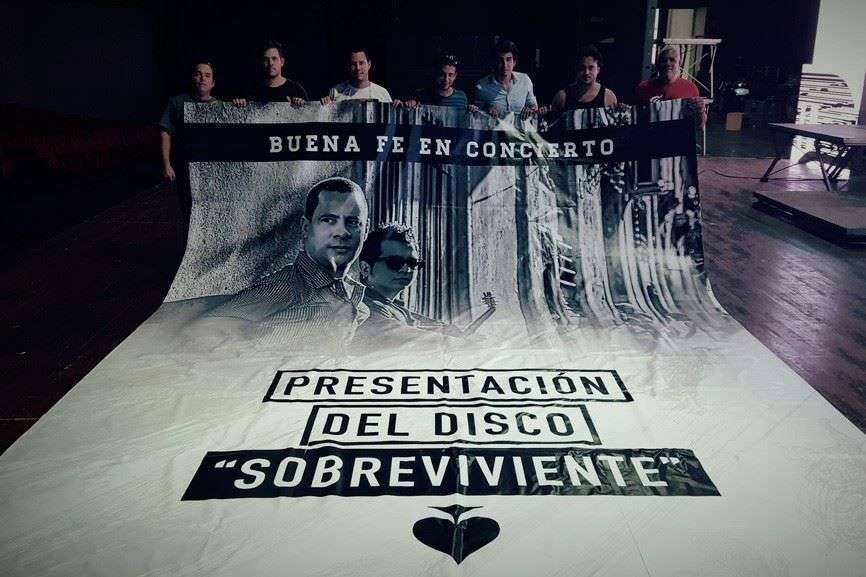 And… With no charge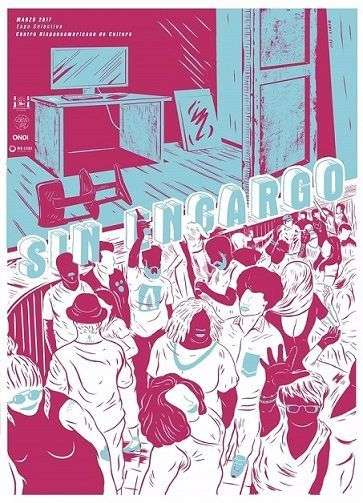 Sin encargo, a collective exhibition involving more than 30 Cuban designers, will be inaugurated this Friday at 6:00 p.m. in the Hispan-American Culture Center (Malecón # 17 between Prado Ave. and Capdevila St.). Organized by Miguel LP, Yaimel López and Nelson Ponce, the exhibition project responds to the designers' own need to create, without any client.
It aims to label a creative trajectory, to uncover the glazes of anonymity to show the public a personal work that is born of each one of its creators' expressive impulse and imaginary. Such an exhibition emphasizes the visibility and legitimacy of the designer as an artist, blurring other limits and inserting him as a part and participant in the discourse of universal contemporary art.

Hallucinate with Ibrahim
The exhibition Alucinaciones (Hallucinations) by the artist Ibrahím Rodríguez will be open until April in the Diago Gallery from Old Havana.


Me, Habana, and you?
The personal exhibition Yo, Habana (Me, Havana), by the German artist Doris Graf will be inaugurated this Friday at 5:00 pm in the Visual Arts Development Center, located in San Ignacio St., corner to Teniente Rey St., Old Havana.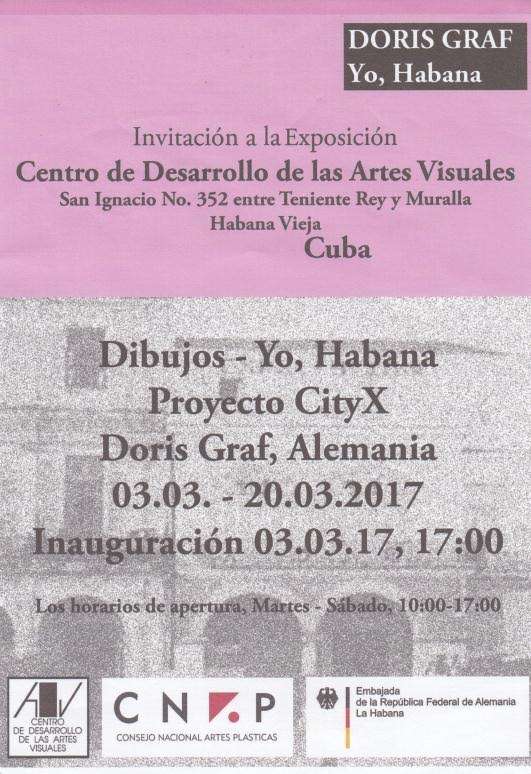 In Ludi… See you
Nos vemos, on stage by Ludi Theater will remain on billboard on Friday, Saturday and Sunday this March. In collaboration with Theater Asylum Company from Canada, the play places on the table the controversial issue of social media, mass media and how humans interact in networks, questioning the extent to which comments and posted information are true or false.
Written by the playwright and writer Guillaume Corbeil, Nos vemos is a social critique of the human being and his marked dependence on contemporary socio-technological structures.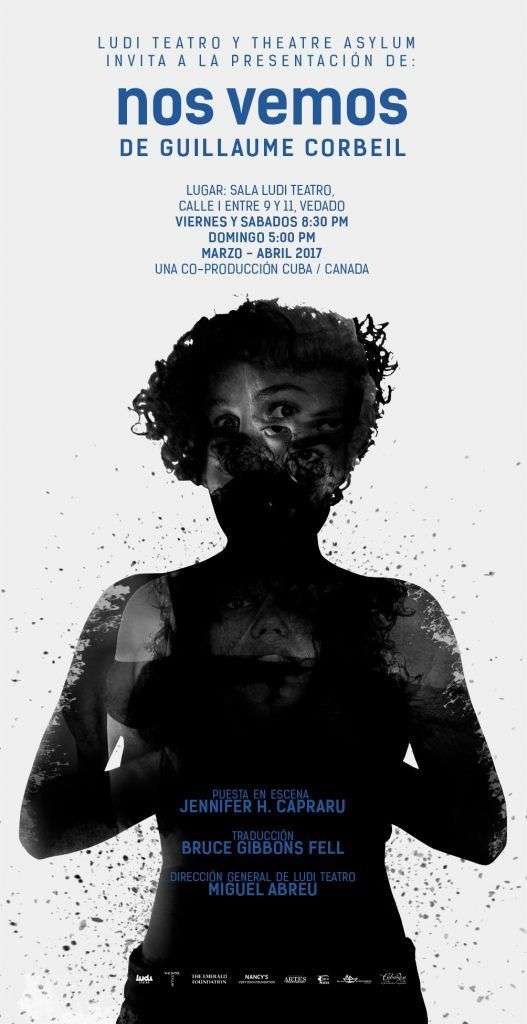 Banality Show and so on, and so on…
The show Banality Show by comedy group Etcétera comes to Mella Theater's stage. With functions from this Friday until Sunday, March 5, Banality Show criticizes with laughs the current reality show television programs, where prevails the cult to beauty and superficial things.
Founded in the East University (Universidad de Oriente), Etcétera tries to cultivate the so-called intelligent humor, having as reference the Argentinean group Les Luthiers, the Spanish comedian Miguel Gila and the already disappeared duo of Cruz y Raya.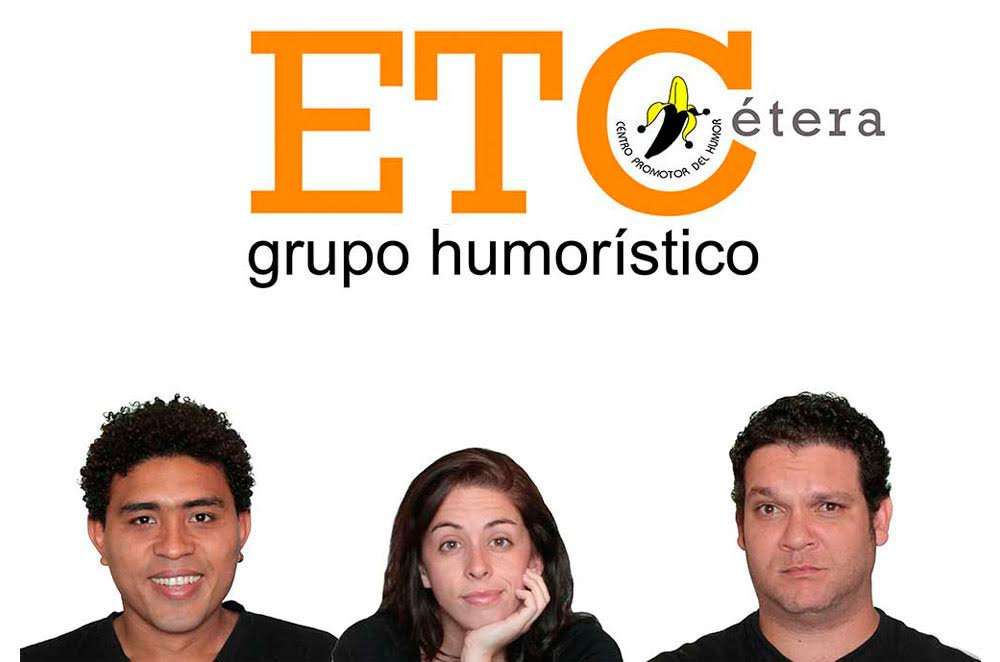 Authors