The Isle of Youth is on fire, drunk with much complacency. Its time has come; they spent much time embedded in the Wailing Wall, they always remained at a step of the top. Today they enjoy a great time, in a few days they will fight for the national crown. An event that has revolutionized that land, has upended it by so much euphoria and gibberish.
In Nueva Gerona, La Fe, Argelia, La Demajagua, in all its towns, everything revolves around the Pirates, the filibuster ship commanded by Rodríguez Pantoja. "They have infected the people, well, at this height we do not know who infected whom, if the people to us or we to the people", former pitcher Gervasio Miguel told OnCuba by phone.
"When you look at those committed players, their love by the jersey, their desire to make their people happy, you want to make them a monument" adds Gervasio, one of the famous baseball pitchers in the special municipality.
The team has emerged as a phoenix. They were near the qualifying zone at the almost end of the regular season, but very few counted on them. They reached the finish line and took the place of the historical squads Pinar del Río and Industriales, providing the latter an amazing sweep as visitors in Havana.
With the bravery of the small, minimized teams, nobody bet a cent in their favor, they came out to face the favorite Matanzas; another failure for the sellers of omens. They nailed the crossbones flag in the swamp of the Crocodiles and in their port of Cristobal Labra Stadium.
"This ballpark has amazingly transformed. It is a boiler, the noise by the public is unbearable, but is very enjoyable because they support us. The stands are always full of fans dressed as pirates, people with signs, with numbers painted on the face. On the street it is the same, we cannot almost go out, "says Rigoberto Gomez, one of the offensive leaders of the Pirates this postseason.
Shortstop Alfredo Rodriguez plays a play off for the first time. He's from Havana and crossed the Caribbean Sea to board the ship of the Pirates. He has succeeded; he has even made amazing fielding plays at shortstop. "To feel all that breath behind you gives you strength, it is impossible to fail to all those people who are following us."
Lisandra Palenzuela, a journalist for radio and television on the Isle of Youth, tells me on Facebook: "This is a party since the playoffs started. People only talk about baseball. The talk is that from the moment you wake up until you go to bed. This is the Pirate Island ".
The longed final has arrived, this time against the Ciego de Ávila Tigers. The national title, consecration is at stake. The Isle of Youth is a delirium.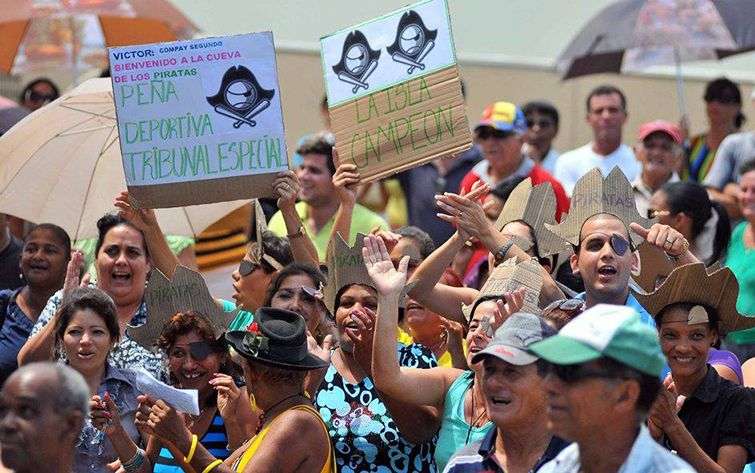 Authors