He came on stage and without a word he began to do what he does best: play the guitar. And it is that way; from Paco de Lucia you cannot expect anything other than listen to the unimaginable what he can get out caressing the strings of his instrument.
They say that flamenco is not the same after Paco or Francisco Sánchez Gómez, Christian name given him by his parents, Don Antonio and Doña Lucia, back in Algeciras, Cádiz, when he saw the light in 1947.
No one ever imagined that this restless child would revolutionize flamenco from its foundations with his magical guitar playing and the way we conceive the evolution of a genre that had been there for centuries before he was born.
All that and more the exceptional Cadiz musician gave the Cuban public with his spectacular performance at Havana's Karl Marx Theatre, invited to the Fifth Chamber Music Festival by that other great, maestro Leo Brouwer.
For more than 26 years Lucia did not stepped on Cuban soil, so that expectations for the night were quite high, for both the public and the musicians.
Flamenco took over the room, but taken to a higher plane for a music that, among others, thanks to Paco jumped from folk and family festivals to the big stage without respecting styles or forms of seemingly disparate sounds.
Paco made ​​a musical journey through the genre, from its purest forms to very well conceived mergers with jazz, bossa nova and others. No one should wonder the success of such audacity, the famous son of Algeciras has been doing it for years, but always respecting the essence of flamenco, that they defended as a way of life that has become a benchmark of what happened in the twentieth century and so far this century.
But Paco and his guitar are not alone, at the presentation in Havana he was joined by fellow guitarist Antonio Sánchez, Cuban bassist Alain Perez, and percussionist Israel Suárez "The Piranha".
On more than one occasion, singers Antonio Flores "Rubio de Pruna" and David Maldonado "David de Jacoba", keyboardist Antonio Serrano and outstanding dancer Antonio Fernández "Farruquito" ripped applause from the audience.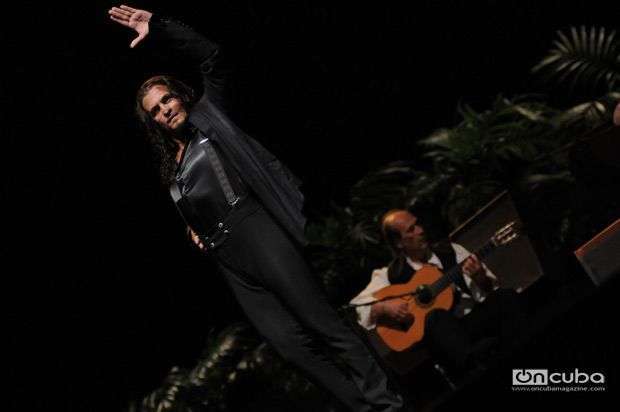 Gone are the days and Paco with his brothers Pepe and Ramon took his first steps on the tablao, or the duo he formed with the Andalusian singer José Monge, the legendary Camarón de la Isla.  Paco has become a being of another world that gives us the grace of delight with his art, to appreciate the difference between a good musician and a genius, and on top of that, he also presents himself as a simple and humble human being.
Undoubtedly the most anticipated of the V Leo Brouwer Festival of Chamber Music, Paco de Lucia live concert, exceeded expectations, leaving Cubans wanting for more.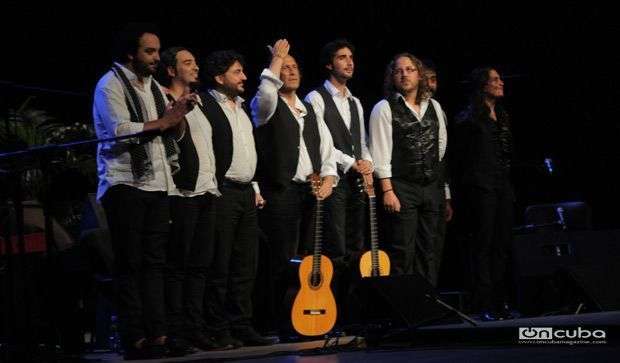 Photos: Roberto Ruiz