So the cry is heard on the streets of cities and towns across the country. They are announcing a converted biscuit treat in a kind of national snack. They are flavored variants of the traditional "cracker from the bakery" that for a long time we could barely ever find.
In recent years, under the protection of the processor / vendor of light food license, a very widespread and intricate network of producers have become almost ubiquitous these packages of "homemade" crackers converted into star product  of confectioneries mini industries.
In the beginning "The good cracker" advanced mile by mile from Placetas and Trinidad, in the center of the country, thanks to a network of vendors who loaded their cars with this merchandise and established their outlet in any corner. In Havana it has reached its peak.
Lucia, one of the capital's producers, confesses from the doorway of her house, -since she does not allow access to the processing premises-, that early in her business venture it was hard for her to achieve stable sales, but within weeks it got better. "Our production is fixed: 300 packs a day," she says.
In the streets are often seen, with "strings" of crackers at a glance, tricycles, supermarket shopping carts and kiosks that are small rolling stock, cabinet and desk.
Although almost nobody knows under what conditions they are manufactured and packaged, most consumers do not stop to think about this "detail". They are tasty and crispy, can you ask for more? Almost no demurs either because they are expended on open line. In the capital, at certain crossings traffic lights, sellers make a killing in rain and sunshine.
"If we had a fixed place where you find them, or identifiable brands forms of contact with the producers, it would be better and safer for all who buy" reflects Belkis, an accountant for 50 years at least once a week buy from one seller who "stands"  at 17 and 12 in Vedado. "Luckily this guy is quite fixed here, and you already know that he brings is good".
All producers surveyed said they care hygiene during processing, because according to them the reputation worth them much. As evidence of its legality, at each site we visited appears on the wall, health license to manufacture.
Consumers seem pleased at all. Some criticize the price. "It is true that are tasty, but many find it hard to gather 1 CUC to buy them regularly," said Adela, an elderly woman who acquired a package to his granddaughter, whom she had just picked up from school.
In other areas the prices are more affordable. While in the capital sale by the processor is carried in a pack of 40 to 50 cookies (depending on size), with the price already exposed in Cienfuegos and Villa Clara abound small bags of 5 and 10 pesos.
On the prices also influences an intermediate class, mainly in Havana. Packages departed from producers typically cost between 15 and 18 pesos (CUP) when purchased in bulk, but the vast majority of sellers are the third step of the supply chain.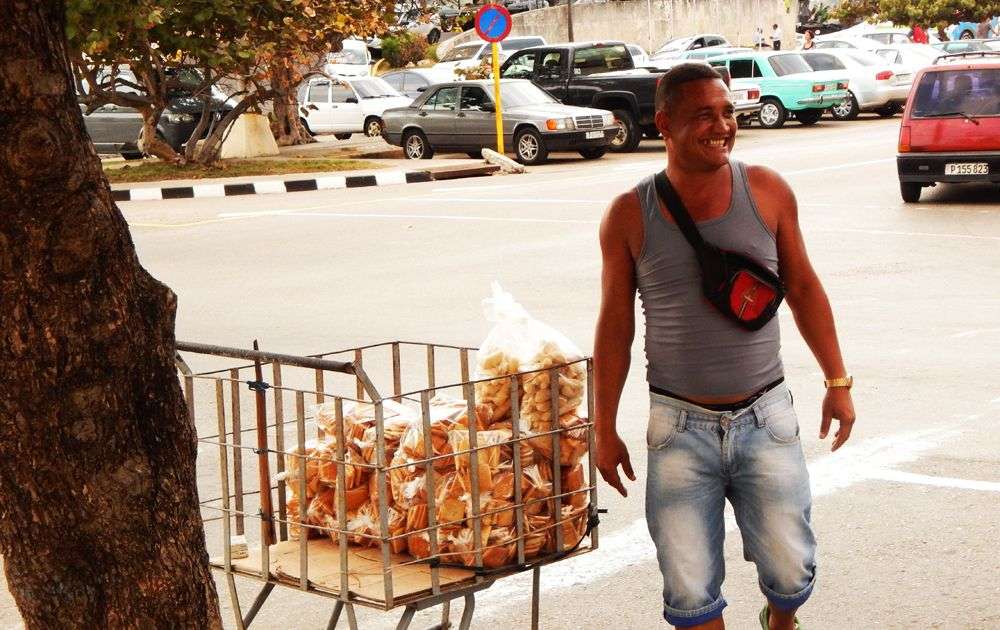 Money in hand
Most vendors interviewed in the capital calculate between 10 and 15 packages minimum sold a day. That means earnings of 50-75 pesos in "critical" days while the average ranges between 150 and 200 CUP
Makers have no complaints about their profit, but always say they getting raw material is no easy task.
"The most accessible in the legal market is wheat flour, which the state sells at  7 pesos per pound, but is not always available so we must resort to alternative routes," confirms Rainer a cracker maker of Villa Clara who installed its small bakery in the covered patio of the house of his aunt.
In less than 30 square meters, he works with two assistants, young people like him, who cook in two small artisan ovens result of electrical metamorphosis of old gas stove.
"The lack of material stop us sometimes imagine that butter and a good proportion of the flour has to reach us from the illegal market, which is the most stable way," he continues. "I do not care where raw material comes from, I have to work and earn my pesos" he says.
Similar panorama all producers contacted by Oncuba live in. They are dependent on deviations from the state sector to deal with the deficit and lack of a wholesale market.
"Not only flour, although it is the most critical case, we consume about 300 pounds per day." Says Javier, a maker from the Reparto Electrico town in Havana. "Also the yeast nucleus for improvement, extract butter or margarine. All we got no worries about lard is because we are customers of a pig breeder ".
In his workshop all the "machinery" is handmade: the mixer, the stove to steam and the three "furnaces", built with 55 gallons metal tanks, on which he placed resistors and coated with plaster on the outside.
Face to face
"Butter" crackers seem to have come to compete with "salt" cookies offered by the State, both in dollar stores and market local currency. In CUC are more expensive, CUP come in packs of $ 25 but with more than their "cousins", the butter one of the private producers.
"When we have them we linger to sell them," said Juan Alberto, who sells in state food drive in Old Havana. "I guess the reason they sell less is the inferior quality".
The way that this "business line" has proliferated speaks for itself of the potential that still keeps the non-state initiative in Cuba. It is to mature about respecting the quality, improve its image, business environment and continue consolidating itself as a pinch of salt baked qualifies the great business that is baked in the country.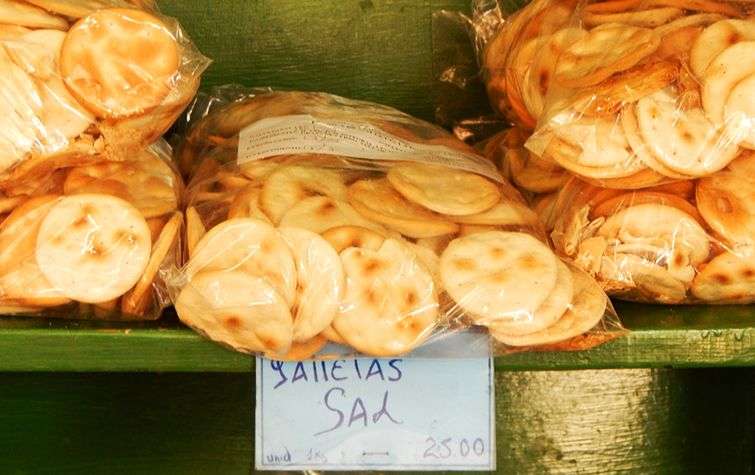 Authors