To my friend El Tuna
The Las Tunas player Roberto Suliban Baldoquin  signed on Tuesday December 9 with Angels of Anaheim for a bonus of 8 million. Since December 2004 the California franchise did not direct its attention to Cuban free agents. Then, the Angels added to their ranks Kendrys Morales for 3 million dollars.
The contract of Baldoquin looks like an enigma, given that he did not have the fame that Morales brought from Cuba when he made it to the national team in 2003. The presence of Baldoquin  in the three National Series he played was just anecdotic. However, it is very possible that there is an esoteric feature in Baldoquin to present him as an unknown diamond. Los Angeles of Anaheim only had 2.4 million to spend on international free agency, and the price they have paid for Baldoquin has tripled that, which will condition the franchise to two periods of hiring unable to overcome the barrier of $ 300,000.
So what is the reason that the Angels have risked so much? "They must have seen wonders in that boy to take much risk," said a source from Miami baseball. The signing of Cuban exceeded the 3.1 million the Milwaukee Brewers disbursed for Gilbert Lara in July.
The talent of Baldoquin is more than a gamble for the future. Anaheim management and general manager Jerry Dipoto, believe he is a prospect that could play in the majors right now. "He is not raw; let's see how his projection becomes. He looks like a major player league now. He needs time in the minors to adjust to a new country; he's a pretty mature guy, " Dipoto told Los Angeles Times Sports.
Baldoquin left Cuba in February 2014 and from late October he was chased by the scout team of Anaheim. The same Dipoto, a GM who has signed players like Mike Trout, Josh Hamilton or Albert Pujols went to the Dominican Republic for three days to see him.
OnCuba was talking to Baldoquin after his signing.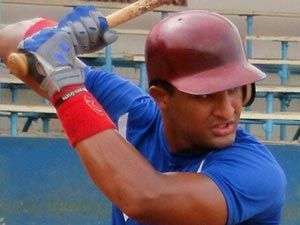 How did you feel after learning what you had been signed by a major league team and how was the physical?
Very excited because it is a dream come true and I hope many good things keep coming in the next year. On physical examination, everything went well, thank God everything was perfect.
Tell us how was your leaving Cuba and your subsequent adaptation in Dominican Republic.
It was difficult leaving family and friends behind. But I went in search of a dream that is playing the best baseball in the world.
The workouts have certainly been very strong. Did you coincide with another Cuban?
In Dominican Republic there were months of hard training but I could adapt quickly and assimilate well workouts. I met many Cubans as Yasmani Tomas, Dian Toscano, Jorge Despaigne and many more. We met in training games and it was an unforgettable experience. At the end of the day I had the result, which was to sign a major league team.
Angels scouts think you're a everyday shortstop with great arm and reliable hands that let you play any infield position. Were you surprised by this assessment?
I was not surprised both because since I was six years I characterized by having good skills with the glove and legs, besides having good arm. I have trained hard on my defense and offense since my arrival in Dominican Republic and also in my physique.
You made it to Cuba´s youth teams. What other players you had the pleasure of playing on those teams?
The first Cuba team I  integrated I was with Norge Luis Ruiz, Camagüey pitcher, that was in the category 9 and 10 years. I also met Raidel Medina (Cincinnati), Leandro Linares (Cleveland), Yasiel Balaguer (Chicago Cubs) and Rogelio Armenteros (Houston) in the category of 15 and 16 years. In youth I was with players like Guillermo Aviles and Andy Ibanez.
Do you have any player who is your example or kind of pattern, both in Cuba and  in the majors?
My player in Cuba is Yulieski Gourriel. But here, my favorite baseball player is Derek Jeter for his personality on and off the field of play and the way he used to play. Although, I also admire all Cubans who are putting up the name of our country.
You have been listed as a talented prospect. What do you need or what you need to break the challenge of reaching the majors and succeed?
I will further work stronger every day because this is a tough baseball. However, with hard work and dedication I hope to be as soon as possible in the majors, God´s willing.
He will be in the spring training and is expected to start the season at the level of Class A Inland Empire 66ers or double AA Arkansas Travelers, branches of minor league of the Angeles of Anaheim.
The hidden talents of Robert Baldoquin will soon unveil the mystery before the eyes of all. His tools appear to be valuable weapons. "He has a great body, he is strong, he understands the strike zone, he has good power," Dipoto said.
Authors