Masaru Watanabe, Japanese ambassador to Cuba, was enthusiastic when he found out he would come on a diplomatic mission because he has always been a fan of Cuban music. "Moreover, everyone I told I was going to Cuba said to me: that's great, the country of opportunity!", the ambassador tells OnCuba during a conversation about bilateral relations and a propos the Japanese prime minister's visit to the island some weeks ago.
"Prime Minister Shinzo Abe's visit has been a tremendous achievement. We only have a prime minister, and it's rather difficult for him to normally leave the country, and his coming to Cuba is something that hadn't occurred in the last 400 years," Watanabe commented.
What are the principal commercial and political changes this visit represented?
This first visit by a Japanese prime minister to Cuba in our 400 years of relations was of great importance. Both countries' heads of state had the occasion to sustain relations of friendship and trust.
We were also able to establish a mechanism of dialogue between the two foreign ministers with a view to speeding up bilateral as well as multilateral cooperation, with third countries.
Now with a Cuba that promotes political, economic and social updating and also a Cuba that is improving relations with the United States, everyone has their eyes on Cuba.
In this context the two heads of state agreed that we can strengthen even more our relations of economic cooperation given the great demand for Cuba's progress.
In addition, our prime minister had the opportunity to explain some of Asia's problems related, for example, to kidnappings, nuclear problems, missiles, as well as the problems around the east and south sea of China. He was able to explain Japan's positions regarding these problems and nuclear disarmament and non-proliferation, for which he asked understanding and collaboration from Cuba.
In short, it's a visit that was able to open a new page in the relations we have had during the last 400 years, therefore it has been significant and historic.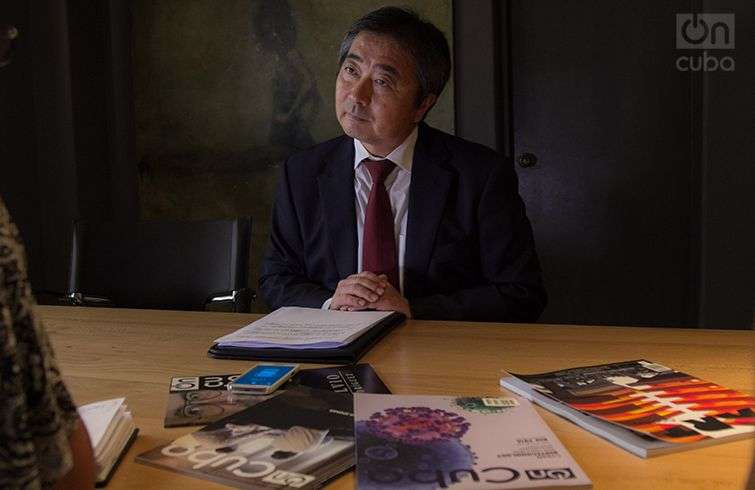 During some 15 years Japan was Cuba's second trade partner, between 1970 and 1985. Is there a tradition in this aspect between the two countries, how could it mature in the present?
Economically, in the 1970s and up to the mid-1980s Japan had a very important position: it was Cuba's second trade partner after the Soviet Union. We still maintain that memory if we see the Japanese products, construction machinery or Komatzu or Kato tractors, or endoscopes found in all of Cuba's hospitals; also the technology contributed by Hitachi in the power stations.
Unfortunately, afterwards it's true that our economic relations suffered a decrease, mainly because of the economic difficulty Cuba had to suffer and also because of the problems with the debt. Fortunately, in September we were able to sign and complete the negotiation and the agreement about the measures for restructuring Cuba's debt with Japan, and it seems the Japanese companies, which are growing in Cuba, have many perspectives regarding this.
Actually, many economic missions have come from Japan, and they are going to continue coming. That is a sign of the Japanese companies' great interest in this island.
This month we are going to hold a session of the Public-Private Economy Committee in Tokyo with the aim of expanding more the economic relations and we are expecting the presence of Minister Malmierca. Also in the same month we are going to establish a Japanese pavilion in the Havana International Trade Fair.
I am convinced that for the Cuba that is promoting the updating of its economic model, the Japanese companies are a trustworthy partner, and we who belong to the government together with the private sector are convinced and decided in cooperating with Cuba.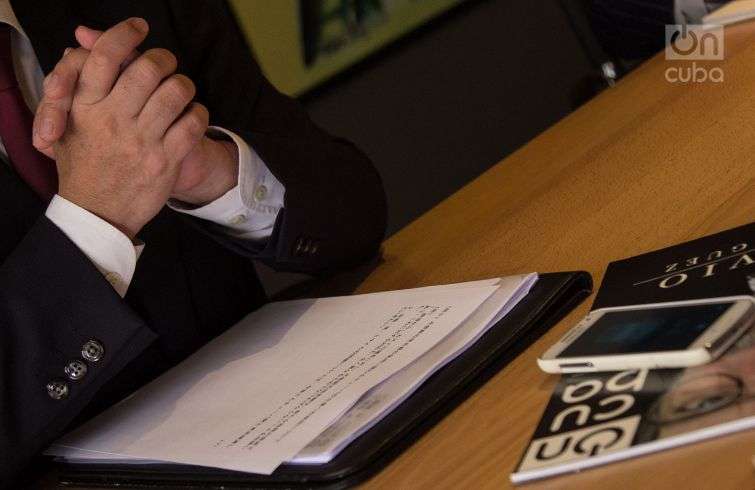 What areas of the Cuban economy are the most attractive for Japanese investment?
There's always hope where there is demand. There are many companies, starting with manufacturers and in all the fields, which are visiting Cuba. There are many possibilities.
An area I wanted to highlight is tourism, since we have four centuries of relations and Cuba is a very well-known country; especially for its sea, Cuban music, jazz, history, its streets, cities full of world heritage sites.
Cuba continues fascinating the Japanese people. Last year the number of Japanese tourists who visited Cuba almost doubled, there was a more than 80 percent increase and that growth rate is being maintained this year.
There is also a growing interest in all the trade fields. When I arrived late last year, we had 14 Japanese companies in Cuba, now we have 18. It's still a small number, but there was an increase.
The growing rapprochement between Cuba and the United States defines a different scenario. How does this favor Japan in its relations with Cuba?
Above all, it must be said that it is to be greeted. We welcome the rapprochement because those friendly relations between two such important countries in this region represents a benefit not just for the two involved countries but also for the entire region's nations, of Latin America and the Caribbean, and also for the world.
We are hoping that this process of rapprochement develops even more. In this context Cuba continues being the center of attention in the world, as well as in Japan. The Japanese companies and all those related are aware of this opportunity. Why don't we take advantage? Why don't we approach Cuba a bit more?
Moreover, we just signed the agreement on the measures for the restructuring of the debt, because this problem was one of the principal reasons for the stagnation – if it can be called this way – of our economic relations. By taking away this problem there are more opportunities and it is the time for that.
Speaking of other favorable moves, for example, there is the deepening of our economic cooperation. During the prime minister's visit the agreement was signed on non-refundable economic cooperation, which is the donation of medical equipment to Cuba, and as I have said before, we agreed on the holding of several public-private conferences or meetings for the improvement of economic relations.
An idea was also presented for the holding of a conference about infrastructure, with the participation of Japan's private and executive sectors, together with all of Cuba's sectors. It will be held next year.
With these initiatives we want to be on our toes and to be one of the countries that advance relations with this wonderful island.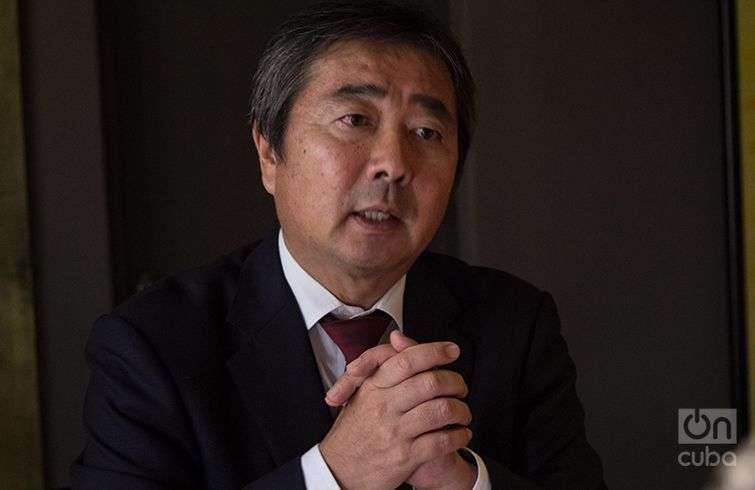 Considering that Cuba proclaims itself a country that defends peace, is there any expectation that defines some position against the use of nuclear weapons by North Korea?
Taking advantage of this meeting, which lasted more than three hours, the prime minister and President Castro spoke at length about many bilateral and international matters.
The prime minister explained the Asian situation, especially the problems related to North Korea and its new nuclear tests, with which it has apparently entered a new more dangerous stage. He explained that the actions of the international community against those threats also have to be different.
Our intention is to continue exchanging opinions, communicating with Cuba about these problems, among other subjects.
How do the cultural differences influence relations between the two countries?
We have many things in common, although one is in the Pacific Ocean and the other around here, they are two archipelago-type islands; we suffer earthquakes, we suffer hurricanes or cyclones. We can cooperate in natural disaster prevention. We are music lovers and we are the best in baseball – it shouldn't be forgotten, because we are destined to play against each other in the finals of the 2020 Tokyo Olympic Games. I forecast a final between Cuba and Japan.
Naturally, we have to make a greater effort to get to know each other better given the many aspects of Japanese culture and we also want Cuba to contribute to Japan many of its traditions, its culture, dance, music, cinema….
One of the agreements between the two heads of state is that Japan announced the invitation to 100 Cuban youths throughout the next three years for all types of exchanges.
What obstacles do the Japanese companies find in Cuba?
Cuba is still a not too well-known market. To the extent that it is known more in depth, there will be more opportunities.
There are also some investment and business conditions or environment about which we are holding talks. For example, the tax rate when purchasing cars and things like that; but the Japanese companies and the Cuban authorities are holding talks on that. I hope that with mutual understanding and bilateral exchanges the Japanese companies will get to better understand the Cuban market and the Cuban authorities will also get to know about the needs and preferences of the Japanese companies.
Will there be more Cubans in the Japanese baseball leagues?
Yes, this has to be encouraged, but I don't know if that works for the benefit of the Japanese or the Cuban victory! It is also important that the players get to know each other and that way we can learn from the Cuban technique and its discipline, and vice versa, because the focus of an exchange, no matter what type, is to mutually get to know each other. Thus the mutual understanding is deepened. No matter who wins, what's important is achieved through personal exchange.
TN: Mr. Masaru Watanabe's interview was translated from the Spanish.
Authors