Sara Rodríguez is a young Cuban woman who arrived in Ukraine in June of last year as a tourist, but little by little she began to fall in love with the charms of this country, which she classifies as "living in a movie."
"I arrived in Ukraine in June last year as a tourist. I wanted to get to know the place, I have several friends there and I wanted to venture. Then a job opportunity came up and I started living here."
For someone under 30 and without children, life is easier. Concerns, beyond the daily routine of working and staying financially afloat, are few, almost banal one might say.
Sara works in the communication field, which is why being constantly informed is part not only of her work routine but also of her daily life: "My co-workers and friends, to whom I asked if a war could really break out, told me to be calm that this was not going to happen, 'it's rather an information war,'" they argued.
"The media even said," she adds, "that Russia would take about two weeks to reach Kyiv in case the worst happened and I believed it, like many others. Every day I consumed information and I paid attention to my Ukrainian colleagues, but since I saw them so calm, no way, I continued to focus on my things and life was very normal. One didn't see anyone nervous at all." 
"I can't talk now, they're bombing," the story of a Cuban in Ukraine
Sarah continued happily. "Life in Ukraine is very calm," she tells me in a conversation on WhatsApp, which has been a virtual refuge in these stormy days. "People are cool. There were all kinds of places. We frequented a Cuban bar where I went to feel at home. A country with a lot of variety and fun, very complete. Everything was pretty, too pretty, it seemed like a movie."
The rumble, a flash, the nerves
The early morning of February 24 changed the life of this young Cuban, who from the previous week began to experience uncertainty and the first moments of tension. "I never thought I would experience a situation like this. In Cuba I had the opportunity to work at the Latin American School of Medicine and there I was able to meet people from different countries, friends from Palestine, Israel…people who have lived through an armed conflict and I never thought I would experience something like this," she comments and her voice already changes when she talks about that horror.
"Everything took us by surprise. The vast majority of my colleagues decided to leave from the first moment the armed conflict began, something I couldn't do due to issues related to emigration papers, something recurrent experienced by recently emigrated Cubans. I was looking for plane tickets to Serbia, which is a visa-free country, but everything got complicated very quickly."
The week before the initial attack almost all flights were sold out, she tells me. "That Monday (February 21) I woke up and my friends had decided to leave, there was only one Cuban colleague left who lived with me and two others, who decided to stay, even working that week."
"From Wednesday to Thursday when the bombings began, we really felt the impact at the airport. I was awake. Everything got worse starting then. I felt completely blocked. I ran to the kitchen, a colleague called me on WhatsApp and at first I couldn't talk to him because I was so nervous."
"I lived on a 13th floor and from the window almost the entire city could be seen, a beautiful view. When we stood in front of the window, we could see the glare of the bombardment. We felt the impact and at that time it was a question of moving fast."
Luckily, since the previous week, Sara had foreseen some things. "I had a half-packed suitcase, but at that moment I started throwing clothes into the suitcase, I got very nervous in the midst of a situation like that. You have to go out with the necessary documents, the clothes you are wearing, the essentials. Luckily, I lived with a roommate and he tried to calm me down, we met with the other two who had stayed and we came to the conclusion that we had to go down to a place not so high.
"That's when we thought of seeking shelter. We went to the basement of the building where the other two colleagues lived. Before we went out to look for groceries and back then the markets were full of people. On Thursday night we were already in the basement, with the neighbors of the building: children, pregnant women, entire families.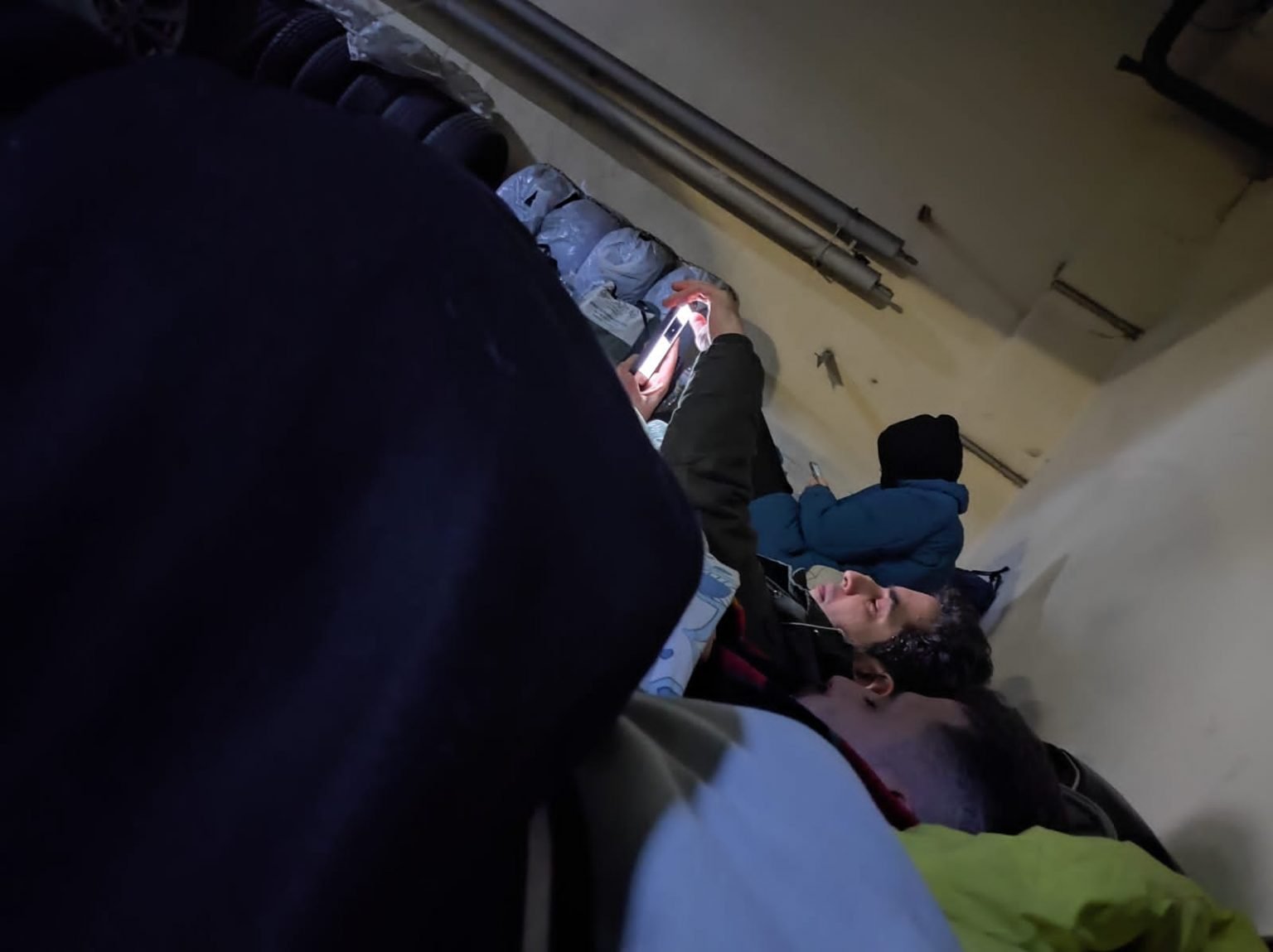 "With luck, we were able to accommodate ourselves and we could hardly get a signal to find out about the situation, mostly through Twitter. That dawn it was said that Russia was already invading Kyiv.
"We didn't sleep at all. Our nerves were constantly on edge. The four of us looked at each other. We didn't know what to do. Our friends suggested via WhatsApp that we leave the country, find some way, but we were afraid and uncertain about where to go. Outside the tanks, the Russian military in the streets.
"We felt shelling that night, although not really that close to where we were. The curfew at seven in the morning woke us up, although we really spent almost 48 hours without sleeping, we took turns but I couldn't.
"We went up to the apartment early in the morning and the first thing we did was turn on the television for information. It was an awkward morning. Our nerves led us to argue among the four of us, we could not agree on the issue of leaving or staying. In my case, I was very afraid to go out. One in the group left first on a bus that had an empty seat left.
"Being home in broad daylight the alarms started going off and whenever this happened you had to stay where you were at home or go to a nearby shelter fast. We went down again. We were in the shelter from 9:00 a.m. until 4:00 p.m. 
"By then there were many more people in the place. We met a little boy about 11-12 years old who was there with his mother, they were Ukrainian. We asked them if they thought the situation could get worse. 'Yes,' they told us. They had decided to stay, which we did not understand. The boy told us: 'I was born here, why do I have to leave?' The mother began to cry.
"That night we were able to have dinner in the apartment while we saw the result of the first negotiations. At that moment we realized that we had to leave the country. We started for the train terminal and were so lucky that we were even able to get a car to get there.
Escaping, the night, the cold
"We saw in the news that the zone of the armed conflict was about eight kilometers from where we took refuge, they even attacked one of the offices where I worked.… Anyway, we arrived at the train terminal without tickets and we were informed that trains were going to leave throughout the night and they were free, because there were no tickets available," the first step in the odyssey that awaited Sara and her colleagues.
"There were a lot of people there, Latinos too. We were so lucky that we were able to get on a train at 8:00 p.m., one of those that have rooms. We were traveling about 7-8 hours to Lviv, a city bordering Poland that has not yet been attacked.
"That place was full of people trying to cross to Poland. We were able to find a contact who was taking people to the border by car. The road section was quite complicated due to the number of people who were in a similar situation. There were people who spent more than 24 hours walking to reach the border point."
"You can't imagine how cold it was! There were thousands and thousands of people there, many in groups building fires to relieve the cold. We entered a small house, a kind of shelter for the night. We lay down on the floor to sleep together with Africans, Hindus, people from almost everywhere…
"It was a pretty ugly night. We tried to cross the border when night fell but they did not open at that time. The next day we went early to line up to try to cross. Women and children were the priority. In men's case, it was more complicated.
"As soon as we crossed into Polish territory they fed us. We stood there for about four hours waiting to get out of the immigration process, under a very cold snow storm. As a foreigner, they didn't give you so much priority. Women, children, families of Ukrainians first and then us.
"When we left the Polish border crossing, they were waiting for us with boxes of supplies to then take a bus to a shelter, a huge building full of camp beds. I hadn't seen one in years! There was food, blankets, we stayed for a few hours.
"Then we decided to stay in a hotel, which is where I'm staying until now, waiting to return to work. I'm taking a break from everything I've been through."
***
Despite what she's experienced, Sara is still optimistic: "I plan to return to Ukraine. It is a wonderful country," she repeats to me with a note of nostalgia in her voice. "I never felt as good there as when I was in Uruguay two years before," she explains.
"I was just getting used to the country, I had created many things that I had to give up and now I am forced to start from scratch." She even adds that "days before everything that happened, I had renewed my residence there and yes, I'm going back. Hopefully, this can end soon because they have destroyed everything. They destroyed and continue to destroy. It's very sad," she states with some sadness.
"As such, I am able to tell the story and it is something that I didn't go through alone. People that I never thought I would meet worried about me through social media, abreast of my stories (on WhatsApp), I tried to give news that way whenever I could. I have friends who stayed and managed to broadcast live what they were experiencing and it was very, very ugly. I still can't take it all in."
Author