The advance to the southern United States of COVID-19, the fearsome coronavirus, has led authorities to control entering the state. First of travelers from Louisiana and now from New York, where the virus has attacked with more force and caused 1,550 deaths only this Tuesday, 300 new cases more than the previous day, for a total to date of more than 76,000 patients reported.
This alarm has caused thousands of New Yorkers to want to move to Florida, which has led Governor Ron DeSantis to sign an executive order to prevent their entry. Likewise, from other states that, although they don't register such high figures, are cause of public concern. The order also requires anyone who wants to enter and has visible signs of carrying the virus to be quarantined.
To do this, it has mobilized the National Guard and local police. But it is not an easy task, among other reasons because the terms of the proclamation of the state of emergency promulgated by DeSantis are not emphatic in this regard, and the subsequent orders hardly allow the authorities to encourage the return home of those who want to enter Florida. For example, if a New Yorker has a summer residence in the Sunshine State, he cannot be sent back because he legally lives in Florida. Many have another home in South Florida, where they generally spend the winter or longer periods if they are retired.
Nor can those with a compelling reason to come to Florida be barred from entering. Among these are the military stationed in the state's six military installations. Also because the state is not industrially developed and its agricultural production boils down to citrus fruits, vegetables and legumes. Everything else is "imported" from the rest of the country, including alcohol, so necessary in these times of coronavirus. Florida does not have a distillery.
All this causes a large volume of cargo trucks that bring to the state all kinds of food or other products―fuels, for example―since Florida also does not have oil and gas pipelines. These essential products are excluded from all types of quarantines. "The lines at the Georgia and Louisiana border are intense, but not endless. Everyone is subjected to intense scrutiny. With trucks there are no big problems. What delays travelers is that they must demonstrate why they want to enter Florida," a National Guard spokesman, George Anderson, explained to OnCuba.
According to the source, people frequently don't understand the reasons for the entry ban given that the governor refuses to proclaim a curfew or a formal entry ban. In fact, on Monday DeSantis limited himself to ordering people to stay in their homes until further notice, a decision that is particularly oriented towards South Florida, where the highest incidence of the coronavirus is recorded.
According to former Hialeah Mayor Democrat Raúl Martínez, who became the host of a popular radio program in Miami two years ago, the governor's decision is due to the desire to please President Donald Trump, one of his main followers, since at least Miami Beach, the cities of Miami, El Doral and Hialeah have proclaimed curfews. Miami-Dade County Mayor Carlos Giménez, another Trump supporter, also has not proclaimed the curfew. He merely suggested quarantine, though he closed down all unessential businesses in the metro area. Giménez, already at the end of his term, aspires to the federal Congress, needs the support of the president, and this is a good opportunity to please him in order to obtain that support.
Passage to Key West is closed
Meanwhile, following orders from the local authorities, Monroe County, south of Miami-Dade, is closed to visitors. Police are also scrutinizing those who want to enter the Florida Keys, whose main islet is Key West, a must-see for tourism and recreation. Monroe is one of the counties with the lowest number of people affected by the coronavirus, with just 26, and no deaths in just over 77,000 inhabitants.
According to the Monroe Sheriff's Office, the ban on entering the keys began last Friday. During the weekend, the police prevented the entry of 788 cars and some 2,000 people. This Tuesday morning, 1,600 cars were also prevented from entering Monroe. Before the implementation of the measure, said the Florida Department of Transportation, traffic flow had already started to drop for this time of year, representing only between 47% and 49%. But now it fell between 23% and 26%. There are two possible means to enter the cays: having a sticker issued by the municipality or a federal document such as a driver's license with an address on the keys.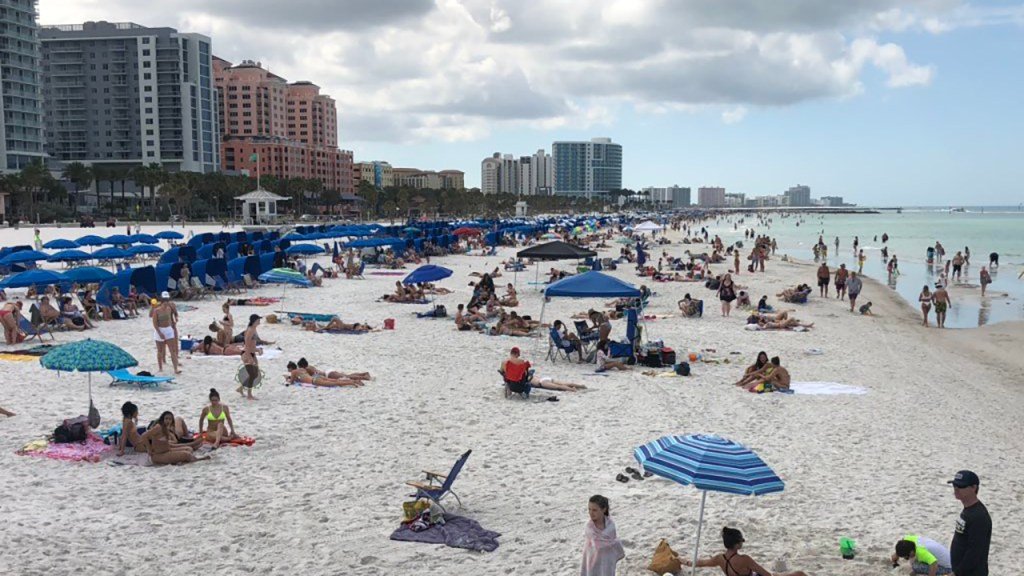 Disobedience
Meanwhile, although Florida's beaches are closed, municipal governments also don't have the capacity to control the implementation of all orders to stay at home. On Monday morning the traffic on Eighth Street before entering the Everglades was more intense heading west, where there are many beaches that are very popular with the public, and that seem to have little vigilance. These are beaches located on the west coast of the Florida peninsula in small cities like Naples and Cape Coral. Or further north in the Saint Petersburg area, Clearwater's beach.
In Naples, Collier County, which has 100 cases of coronavirus and one deceased, municipal police are trying to remove people from the beaches after the closure order, but local radio stations have said that this is a titanic task because the municipality is sending its employees home and very few are patrolling, perhaps also because there are no clear instructions on how to make the arrests or the fines to apply.
Drive-through testing
On the other hand, drive-through testing sites across the state, particularly in Miami-Dade and Broward, are yielding more accurate results. This Tuesday at noon, according to the state Department of Health, Florida had 6,338 cases of coronavirus, 6,096 are hospitalized, 772 have been hospitalized and 77 deaths were registered.
In Miami there are 1,926 cases, ranging in ages between 2 and 101 years, and 6 deaths.