Barack Obama came back after almost two years of absence to energize the Democrats' bases and try to mobilize his vote for the midterm elections, to be held next November. It is true: as a rule, the outgoing presidents have not interfered or criticized the policies of their counterparts, at least while they are in office.
But this is no longer the case. He has put on his armored suit again and not resorting to euphemisms or ellipses but rather naming the things from his perspective, which is like saying from the other side of a divided country. A strategist has said it: "This election is going to be all about Donald Trump. If you're going to enter the ring, you have to name your enemy." And that's exactly what he has done. Calling him a trafficker in fear, a demagogue who promises "simple solutions to complex problems." But, at the same time, making it clear that Trump is "the symptom, not the cause" of one of the problems that Americans are witnessing today: authoritarianism.
https://www.facebook.com/HuffPostPolitics/videos/291338415027318/?t=0
His Party's high command has commissioned him to lay on his charisma and with this contribute to rolling back the defeat in a presidential election in which the yellow imposed itself against all odds, and against all forecasts. "I need you," said Obama to thousands of his followers during a demonstration in Cleveland backing the candidate for governor of Ohio, Richard Cordray. "But what's most important is that the country needs you," with which he seemed to evoke a famous speech by John F. Kennedy. His message, very clear: staying at home, washing their hands, crossing their arms is not the way out if they want to snatch the Republicans' majority in Congress: they have to go out and vote.
For November, the forecasts are shaping up favorably for the Democrats in a scenario marked by a president consumed by the Russian plot, Mueller's investigation, the corruption and sex scandals, the administrative chaos, the sentencing of two members of his electoral campaign – George Papadoupolos and Paul Manafort – and an ex personal attorney, Michael Cohen, who has proclaimed the Declaration of Independence once he fell into the hands of the feds.
The graphs place the Democrats, for example, as favorites to win the Senate seats for Nevada and Arizona, and give Senator Joe Manchin broad possibilities of retaining his seat for West Virginia. Claire McCaskill, from Missouri, and Heidi Heitkamp, from North Dakota, are around that same road.
If you still don't think the midterms will affect you, @BarackObama is back to spell out just how important they are pic.twitter.com/5dghmZwp2m

— NowThis (@nowthisnews) September 8, 2018
But there are questions. The following is just one of them: young women and from the left who belong to the generation of the millennials are among the Democratic candidates to different levels. Alexandria Ocasio-Cortez started off by winning the primaries in New York's congressional district 14, also against all forecasts. But there are also Colombians Jessica Ramos, Julia Salazar and Catalina Cruz, from Queens and Brooklyn, the latter the first dreamer to be elected to a public post in the Big Apple. They all mark a phenomenon that points to, first, women's emergence and, second, the growing Latino awareness about the need to participate in the electoral process to resist Trumpism. This is an unexplored territory, once self-identified with a democratic socialism which many Party members situate as out of the walls.
https://oncubamagazine.com/noticia/latinas-impulsan-record-candidatas-elecciones/
Something similar could be said about the candidate to governor of Florida, Tallahassee Mayor Andrew Gillum, the first Afro-American to run for the post and a follower of Bernie Sanders. Correlatively, his agenda includes subjects/problems like Medicare for all, the 5.5% to 7.75% increase in the state's corporate tax rate, raising the minimum wage from $8.25 to $15.00 the hour and an exhaustive migration reform that includes the abolition of ICE to replace it with a more compassionate agency.
There's already talk of a "blue wave." In the Senate, the statistics favor the Democrats. Although nothing is inexorable here, a retrospective view reveals that, in effect, from 1950 to 2010 the President's Party has lost the majority in the Senate. But in the House the Republicans seem to be in a more solid position than what at times certain analysts suggest or affirm.
This doesn't mean that the Democrats don't have possibilities of obtaining the 24 necessary seats to snatch the control and get the majority, but endorsing the idea of that wave, as a sort of tsunami, in any case seems premature. That map is frequently drawn up by those who predicted a "blue wall" against Trump in 2016 and however lost – for example in Michigan, Ohio, Wisconsin and Pennsylvania.
For the record, the Republican National Committee answered Obama by saying that the ex-president was again in the limelight when he defended that the U.S. was on the wrong path. It added that 2016 ended, but he continues rejecting the millions of voters throughout the country who were against his policies and in favor of President Trump's plan for record tax cuts, new jobs and economic growth.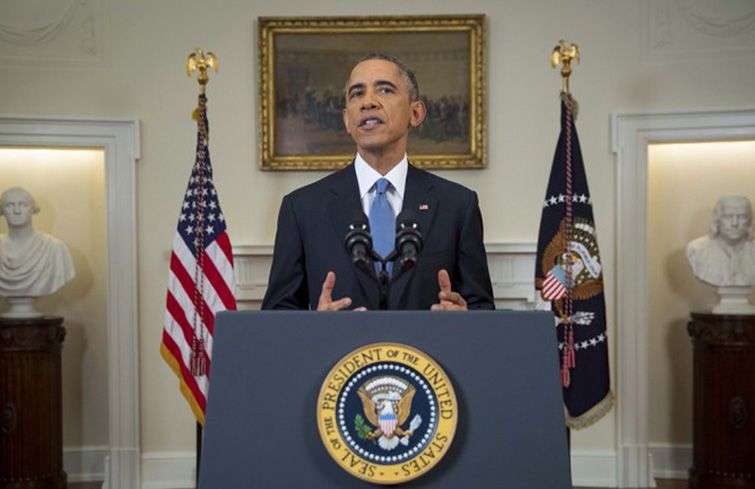 And it also said that the Democrats can have a new resistance in chief in the electoral campaign, but they will need more than a message of resistance and obstruction to win in November.
Only after then will it be known with certainty if his comeback worked. However, something is evident: it will have very scarce or no impact on that conservative base that has decided to envelop Trump in a cloak of asbestos and give him a 90% approval, rain or shine. His January 2016 bragging when he said he could stand on Fifth Avenue in New York and shoot someone and he wouldn't lose any voters today rings in many ears like a nightmare.
Authors