The Havana Film Festival is about to come to an end so you better go this weekend to the movie theaters, to National Hotel or to the parties in La Chorrera. Live the Festival like if it was the last one. Here you'll see what's for the weekend.
Down below is the Music, where we recommend Dayme Arocena's concert tomorrow in Mella Theater, and Haydee Milanes as well on Wednesday. Told you Mella Theater was on fire this month. Run for the tickets.
In Visual Arts there're several inaugurations and what brings the 7th Salon of Cuban Contemporary Art. In Dance, the premier in Cuba of "Carmina Burana" interpreted by Danza Contemporánea de Cuba, you can't miss it. Also the presentation of Ballet de Lizt Alfonso with "1, 2, 3 … todos a escena". There will be Theater too, just in case you want to see something on stage, and Literature and the FAC proposals as always.
A lot with too much again this week. Schedule your choices and that's it. See you around!

Last days
The award night is getting closer, but you still have this weekend to watch some movies. Here you have the program. Click here.
What OnCuba brings

Here you have the complete OnCuba coverage of the 39th International Havana Film Festival. Just click.


There´s still time
Cuban sounds in Cuba
Tomorrow, waiting for Saint Lazarus day and with the same old guy's ashe, Dayme Arocena invites to her concert in Mella Theater, at 8:30 p.m., dressed in white and barefooted. Cubafonía will sound different because is in Cuba for the fist time. If you are the winner of our contest you have your sits secure. If not, go and get the tickets fast. Don't miss this for the world!
Jazz time
Previous to the Jazz Plaza, from January 17th to 21st, the Popular Music National Center proposes this Jazz Days from December 13th to 17th in Mella Theater. On the 16th it will take place the mentioned Dayme Arocena's concert. On Saturday 17th, Maestro Joaquin Betancourt and his Young Jazz Band will present their second album "Mambazo". The Mella Theater Gardens will offer a collateral program from 6 p.m. to 7 p.m. where with jazz and rumba jams.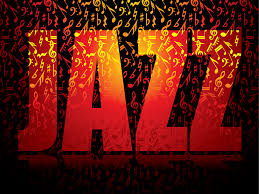 Dayramir in New York
On December 16th, in the Ideal Glass, one of the contemporary art galleries in the East Village, New York, it will be the presentation of Daymir González album which will be officially launch in February 23rt, 2018. Gates will open at 8 p.m., the concert will start at 9 p.m. and after a party with Edgaro DJ.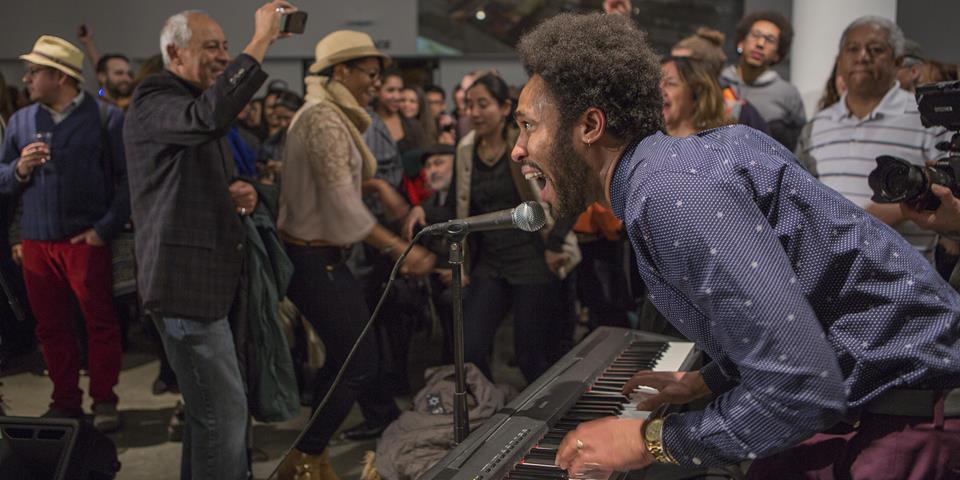 Haydée's 15
Haydée Milanés concert with guests to celebrate her 15 years of artistic life as a solo artist next Wednesday 20th, at 8:30 p.m., in Mella Theater. She will be presenting her CD "Amor" together with Pablo Milanés.


Kelvis in the corner
Cuban singer-songwriter will be tomorrow, at 10 p.m., in the Corner Café.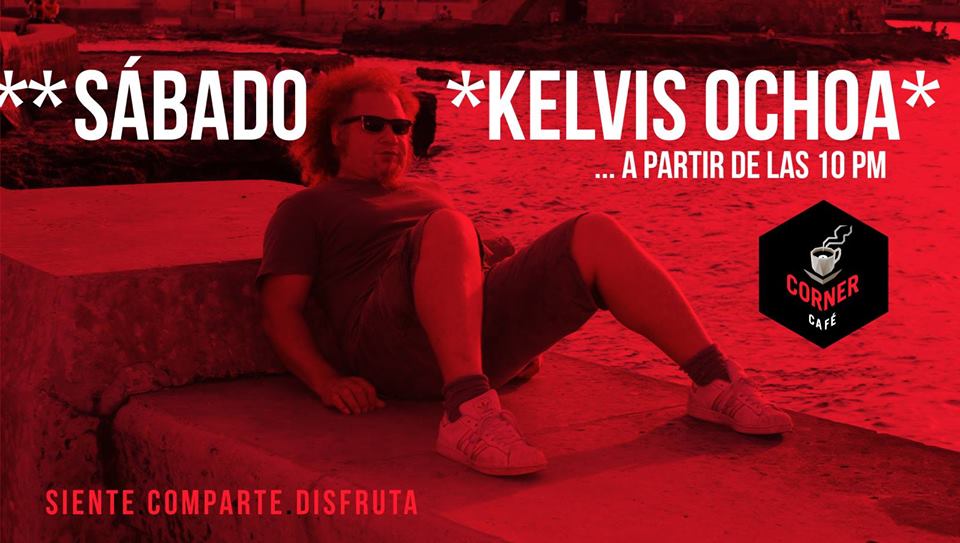 Dinner or concert?
Leoni Torres will be in concert tomorrow in Salon 1930 of the National Hotel, at 8 p.m. Check the prices and choose. Book now.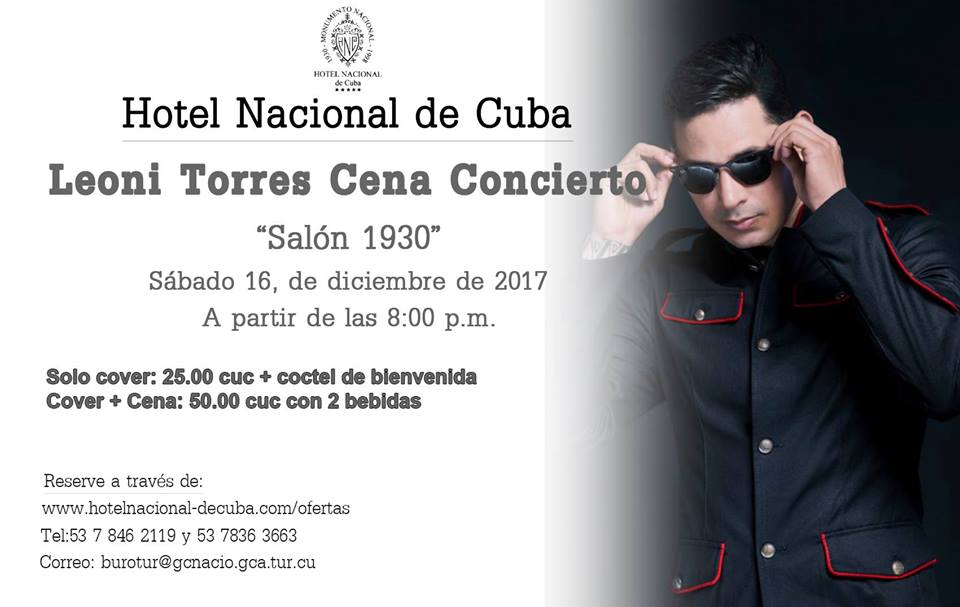 Picadillo in the corner
Picadillo today in Corner Cafe, at 9 p.m. Picadillo is a Latin alternative music band formed in Madrid n 2010 by Cuban and American musicians. Their stile is a fusion of Cuban music with jazz, blues, rock and elements of New Orleans. With a vintage and fresh touch, Picadillo have represented their work in diverse stages in Italy, Spain, USA, Canada and Cuba.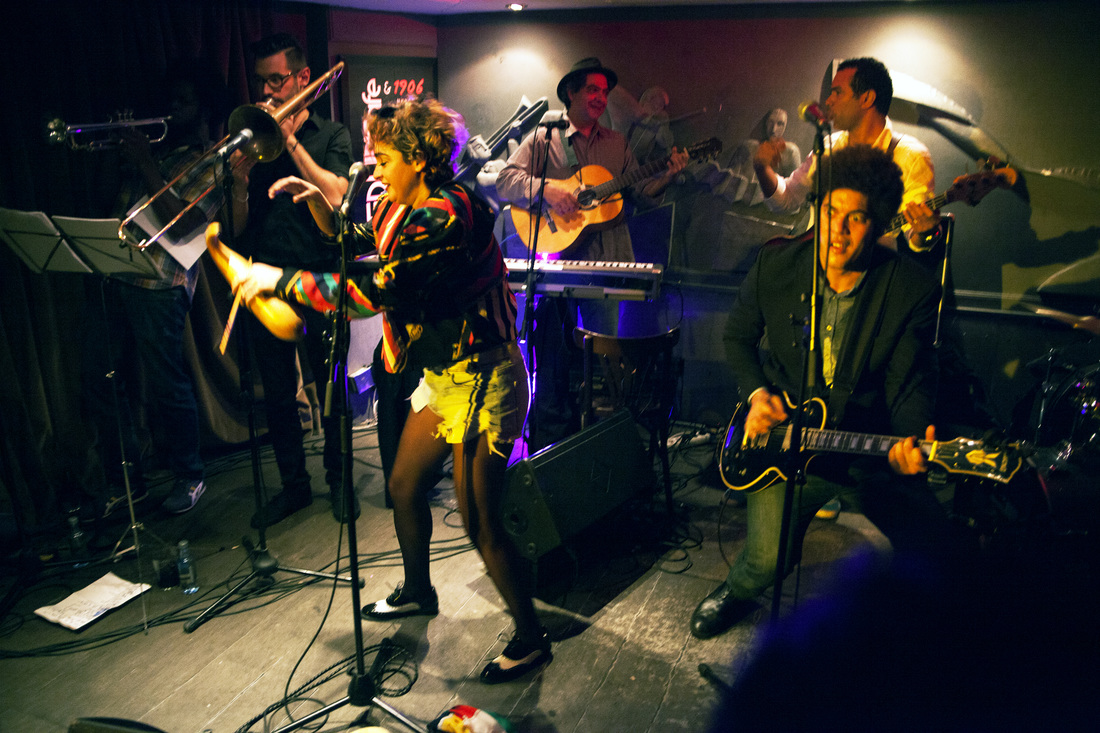 La Cruzada is closing the year
For the first time La Cruzada will be in BuleBar 66 to celebrate the end of the year. This will take place Wednesday 20th, at 10 p.m. Tickets cost 50 MN and there're options to book a tables for 4 per 200 MN, including entrance and minimum cover with drinks and snacks. Call to +53 52731029.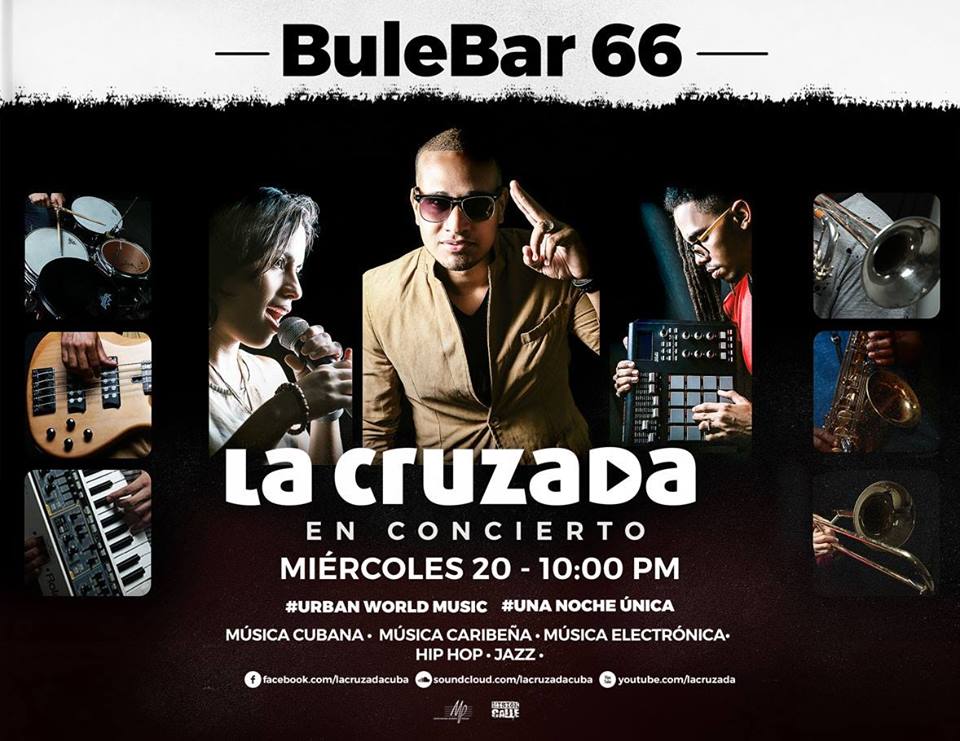 Carmina Burana in Cuba
During this weekend, in usual hours, Garcia Lorca Hall of Havana Great Theater will present for the first time the super production Carmina Burana. With choreograph by George Cespedes to Danza Contemporanea de Cuba, this premier will include participation of National Synphonic Orchestra and choruses Nacional and Infantil, directed by Enriquez Perez Mesa and Digna Guerra respectively. Also will be in the show the soprano Milagros de los Ángeles, the baritone Ulises Aquino and the tenor Harold Lopez Roche.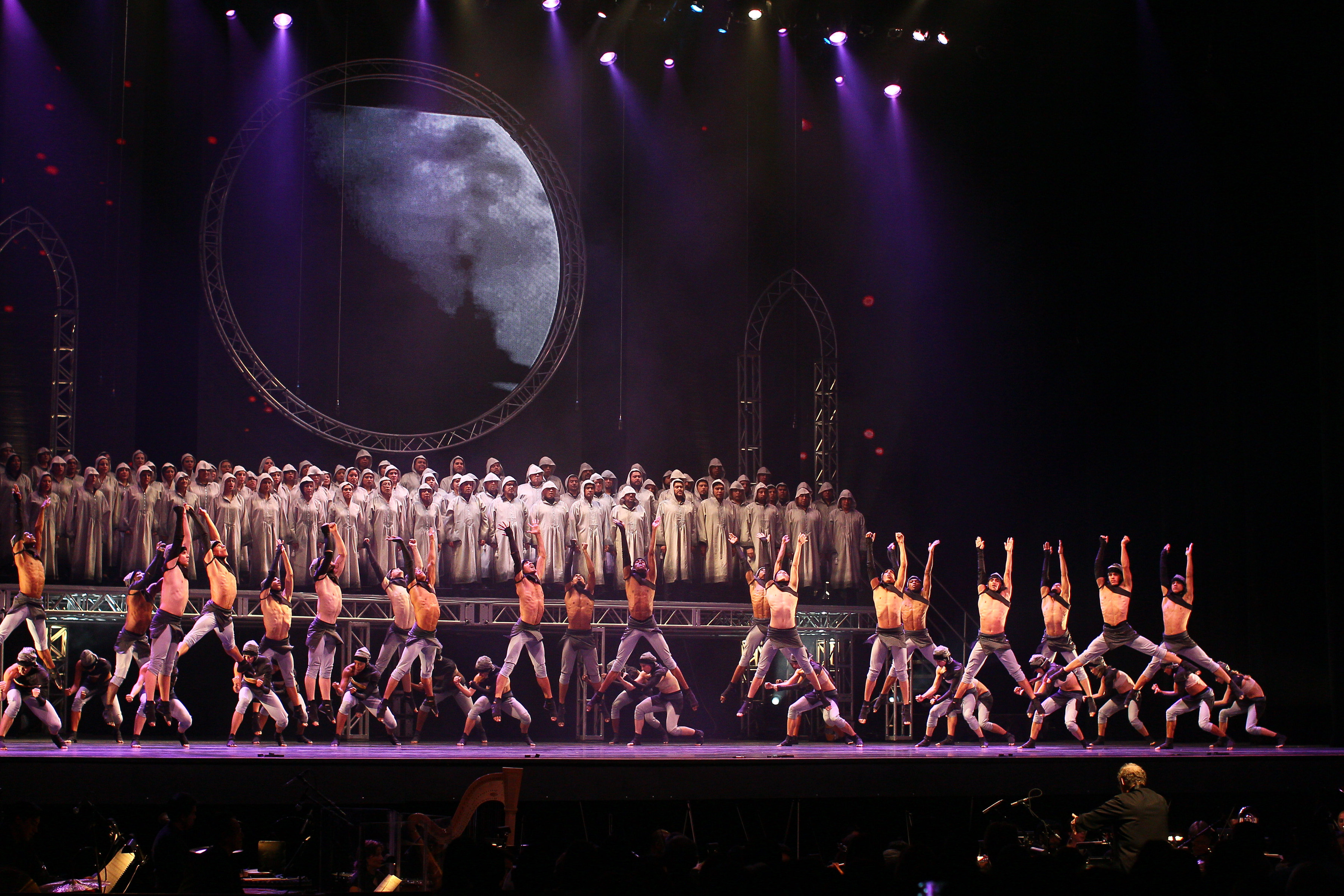 1, 2, 3…¡Todos a escena!
This weekend, in Avellaneda Hall in Cuba National Theater, usual hours: 1, 2, 3…. Todos a escena! Lizt Alfonso Company special invitation.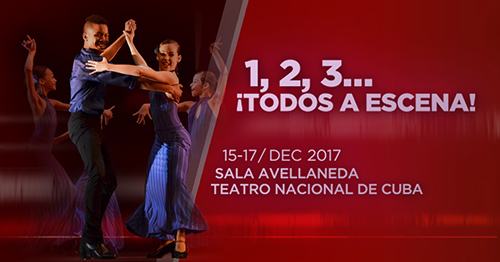 Calendar 2018
Presentation of Calendar 2018 "Musica autoctona cubana", of the Spanish Cultural Council in Cuba, next Wednesday 20th, at 5 p.m., in the Embassy (Carcel # 51, corner to Zulueta, Old Havana). Attendance confirmation is required trough: [email protected]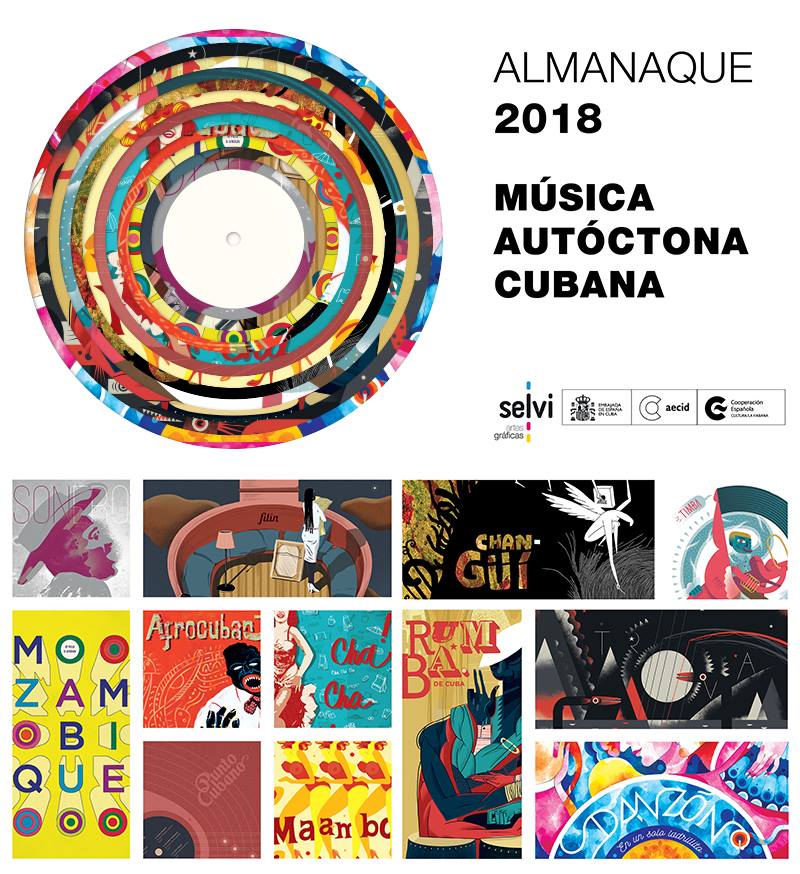 The calendar has different printing and finishing techniques and each month design correspond to:
January. Son. Idania del Río
February. Filin. Yaimel López
March. Mozambique. Eric Silva
April. Jazz Afrocubano. Marwin Sánchez
May. Cha cha chá. Yahilis Fonseca
June. Punto cubano. Naná Ramírez
July. Mambo. Darwin Fornés
August. Changüí. Ramiro Zardoya
September. Timba. Andy Paneque
October. Rumba. Raúl Valdés (Raupa)
November. Trova. Pablo Montes de Oca
December. Danzón. Karen Rivero

Daily gratitude
This is the title of personal expo by recognized Chili artist Ciro Beltran. It will be inaugurated today in Lloyd's Register building (B St. # 310 between 13 and 15, Vedado), at 6 p.m. Later, at 8 p.m., the artist will offer a cocktail in Barbra, restaurant located in the corner of Zanja and Luzena, Central Habana.


7th Salon of Contemporary Cuban Art
Art from Mozambique
Exhibition "Mozambican Art in Cuba" will be inaugurated today, at 8 p.m., in Orígenes Gallery in Havana Great Theater. This is the invitation: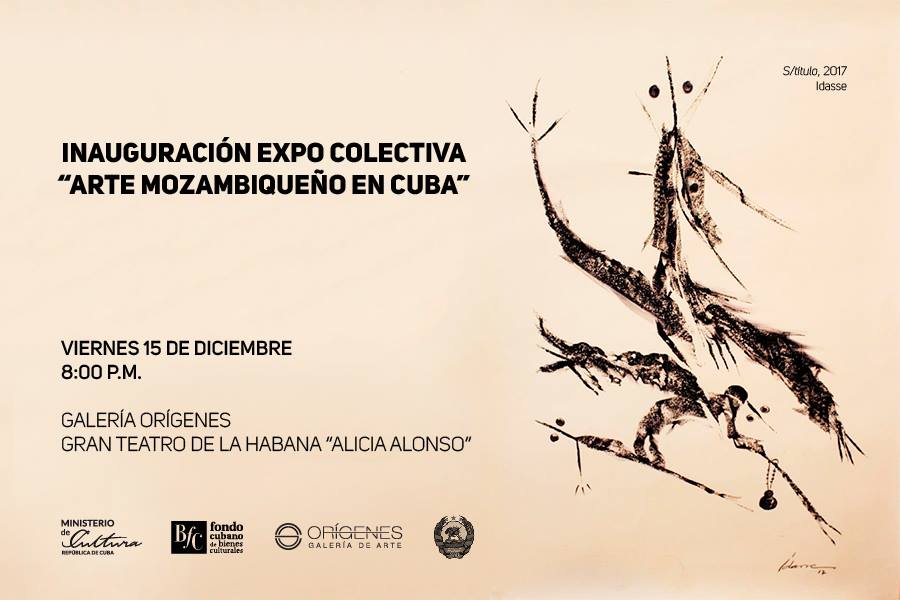 "El Sacrificio" in the theater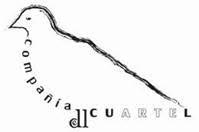 "El Sacrificio", play written by Reinaldo Montero and directed by Sahily Moreda with Compañía del Cuartel, will be on stage in Ludi Teatro (I St. between 9th and 11th, Vedado) today and tomorrow at 8:30 p.m., and on Sunday at 7 p.m.

Argos on weekend
"Sistema" is still on stage in Argos Teatro (Ayesterán and 20 de Mayo, Cerro) during the weekend in usual hours. Then they will stop until next year so go now.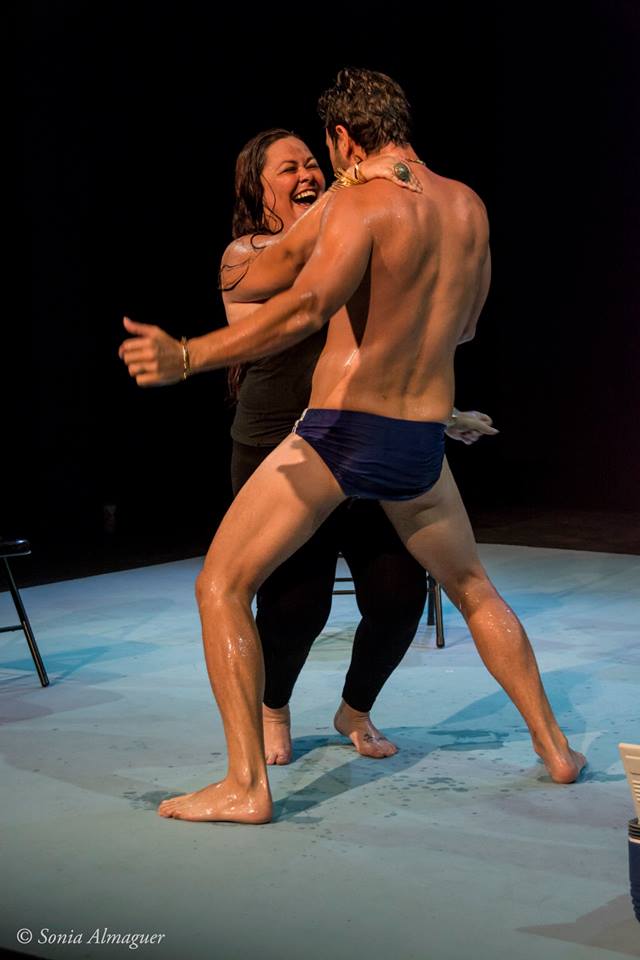 Let's go to FAC
FRIDAY, DECEMBER 15TH
9 p.m.: Session DJ Producers: Iván Lejardi. Nave 1.
9 p.m.: Dance: Showing of the piece Körper, by German choreographer Sasha Waltz. Nave 3.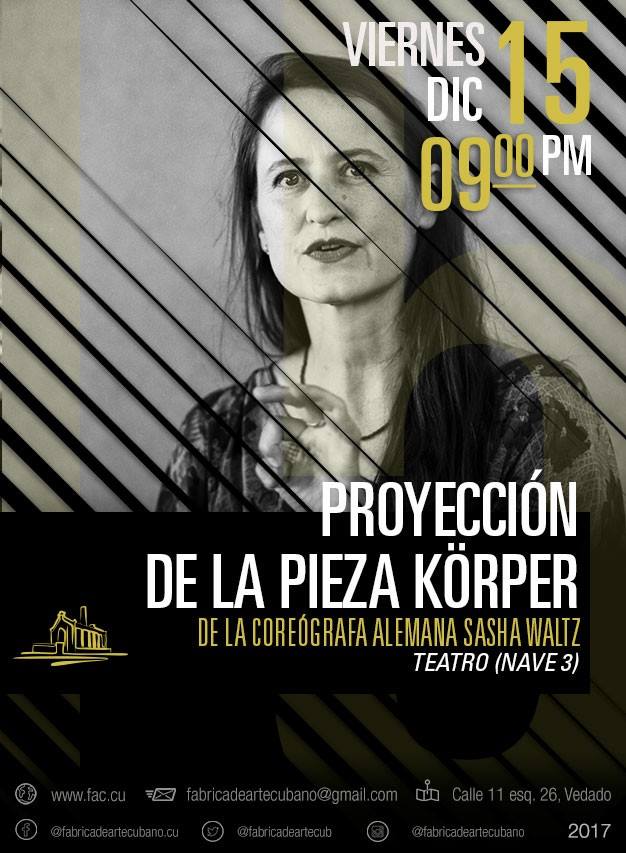 11 p.m.: Manos in concert. Manos is the collaboration between two Cuban awarded rumba and jazz groups that show their vision of the Cuban music using percussion. Nave 4.
12 a.m.: Open Jam with Ciclo Estrella. This is a project lead by composer and flute player Josue Borges Maresma to show the fusion of jazz with Cuban roots. Nave 1.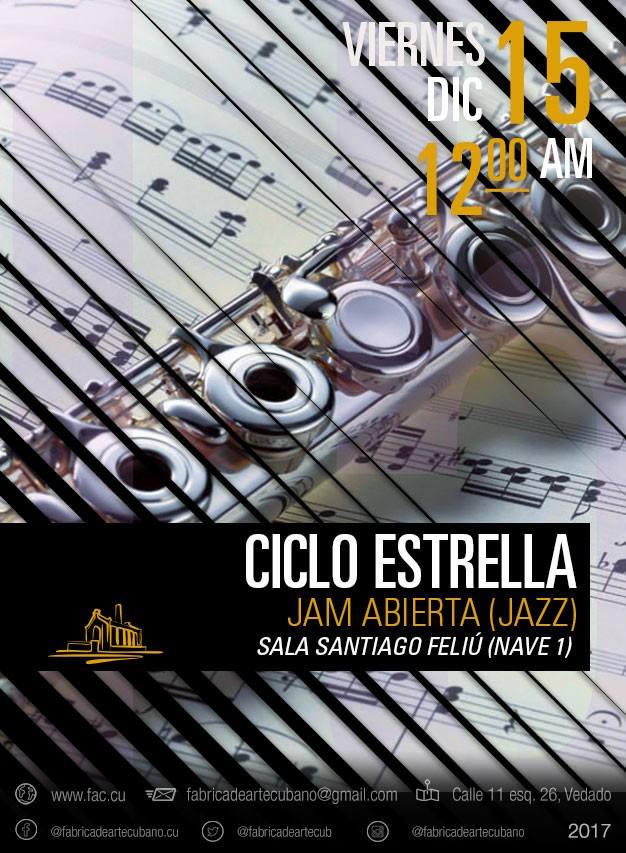 SATURDAY, DECEMBER 16TH
9 p.m.: Session DJ Producers: Iván Lejardi. Nave 1.
9 p.m.: Fashion: Collection "Rachel, the piano and the sea". Designer Yosvany Martínez will show contemporary designs with crochet techniques. Nave 3.
11 p.m.: Nube Roja in concert. Nave 4.

12 p.m.: Rock and Roll in FAC with Aire Libre concert. Nave 1.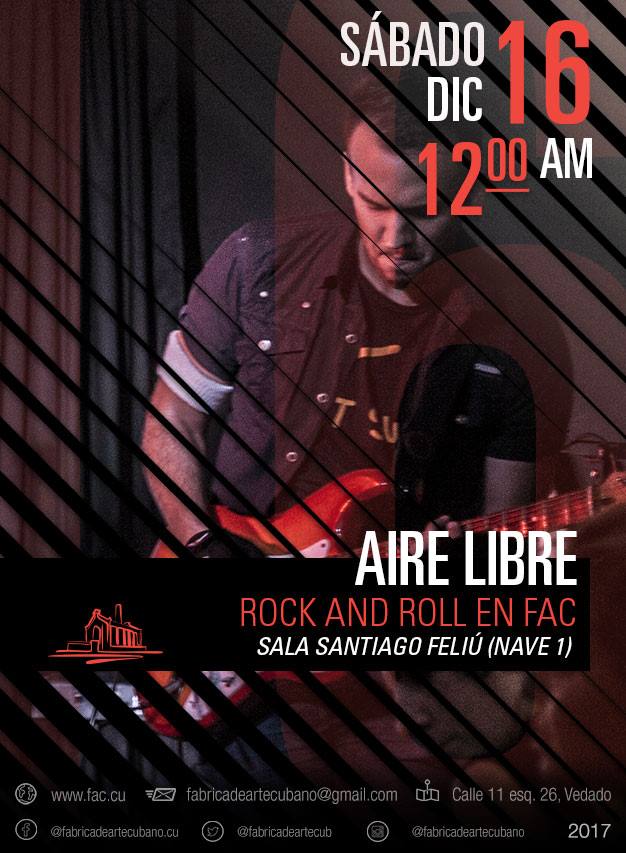 SUNDAY, DECEMBER 17TH
9 p.m.: Play: Remolino en las aguas. Directed by Tony Díaz this play is about the life of the well know singer La Lupe. Nave 3.
10 p.m.: Homagno in concert. Nave 1.
10:30 p.m.: AND Music. Guest: Yissy García.
11 p.m.: Yissy & Bandancha in concert. Nave 4.
11:30 pm.: Session DJ Producers: Iván Lejardi. Nave 1.

Spanish in Cuba
The Spanish Embassy in Havana invites next Tuesday 19th, at 5 p.m., to the presentation of the book "Españoles en Cuba: Retratos de Familia". Music will be on Flamenco Company Ecos. Attendance confirmation needed trough: [email protected] Wait for the response.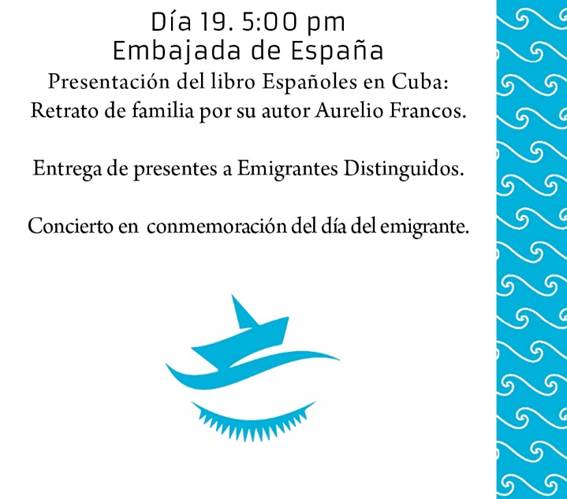 Authors