The Cuban Telecommunications Enterprise S.A. (ETECSA) will market, as of this Wednesday, a new internet package of 400 MB worth 5.00 convertible pesos (CUC) for prepaid customers of that service.
At the same time, the state-owned telecommunications enterprise announced incentives for users who surf the 4G/LTE network, who will receive a bonus when they purchase 400 MB, 600 MB or 1 GB packages, the Cubadebate digital site reported.
The additional bonus will be the same amount of MB of the package purchased, but for exclusive consumption through the LTE network. The company clarifies that this additional data total will be consumed in an area that has 4G coverage.
In addition, as usual in previous ETECSA packages, it will also have 300 MB of national navigation.
Desde el 4 de diciembre: Pondremos a disposición de nuestros Clientes un Nuevo Paquete de Datos para navegar en todas las redes. Por 5 CUC disfrutará de 400MB + 300MB de Bono navegación nacional con 30 días de vigencia a partir de su primer uso. #CubaInformatiza #CubacelEnLínea pic.twitter.com/9WVvTOWJIH

— Cubacel (@Cubacel_ETECSA) December 2, 2019
The new offer goes on the market just over a week after announcing the highest and most expensive data packages that the enterprise sells to its customers, which generated a wave of criticism on the social media.
Tania Velásquez, first vice president of ETECSA, said this Tuesday at a press conference that the new measures are aimed at achieving "greater use of the 4G network by users who consume the cheapest packages."
The official said that almost all of Havana, as well as the provincial capital cities, have access to that platform.
That infrastructure includes 473 radio bases of the 4G network, and it is expected that 2019 will close with 500 radio bases installed throughout the Cuban territory, except in the province of Cienfuegos, whose investment is projected for the beginning of 2020, she said.
Regarding the general state of telecommunications in Cuba, Velásquez explained that there are 1.4 million landlines, 5.7 million mobile lines; as well as 1,161 navigation rooms, and 1,034 sites with Wi-Fi connection and 124,000 users of Nauta Hogar, which allows surfing at home.
The Internet service on cell phones began on December 6, 2018, when only 1.4 million mobile lines met the conditions to connect through the 3G network. Before completing the first year of its launch, there are already 3.07 million mobile lines with access to data.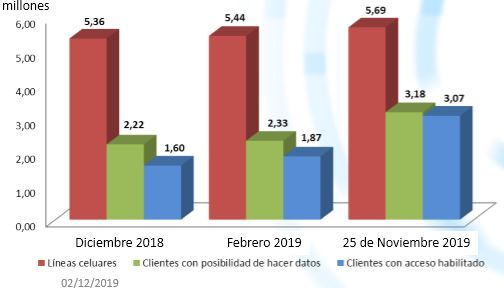 *Caption:
Million 
December 2018
February 2019
November 25, 2019
Cell lines Customers with data possibility Customers with access to data
Growth since December 6, 2018 of the number of lines with Internet service. Graphic: Cubadebate
——————————
ETECSA requires that customers who wish to connect to the Internet through data must have a prepaid line, equipment that supports 3G technology at 900 MHz frequency, and have accessed the data through Nauta APN on some previous occasion.
In the case of 4G/LTE, users must have equipment that supports LTE at 1800 MHz and have a uSIM.
Authors