The city, lived at different rhythms or cadences, is not the same. From a vehicle it is nothing more than a fleeting and confusing succession of lines, colors, lights and shadows that are always left behind. Another, on the other hand, is the one discovered by the calm walker, who can perceive textures, smells, murmurs and conversations, the one who has glimpses of families in the gloom, sees shop windows, senses secrets, guesses fleeting caresses, surprises sighs and smiles…, it is the nearby, calm, intimate and human Havana.
Always in urban crowds the street was, in addition to a means of transit, a meeting space and for human communication. This multi-functionality meant that, at least already in the times of Rome, the sidewalk was differentiated with curbs that provided safety for pedestrians and helped to channel the waters. But the speed and amount of vehicles was still not so much that they couldn't coexist with the pedestrians.
However, the overwhelming appearance of the automobile in the 20th century made the ordinary citizen start losing public space. The sidewalks became increasingly narrower, corners were cut, public spaces became parking lots and the pedestrian crossing of streets had to be limited, regulated and sometimes diverted―above or below.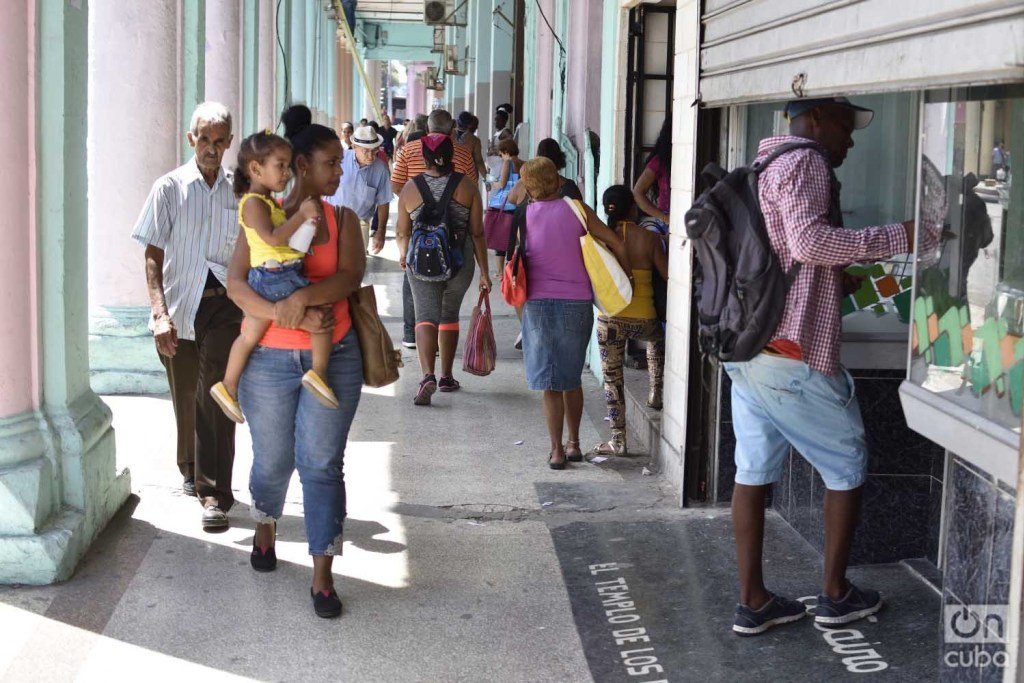 It is common knowledge that one of the aspects that best characterizes a city is the quality of its public space. What defines it is precisely its social use, understood as a place of relations, of exchange, of mutual recognition, a space for cultural or political manifestations, of collective experiences. The sidewalks are still today, together with parks and squares, the privileged space for close contact, where you can still look people in the eye, greetings are exchanged, people exchange looks, where you observe, talk, pry or simply stroll.
The city of Havana can take pride in maintaining majestic sidewalks such as the central promenades of the Prado or Fifth Avenue, those that descend to the sea on G and Paseo avenues, or very busy sidewalks such as that of San Rafael Boulevard, those of La Rampa and others with historical connotations such as the sidewalk of the Louvre Café.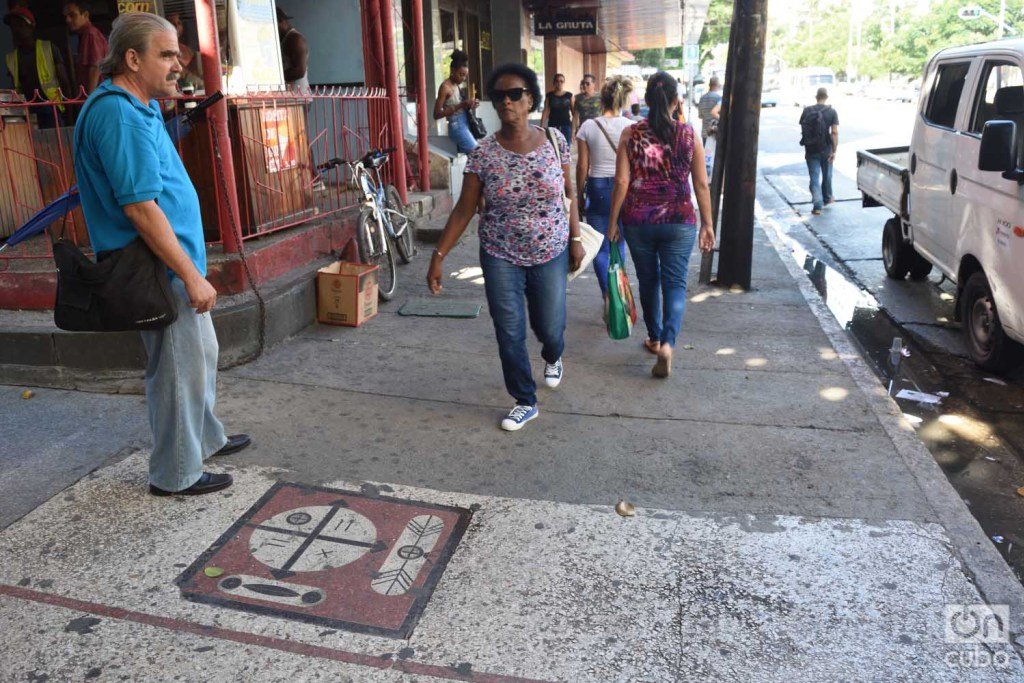 In the city there are sidewalks protected from the sun and the rain, such as the lively portals of Old Havana, Centro Habana, the Malecon or the Calzadas. There are cool sidewalks shaded by leafy trees like in Vedado or Miramar. These are sidewalks that are an integral part of the public space, close family of squares and parks, where you can walk or simply be. Fortunately, the city has been able to avoid, until now, the urban destruction that would mean crossing it with urban thruways that section the residential fabric or "elevated highways" that generate sordid inferior spaces.
Unfortunately, there are also narrow, squalid, famished sidewalks in Havana, where it is not even possible to advance forward. Too many are in a poor state, broken, uneven and with deep scars, with inspection hatches without tops, grilles and gaps that make walking along them dangerous or impossible. There are slippery sidewalks, which can lead to senior citizens' broken hips, dirty sidewalks, flooded with garbage. And, as if that were not enough, they must withstand, in addition to the passage of pedestrians, the placement of trees, poles, traffic signs, commercial signs, garbage deposits, telephone registries…that often hinder their proper functioning, reducing the pedestrians' transit space to impossible extremes.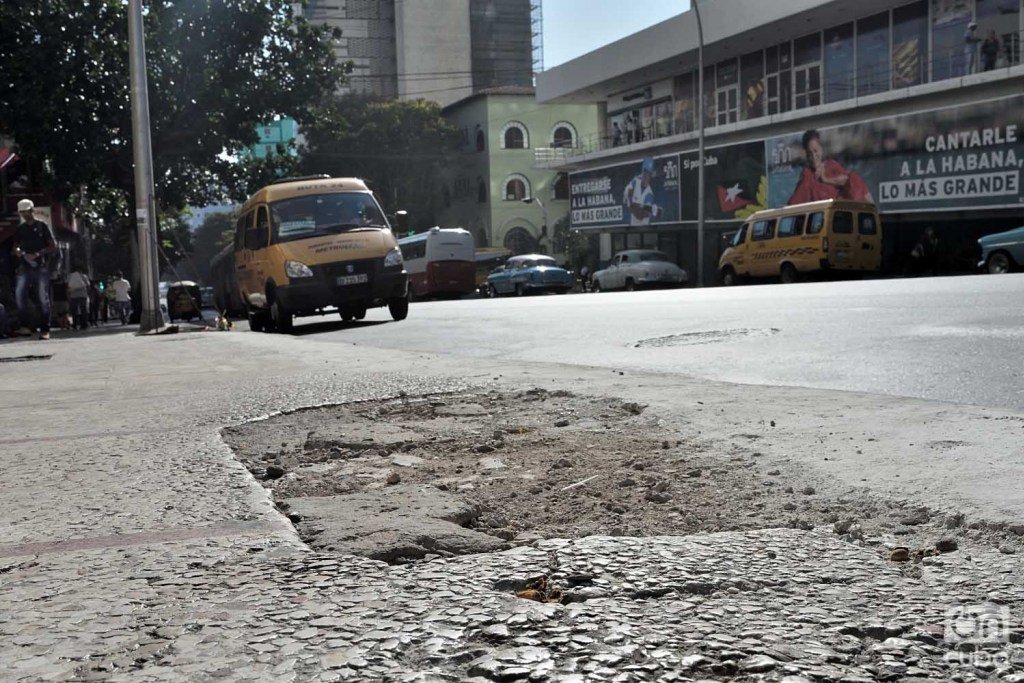 As if that were not enough, often the sidewalk space is also "appropriate" sometimes for state, sometimes for private usage. Some invade and take over the sidewalks with cafeteria and restaurant terraces in tourist areas, others install their permanent or temporary outlets, others conquer the space to park their vehicle on the sidewalk, others delimit the area in the front of their house with bars or walls that cut and prevent the passage through the portals.
At this point, the city―or, more precisely, motorization―has accumulated a considerable debt with pedestrians. It is already essential to reclaim the recovery of a greater space for sidewalks, safe pavements, adequate urban furniture, adaptations for use by people with limitations―such as children, the elderly, mothers with strollers―or people with disabilities. Why so many plans to solve the potholes and so few to fix the broken sidewalks?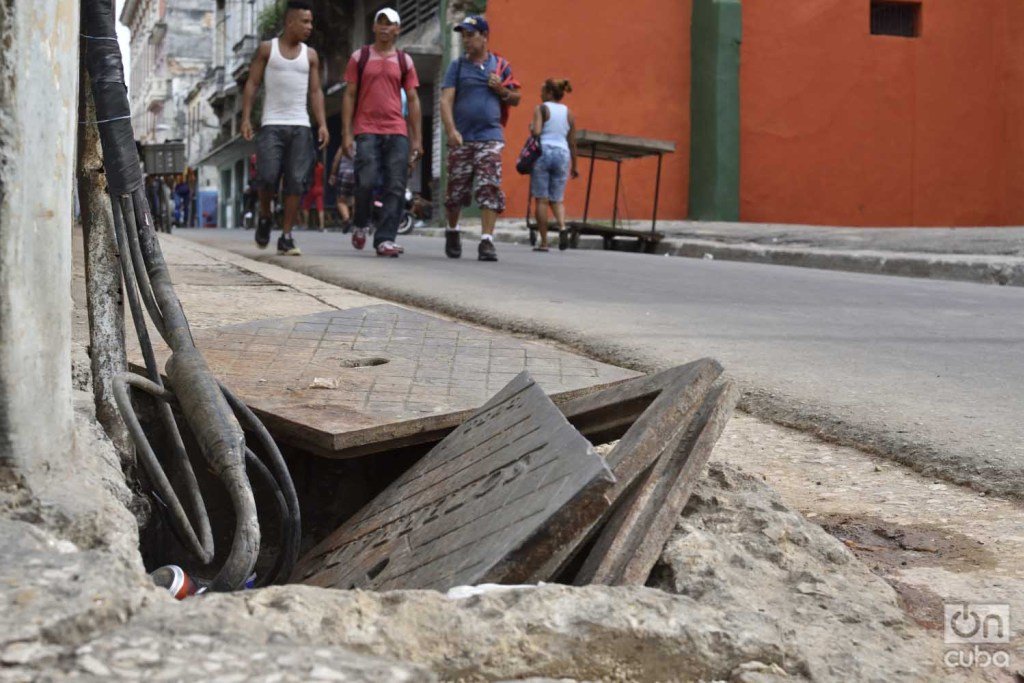 In many "developed" cities, with motorization levels 10 times higher than those in Havana, sidewalk recovery and expansion programs are being carried out. This city could easily join this process. Not only does it enjoy a relatively peaceful transit, with few parking problems. It is also a city where pedestrians naturally take over a good part of the streets, "de facto" pedestrianizing them. 
Havana people usually appropriate spontaneously the roads of the secondary streets―and sometimes also of main roads―, interrupting the temporary traffic and momentarily turning the roads into "sidewalks" where children play games, neighborhood meetings are convened, where dominoes is played, popular parties, fairs of all kinds, carnivals…or any activity that requires a public space are held.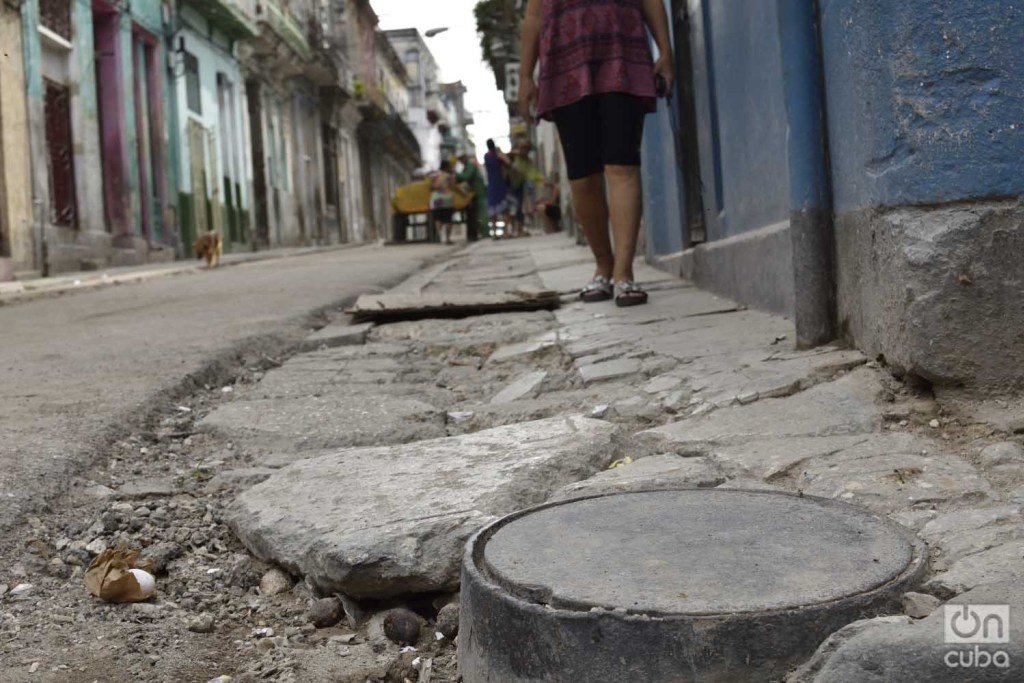 Of course, it is not about inventing or modifying sidewalks in any crazy way. Sidewalks also have their design conditions. For example, a height difference of no more than 15 cm is recommended with respect to the roadway, a minimum free width of 1.50 m., slopes of 2% for rain drainage, a non-slip finish to prevent falls, curbs for canalization and drainage for the proper evacuation of rainwater and easy cleaning; prohibition and appropriate sanctions for unauthorized cutting or breaking, space and regulations for the placement of urban furniture, ramps in the corners with slopes not greater than 10% and a minimum width of 1.20 m., a minimum height of 2.20 m. for any sign or overhanging on the sidewalk, etc. [1]
Pedestrian areas are already progressing decisively, as in Old Havana. There is a street, such as the San Rafael Boulevard, where the sidewalk goes from one side to the other, eliminating vehicular traffic. But it can be affirmed that, far from this radical solution, the proportion of inappropriate or frankly useless sidewalks, if not dangerous, is absolutely a majority. The width of the sidewalks is one of the things most mentioned about the urban quality of a neighborhood. You cannot forget that they are the sidewalks of the neighbors, of the workers, of the strollers, of those who go out to make purchases, of the students, the tourists, but they must also be the sidewalks of the children, of the elderly, of the handicapped, of the blind….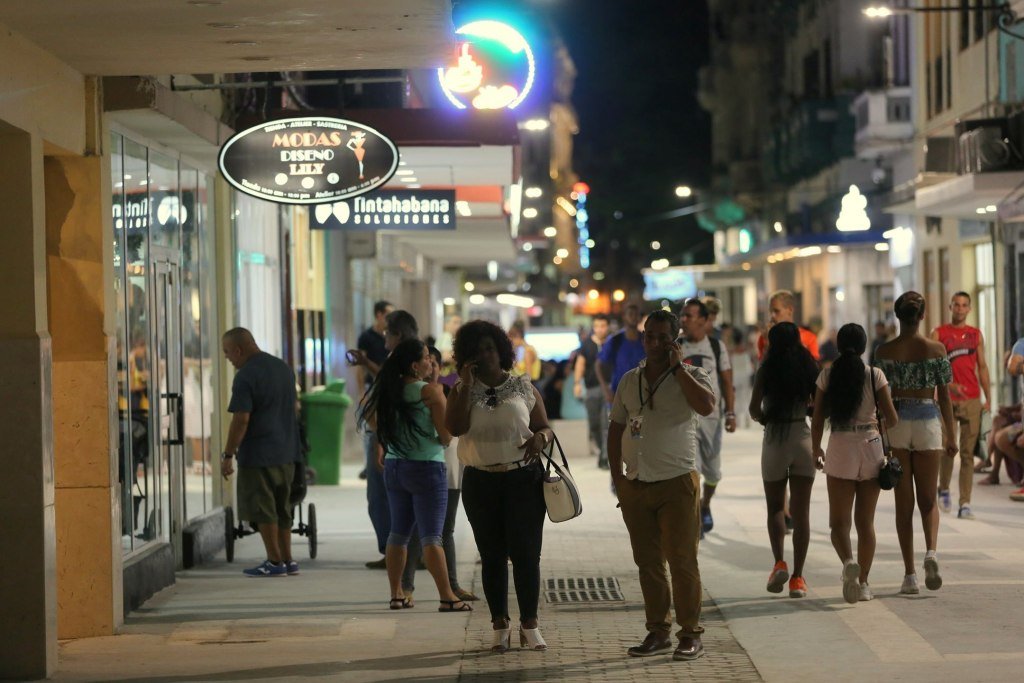 A city without people would be a dead city. [2] A park without people is not a park. A street that does not allow pedestrians to walk quietly and comfortably, may be an urban road, but not a street. We must reclaim and reconquer the natural space of the walking citizen, that is, the vast majority of Havanans. Let's take care of the sidewalks and they will take care of us.
Notes:
[1] S. JEREZ AND P. TORRES: Manual de diseño e infraestructura peatonal urbana. www.monografías.com
[2] We often forget that a city is not just stones but, above all, people. It is inexplicable that on the 500th anniversary of the city its built heritage has been highlighted so much and so little homage has been paid to numerous illustrious Havanans. Without going back, José Martí or Father Varela, and only taking into account those born in Havana, in the 20th century, we find writers such as Dulce María Loynaz, Lezama, Eliseo Diego or Padura, painters such as Víctor Manuel, Servando Cabrera, Pogolotti, Mariano or Portocarrero; sculptors like Rita Longa; architects like Mario Romañach, Nicolas Quintana, Antonio Quintana, Fernando Salinas or Mario Coyula; dancers like Alicia Alonso or Carlos Acosta; photographers like Korda; movie people like Santiago Álvarez, Titón or Perugorria; athletes like Kid Chocolate, Capablanca or Ivan Pedroso; personalities such as Fernando Ortiz, Mella, Raúl Roa, Camilo Cienfuegos, Eusebio Leal; scientists like Álvarez Cambras or Miyares Cao; and a long list of musicians: Ignacio Piñeiro, Bola de Nieve, Rita Montaner, Chano Pozo, Lecuona, Celia Cruz, Elena Burke, Omara Portuondo, Leo Brouwer, Juan Formell…. We would easily reach 500 too! Although… are Havanans born here or those who make Havana? But that would be another topic…and a much longer list!
Authors