Silvio: 84 times and more into the neighborhoods
Today at 7 pm will begin Silvio Rodriguez's concert in San Francisco de Asis Square, Old Havana. Trovarroco, Niurca Gónzalez, Jorge Reyes y Oliver Valdés will join Silvio together with Frasis Group. This will be the 84th neighborhood concert.

Descemer's Intimate concert in Miami
Tomorrow at 10 pm Descemer Bueno will perform in Habana 1957 Cuban Cuisine in Miami. According with the Cuban musician this will be "a concert to enjoy, very intimate, acustic. It will be something to remember and to have an unforgettable time listening tracks such as: "Tus luces sobre mí", "Bailando", "Ella", "Súbeme La radio", "360 grados", "Loco", "Mátame and more"."

Pedro Luis Ferrer in concert
The very well known singer-songwriter Pedro Luis Ferrer will offer a concert next Sunday, July 2nd at 8:30 pm in Mella Theater. This time his daughter Lena will join him as well as other musicians.
Issac Delgado Special Concert
Tomorrow at 10 pm in Don Cangrejo nightclub Issac Delgado will present his "Special Concert" along with the Arce Project.
Eliades Ochoa in concert
Today at 9 pm the Cuban Tres player Eliades Ochoa will perform in the Habana Café room at Meliá Cohiba Hotel.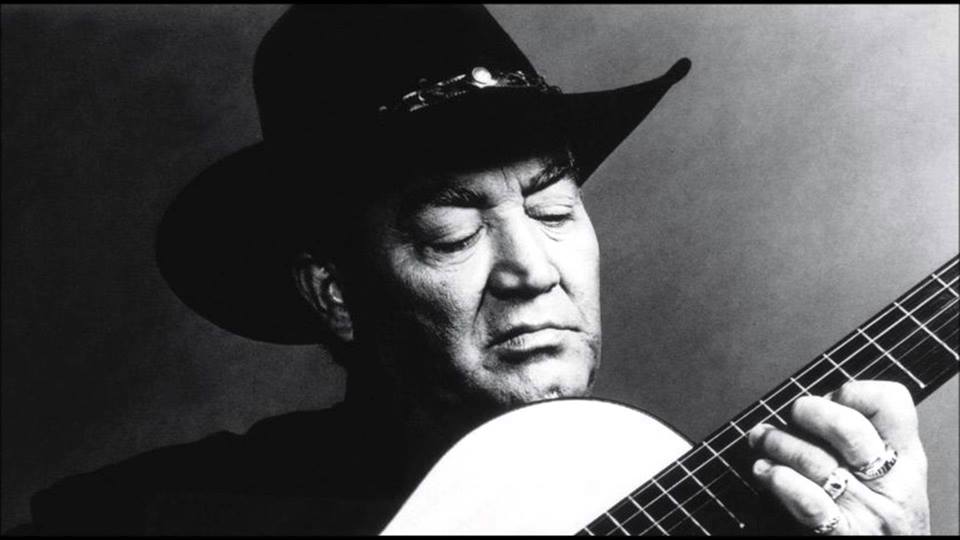 Buena Fé today and tomorrow


Chrysler Hybrid in Venice
Cuban artist Esterio Segura is part of exhibition "Intuition Times" in the Cuban Pavilion at 57th Venice Biennale.  Segura shows his work "Hybrid Chrysler", a 1953 black Limo Chrysler with plane wings. The curators are Jorge Fernández, Director of Cuban National Fine Arts Museum, and José Manuel Noceda, Curator at Wilfredo Lam Contemporary Art Center. The piece will be in Palazzo Loredan exteriors until November 26th.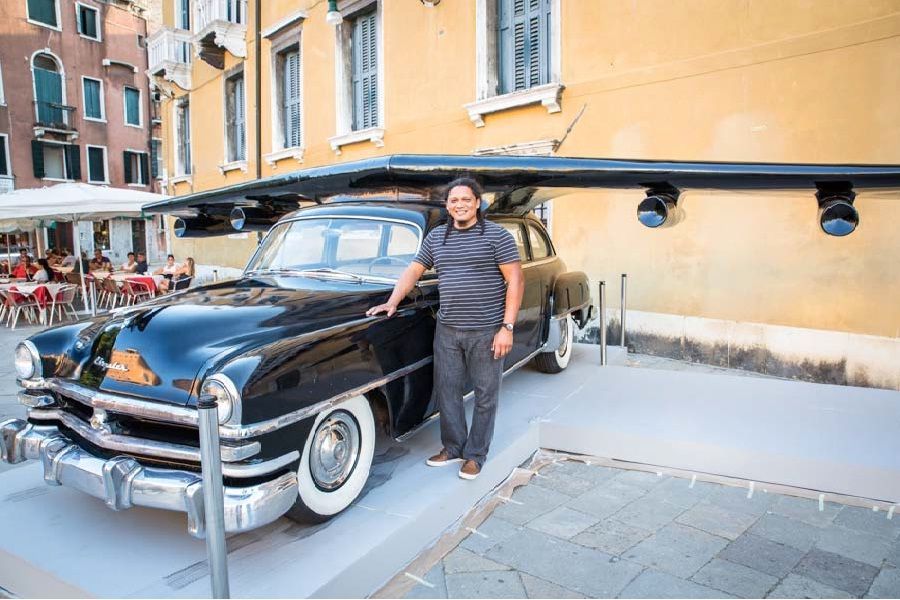 Praise: Belkis Ayón in New York
The Manhattan Neighborhood Museum opened the exhibition "NKame: A Retrospective of Cuban Printmaker Belkis Ayón". It includes five essential pieces of Ayón's artistic career and it will be shown until November 5th.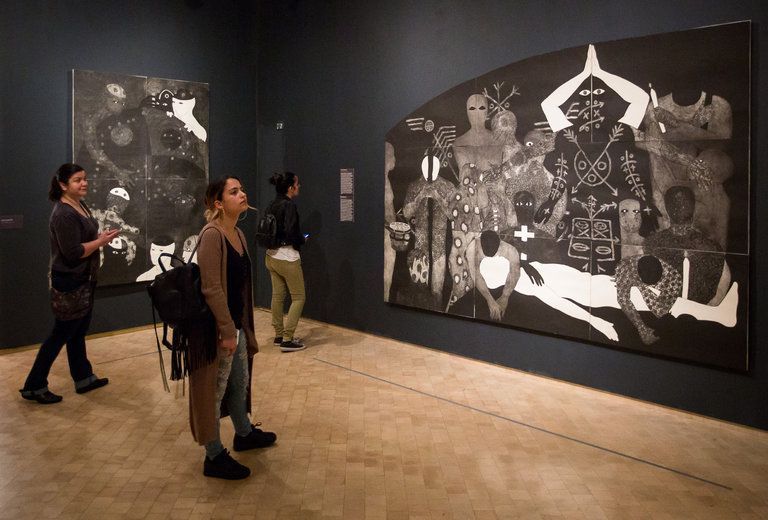 Cuban curator Cristina Vives organized the exhibit together with New York institution, Fowler Museum of California University in Los Angeles and the artist's sister and niece whom have preserved carefully most of Ayon's work in their family house in Havana.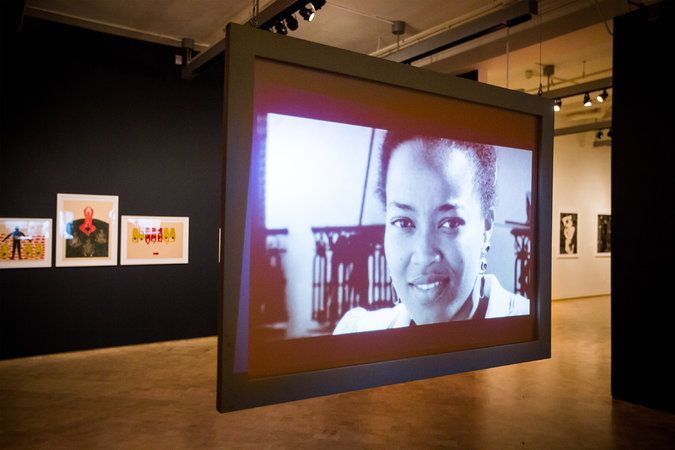 Picasso's Guernica: 80 years!
Spanish Embassy in Havana presented yesterday the results of the "Picasso's Guernica: 80 years!" posters contest. The event was organized by CartelON project and exhibits the posters selected as finalists.
The shown will stay at the Embassy in July and will move to Villena Hall in Army Square in August. It will be part of a Special Rout of the Historical Office about the Spanish Civil War. To have access to the Embassy you must call +5378623165 or +5378623716, extensions 106 or 108.
Cuban photograph school in New York
The Cuban Photograph Academy-Museum Cabrales del Valle in association with Creative Live School from Seattle will present the exhibit "Cuba: Trough our eyes" in Washington University Tower on July 1st. The project is a selection of photographs taken by Cuban student and will be exhibit until September 30th.

Time and a Study
The multidisciplinary performance "|Σ 2n| Ensayo de duración" will be shown next Saturday 1st in Wilfredo Prieto Art Studio at 5 pm. The general concept belongs to William Ruiz Morales, Gabriela Burdsall and Kiko Faxas.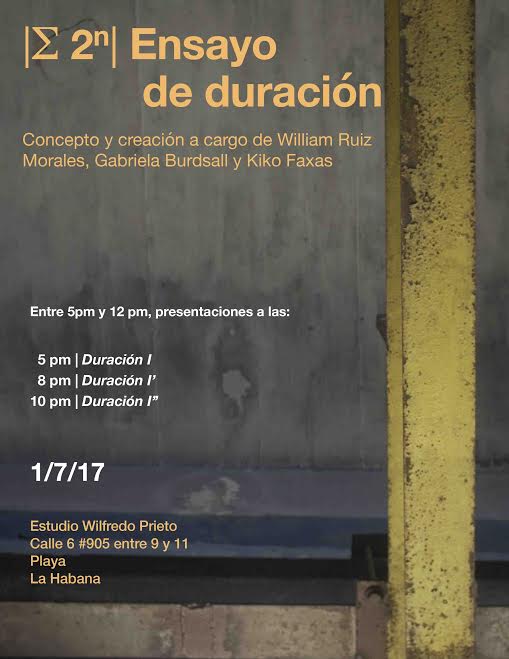 As William Ruiz said to OnCuba "The dramaturgy structure is based on three cycles where different sections are presented like a loop.  At the same time they are structured improvisations in some cases or just individual performance based on listening and deceleration as main principles of creation."
Presentation of Artcrónica
Today at 6 pm will be release the visual arts online magazine Artcrónica in Gorría Galery-Workshop. This edition congratulates the 49th Congress of the International Association of Art Critiques (AICA) celebrated in Havana.
Comedy shows in Havana
From July 2nd to 9th will take place in Havana the Humor National Festival Aquelarre 2017. A variety of shows will be presented in different theaters like Mella, Raquel Revuelta, Bertolt Brecht, Karl Marx and Adolfo Llauradó Room.
The opening will be next Sunday at 9 pm in Karl Marx Theater with the show "En humor a la verdad". To see the full program click here:

Havana and Florida together in opera
Cuban and American artists will debut this weekend with opera Dido and Eneas by Britain Henry Purcell. Presentation will be in the Great Theater of Havana Alicia Alonso. The program holds five arias and duets by Antonio Vivaldi and German Georg Friedrich Händel. The show is a coproduction between National Lyric Theater, Cuban National Ballet and Florida State University.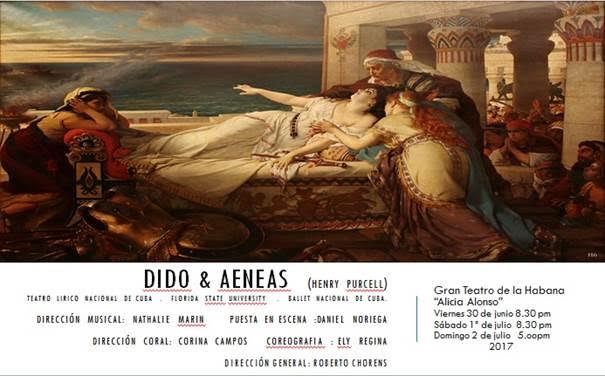 Flamenco from Mexico
The Alboréa Flamenco Company from Mexico will perform today at 8:30 pm in Martí Theater. This is their first time in Cuba. The program includes anthological pieces by Ernesto Lecuona in flamenco, tango and farruca remixes.

"The queen of Thursdays" in Miami
Newest documentary  "The queen of Thursdays" by Cuban filmmaker Orlando Rojas will be released today at 7 pm in Tower Theater of Miami. This movie won the Best Documentary Award in Miami Film Festival and tells the story of Rosario Suárez (Charín), ex first ballerina of the Cuban National Ballet who lives in United States.
Two masters, two Coen
Cuban Cinema House proposes from July 1st a full retrospective of brothers Coen work. The program named Joel and Ethan Coen: Two masters will take place in 23 y 12 Movie Theater. Full schedule is here.
Blood simple/ (97') EE.UU., 1984: A rich but jealous man hires a private investigator to kill his cheating wife and her new man. But, when blood is involved, nothing is simple.
Raising Arizona / (94') EE.UU., 1987: When a childless couple of an ex-con and an ex-cop decide to help themselves to one of another family's quintuplets, their lives become more complicated than they anticipated.
Miller's Crossing / (115') EE.UU., 1990: Tom Regan, an advisor to a Prohibition-era crime boss, tries to keep the peace between warring mobs but gets caught in divided loyalties.
Barton Fink / (117') EE.UU., 1991: A renowned New York playwright is enticed to California to write for the movies and discovers the hellish truth of Hollywood.
The Hudsucker Proxy / (111') EE.UU., 1994: A naive business graduate is installed as president of a manufacturing company as part of a stock scam.
Fargo / (98') EE.UU., 1996: Jerry Lundegaard's inept crime falls apart due to his and his henchmen's bungling and the persistent police work of the quite pregnant Marge Gunderson.
Classic, cinema and Argentinian!
Charles Chaplin Cinema's Charlot Room will present from July 1st to 26th the program That Argentinian Cinema. It will be a meticulous selection of Argentinian classic cinema with more than 50 films, documentaries and interviews for the first time in Cuba. More information here.


Cuban Arte Factory will have Session Dj Producers with Iván Lejardi in Nave 1 during the weekend. Also, the open Contemporary Dance class comes back today at 8:30 pm with dancer Osnel Delgado in Nave 3. One hour later in the same place will be displayed Flash, directed, choreograph and interpreted by Alexey Taran, cofounder and artistic director of Bistoury Physical Theater and Film.
Cuban trumpet player Kevin Barreto will preform at 11 pm in Nave 4. By midnight in Nave 4 there will be a Open Jam with Jazz Connecti group.
On Saturday at 11 pm the Argentinian musician Javier Calamaro will offer a concert in Nave 4. Meanwhile at 12 am in Nave 1 will play the rock group Los Kent.
Last but not least, Sunday at 10 pm in Nave 1 will be Hip Hop time with Yimi Konclaze, one of the most active, prolific, versatile artist among this cultural movement in Cuba. For the end, Cuban trumpet player and composer Yasel Manzano will play at 11 pm in Nave 4.
Authors