His official name is Alexandr Seriogin, but he likes to be called Castro. This 57-year-old Russian claims to be Fidel's son and feels a bit Cuban. With the pandemic, he learned that some of his "compatriots" from the island were in precarious situations and decided to honor his surname and the land of his alleged father.
Soviet-Cuban living history
Alexandr (Sasha) Seriogin tells everyone who wants to hear him.
Valentina was a young cook in the house where Fidel Castro stayed during his first visit to the Soviet Union, in 1963. Everyone there wanted to see the mythical bearded leader and she managed to be one of the first to see him. "She asked him if he wasn't afraid that the Americans would kill him and he replied that he was only afraid of her blue eyes," says Alexandr. "I was born just nine months after Fidel's stay in Moscow."
"I always knew that in my family there was a connection with Cuba and Fidel, but nothing more." Until at the age of nine they went to live in Havana. "We stayed there for several years in a house in Alamar," he says and affirms that Fidel visited them at least twice during that time.
However, little Sasha did not suspect anything, until "one day a soldier approached me and told me." He affirms that Valentina had no choice but to tell him the truth.
His story has been widely reported in Russia in recent years, but he has never managed to obtain evidence. "I have tried to do DNA tests, but they always get lost or something happens. Television has only tried to do it three times," he explains.
He had no further contact with his alleged biological father. "I tried to communicate with him when he was already sick, before that I expected him to want to communicate with me. He communicated with my mother for many years."
Cubans in Barvija
Seriogin's home is in the town of Barvija, on the outskirts of Moscow, an immense half-built three-story building. There are plenty of memories of Cuba. Photos, souvenirs, cigars and rum…. Now he also has flesh and blood reasons to remember the island: for three months now, about a dozen Cubans have been living with him.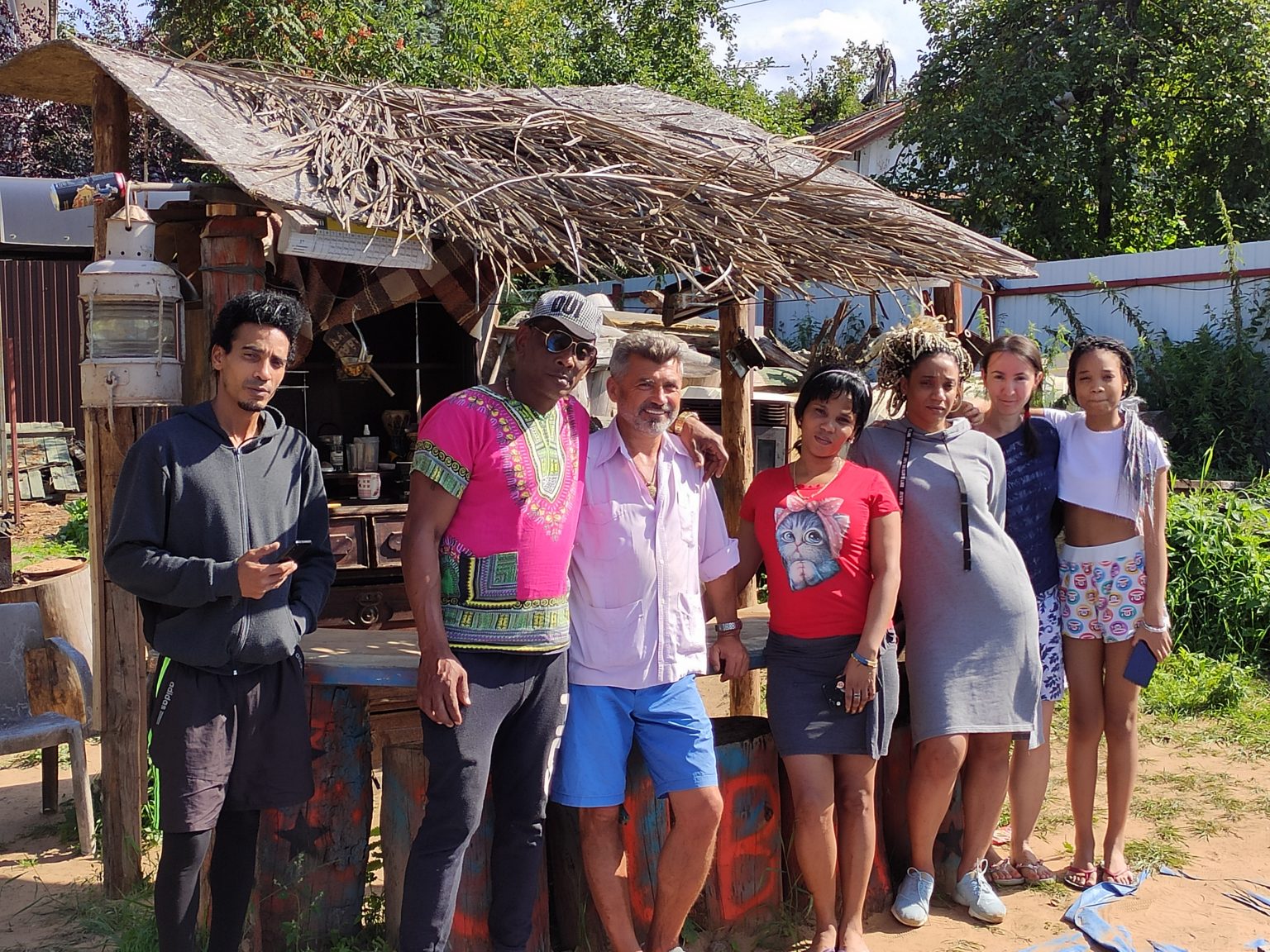 They came through Pedro Luis García and Anna Voronkova, a Cuban and a Russian who in the midst of the pandemic left the safety of their homes to help hundreds of Cubans, stranded or those trying to make their living in Moscow, who suddenly found themselves in serious financial difficulties, sometimes with nothing to eat or where to sleep.
Despite his Russian name, his appearance immediately reveals the origin of Pável, born and raised in Regla. In the two years he has been in Moscow, he says he has gone through a lot of rough times, even before the pandemic. "At one time I slept in a river, I lost my teeth because of the cold," he says.
"I worked in places where I was never paid, cleaning and construction, they tell you it will be in a month and then they don't pay you and you can't do anything because you're illegal." Cubans make the worst employers, he says. "Many times it is other Cubans who swindle you, and those who help are very few. The Russians have helped me more than the Cubans themselves."
For more than a month he has had at least a roof and food at Alexandr's house. "Castro is one of the best people I know. If he needs something, I am with him to the end."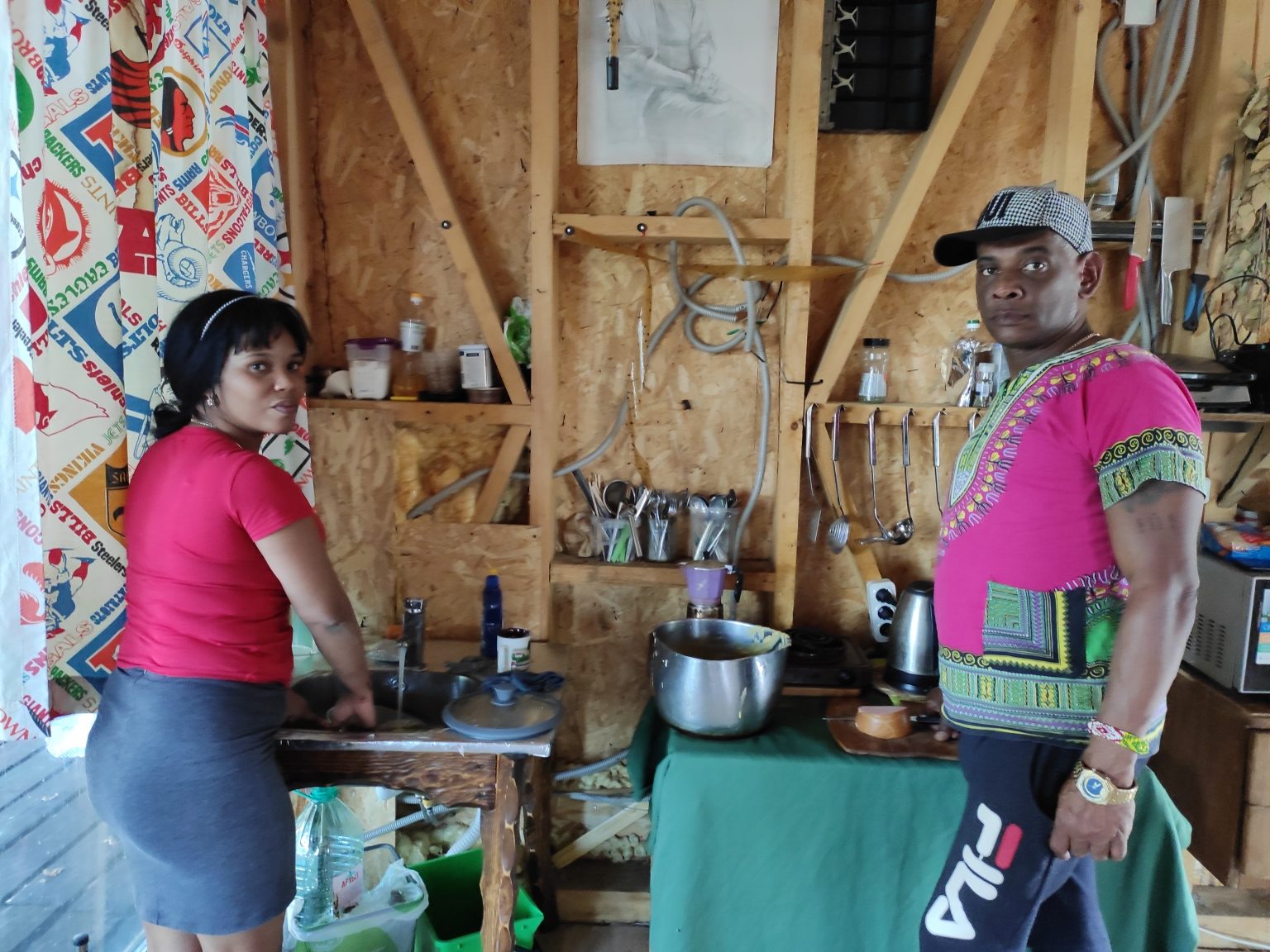 Suri's story is no less tragic. This young woman from Ciego de Avila arrived in Moscow with the promise that she would go to the European Union in a few days, where a Spanish boyfriend was waiting for her. He disappeared from the face of the earth when, according to him, he was scammed and lost the money he had paid for her trip.
She was left alone and without means in a city with a strange language and culture, while her son and parents were more than 9,500 kilometers away. "When you talk to your family, you can't say anything, you laugh, even when you're crying," she says now, after having survived two winters, hunger and even abuse. For now, at least for now, "Castro's" house is a safe haven.
Yulisey Días Pérez is one of the stranded Cubans who came for a short time (in February) and the closing of borders a month later took them by surprise. When he had almost run out of resources to continue paying for accommodation, he learned that Seriogin needed people who knew about masonry and decided to apply the experience accumulated over the years in Cayo Santa María.
"I've done everything here, even an invented swimming pool!" he says while showing an immense hole covered with a canvas and full of water, with an island with palm trees and everything in the middle and a bar called "Cuba."
Social experiment
The swimming pool is the favorite place for the "Cuban parties" organized by the heterogeneous group with the Russian Castro at the helm. But beyond a place where you can have a good time, a shelter or a job, this house has become a kind of commune or brotherhood that its owner describes as a "social experiment," which in some way contributes to his great project.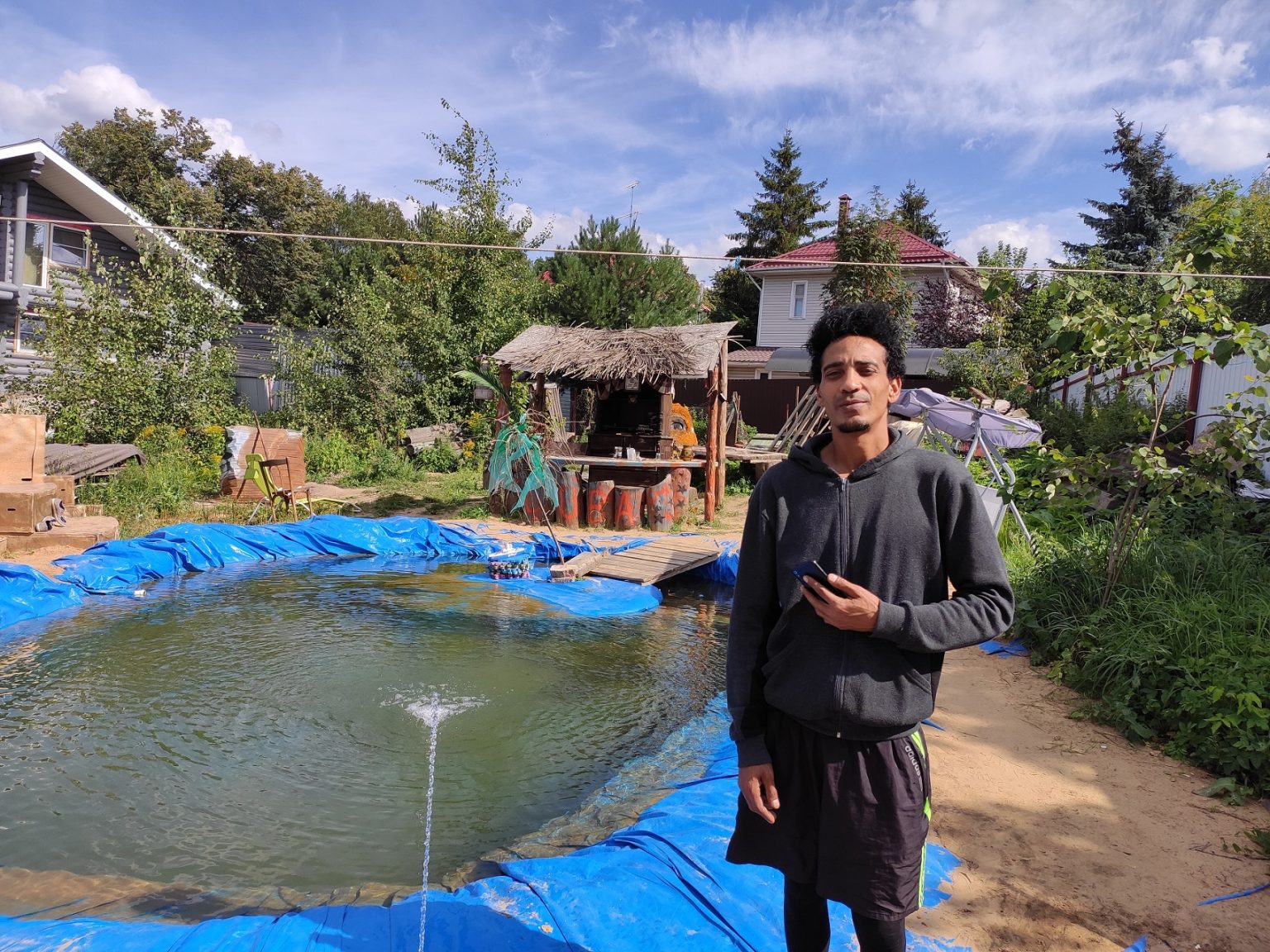 "Castro" defines himself as a follower of the work of his alleged father, but intends to go further and "unite humanity in a single family." He affirms that he wants to create a system that will be neither socialist nor capitalist, but "something new." For that, he intends to make a "world revolution," but without weapons, only based on the abilities of the human mind and new technologies.
As he explains his dream, the Cubans look at him in amazement and disbelief.
"I have financial problems sometimes because everything I have I spend on my international project," he says. "But Cubans are like brothers and sisters to me and my house is open to them."
"The house is big and nobody bothers anyone, there is a place to sleep and something to eat." Meanwhile, as in a rare approach to communism, those who can and will work in construction. "They fix the house and I pay them as I can," he says.
About 20 Cubans have been here. Some leave and others arrive. Now there are nine, including two women and a teenager.
Tomorrow, some will get up early to go to work at a nearby construction site, hoping to earn some money and be able to continue their lives in another way. Others wait for the borders to open and flights to resume, or they hope for a miracle. But today everyone has a roof over their heads and a plate of hot food at "Castro's" house.
Authors